Are you looking for a selection of beautiful funeral poems? Do you need a touching or heartfelt memorial poem to read at the service?
Finding the perfect funeral poem can be tricky. You want something that speaks from the heart and conveys how you felt about the deceased.
But memorial poems that say exactly what you're feeling and express those thoughts are hard to come across. You can always try writing your own but unless you're talented with words that can be very difficult. It's a lot easier to use one of the amazing funeral poems already out there.
So if you're looking for a great choice of poems to say goodbye at a funeral then these memorial poems will help you to make a lasting impression and send off a friend or family member in the best way.
Short Funeral Poems
If you're giving a reading or eulogy then you may find that you need a short poem; something that is simple and to the point. As well as being easy for you to read. These poems are brief and express your feelings in few but powerful words.
When We Lose a Loved One
When we lose a loved one
Our world just falls apart
We think that we cant carry on
With this broken heart
Everything is different now
You're upset and you're annoyed
Your world it seems is shattered
There's such an awful void
There's got to be a reason
And we have to understand
God made us and at any time
Hell reach down for our hand
There might not be a warning
We won't know where or when
The only thing were certain of
Is well meet them once again.
Anonymous
********************************
My candle burns at both ends;
It will not last the night;
But ah, my foes, and oh, my friends It gives a lovely light!
Edna St.Vincent Millay
********************************
And when the stream that overflows has passed,
A consciousness remains upon the silent shore of memory;
Images and precious thoughts that shall not be
And cannot be destroyed.
William Wordsworth, from The Excursion
********************************
What though the radiance which was once so bright
Be now forever taken from my sight,
Though nothing can bring back the hour
Of splendour in the grass, of glory in the flower;
We will grieve not, rather find
Strength in what remains behind.
William Wordsworth, Intimations of Immortality
********************************
If I Should Die Before the Rest of you
If I should die before the rest of you
Break not a flower nor inscribe a stone
Nor, when I'm gone, speak in a Sunday voice,
But be the usual selves that I have known.
Weep if you must
Parting is hell.
But life goes on.
So sing as well.
Joyce Grenfell
********************************
Into the freedom of wind and sunshine
We let you go
Into the dance of the stars and the planets
We let you go
Into the wind's breath and the hands of the star maker
We let you go
We love you, we miss you, we want you to be happy
Go safely, go dancing, go running home
Ruth Burgess
********************************
There is No Night Without a Dawning
No winter without a spring
And beyond the dark horizon
Our hearts will once more sing ….
For those who leave us for a while
Have only gone away
Out of a restless, care worn world
Into a brighter day
Helen Steiner Rice
********************************
You've Just Walked on Ahead of Me
And I've got to understand
You must release the ones you love
And let go of their hand.
I try and cope the best I can
But I'm missing you so much
If I could only see you
And once more feel your touch.
Yes, you've just walked on ahead of me
Don't worry I'll be fine
But now and then I swear I feel
Your hand slip into mine.
Joyce Grenfell
********************************
Our Memories Build a Special Bridge
When loved ones have to part
To help us feel were with them still
And soothe a grieving heart
They span the years and warm our lives
Preserving ties that bind
Our memories build a special bridge
And bring us peace of mind
Emily Mathews
********************************
Do Not Stand At My Grave and Weep
Do not stand at my grave and weep
I am not there.
I do not sleep.
I am a thousand winds that blow.
I am the diamond glints on snow.
I am the sunlight on ripened grain.
I am the gentle autumn's rain.
When you awaken in the morning's hush,
I am the swift uplifting rush
Of quiet birds in circled flight.
I am the soft stars that shine at night.
Do not stand at my grave and cry;
I am not there.
I did not die.
Mary Frye
********************************
May the roads rise up to meet you,
May the wind be always at your back,
May the sun shine warm upon your face,
May the rains fall soft upon fields
And until we meet again
May God hold you in the palm of his hand.
Anonymous
********************************
God Saw You Getting Tired
God saw you getting tired
And a cure was not to be
So he put His arms around you
And whispered "Come to me."
With tearful eyes we watched you
As you slowly slipped away
And though we loved you dearly
We couldn't make you stay.
Your golden heart stopped beating
Your tired hands put to rest
God broke our hearts to prove to us
He only takes the best
Frances and Kathleen Coelho
********************************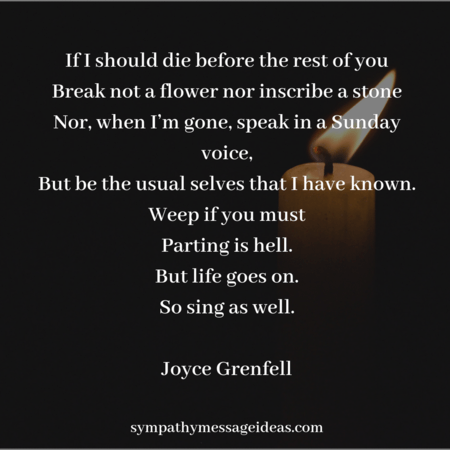 Happy Funeral Poems
Sometimes a funeral can be a place of happiness and joy. Often families want to celebrate the life of their departed loved one. Remembering the good times and not dwelling on the loss. In this case upbeat and happy readings can often be the best best poems for funerals. If so then try some of these happy memorial poems and remember the positives and good times.
She Is Gone (He Is Gone)
You can shed tears that she is gone
Or you can smile because she has lived
You can close your eyes and pray that she will come back
Or you can open your eyes and see all that she has left
Your heart can be empty because you can't see her
Or you can be full of the love that you shared
You can turn your back on tomorrow and live yesterday
Or you can be happy for tomorrow because of yesterday
You can remember her and only that she is gone
Or you can cherish her memory and let it live on
You can cry and close your mind, be empty and turn your back
Or you can do what she would want: smile, open your eyes, love and go on.
David Harkins
********************************
Afterglow
I'd like the memory of me to be a happy one.
I'd like to leave an afterglow of smiles when life is done.
I'd like to leave an echo whispering softly down the ways,
Of happy times and laughing times and bright and sunny days.
I'd like the tears of those who grieve, to dry before the sun;
Of happy memories that I leave when life is done.
Helen Lowrie Marshall
********************************
Turn Again To Life
If I should die and leave you here a while,
Be not like others sore undone,
Who keep long vigil by the silent dust.
For my sake turn again to life and smile,
Nerving thy heart and trembling hand to do
Something to comfort other hearts than thine.
Complete these dear unfinished tasks of mine
And I perchance may therein comfort you.
Mary Lee Hall
********************************
Then Joy Stepped In
Said she, 'I will not live with grief from morrow unto morrow.
My heart cries out for some relief, 'Good-bye, my little sorrow.'
She closed the windows of her home and pulled down every blind.
'I'm going forth, ' she cried, 'to roam. You, Grief, can stay behind.'
'And I'll be gone the livelong day, expect me back to-night.'
Grief wanly watched her go away into the warmth and light;
With quickened step and brightened eyes she mingled with the throng.
Instead of pale Grief's moans and sighs she heard Endeavour's song.
She saw a sister, crossed the road and asked her how she fared:
Then helped to lift her heavy load and in the burden shared.
Throughout the day Self was suppressed whilst Service took its place.
When she returned at night to rest – of Grief there was no trace!
But Joy stepped forth and sweetly said,
'May I now be your friend instead?'
Wilhelmina Stitch
********************************
All Is Well
Death is nothing at all,
I have only slipped into the next room
I am I and you are you
Whatever we were to each other, that we are still.
Call me by my old familiar name,
Speak to me in the easy way which you always used
Put no difference in your tone,
Wear no forced air of solemnity or sorrow
Laugh as we always laughed at the little jokes we enjoyed together.
Play, smile, think of me, pray for me.
Let my name be ever the household word that it always was,
Let it be spoken without effect, without the trace of shadow on it.
Life means all that it ever meant.
It is the same as it ever was, there is unbroken continuity.
Why should I be out of mind because I am out of sight?
I am waiting for you, for an interval, somewhere very near,
Just around the corner.
All is well.
Henry Scott Holland
********************************
Famous Funeral Poems
Some of the most famous poems have been in regards to loss and bereavement. They make for great readings at funerals or when remembering a lost loved one.
Funeral Blues
Stop all the clocks, cut off the telephone,
Prevent the dog from barking with a juicy bone,
Silence the pianos and with muffled drum
Bring out the coffin, let the mourners come.
Let aeroplanes circle moaning overhead
Scribbling on the sky the message 'He is Dead'.
Put crepe bows round the white necks of the public doves,
Let the traffic policemen wear black cotton gloves.
He was my North, my South, my East and West,
My working week and my Sunday rest,
My noon, my midnight, my talk, my song;
I thought that love would last forever: I was wrong.
The stars are not wanted now; put out every one,
Pack up the moon and dismantle the sun,
Pour away the ocean and sweep up the wood;
For nothing now can ever come to any good.
W H Auden
********************************
And Death Shall Have No Dominion
And death shall have no dominion.
Dead man naked they shall be one
With the man in the wind and the west moon;
When their bones are picked clean and the clean bones gone,
They shall have stars at elbow and foot;
Though they go mad they shall be sane,
Though they sink through the sea they shall rise again;
Though lovers be lost love shall not;
And death shall have no dominion.
And death shall have no dominion.
Under the windings of the sea
They lying long shall not die windily;
Twisting on racks when sinews give way,
Strapped to a wheel, yet they shall not break;
Faith in their hands shall snap in two,
And the unicorn evils run them through;
Split all ends up they shan't crack;
And death shall have no dominion.
And death shall have no dominion.
No more may gulls cry at their ears
Or waves break loud on the seashores;
Where blew a flower may a flower no more
Lift its head to the blows of the rain;
Though they be mad and dead as nails,
Heads of the characters hammer through daisies;
Break in the sun till the sun breaks down,
And death shall have no dominion.
Dylan Thomas
********************************
Holy Sonnet X
Death be not proud, though some have callèd thee
Mighty and dreadfull, for, thou art not so,
For, those, whom thou think'st, thou dost overthrow,
Die not, poore death, nor yet canst thou kill me.
From rest and sleepe, which but thy pictures bee,
Much pleasure, then from thee, much more must flow,
And soonest our best men with thee doe goe,
Rest of their bones, and soules deliverie.
Thou art slave to Fate, Chance, kings, and desperate men,
And dost with poyson, warre, and sicknesse dwell,
And poppie, or charmes can make us sleepe as well,
And better than thy stroake; why swell'st thou then;
One short sleepe past, wee wake eternally,
And death shall be no more; death, thou shalt die.
John Donne
********************************
I give you this one thought to keep.
I am with you still. I do not sleep.
I am a thousand winds that blow.
I am the diamond glints on the snow.
I am the sunlight on ripened grain.
I am the gentle autumn rain.
When you awaken in the morning's hush,
I am the swift, uplifting rush
of quiet birds in circled flight.
I am the soft stars that shine at night.
Do not think of me as gone.
I am with you still in each new dawn.
Anonymous
********************************
Cold
It felt so cold, the snowball which wept in my hands,
and when I rolled it along in the snow, it grew
till I could sit on it, looking back at the house,
where it was cold when I woke in my room, the windows
blind with ice, my breath undressing itself on the air.
Cold, too, embracing the torso of snow which I lifted up
in my arms to build a snowman, my toes, burning, cold
in my winter boots; my mother's voice calling me in
from the cold. And her hands were cold from peeling
then dipping potatoes into a bowl, stopping to cup
her daughter's face, a kiss for both cold cheeks, my cold nose.
But nothing so cold as the February night I opened the door
in the Chapel of Rest where my mother lay, neither young, nor old,
where my lips, returning her kiss to her brow, knew the meaning of cold.
Carol Ann Duffy
********************************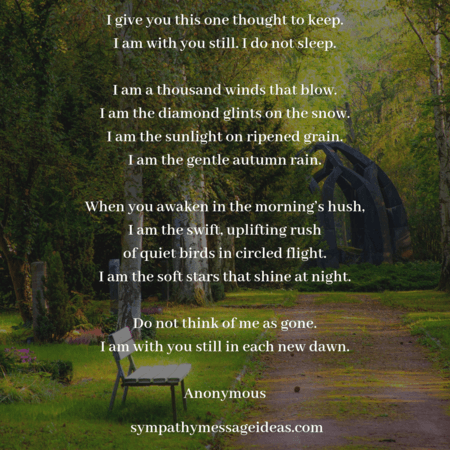 Funeral Poems for Mom
The loss of a mother is incredibly difficult. Finding the right poem or verse to read at her funeral can become very important. Hopefully the choice of poems here will help to mark her passing in the way you feel is most appropriate.
The Mother
There will be a singing in your heart,
There will be a rapture in your eyes;
You will be a woman set apart,
You will be so wonderful and wise.
You will sleep, and when from dreams you start,
As of one that wakes in Paradise,
There will be a singing in your heart,
There will be a rapture in your eyes.
There will be a moaning in your heart
There will be an anguish in your eyes;
You will see your dearest ones depart,
You will hear their quivering good-byes.
Yours will be the heart-ache and the smart,
Tears that scald and lonely sacrifice;
There will be a moaning in your heart,
There will be an anguish in your eyes.
There will come a glory in your eyes,
There will come a peace within your heart;
Sitting 'neath the quiet evening skies,
Time will dry the tear and dull the smart.
You will know that you have played your part;
Yours shall be the love that never dies:
You, with Heaven's peace within your heart,
You, with God's own glory in your eyes.
Robert Service
********************************
My Mother
In infancy's unconscious day,
I weak and helpless long did lay,
Who o'er my form did watch and pray,
My Mother.
Who nourished me with fondest care,
And bore me forth to take the air,
And plucked me fruits and flowers rare,
My Mother.
Who daily, as I older grew,
Still taught me lessons bright and true,
And virtue's path kept in my view,
My Mother.
Oh, may I truly, every year,
Return with love and tender care,
The blessings I from thee did share,
My Mother.
Anonymous
********************************
She Walks in Beauty
She walks in beauty, like the night
Of cloudless climes and starry skies;
And all that's best of dark and bright
Meet in her aspect and her eyes;
Thus mellowed to that tender light
Which heaven to gaudy day denies.
One shade the more, one ray the less,
Had half impaired the nameless grace
Which waves in every raven tress,
Or softly lightens o'er her face;
Where thoughts serenely sweet express,
How pure, how dear their dwelling-place.
And on that cheek, and o'er that brow,
So soft, so calm, yet eloquent,
The smiles that win, the tints that glow,
But tell of days in goodness spent,
A mind at peace with all below,
A heart whose love is innocent!
Lord Byron
********************************
The life that I have is all that I have
the life that I have is yours
The love that I have for the life that I have
is yours and yours and yours.
A sleep I shall have, a rest I shall have
Yet death will be but a pause
for the peace of my years
in the long green grass
Will be yours and yours and yours
by Leo Marks
********************************
You can only have one mother
Patient kind and true;
No other friend in all the world,
Will be the same to you.
When other friends forsake you,
To mother you will return,
For all her loving kindness,
She asks nothing in return.
As we look upon her picture,
Sweet memories we recall,
Of a face so full of sunshine,
And a smile for one and all.
Sweet Jesus, take this message,
To our dear mother up above;
Tell her how we miss her,
And give her all our love.
Irish Funeral Prayer
********************************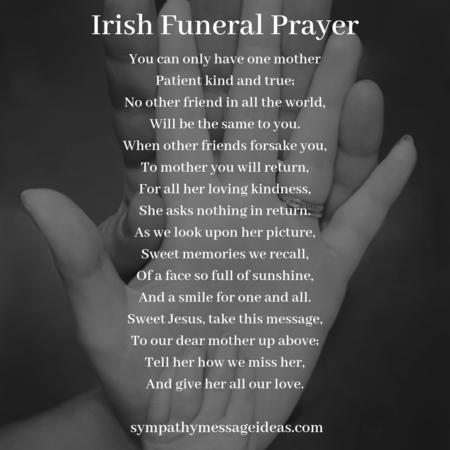 For more ideas try our funeral poems for moms.
Funeral Poems for Dad
Just like losing your mother the loss of a dad is a terribly difficult time. We hope these poems can help make the readings at the funeral that extra special.
To My Father
A giant pine, magnificent and old
Stood staunch against the sky and all around
Shed beauty, grace and power.
Within its fold birds safely reared their young.
The velvet ground beneath was gentle,
and the cooling shade gave cheer to passers by.
Its towering arms a landmark stood, erect and unafraid,
As if to say, "Fear naught from life's alarms".
It fell one day.
Where it had dauntless stood was loneliness and void.
But men who passed paid tribute – and said,
"To know this life was good,
It left it's mark on me. Its work stands fast".
And so it lives. Such life no bonds can hold –
This giant pine, magnificent and old.
Georgia Harkness
********************************
The Broken Chain
We little knew that morning that God was going to call your name,
In life we loved you dearly; in death we do the same
It broke our hearts to lose you, you did not go alone.
For part of us went with you, the day God called you home
You left us peaceful memories, your love is still our guide,
And though we cannot see you, you are always at our side
Our family chain is broken, and nothing seems the same,
But as God call us us one by one, the chain will link again.
Anonymous
********************************
Father
He never made a fortune, or a noise
In the world where men are seeking after fame;
But he had a healthy brood of girls and boys
Who loved the very ground on which he trod.
They thought him just little short of God;
Oh you should have heard the way they said his name –
'Father.'
There seemed to be a loving little prayer
In their voices, even when they called him 'Dad.'
Though the man was never heard of anywhere,
As a hero, yet somehow understood
He was doing well his part and making good;
And you knew it, by the way his children had
Of saying 'Father.'
He gave them neither eminence nor wealth,
But he gave them blood untainted with a vice,
And opulence of undiluted health.
He was honest, and unpurchable and kind;
He was clean in heart, and body, and in mind.
So he made them heirs to riches without price –
This father.
He never preached or scolded; and the rod –
Well, he used it as a turning pole in play.
But he showed the tender sympathy of God.
To his children in their troubles, and their joys.
He was always chum and comrade with his boys,
And his daughters – oh, you ought to hear them say
'Father.'
Now I think of all achievements 'tis the least
To perpetuate the species; it is done
By the insect and the serpent, and the beast.
But the man who keeps his body, and his thought,
Worth bestowing on an offspring love-begot,
Then the highest earthly glory he was won,
When in pride a grown-up daughter or a son
Says 'That's Father.'
Ella Wheeler Wilcox
********************************
As We Look Back
As we look back over time
We find ourselves wondering …..
Did we remember to thank you enough
For all you have done for us?
For all the times you were by our sides
To help and support us …..
To celebrate our successes
To understand our problems
And accept our defeats?
Or for teaching us by your example,
The value of hard work, good judgment,
Courage and integrity?
We wonder if we ever thanked you
For the sacrifices you made.
To let us have the very best?
And for the simple things
Like laughter, smiles and times we shared?
If we have forgotten to show our
Gratitude enough for all the things you did,
We're thanking you now.
And we are hoping you knew all along,
How much you meant to us.
Anonymous
********************************
My Father
He was a jolly little man full of fun and laughter,
He played jokes on his fellow men
And to him it did not matter.
Education he had not,
But what he learned he never forgot.
He wrote what he knew all about cancer
so that someday, there will be an answer.
He joined the Canadian Medical Corps.
And served in the Second World War.
He risked his life, to save others,
This man, that I call my Father.
Seein' my Father in me is the title of a song
Which I can relate to as I do see my Father in me.
I have a French accent just like my Father,
I love walking, just like my Father,
I love being with people, just like my father.
But most of all, is my love for children, like my Father.
Anita Guindon
********************************
For more ideas try our funeral poems for dads.
Funeral Poems for Grandma
A Wonderful Grandmother
We had a wonderful grandmother
One who never really grew old
Her smile was made of sunshine
And her heart was solid gold
Her eyes were bright as shining stars
And in her cheeks fair roses you see.
We had a wonderful grandmother,
And that's the way it will always be.
But take heed, because
She's still keeping an eye on all of us,
So let's make sure
She will like what she sees.
Anonymous
********************************
God Looked Around His Garden
God looked around his garden
And found an empty place
He then looked down upon the earth
And saw your tired face
He put his arms around you
And lifted you to rest.
God's garden must be beautiful,
He always takes the best.
He knew that you were suffering
He knew you were in pain
He knew that you would never
Get well on earth again.
He saw the road was getting rough
And the hills were hard to climb.
So he closed your weary eyelids
And said, "Peace be thine".
It broke our hearts to lose you
But you didn't go alone.
For part of us went with you
The day God called you home.
Melissa Shreve
********************************
Legacy of Love
A wife, a mother, a grandma too,
This is the legacy we have from you
You taught us love and how to fight
You gave us strength, you gave us might.
A stronger person would be hard to find,
And in your heart you were always kind.
You fought for us all in one way or another
Not just as a wife not just as a mother.
For all of us you gave your best
And now the time has come for you to rest.
So go in peace, you've earned your sleep,
Your love in our hearts we'll eternally keep.
Anonymous
********************************
Nanny
Such wonderful memories of Nanny
The Nanny we all used to know
We kept you too long and there waiting
The angels have said you can go
Bright golden gates that are shining
Full of family to bid you hello
So blow us a kiss as you're leaving
Our sadness we'll try not to show
Such wonderful memories of Nanny
We all have our favourites you see
As you enter those gates you'll be thinking
They're all there thinking of me!
Laura White
********************************
For more examples try these funeral poems for grandmothers.
Funeral Poems for Grandad
His Journey's Just Begun
Don't think of him as gone away
his journey's just begun,
life holds so many facets
this earth is only one.
Just think of him as resting
from the sorrows and the tears
in a place of warmth and comfort
where there are no days and years.
Think how he must be wishing
that we could know today
how nothing but our sadness
can really pass away.
And think of him as living
in the hearts of those he touched…
for nothing loved is ever lost
and he was loved so much.
Ellen Brenneman
********************************
Grandfather Kept a Garden
Our Grandfather kept a garden.
A garden of the heart;
He planted all the good things,
That gave our lives their start.
He turned us to the sunshine,
And encouraged us to dream:
Fostering and nurturing the seeds of self-esteem.
And then the winds and rain came,
He protected us enough;
But not too much because he knew
We would stand up strong and tough.
His constant good example,
Always taught us right from wrong;
Markers for our pathway that will last
a lifetime long.
We are our Grandfather's garden,
We are his legacy.
Thank you Grandfather, we love you.
Anonymous
********************************
We Had a Wonderful Grandfather
We had a wonderful grandfather,
One who never really grew old;
His smile was made of sunshine,
And his heart was solid gold;
His eyes were as bright as shining stars,
And in his cheeks fair roses you see.
We had a wonderful grandfather,
And that's the way it will always be.
But take heed, because
He's still keeping an eye on all of us,
So let's make sure
He will like what he sees.
Anonymous
********************************
Our Granddad
It broke our hearts to lose you,
but you never went alone,
for a part of us went with you,
the day god took you home.
A million times we missed you,
A million times we cried,
If love could have saved you,
you never would have died.
To the grave you travel,
Our flowers placed with care,
No-one knows the heartache,
as we turn to leave you there.
If tears could build a stairway,
and memories could make a lane,
we would walk right up to heaven,
and bring you home again.
We love you Granddad,
sleep well in heaven with the angels.
Anonymous
********************************
Non Religious Funeral Poems
Not all funerals or memorials are religious. They may just be a celebration of someone's life. If this is the case then a religious poem may not be appropriate. Thankfully there are many non religious memorial poems available and you can choose from the selection below.
Not, How Did He Die, but How Did He Live?
Not, how did he die, but how did he live?
Not, what did he gain, but what did he give?
These are the units to measure the worth
Of a man as a man, regardless of his birth.
Nor what was his church, nor what was his creed?
But had he befriended those really in need?
Was he ever ready, with words of good cheer,
To bring back a smile, to banish a tear?
Not what did the sketch in the newspaper say,
But how many were sorry when he passed away?
Anonymous
********************************
Remember
Remember me when I am gone away,
Gone far away into the silent land;
When you can no more hold me by the hand,
Nor I half turn to go yet turning stay.
Remember me when no more day by day
You tell me of our future that you planned:
Only remember me; you understand
It will be late to counsel then or pray.
Yet if you should forget me for a while
And afterwards remember, do not grieve:
For if the darkness and corruption leave
A vestige of the thoughts that once I had,
Better by far you should forget and smile
Than that you should remember and be sad.
Christina Rosetti
********************************
When I come to the end of the road
And the sun has set for me
I want no rites in a gloom filled room
Why cry for a soul set free?
Miss me a little, but not for long
And not with your head bowed low
Remember the love that once we shared
Miss me, but let me go.
For this is a journey we all must take
And each must go alone.
It's all part of the master plan
A step on the road to home.
When you are lonely and sick at heart
Go the friends we know.
Laugh at all the things we used to do
Miss me, but let me go.
When I am dead my dearest
Sing no sad songs for me
Plant thou no roses at my head
Nor shady cypress tree
Be the green grass above me
With showers and dewdrops wet
And if thou wilt remember
And if thou wilt, forget.
I shall not see the shadows,
I shall not fear the rain;
I shall not hear the nightingale
Sing on as if in pain;
And dreaming through the twilight
That doth not rise nor set,
Haply I may remember,
And haply may forget.
Christina Rosetti
********************************
Love is Immortal
Love is pure energy and
No matter how hard you try,
You can never kill love
Because pure energy can't die
The feeling of love can fade,
And the body can cease to give,
But the energy created by love
Is immortal and continues
To live.
Anonymous
********************************
Little Snowdrops
The world may never notice,
If a snowdrop doesn't bloom,
Or even pause to wonder,
If the petals fall to soon,
But every life that ever forms,
Or ever comes to be,
Touches the world in some small way,
For all eternity
The ones i still long for,
we here and then were gone,
But the love that was then planted,
Is a light that still shines on,
and though our hearts are empty
Our hearts know what to do,
Every beating of our hearts,
Say of our love for you.