For many of us when growing up our grandparents are hugely important parts of our lives.
So the when we lose one it's absolutely heartbreaking. The loss of a grandfather can be so hard to take.
Grandfathers can almost be like actual fathers. They provide friendship and kindness but also wisdom and guidance when we need it most.
When times are hard you can turn to your grandpa for advice.
So when we lose our grandfather the grief and distress that it causes can be very powerful.
You may want something to comfort you if you've lost a grandpa. Or to reach out to someone who's lost theirs and offer some words of sympathy.
If so then try these comforting words and quotes as well as condolence messages that are perfect for a lost grandfather.
Sympathy Messages for Loss of Grandfather
Your grandfather was a wonderful man and I was so sad to learn of his passing. My condolences
Sending my deepest sympathy for such a tragic loss. Your grandfather was an incredible man and I know this must have hit you hard as you were close. I'm so very sorry for your loss
I understand how strong the bond with your grandfather was and so how hard this must be. I hope the support and love of friends and family will sustain you throughout this terrible time. My condolences for your loss
Having been lucky enough to know your grandfather it was clear to see just how proud of you he was. These words will offer little comfort but you will be in my prayers and thoughts during this very difficult period
The wonderful memories of your grandad will live on long after he has gone. Try to find comfort in them and remember how amazing he was during such a hard time. My sympathy for your loss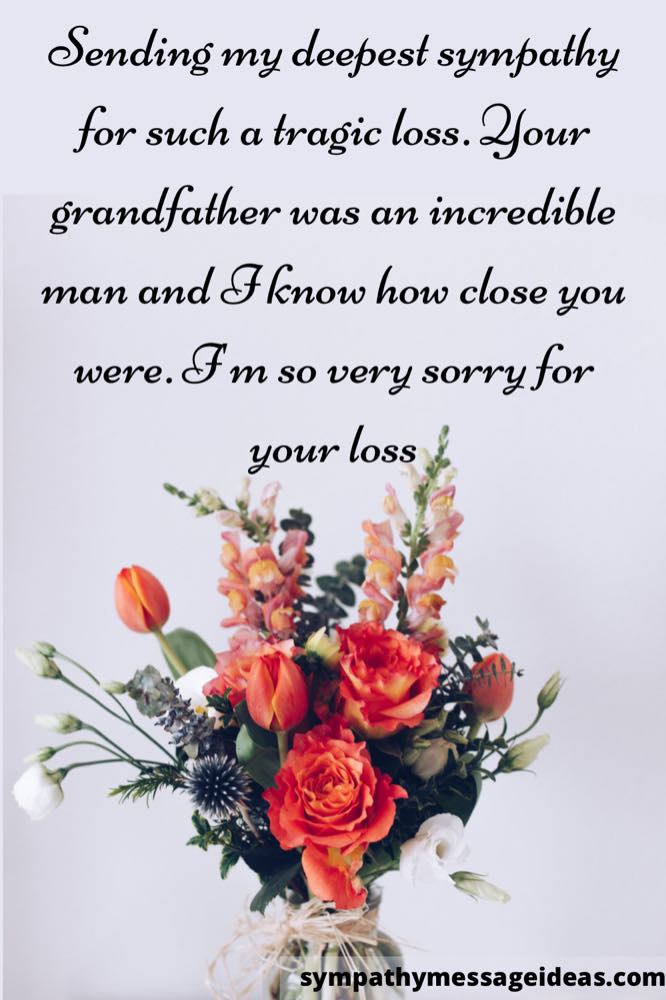 Losing your grandfather at any time is devastating. All I can hope to do is be there for you with my love and support to help you get through it
Your grandfathers warmth, humour and generosity was inspiring to so many. We all looked up to and tried to be better people because of him of him. Please accept my condolences for your loss
I can't imagine how unbelievably difficult this must be for you, knowing how close to your grandfather you were. But if there is anything you need then please just ask. I will be there, whether it's for someone to talk to or a shoulder to cry on
Sending you my thoughts and best wishes to find your way through this terribly hard period. Your grandfather will be missed greatly.
This must be so awful for your entire family. Your grandfather was loved by so many and his passing has left a great hole in all their lives. So to think of how difficult it must be for his relatives is just terrible. My sympathy for a tragic loss of a great man
You must never forget your grandfather. Those memories are so important. He will always be with you, if only in spirit rather than in person. My condolences
You don't have to go through this alone. We can be there for and with you as you grieve your lost grandfather. Please don't hesitate to reach out to us
I don't think my words will do much to comfort you but I wanted you to know I'm here and thinking of you. If you need anything at all I want to be the one to help
Sending you condolences and lots of love. I can't begin to fully understand what you're going through but I can be the fiend you need to listen or give you a helping hand
I doubt there was a granddad better than yours. He was just brilliant and we are all reeling after his loss. It's so sad, my condolences
I am forever thankful for having the chance to get to know your grandad. He was so funny and great to be around. My sympathy for your loss
As you cope with a truly terrible loss I wanted you to know you shouldn't think twice about getting in touch. If you need someone there with you then let it be me. All my sympathy and love
May the strength God gives you and your faith help you to find some comfort during this time of loss.
I'm not sure how much good saying "sorry" will do but I'm thinking of you. Sending my love and thoughts
Your grandfather would hate us mourning like this, I know, but it's impossibly not to feel this way after losing someone so special. You have my condolences
No one who met your granddad will ever forget him. He was just that sort of man – loved by all. My deepest and most sincere condolences for his passing
I've just learnt the news of your grandfathers passing and I am so shocked. He was always full of such life and I can't quite believe he is really gone. You will be in my thoughts
I will raise a glass to your grandpa and remember all the good he did and brought to this world. That will live on after him and be his legacy – one of a uniquely kind and warm man
You have my sympathy for a horrible loss. I know you were so close to your grandpa and his sudden passing must be incredibly hard
My sincerest sympathy for your loss. My heart goes out to you and you will be in my prayers
We will remember so many good times with your grandfather. He could always bring a smile to anyone's face and lit up every room he was in. He will be dearly missed
Short Condolence Messages for Loss of a Grandfather
Your grandfather was a truly special man. He will be greatly missed
My most deep and heartfelt sympathy for the passing of a wonderful man – your grandfather
We can be here if you need us. It was such a shuck to hear of your grandfathers passing
He was a kind, generous man and the world is a less special place without him
Sending my love and thoughts to you after the death of your grandfather
My condolences for the loss of your grandpa
You will be in my thoughts and prayers
You can never lose those memories you have of him. My sympathy
If there is anything you need I can be there. Please don't hesitate to ask
Your grandfather was unlike anyone else and will be remembered for all the good he did
We are deeply sorry for the passing of your grandfather. His memory will live on
A man like your grandpa will never be forgotten. His legacy is one of love, kindness and warmth
Loss of Grandfather Quotes
"A grandfather is someone with silver in his hair and gold in his heart" – Unknown
"You have to do your own growing no matter how tall your grandfather was" – Abraham Lincoln
"I wish RIP meant 'return if possible'. I miss you grandpa
"More and more, when I single the person out who inspired me most, I go back to my grandfather" – James Earl Jones
"I have a guardian angel in heaven, I can him Granddad" – Unknown
"Some people don't believe in superheroes but they didn't meet my granddad!"
"All my life I'll keep with me the memories of us two, and how lucky I was to have a grandpa smile like you" – Unknown
"I was taught by my grandfather that anything that your mind can conceive, you can have. It's a reality" – Lenny Kravitz
"Death leaves a heartache no one can heal, love leaves a memory no one can steal"
Losing a grandfather is a tragedy for everyone involved. It takes time to get over such a loss (although you never fully do) and be able to move on.
Hopefully these moving quotes will have provided some comfort during such a tough time. Or the sympathy messages helped to show your understanding and support to those who have lost their grandfather.