Whilst at times a simple message may be more appropriate, other times a verse can be the most suitable for a sympathy card. It can help to convey the feelings you have or words you want to say but in a more meaningful and succinct way.
Verses can also be very beautiful and touching, extending further than regularly worded messages sometimes do. It may be a verse for a funeral, losing a loved one or offering your love and support.
So use these sympathy verses to bring some comfort to a loved one in their difficult time.
Short Sympathy Verses
These are short condolence verses that you could put in a card, send via a text message or include in an email.
God saw you getting weary,"
So he did what he thought best.
"He put his arms around you,"
And whispered come and rest.
Sweet are the memories
Silently kept
Of a Mother we loved
And will never forget
If tears could build a staircase
And memories make a lane
I'd walk straight up to heaven
And bring you back again

May it make your sorrow
Easier to bear
Knowing there are others
Who understand and care
May you take comfort in knowing
An angel is watching over you
May it help you in thought now
And the things yet to do
Your sorrow is strong
but memories are stronger
they will allways be
in your heat
and never depart
When you lose someone you love
Your heart is dark and full of sorrow
Once more the sun will shine for you
If not today, then it will tomorrow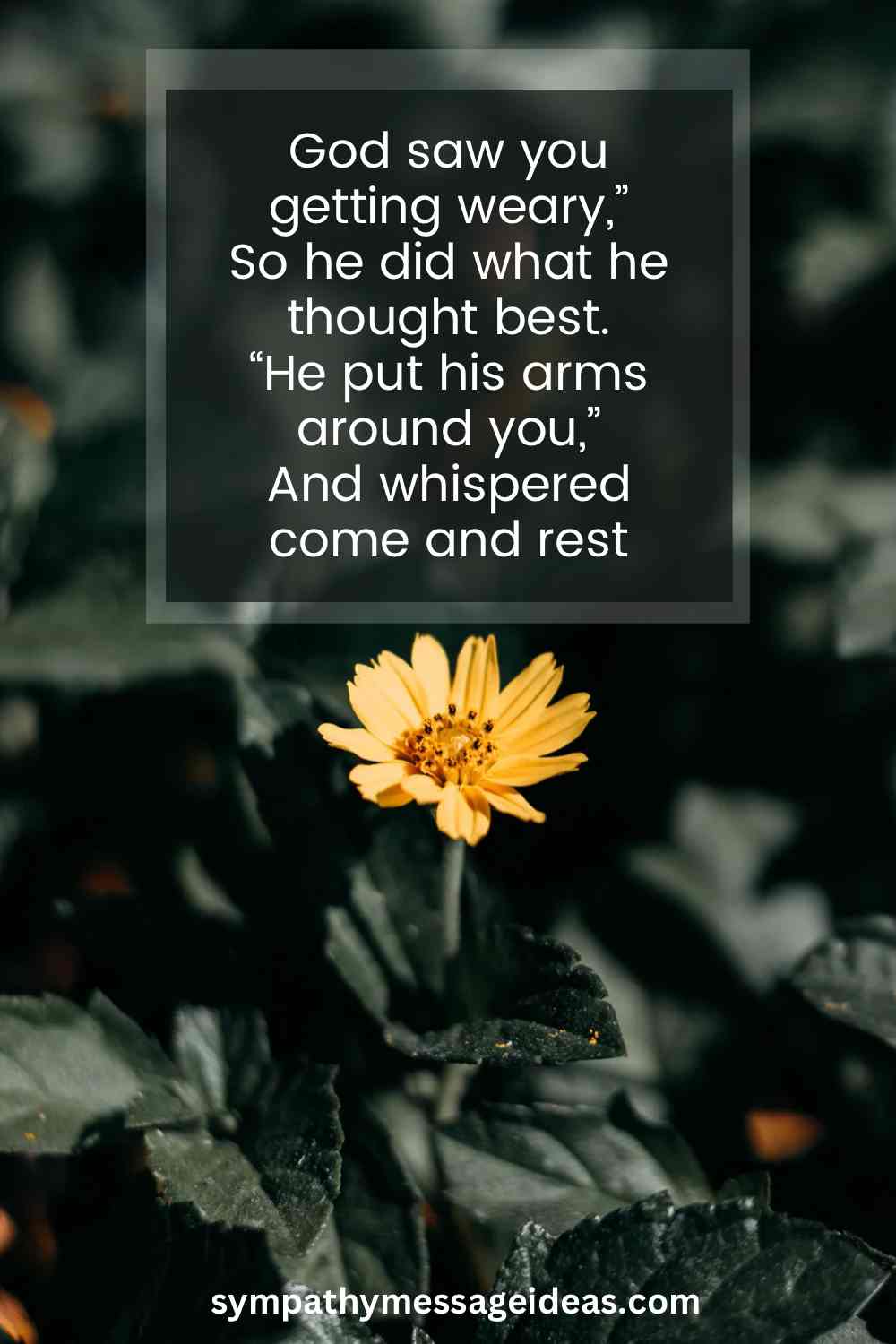 Verses for Sympathy Cards
Use these bereavement verses to write in a sympathy card you're sending to someone who has lost a loved one.
The sorrow we feel
No words can explain
The ache in our hearts
Will always remain
There is a special Husband
Up there in Heaven above
There will never be another
With a heart so full of love
Wherever I go
Whatever I do
Those I love don't go away
They walk beside me everyday
"Unseen, unheard but always near"
Still loved and missed and very dear

I will always love
Till we meet again
As we know we will
There's a hole in our hearts
Only you can fill
Beautiful memories treasured forever
Of the happy times we spent together
"Life is eternal, love will remain"
In Gods own time we shall meet again
"A prayer, a tear"
Until the end of time
For a wonderful Dad
I'm proud was mine
With heartfelt sympathy
May
Friends comfort you
Faith uphold you
Loving memories heal your heart

With sympathy
Deepest sympathy prayers sent to say
You're in my thoughts, especially today
If you need a friend then I'm here
To wipe away the sadness and tears
Those we love remain with us
For love itself lives on,
And cherished memories never fade
Because a loved one's gone.
Those we love can never be
More than a thought apart,
Far as long as there is memory,
They'll live on in the heart
Those we love don't go away,
They walk beside us every day,
Unseen, unheard, but always near,
Still loved, still missed and very dear
Words are hard to find at a time like this.
We are so very sorry for your loss.
You are in our thoughts and prayers.
If there is anything we can do to help
you get through this difficult time
please let us know.

With deepest sincere sympathy
The light beyond the window fades
And memories in our hearts unfold
A glowing warmth of light and shade
As we learn to love the love we hold

With deepest sympathy
If you are ever feeling lonely
And feeling in despair
Remember we are a family
And there is always someone there
Thinking Of You With Love
When you lose someone very dear,
You know your world has gone,
And yes a little part of you feels it can't go on,
These days of grief and sadness,
Are very hard to bear,
But don't keep feelings locked inside,
Talk to friends who care,
For friends are here to help,
To guide you through difficult days,
Then one day soon you sure will find,
The sun will shine again.
I'm sorry to hear about your loss,
A very sad time for sure,
But I know the memory of your friend,
In your heart will always endure,
May you always think back with fond memories,
Of shared times and years gone by,
And remember her with laughter,
Not with a tear drop in your eye.
We hope these sympathy verses have helped you to find a touching and thoughtful way to offer your condolences to someone who is grieving a loss.
Sources: Verses4cards