When you marry you don't get to choose your mother in law. But we often form strong bonds with those extended members of our family.
They may not be direct blood relatives but mother in laws can be such important parts of our lives.
It's not just them helping look after the kids or offering advice. It's more than that. They become actual family. Someone you come to see almost like your own mom.
So losing a mother in law hurts. Not to mention the fact that whilst it might be your mother in law that has passed away it means your partner has not lost their mother in law, but their mother.
So if you know someone who's mother in law has sadly died then reaching out and sending your condolences is definitely recommended.
If you're struggling with what to say though then try the example condolence messages below.
Short Sympathy Messages for the Loss of a Mother in Law
These messages or simple and to the point making them ideal for a sympathy card and some flowers you might send. You could also say them in person if you are intending on seeing the bereaved.
I'm terribly sorry for your loss
I was so sorry to learn of your mother in laws passing
You are in my thoughts during this difficult time
My condolences for your mother in laws passing
If you need anything at all I can be there. All my love and condolences
Sending my condolences for such a tragic loss
We will all remember your mother in law with such fondness
Learning of your mother in laws death was awful. You will be in my thoughts and prayers
My deepest sympathy for your loss. If there is anything you need please just ask
If you someone to listen or just talk to then just reach out
I am truly sorry for your loss. Your mother in law was a wonderful person who will be greatly missed
The amazing memories you have of your mother in law will be with you forever
I'm so sorry. I am grieving with you
I just wanted to reach out to say you are in my thoughts as you cope during this incredibly sad time
We extend our condolences for your loss. Please know you are in our hearts
My sincerest sympathy for the loss of your special mother in law
These words will offer very little but I wanted you to know you have my support and love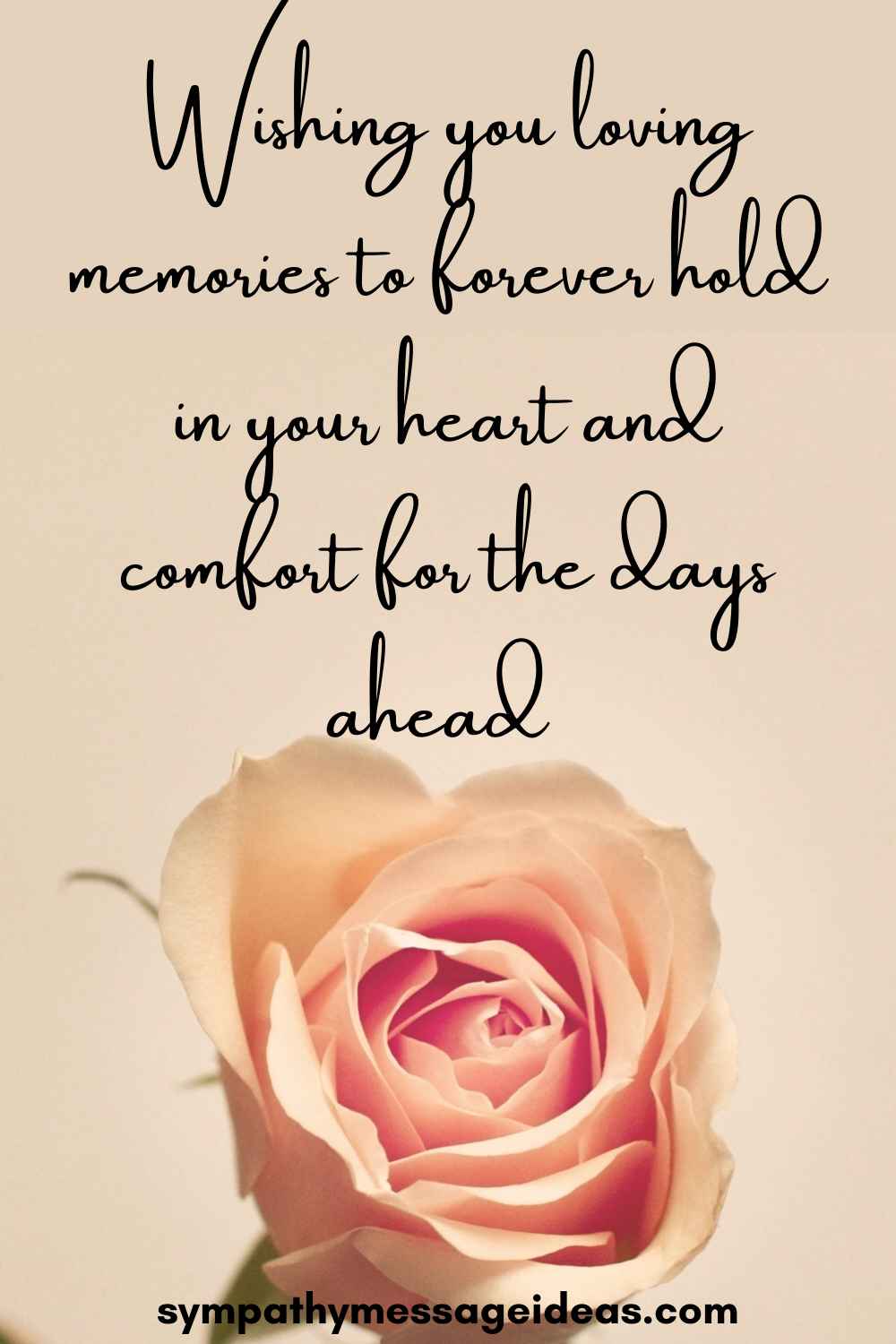 Words of Sympathy for Loss of a Mother in Law
The messages below are perfect for extending your condolences for a terrible loss through a simple few words in a sympathy card, a text message or just in person.
I was truly sorry to learn of your mother in laws untimely passing. You will be in my thoughts and prayers as you grieve her death
My condolences for the loss of your mother in law. I am sending loving thoughts and my sympathy to you and hoping you are getting by
Sending my love and hoping you are coping after a devastating loss
I know how close you and your mother in law became so I am very sorry to have learnt if her passing away. My sincerest sympathy
We were deeply distressed to hear of your loss. We are thinking if you and sending our love
Don't even think twice about reaching out for any help you need. After losing someone so important I know you might be struggling so please know I'm here
Losing your mother in law can be so awful. My deepest condolences and hope you find some peace
Look to those closest to you – your loved ones – for strength, love and support at times like this. They will help you find a way through. My condolences
All my loving thoughts for you after your tragic loss. You are in my prayers and constantly in my thoughts
Hold on to the memories you have of your mother in law and May they bring you some peace as you grieve. My sympathies
Always remember the cherished moments you had with your mother in law. My condolences and love
Treasure those perfect moments and try to use them for strength. If you need someone fir anything then I can be there
My deepest sympathy for what I know is a dreadful loss. If you are struggling and needed anyone I am always only a phone call away
Your mother in paw was a new of a kind and will be sorely missed. Sending my love and warm thoughts
The loss of someone so important is truly devastating. My heart goes out to you but try to lean on friends and family who will be there when you need them
There is a huge hole left behind by your mother in law passing away. She will be greatly missed
I understand how little words can do to help you at this time but I wanted to let you know I'm thinking of you
My prayers will be for you to find peace after a dreadful loss. My most sincere condolences
I am thinking of your whole family as you come to terms with this loss and grieve their passing
If you need someone to talk to or a shoulder to cry in then I'll be there for you. I promise you aren't alone
May the love and kindness of your mother in law bring you comfort and warm memories to help you through
I hope the memories of your mother in law will sustain you and bring respite to a terrible situation. My condolences
Your mother in law will be smiling down from heaven, I assure you. If you need anything don't hesitate to ask
As you mourn the loss of someone so special friends and family will do all they can to comfort you. I include myself in that and will do everything I can to be there for you. My sympathy for a tragic loss
My all those amazing memories you have of your mother in law be a light amongst the dark as you mourn
I realise I will never understand how hard this is for you but I will be there to share the grief and pain you're feeling. You have my most heartfelt condolences for the loss of your mother in law
We hope the condolence messages you've found here will help with letting someone know you're thinking of them after they've lost their mother in law.
Try to be genuine in what you say and speak directly from the heart. If you do this then whatever words you come up with they will be received and appreciated greatly and with warmth.