Unfortunately because of declining health with age or illness we sometimes require a caregiver to assist us. Quite quickly they become invaluable to both the family and the person in need.
So when those needing the care pass away it's understandable to want to thank the caregiver. They have been there to help and look after our loved ones during such a difficult time.
And they do so with a positive attitude and friendliness that those dealing with their failing health so need.
In fact very strong friendships are often formed with those caring for our sick loved ones. Both the patient and the family come to see them as more than carers, but beloved extended members of the family.
So sending a caregiver a thank you note after a death is a small gesture in return for all they did.
But what do you say? And how can you express just what they meant to you and your deceased loved one. To have someone so kind and comforting during a time of fear and facing the unknown – it's difficult to truly reflect that in a short note of thanks.
So if you're finding it hard to write your own thank you note or message to a caregiver then follow the steps below. This guide will show you how to write your own thank you note as well as providing examples and short messages you can use in any way you want.
How to Write a Thank You Note to Caregivers
If you want to write the note yourself rather than using the examples further down then you can follow these steps and tips:
Introduction
Begin your note by making it out to either the specific caregiver or the team who looked after your loved one. Use their name if it's a single person – "Dear [name]".
Dear [name]
Dear [hospital name] staff
Dear Dr [name]
Dear nursing staff
Say Who it's From
It's important to say early on in your note who is sending the note or on who's behalf. As caregiver's see and care for many different patients it may not instantly be obvious to them who the note is from.
"I can't thank you enough for the care and love you provided my grandmother, Lorraine, with during her final weeks."
"you looked after my dad, David, and I wanted to say how much I appreciate all you did."
"My grandmother Angela, who passed last month, was looked after by you and I wanted to send this little note to say how thankful I was for your care."
Express your Thanks
This is the whole point of your note or letter. You should clearly say why you are so grateful for all they did.
If it was the care they provided, talk about that. If you appreciated how comfortable they made you or your loved one then explain why that was
Perhaps they were exceptionally helpful at explaining what was happening or made you feel more at ease at the hospital.
Whatever the reasons for writing your note don't hesitate in letting them know just how much you appreciated all they did. A caregiver is an incredibly selfless job and one that whilst rewarding is tough. Receiving a few kind words to show that people are really grateful for what you do will be so warmly received.
"I know that my mom was made to feel more comfortable and well looked after in those final months. That is down to you and your committed care and love for your patients. I am devastated she is gone but it brings me some comfort to know she had someone there at the end and by her side to make sure everything was as she would have wanted."
"My dad would talk about how you and he chatted for hours and helped take his mind off things. He saw you as more than a carer but as a friend. I know that meant the world to him and I am so grateful for that."
"your dedication to my grandmothers well being in her final few months was so appreciated. I can't begin to thank you for everything you did."
Mention Their Service
You should express your thanks but it's also a good idea to be specific about what you are so grateful for. Receiving feedback on certain aspects they did really well or you really appreciated is not only going to make them feel better but also help them to know what works well when dealing with patients and their families.
So you could focus in on something you felt really helped or that they did that you noticed the most. Or talk generally about how their care was so important and the difference it made.
Definitely include anything your loved one who passed away said about them. Knowing the people they cared for appreciated and felt more comfortable because of their care is what makes it all worthwhile for caregivers.
Invite them to the Funeral
Whilst you don't have to it is a touching gesture to invite a caregiver, hospital staff or doctor to the funeral. They develop bonds and close relationships with the people they look after and would no doubt appreciate the chance to say goodbye.
However, you may not feel completely at ease with this. Really it comes down to the type of funeral you are having and whether you feel comfortable having someone who isn't a close relative or friend there.
If you would like to invite them then a good time to do so is in your thank you note.
"As you were so important to my mother at the end of her life I would be honored if you would come to her funeral."
"I know my dad would have wanted you at his funeral after how close you became."
"We are having a memorial service for Angela on the 24th May and would be delighted for you to come."
Include a Gift or Flowers
This should be considered on a case by case basis as sometimes it won't be right, nor should you feel you have to. But a small token of your thanks to show your appreciation for all they did is a lovely gesture.
This could be something like flowers which are a common and acceptable way to thank someone. A small gift basket or personalized gift would also be a very lovely way to say thanks. Maybe even some homemade food if that's something you're able to do.
Alternatively you could make the effort to leave a glowing review with their superiors. Telling their boss or management about how they went above and beyond to help you and your loved one will reflect well on them and is a simple way to say thank you for all they did.
Sign your Note
As mentioned earlier it's important to let the recipient know who the note is from. Dealing with many patients makes it difficult for caregiver's to instantly remember each individual.
So sign your card with your name and anything else that might identify you.
"Yours sincerely"
"kind regards"
"yours truly"
READ MORE: Thank You Messages for Doctors After a Death
Sample Thank You Notes to Caregivers
Dear Jane,
I just wanted to reach out and thank you for the amazing care you provided my mom over the last 6 months. I know I speak on behalf of the whole family when I say that your devotion and kindness made those final months far more bearable for her. It's a great comfort to know that she was so well looked after up until the end. I am and always will be truly grateful for that and for all you did. Thank you again.
Yours,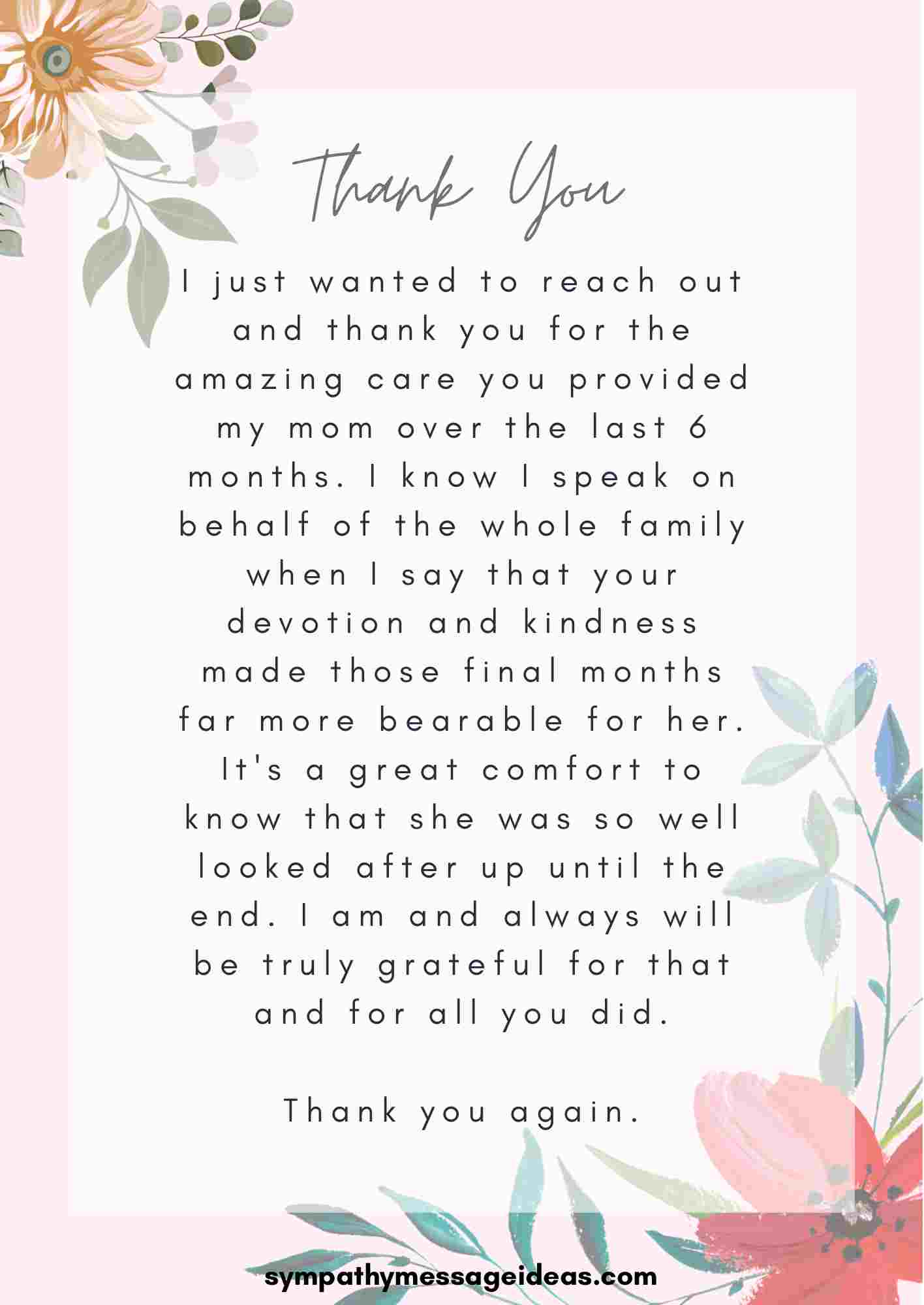 ******************
Dear Robert,
I shall never forget the unwavering care and sensitivity you gave my father at the end of his life. It wasn't just my dad you helped through such a traumatic and difficult time – it was the whole family. All our questions were answered with patience and the support we needed never faltered. It's down to you that we were able to get through such an incredibly difficult time. Thank you for all you do.
Yours truly,

******************
Dear Anne,
I couldn't have wished for a better carer for my grandmother. With her health failing and life becoming more difficult you were there to provide the support she needed. I saw how close you two grew and know that she considered you a true friend by the end. I won't forget the reassurance you gave her near the end and how vital you were to making the remaining time she had left comfortable.
Thanks you so much,
Thank you Messages for Caregivers
1. It's rare to find someone as caring and devoted as you. I am indebted to all you've done and will forever be grateful.
2. Thank you for your years of care. The love and help you give your patients is beyond amazing. What you do deserves far more credit.
3. During peoples hardest moments you are there with warmth and support. I will always appreciate all you do. Thank you.
4. You have been such a lifesaver. I couldn't have coped without the care you provide for my mother. Thank you so much.
5. The dedication and commitment to your patients and the support you give them is truly amazing. Thank you so much for your wonderful care.
6. Your patience never wavers and your smile is always there. Everyone is so grateful and in awe of the job you do. Thank you.
7. You are a modern day Florence Nightingale. If there were more people like you it would be a better place. I can't express how much you are appreciated.
8. You gave my father some his happiest days. He always talked about you with such fondness. It means everything to us that he had you to care for him.
9. Sending our thanks for your continuous support and care. My mom loved you and we now understand why. Thank you from the bottom of our heart.
10. We can't express our gratitude to you for the care my grandmother received. She left this world in comfort because of you. Please accept our deepest thanks.
When is the Right Time to Send your Note?
There is no perfect time to send your note. There isn't really a wrong time either.
The most usual period will be in the few weeks after the death. But if you are busy with funeral arrangements or just don't feel up to it because of dealing with your grief then that's fine too.
Sending your note even months after the death of your loved one is perfectly fine.
Remember that it's important to send it at some point, rather than feeling pressured to do so in a specific timeframe. The carer will appreciate you reaching out regardless of when it is.