The loss of a brother is absolutely devastating. Siblings are often very close to their brothers. So understandably if your brother has passed away you won't ever want to forget his memory.
Remembering all the good times you had and what he brought to your life. The same is true if someone else has lost their brother. That gap can never be filled.
It's not unusual for brothers to be some of the closest friends and people in our lives. If they're older than us they usually act protectively and look out for their younger siblings.
We look up to them and follow their lead. Whereas having a little brother makes you protective of him. You feel responsible for what happens and need to be there to help when he's in trouble. That relationship goes deep and the bond is forever.
So whether it's your own brother who has sadly passed or it's someone you know who's lost their brother, these loss of brother quotes and messages will help to remember his life or find the best words sympathy for the loss of a brother.
Loss of Brother Quotes
"A brother is a friend given by Nature." – Jean Baptiste Legouve
"There's no other love like the love for a brother. There's no other love like the love from a brother." – Astrid Alauda
"I don't believe an accident of birth makes people sisters or brothers. It makes them siblings, gives them mutuality of parentage. Sisterhood and brotherhood is a condition people have to work at." – Maya Angelou
"I sought my soul, but my soul I could not see. I sought my God, but my God eluded me. I sought my brother and I found all three." – Author Unknown
"It was nice growing up with someone like you – someone to lean on, someone to count on… someone to tell on!" – Unknown
"Nothing can stop me from loving my brother" – Brandy Norwood
"To the outside world we all grow old. But not to brothers and sisters. We know each other as we always were. We know each other's hearts. We share private family jokes. We remember family feuds and secrets, family griefs and joys. We live outside the touch of time" – Clara Ortega
"There is a destiny which makes us brothers; none goes his way alone. All that we send into the lives of others comes back into our own" – Edwin Markham
"Blessed is the servant who loves his brother as much when he is sick and useless as when he is well and an be of service to him. And blessed is he who loves his brother as well when he is afar off as when he is by his side, and who would say nothing behind his back he might not, in love, say before his face" – St. Francis of Assisi
"The beauty of genuine brotherhood and peace is more precious than diamonds or silver or gold" – Martin Luther King Jr
"To have had a brother is to have experienced a very special gift" – Unknown
"There is a special place in our heart for the one we call 'brother'" – Unknown
"Sometimes, only one person is missing, and the whole world seems depopulated" – Alphonse de Lamartine
"As long as I can I will look at this world for both of us. As long as I can I will laugh with the birds, I will sing with the flowers, I will pray to the stars, for both of us" – Sascha
"If the people we love are stolen from us, the way to have them live on is to never stop loving them" – James O'Barr
"The dead never truly die. They simply change form" – Suzy Kassem
"The best and most beautiful things in the world cannot be seen or even touched. They must be felt with the heart" – Helen Keller
"Don't be dismayed at goodbyes. A farewell is necessary before you can meet again, after moments or lifetimes, is certain for those who are friends" – Richard Bach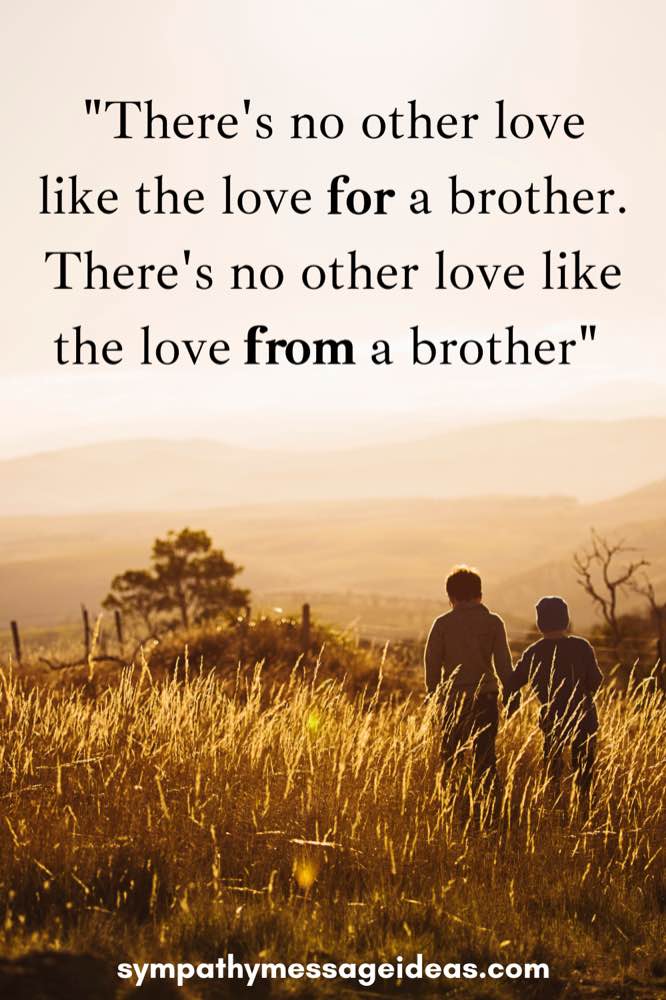 Sympathy Messages for Loss of Brother
I was so saddened to hear about your brothers passing. You have my most sincere condolences for your loss
I know how close you were to your brother and so how hard this must be. I hope you're coping ok and are being supported by friends and family. You're in my thoughts, all my love
Your brother was a one in a million and will be missed dearly be all those who were lucky enough to know him. You and your whole family have my condolences
Try to remember all the good times you had with your brother. He may be gone but he will never be forgotten. My sincerest sympathy for your loss
Losing a sibling is a tragedy and I can only offer my sincerest condolences. You will be in my thoughts and prayers
I was so sad to learn of your brothers passing. He was an absolutely wonderful guy who everyone liked. He will be missed by so many. My condolences for your loss
To lose someone like your brother, who was so young, is beyond unfair. I will never forget him. Stay strong
The world is a less special place without your brother. He lit up our lives with his infectious personality and warm soul. I feel blessed to have known him. Please accept my condolences for such a tragic loss
I will grieve for your brother and feel his loss deeply, but it won't stop me from remembering and cherishing the countless memories I have of him. He will forever remain a special part of my life, and I will continue to celebrate his. You have my sincerest sympathies for his passing
Wishing you strength to get through such an awful time. Your brother was a fantastic guy. You have my sincerest sympathy
I am so terribly sorry to hear of the of your brother. I extend my condolences to you and your entire family
I was so saddened to learn of your brothers untimely passing. Please know how sorry I am for such a dreadful loss. I will be thinking of you and your family
You have so many friends and people who care about you – you're not alone during this tragic time. We will be there for you, whatever you need
Your brother shall never be forgotten. His spirit will endure and the impact he made on so many people be a lasting memory of the type of person he was. My condolences for your loss
May you find some peace and strength in the love of God. May he guide you through this awful time
My heart goes out to you and your family. You will all be in my thoughts and prayers
Your brother may pass on but he will live on in our hearts and mind. Stay strong and don't hesitate to get in touch if you need anything
I'm still in shock over the terrible news. I know my words mean little but I am so sorry for such an awful loss. I will be thinking of you
We are thinking of you and sending our love. Try to find some comfort and support in those around you, and remember we are here if you need us
The bond of a brother can't be described, you have to have known it. So I know how devastating this must be for you. You and your family have my most sincere condolences for your loss
My heart is aching for you during this time. I know we will all pull round to help you get through. We're thinking of only you
Saying sorry never seems like enough during times like this. I just wish there was more I could do or say to help. Know that whatever you need and whenever you need it I can be there for you
I can't begin to imagine what it is you're going through. I just hope knowing someone is here and cares will give you some comfort. My sympathies for your loss
You aren't alone. We love you so much and stand by ready to help but any way we can. Please stay as strong as you can and remember all those who can support you during this terrible time
The loss of your brother has shocked and saddened so many of us. He was a star that shone so bright. We shan't ever forget him. Our condolences
I feel honoured to have known your brother and thankful for the time I spent with him. The world is a little less special now he is gone. All my love and sympathy to you
When a friend or loved one loses someone as special as a brother it's always thoughtful to reach out and show you're thinking of them. We hope these quotes and words of sympathy for the loss of a brother will help you offer your support and condolences to someone who has sadly lost their sibling.