Losing a loved one is arguably the hardest thing most people will go through. The loss of someone special and close to you, be that a friend, partner or family member is devastating.
And the grief we feel all too real. When tragedy like that hits us then we try to find ways to feel better. Maybe seeking understanding or closure regarding that loss, or an attempt to seek out others who share our pain.
That's where these quotes about losing a loved one can be helpful.
Seeing and reading a new perspective or knowing that others have suffered in the same way can really help. Knowing we're not alone in our grief can lessen that pain.
Which is why these quotes about the loss of a loved one assist in our feeling better. So many famous people have talked about loss and in some of the most touching and profound ways. Being able to read, share and think about those words helps to heal and accept what has happened.
Below you'll find a huge selection of loss of a loved one quotes and images. The pictures are created by us and are all our own.
We hope these quotes about the death of a loved one will help to bring you some comfort and solace or offer support and condolences to those suffering a tragic loss.
Short Quotes About Death of a Loved One
These quotes and sayings are short and simple, coming straight to the point. They quickly sum up the feelings and hurt when having lost of a loved one.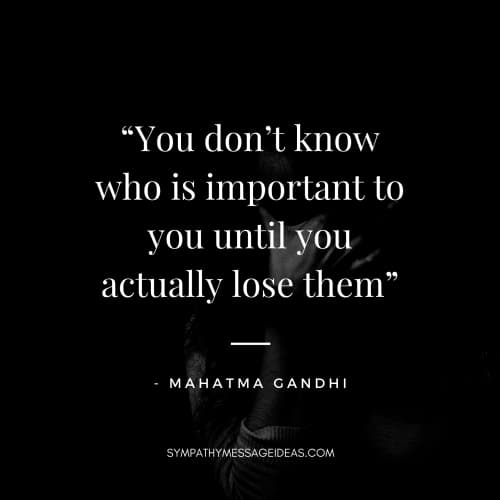 "The death of a beloved is an amputation" – C. S. Lewis
"Death ends a life, not a relationship" – Mitch Albom
"We understand death only after it has placed its hands on someone we love" – Anne L. de Stael
"Deep down inside we always seek for our departed loved ones" – Munia Khan
"The whole world can become the enemy when you lose what you love" – Kristina McMorris
"Grief and love are conjoined, you don't get one without the other" – Jandy Nelson
"You don't know who is important to you until you actually lose them" – Mahatma Gandhi
"For some moments in life there are no words" – David Seltzer
"You cannot stop loving your friend because he's dead, especially if he was better than anyone alive, you know?" – Jerome Salinger
"No matter how prepared you think you are for the death of a loved one, it still comes as a shock, and it still hurts very deeply" – Billy Graham
If you wish to use these quotes and images on Facebook or Twitter etc. please do so but if you plan to use them on your own website then please credit us!
Inspirational Quotes About Losing a Loved One
Sometimes we need a positive outlook about such an awful event. These quotes look at loss from a different angle and try to find the positives and inspire you to remember the good times rather than focus on your grief.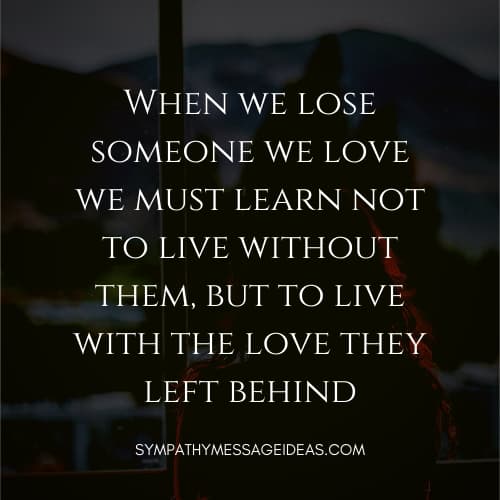 "Don't cry because it's over, smile because it happened" – Dr. Seuss
"While we are mourning the loss of our friend, others are rejoicing to meet him behind the veil" – John Taylor
"Don't grieve. Anything you lose comes round in another form" – Rumi
"If the people we love are stolen from us, the way to have them live on is to never stop loving them" – James O'Barr
"When we lose someone we love we must learn not to live without them, but to live with the love they left behind" – Anonymous
"To live in hearts we leave behind is not to die" – Thomas Campbell
"Say not in grief 'he is no more' but in thankfulness that he was" – Hebrew Proverb
"Never. We never lose our loved ones. They accompany us; they don't disappear from our lives. We are merely in different rooms" – Paulo Coelho
"Grief is in two parts. The first is loss. The second is the remaking of life" – Anne Roiphe
"There are no goodbyes for us. Wherever you are, you will always be in my heart" – Mahatma Gandhi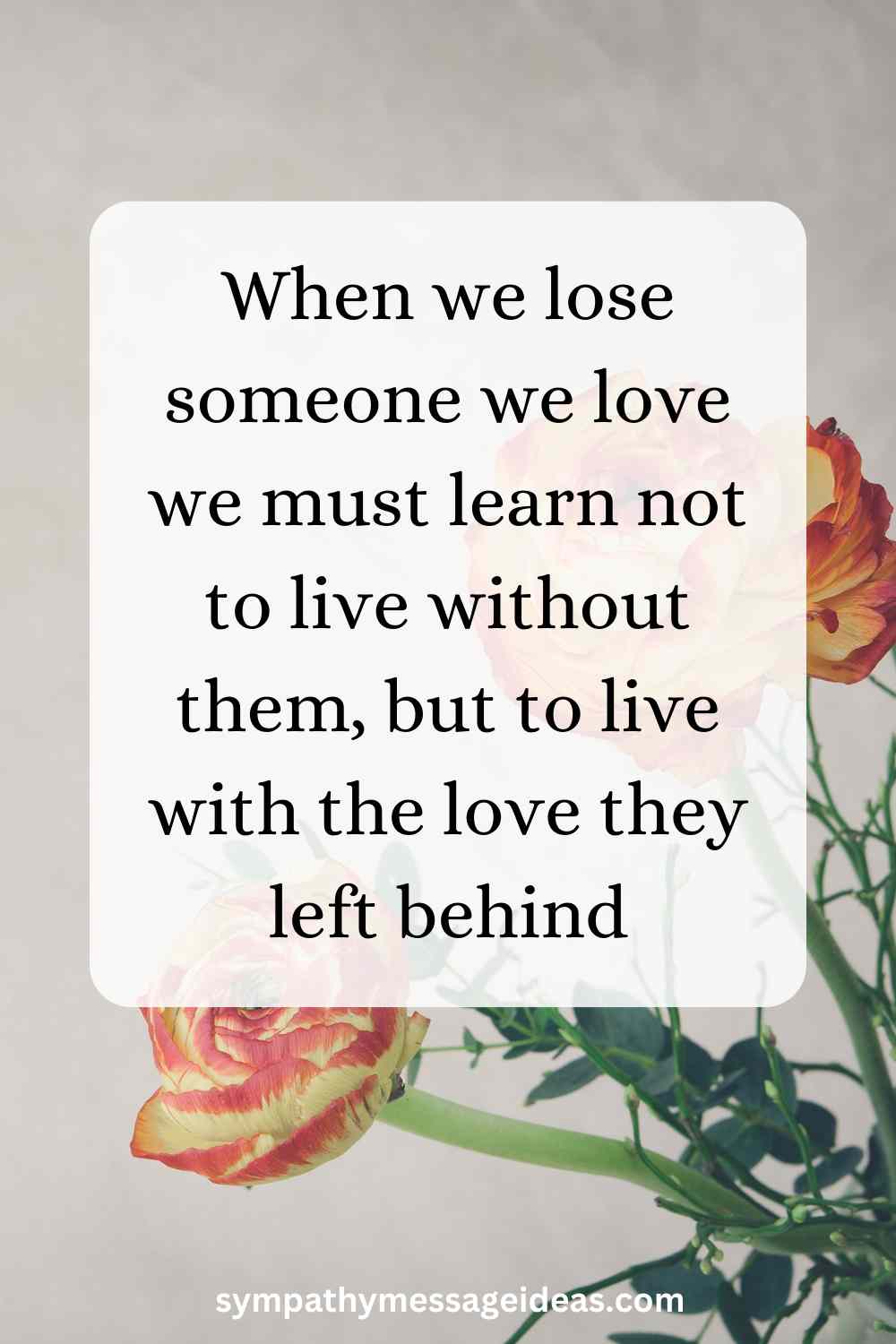 Beautiful Quotes About the Passing of a Loved One
Try these beautiful sayings to find some heartfelt and touching words to truly commemorate a lost loved one.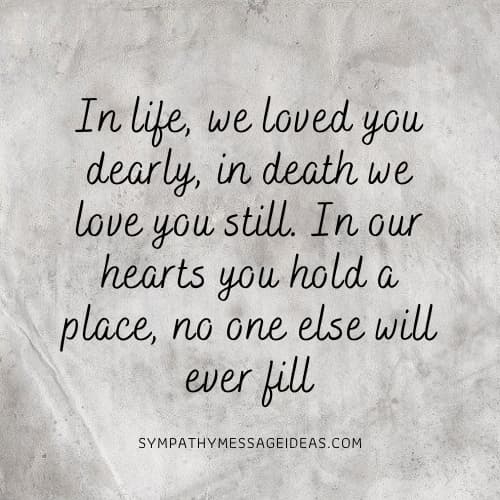 "The dead never truly die. They simply change form" – Suzy Kassem
"Unable are the loved to die. For love is immortality" – Emily Dickinson
"There are some who bring a light so great to the world that even after they have gone the light remains" – Unknown
"Perhaps they are not stars in the sky but rather openings where our loved ones shine down to let us know they are happy" – Unknown
"Only a moment you stayed, but what an imprint your footprints have left on our hearts" – Dorothy Ferguson
"Those we love don't go away, they walk beside us every day. Unseen, unheard, but always near; still loved, still missed and very dear" – Anonymous
"Those we have held in our arms for a short while we hold in our hearts forever" – Unknown
"In life, we loved you dearly, in death we love you still. In our hearts you hold a place, no one else will ever fill" – Unknown
"If you ever lose someone dear to you, never say the words they're gone. They'll come back" – Prince
"Remember that people are only guests in your story – the same way you are only a guest in theirs – so make the chapters worth reading" – Lauren Klarfeld
Comforting Quotes About Losing a Loved One
In times of loss we seek out ways to feel better. These comforting quotes can aid in coming to terms with a loved one that passed away and remembering them.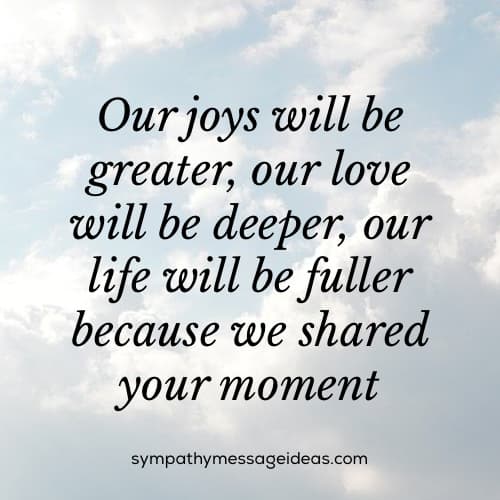 "The only way to get over a death is by seeing it as a life completed, instead of a life interrupted" – Anonymous
"Our joys will be greater, our love will be deeper, our life will be fuller because we shared your moment" – Unknown
"Those we love never truly leave us. There are things that death cannot touch" – Jack Thorne
"The sorrow we feel when we lose a loved one is the price we pay to have had them in our lives" – Rob Liano
"We never truly get over a loss, but we can move forward and evolve from it" – Elizabeth Berrien
"I don't think of all the misery, but of all the beauty that remains" – Anne Frank
"What we have once enjoyed deeply we can never lose. All that we love deeply becomes a part of us" – Helen Keller
"A great soul serves everyone all the time. A great soul never dies. It brings us together again and again" – Maya Angelou
"To have been loved so deeply, even though the person who loved us is gone, will give us some protection forever" – J.K. Rowling
"When you lose someone you love, you gain an angel you know" – Unknown
"Everyone copes differently, some cry for the loss of a loved one others smile because they know they'll see them again" – Unknown
"Tears shed for another person are not a sign of weakness. They are a sign of a pure heart" – José N. Harris
Quotes About Remembering the Loss of Someone Special
We should never forget those we have lost and these sayings and quotes help us to find the words to remember and commemorate those no longer with us.
"As long as there is love and memory, there is no true loss" –
Cassandra Clare
"I should know enough about the loss to realize that you never really stop missing someone – you just learn to live around the huge gaping hole of their absence" – Alyson Noel
"As long as we live, they too will live, for they are now a part of us, as We remember them" – Proverb
"The Remembrance of the good done those we have loved is the only consolation when we have lost them" – Demoustier
"He who has gone, so we but cherish his memory, abides with us, more potent, nay, more present than the living man" – Antoine de Saint-Exupéry
"You may be gone from my sight, but you are never gone from my heart" – Unknown
"Remember me with smiles and laughter, for that is how I will remember you all. If you can only remember me with tears, then don't remember me at all" – Laura Ingles Wilder
"There is no greater sorrow than to recall happiness in times of misery" – Dante
"The comfort of having a friend may be taken away, but not that of having had one" – Seneca
Bible Quotes About Losing a Loved One
The bible features many quotes about loss and death, from all different perspectives. These are just a select few to demonstrate how faith and God deal with grief and loss.
"Blessed are those who mourn for they shall be comforted" – Matthew 5:4
"Peace I leave with you; my peace I give to you. Not as the world gives do I give to you. Let not your hearts be troubled, neither let them be afraid" – John 14:27
"If we live, we live for the Lord; and if we die, we die for the Lord. So, whether we live or die, we belong to the Lord" – Romans 14:8
"Therefore you too have grief now; but I will see you again, and your heart will rejoice, and no one will take your joy away from you" – John 16:22
"For they cannot die anymore, because they are equal to angels and are sons of God, being sons of the resurrection" – Luke 20:36
"So with you: Now is your time of grief, but I will see you again and you will rejoice, and no one will take away your joy" – John 16:22
"He heals the brokenhearted and bandages their wounds" – Psalm 147:3
"He will wipe every tear from their eyes, and there will be no more death or sorrow or crying or pain. All these things are gone forever" – Revelation 21:4
Quotes About Missing Someone You've Lost
When a special person in our lives is taken from us it's natural to miss their presence. There have been lots of sayings and quotes that reflect on missing people from our lives and these are a few of our favourites.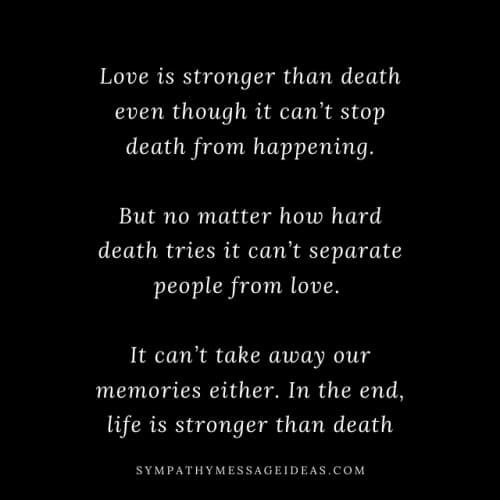 "What they never tell you about grief is that missing someone is the simple part" – Gail Caldwell
"I love you every day. And now I will miss you every day" – Mitch Albom
"Where you used to be, there is a hole in the world, which I find myself constantly walking around in the daytime, and falling in at night. I miss you like hell" – William Penn
"Come back. Even as a shadow, even as a dream" – Euripides
"No matter where you go you will always be in my heart." – Anthony T. Hincks
The pain of missing you is a beautiful reminder of the joy of loving you" – Dean Jackson
"Love is stronger than death even though it can't stop death from happening, but no matter how hard death tries it can't separate people from love. It can't take away our memories either. In the end, life is stronger than death" – Unknown
"Remembering our loved ones is breathing life into their fading images, that we might once more see their faces and pass along a tearful "I miss you" – Richelle E. Goodrich
"When I saw your strand of hair I knew that grief is love turned into an eternal missing" – Rosamund Lupton
Memories.. let them fill your mind, warm your heart, and lead you through" – Unknown
Quotes About Grieving a Loved One
We can never be prepared for someone's passing and the grieving process we experience is like nothing else. These quotes look at the powerful force that grief is and how it affects us.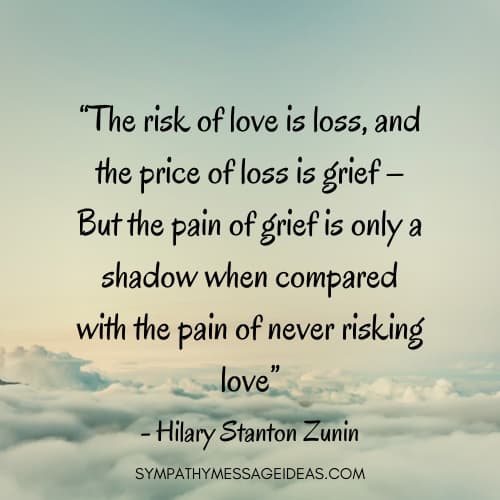 "The very worst part of grief is that you can't control it. The best we can do is try to let ourselves feel it when it comes. And let it go when we can" – Grey's Anatomy
"Grief is the price we pay for love" – Queen Elizabeth II
"We need to grieve the ones we have loved and lost in this lifetime – not to sustain our connection to suffering, but to sustain our connection to love" – J. W.
"Grief is like a moving river, so that's what I mean by it's always changing. It's a strange thing to say because I'm at heart an optimistic person, but I would say in some ways it just gets worse. It's just that the more time that passes, the more you miss someone" – Michelle Williams
"The risk of love is loss, and the price of loss is grief – But the pain of grief is only a shadow when compared with the pain of never risking love" – Hilary Stanton Zunin
"Grief and loss happen to everyone. We've all felt misunderstood during times of great pain. We've also stood by, helpless, in the face of other people's pain. We've all fumbled for words, knowing no words can ever make things right" – Megan Devine
"Grief is like mending a knee. You can mend the knee and make it function, but the knee never actually heals" – Jason Reynolds
"Grief is never something you get over. You don't wake up one morning and say, 'I've conquered that; now I'm moving on.' It's something that walks beside you every day. And if you can learn how to manage it and honour the person that you miss, you can take something that is incredibly sad and have some form of positivity" – Terri Irwin