When someone loses an ex husband it can be a strange time. Although they may be separated there will still be a lot of feelings left over.
When you've been married to someone you don't just stop loving or feeling affection towards them overnight. Even if years have passed since a divorce their death will still cause great hurt and sadness to their ex wife.
So if you know someone that has lost their ex husband then you may be thinking of reaching out with your condolences. But it can be hard to know how to approach it. What do you say to someone who lost an ex husband?
With the loss of a husband it is more straightforward. But how you say sorry for your loss to someone after the death of a ex husband can be tricky.
So if you're struggling then use these example sympathy messages to help you
Sympathy Messages for Loss of Ex Husband
I'm very sorry for the loss of your ex husband. You will be in my thoughts
My condolences for your loss. When an ex passes away it can bring about confusing emotions. I hope you're coping and have friends and family around you for support
I was really saddened to hear of your ex husbands death. He was a good man. May he rest in peace
I know you and your ex had your issues but I can only imagine how hard it is for you to lose someone you were so close to. My condolences
My deepest condolences for the loss of your ex. May you always have found memories of him
You have our sincerest sympathy after such a shocking loss. You will be in all our thoughts and prayers
To lose an ex is such a shock. I know you weren't close anymore but it must still be very upsetting. I'm really sorry and hope you're coping
I know that you and your ex husband didn't part ways on the best of terms but it must still be deeply shocking to have lost him. I'm sending my love and sympathy to you
If you need anyone to talk to or just listen then you know I'm here for you. I'm so sorry for your loss
We will be remembering your ex husband today and how although you drifted apart he was a really good man. May he rest in peace
To lose someone that meant so much to you, even if it were a long time ago, is very sad. My most heartfelt condolences for your loss
Even if your love didn't last your ex husband was such a big part of your life. I hope you're feeling ok and have friends and family around for comfort
During such a terrible time try to remember the good memories you have and what a wonderful person your ex husband was. My condolences
My sincerest condolences for your loss. I'm always here if you need anything or someone to talk to
My deepest sympathy for your tragic loss. May warm memories bring you comfort through the difficult days ahead
I wish there I was more I could say to help but please know I'm thinking of you and sending all my love for you to get through losing someone so important
Condolence Messages for Death of an Ex Husband
I was lucky enough to know your ex and he was such a funny guy. I will really miss him. My condolences
I'm so saddened by ______'s passing. He was a generous and kind man who you could always rely on. I hope it hasn't hit you too hard and you're getting by. All my love
Your ex husband will leave a big whole in many lives. He can't be replaced and it's with such sadness we learnt of his death. I'm very sorry
You have all my sympathy after losing someone who was such an important part of your life. My condolences and thoughts are with you
I will be praying for you and hoping that you can find some peace after the sad news of your ex husband. May his memory forever be a blessing
I wish my words could do more to ease your pain and make things better, but all I can do is offer my condolences for your loss and let you know I'm always here if you need someone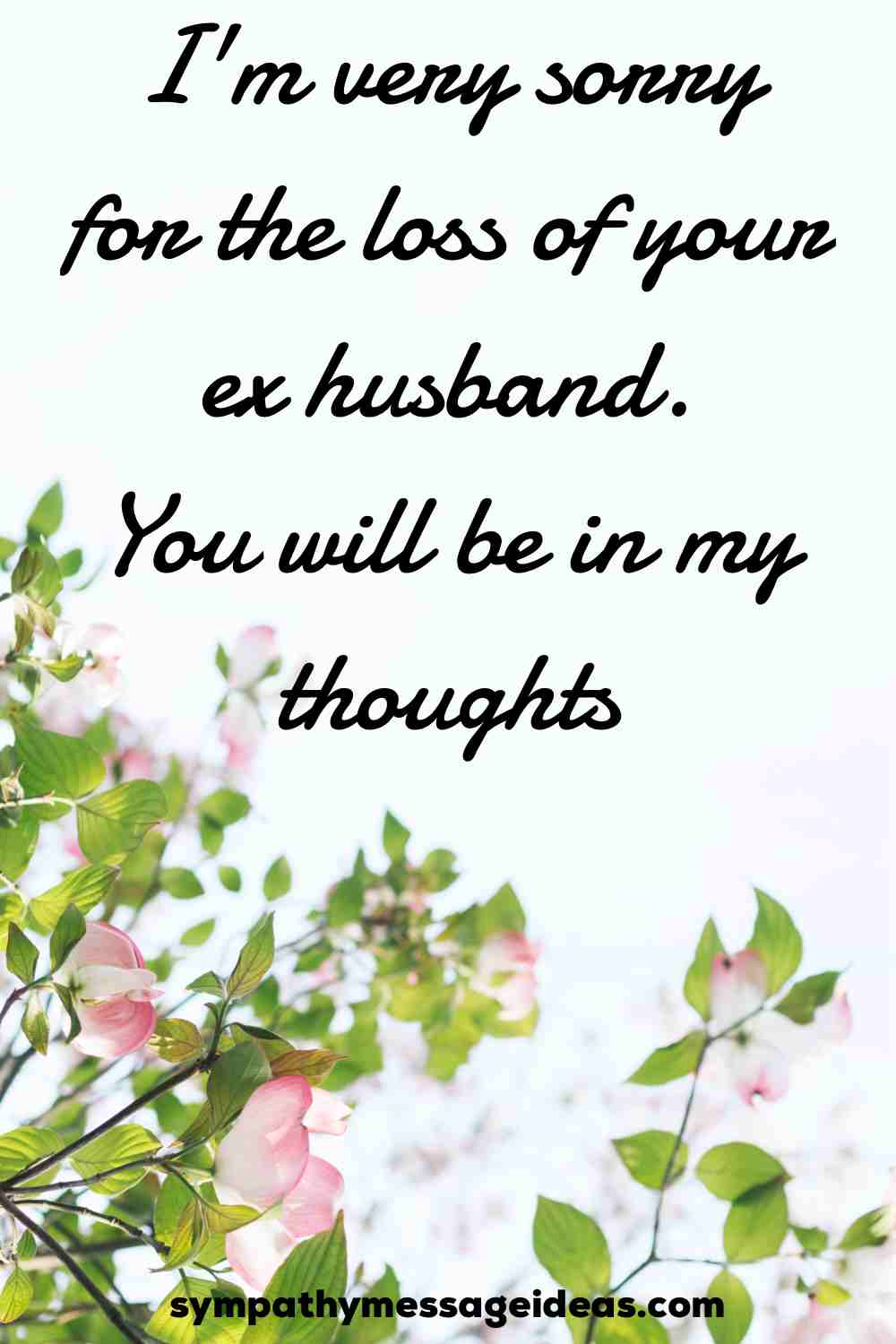 We should do all we can to remember what a wonderful person your ex husband was. He may be gone but his spirit will live on through us. My condolences
Sending my love and best wishes for you get through a difficult moment. Losing someone who you were so close to is always hard and I will be thinking of you and your family
I will always remember ______ as a warm and special man who made everyone feel welcome. He really was a gentleman and I am very sorry to learn he has passed away
You have my deepest sympathy for your loss. May you find peace and comfort amongst loved ones
I can't begin to understand how hard a time this must be for you but I hope these few words will let you know there your friends are there for you should you need them
May the amazing memories you gave help to ease your suffering after the shock of your exes passing. My heart goes out to you
I will be there to support you all the way as you grieve the loss of your ex husband. At every step I will be by your side. All my love
My condolences and sympathy for your loss. Although your ex was your ex for a reason I know you shared a bond and connection that can never be truly broken. I hope you're not too affected by his passing and wish you love and peace for the coming days
I am heartbroken by the news of your ex husbands death. As you mourn his passing I hope you will be surrounded by those who love you most and will provide the shoulder to lean on when it all gets too much. My deepest sympathy
Hopefully these example sympathy messages for an ex husband will have helped you to reach out to whoever it is that is grieving their loss.
Be respectful and kind when offering your condolences. Whilst an ex husband means they were no longer together that doesn't mean they won't feel strong grief and pain at losing someone who was at one point an incredibly special person to them.