The loss of a husband is an extraordinarily difficult time for a partner to go through. The man they loved so deeply and wanted to spend their entire life with has passed away, leaving behind feelings of grief, loneliness and fear.
No one can be prepared for or understand the pain of losing someone so special until it happens to them. All you can hope to do is offer some comfort and reassurance to the bereaved as they grieve.
With that in mind finding the best way to express your sympathy for someone who has lost their husband and choosing the correct words can be difficult. You want to show how much you care, that you are there for them and offer a sense of comfort.
All this in just a few words isn't easy, as well as making sure to avoid anything cliche or inappropriate.
That's why we've provided this selection of sympathy messages for the loss of a husband. Hopefully they will help with ideas of what to say in your sympathy card and inspire some touching words of sympathy for the grieving partner. They can be used as they are or changed to fit your situation.
I'm deeply sorry for the loss of your dear husband. You are in my thoughts and prayers
I was so saddened to hear of your husband's passing. He was a truly special man and will be sorely missed. You have our deepest sympathy
My heartfelt condolences. Your husband was an incredible man and he has left us far too soon
You have my sincere condolences, and I will keep you close in my thoughts and prayers in the coming weeks. Stay strong
Please accept my deepest sympathies over the death of your husband. He was a wonderful man
Please know that you have our deepest sympathy for the loss of your husband. I know it will do little to help but you are in our thoughts during this tragic time
My heartfelt sympathy for the loss of your husband. His memory will not be forgotten
I was so shocked to hear the awful news. Please let me know if there is anything I can do. Condolences
Your husband was one of the most generous and kind people you could hope to meet. My heart goes out to you and your family

May the love of God give you some peace and comfort during this tragic time. You will be in our prayers
I'm so sorry for the loss of your husband. I hope you can find comfort in friends and family. Wishing you all the best and to stay strong
It was such a shock to hear if your husbands passing. I can't express how sorry I am. Please accept my most heartfelt condolences
Your husband was a one of a kind. Please accept my sincerest condolences over his passing
May you find comfort in knowing that your husband touched so many lives. He will be missed greatly
It was an absolute honour to have known your husband. He was a man of his word, generous to a fault and more caring than anyone I've known. He will be sorely missed
Your husband was an exceptional man who always had time for others. The community will not be the same without his presence. My condolences
I just heard the awful news about your husband and wanted to let you know how truly sorry I am. I hope you are holding up ok and if you need anything just let me know

I know I can never hope to understand how you feel but please accept my deepest condolences for your loss. Your husband was an amazing man who has left us far too soon
Your husband had such a positive impact on so many lives. We're all worse off for having lost him. My most heartfelt condolences
There are no words to express my profound sadness over the loss of your husband. Stay strong
I am so sorry for your loss. Your husband was a great man and he meant so much to us. We share your grief at this very sad and difficult time
I am so sorry to hear of your husband's death. You and your family will be in my prayers and thoughts
Please accept my deepest condolences for the passing of your spouse. I wish I could do more to help but know that I will always be there if you need me

Your husband was one of the most special people you could hope to meet. I feel lucky to have known him. Please accept my condolences
I hope you can find some comfort and strength in knowing your friends and family are their for you in this truly difficult time. My condolences
Your husband was an inspiration to not only me but all who were lucky enough to know him. My thoughts and prayers go out to your family
I know there is nothing I can say to help ease the pain but know that I am always here to help. You are in my thoughts and prayers, always
My deepest condolence for the loss of your husband. I know how strong your marriage was and the love between the two of you so clear for all to see. I share in your grief and am sending you my love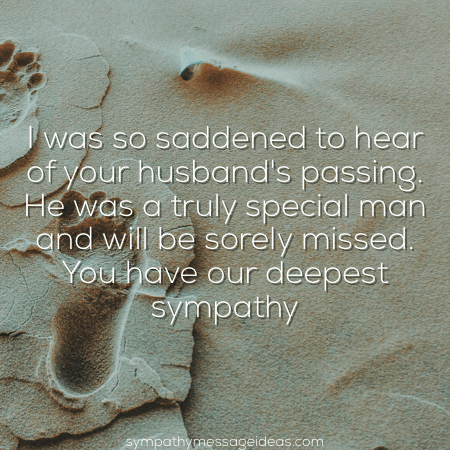 Your husbands loss was far too soon, and although he has gone I find myself thinking of him often and being inspired by the life he lead. His memory will never fade. Please accept my sincerest sympathies
Please accept my heartfelt condolences for the loss of your wonderful husband and father. Words can't do justice to how sad I was to hear of his passing. He will be missed so greatly. My prayers are with you and your family
I'm so sorry to hear of your loss. Your husband was not just a colleague but a true friend of mine. I can't begin to imagine what you're going through. If you need a thing don't hesitate to come to me. With sympathy
It was such a shock to have learnt about your dear husbands passing. His warmth and kind nature will be missed terribly. I hope that the knowledge others share in your grief will offer some consolation
Sending heartfelt condolences to you over the death of your husband. May the kindness and love of family and friends comfort you during this tragic time
Your husband was a great friend and special person. I can't truly express how hard this is. My thoughts are with you and your family and I'm sending my most sincere sympathies
May God guide you through this period of grief and help to lead you to some peace. Your husband will never be forgotten. Please accept my condolences
I pay tribute to an inspirational man. His legacy will live on and the wonderful life he lead be an example to so many. Your husband will never be forgotten and the memories we made a constant reminder of his life. My deepest sympathy
Your husbands death is a tragedy and he will be missed by the entire community. His good work will be a lasting testament to the sort of man he was. My most heartfelt sympathies are with you and your family
The hurt and sadness you must be feeling is unfair, but I hope remember that your friends and family love you. Try to share your burden with them and take comfort in their love. I'm always here if you need me. Stay strong
I will always remember your husbands kind smile, and the positive impact he had on all who met him. He was a truly special man. Please accept my heartfelt sympathy over his passing
Having the opportunity to know your husband was an honour and I can't believe he is really gone. He will never be forgotten and I share in your grief as we mourn his passing. I am praying for you and your family