Losing a child is one of the most tragic things that could happen to anyone. A parent having their son or daughter taken from them will likely be the most painful experience that could possibly be imagined. The grief will be long lasting and change the lives of the family involved forever.
I lost my baby in childbirth and can't speak of the pain I felt. And I won't pretend that any words, card or gift lessens that pain.
But if you are unlucky enough to know a parent, or parents, going through the loss of a child you still might want to reach out and show you are there for them if they need you. Trying to find the right words during such a traumatic time is incredibly tricky.
A condolence or sympathy card is always a touching gesture but needs to have considered and thoughtful wording. You don't want to cause offence by saying the wrong thing.
But at the same time you shouldn't be put off offering sympathy. A message of love that speaks of how sorry you are and the support you can give will always be appreciated.
What to Say to Someone Who Lost a Child
For the parents, just knowing that friends and family are thinking of them whilst they go through such an awful time can alone be comforting. So if you are considering not sending a card or reaching out please don't be afraid to.
However, there are a few things to be wary of. In your message you should avoid phrases or topics such as:
It was there time to go
You must be relieved their suffering is over
You can still have more children
It happened for a reason
God always has a plan
If you are still struggling with what to say to someone who lost a child then try one of the messages below. They should either provide inspiration to write your own or can be copied directly as they are.
Just remember to speak from the heart and your card and message will be warmly received.
Words of Sympathy for Loss of Child
These are some comforting words for someone who lost a child that can be used in most situations. Write them in a card or note, send them as an email or letter or just say them in person to offer your condolences.
I know that there isn't anything I could say to take away the pain. But please know I'm here for you, whatever you need
You are in our thoughts and prayers during this awful time. We're here if you need us
There are no words that can explain the sorrow and pain we feel for the loss of your [son/daughter]. They will be greatly missed
Words will seem meaningless so please know that I'm thinking of you constantly. You have my deepest sympathies
There are no right words at this time. We just wanted you to know that you have our full support in whatever you need
We are so deeply sorry for your loss. Remember we're only a phone call away
A child is always with us. First in their lifetime, then forever in our memory
We send you our love and heartfelt prayers that you may find the strength you need to get through each day
I hope you find strength in loved ones and family to help you get through this awful tragedy
Please accept our deepest sympathy for your loss. We hope you find some form of peace and comfort in time
I imagine there is no pain deeper than losing a child. My heart and prayers go out to you at this most difficult time
We are truly sorry for your terrible loss. Losing a child is heartbreaking. Our heart aches for you and your family
Those we love don't go away. They walk beside us everyday. Unseen, unheard, but always near. Still loved, still missed and very dear
My words will never be enough to express the sorrow I feel for your loss. But I hope you can take some comfort from knowing I'm thinking of and there for you
No words can express the pain that you are going through. My prayer is that God will give you strength to face the coming days ahead
I'm so sorry for your loss. I can only offer to be with you during this awful time and hopefully provide a shoulder to cry on as a source to take strength from
I only wish there was something I could say or do to lessen the pain. You will be in my thoughts and prayers
Whenever you feel ready to talk or want some company then I'll be there. I'm so deeply sorry you're having to go through this
May you find comfort in God and the strength He brings as you mourn the loss of your child. My prayers will be for you alone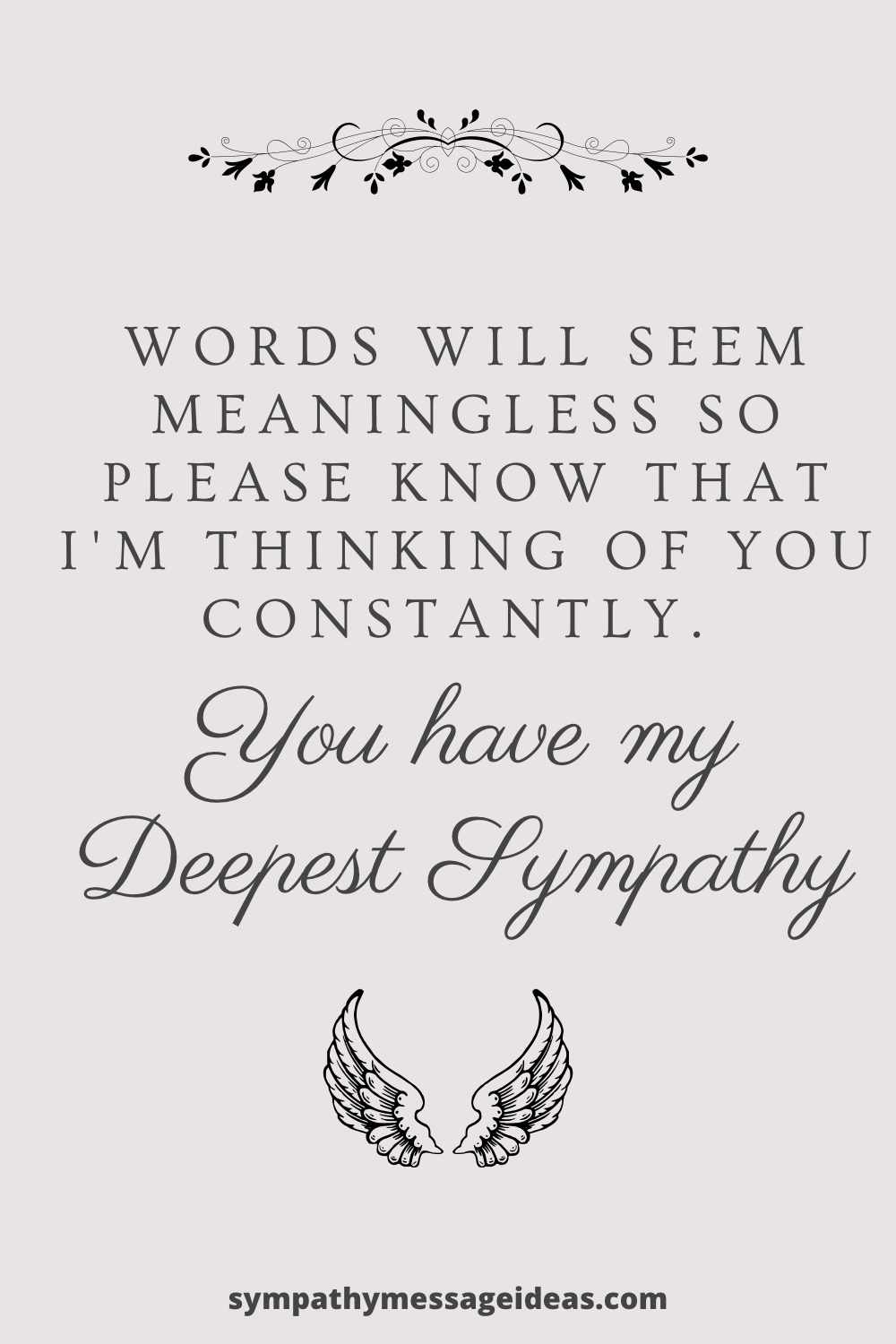 Words of Sympathy for Loss of Daughter
Losing a daughter is so utterly heartbreaking. And what you can say to a parent in that position is so difficult. But these comforting words for a mother who lost her daughter or a father missing his little girl may help to give you ideas of what you can write or say to them during such a tragic time.
We know that over time the pain may look likes it's faded and life has returned to normal. But behind that the memories and grief will last a lifetime. We're so sorry for your loss
I'm so sorry for the loss of your beautiful baby girl. I know nothing I say can make it better, and I can't even begin to imagine what your going through, but please know, even before she was born, she was loved by everyone. She is a beautiful star, a star that will always be in our hearts and our memories
We are deeply saddened by your loss. We will cherish the memories of the times we spent together. We are with you during this time of grief
Words cannot express how sorry we are for your loss. Please know you and your entire family are in our constant thoughts
Your little girl will forever be in our hearts, her memory everlasting in those who knew her. Stay strong and know we're here for you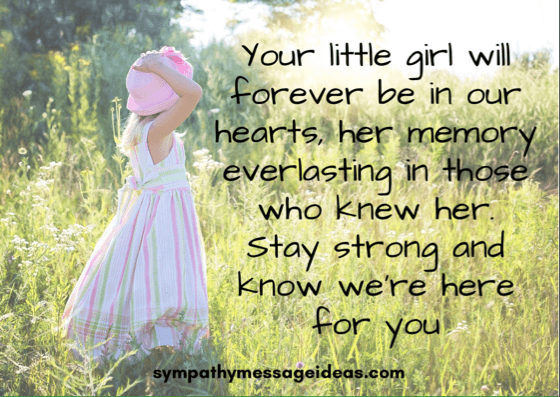 Words of Sympathy for Loss of a Grown Daughter
I am still in shock about the loss. She was so special to our family, we will miss her dearly. Our heart goes out to you and your family during this tragic time
My condolences to you and your family. Life does not make sense and losing someone as young and loving as [name] is tragic. We will miss her immensely
We are truly sorry for your loss. Our heart aches for you and your family. She was a wonderful person and we will miss her terribly
Nothing I can say will help to ease the pain, but your daughter was an amazing woman who's warmth and good nature touched all her knew her. I can't imagine a world without her in it. I'm so sorry for your loss
Words mean little but your daughters generous soul will have created memories for us all to cherish. Her loss is devastating and we're sorry deeply sorry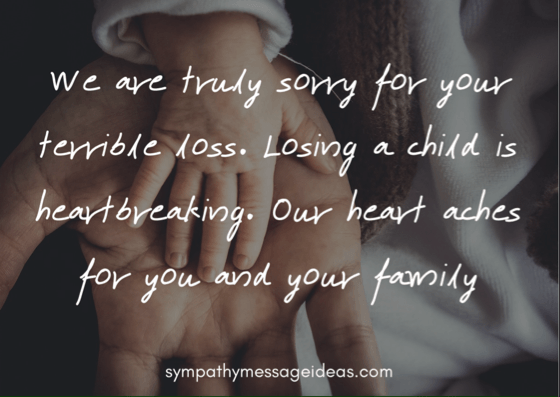 Words of Sympathy for Loss of Son
These comforting words for a mother who has lost a son or a dad grieving the passing of his boy will hopefully help you to reach out to offer your condolences. A sympathy message for the loss of a son may not ease their pain but it will show them you care.
I can't imagine the heartbreak you are going through. I am so sorry for the loss of your son
I cannot imagine there is a pain more deep and terrible than losing a son. My heart, soul and prayers go out to you at this most harrowing time
I feel lucky to have just known your son. His loss will be felt by everyone and leave a gaping hole in so many lives. Please accept my sincerest condolences
The love and joy that your baby boy brought to us all is something I will forever miss and treasure. I am very sorry for your loss
Your little man was beyond special. His beaming smile and the joy he spread will never be forgotten. We're so deeply sorry for your loss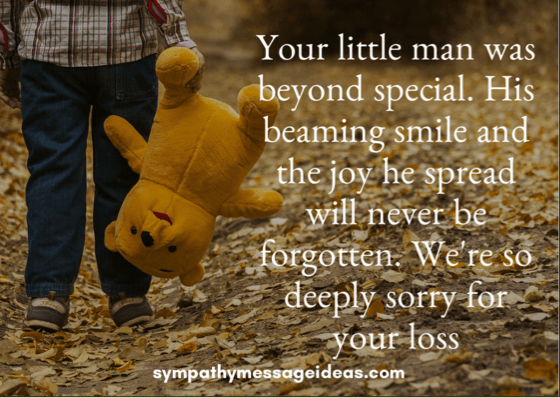 Words of Sympathy for the Loss of a Grown Son
Your son was an inspiration to everyone around him. I am so blessed and lucky to have known and called him a friend, and I will keep his spirit alive with the many memories I hold close to my heart
Like everyone who knew your son we will feel his loss so deeply. I hope you can take comfort from knowing how special he was and the amount of people he touched
Love and hugs to you and your family at this deeply sad time. Your son will never be forgotten
Please accept my sympathy for the terrible loss of your son. He will be remembered as the incredible person he was
Your son was loved by all and brought joy to everyone who knew him. Every bit of my heart goes out to you during this most difficult time
I feel so lucky to have been graced by your son's warm spirit and cheeky smile. He was one of a kind and can never be replaced. I will miss him dearly and send my sincerest condolences
My condolences for the loss of your son. May your cherished memories of him never leave you and bring you some comfort amidst the grief.
Condolences for Loss of Baby at Birth
I don't know what to say, I know how awful this must be for you. I'm so sorry and am there for you whatever you need
If you need a shoulder to cry on or someone to listen then please don't hesitate. I'm always here for you
You are in my prayers, constantly. I pray you find the strength needed to get through this
Take time to rest and process what has happened. We can be there for anything you need doing. We're so sorry
The right words are so hard to find. Please know that I'm thinking of you every moment
You have our deepest sympathies. [Child's name] will never be forgotten
Brief as your child's life was may we forever remember the joy they brought. Please accept my deepest condolences
Condolences for Loss of Unborn Baby
Having heard the sad news we are sending so much love and prayers to you both. Goodnight, God bless precious baby.
We have just heard the terrible news. Just to let you know we are here for you if you need a comforting shoulder to lean on
If you need a friend to talk to or just someone to sit with in silence, I am here for you
Please be patient with yourself and take all the time you need. Sending you our love and deepest sympathy
We send you our love and heartfelt prayers that you may find the strength you need to get through each day
We hope that these words of sympathy for the loss of a child have helped when you are struggling with finding the right thing to say to grieving parents. While nothing you say will be able to stop the pain they are feeling knowing they have the support and are in the thoughts of friends will provide them some comfort.