Losing someone is terrible for everyone. One of the things that makes it easier to cope and get through a loss is the support of friends, family and the people around you. If you're one of those people looking to offer comfort a good way to do so is by expressing your sympathy for their loss.
You can do this in person, with a gift and card or even through the internet with something like an email or using social media. And something that can be better than a standard condolence message is a sympathy image.
A sympathy or condolence image is a picture that expresses your empathy and understanding for what the bereaved is going through. They often have fitting sympathy quotes or sayings that either offer your condolences or sums up the situation in a short line or two.
Below you'll find a huge selection of our very own images of condolence. These condolence pictures are all our own, created ourselves, and free to use on the likes of Facebook or Twitter. If you want to use them on your own website that's fine, please credit us though.
We hope these sympathy images will help to offer your deepest condolences and bring some comfort to those suffering a horrible loss.
Sympathy Quotes and Images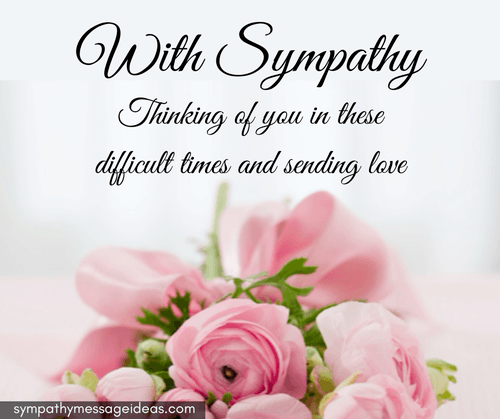 Thinking of you in this difficult time and sending love – with sympathy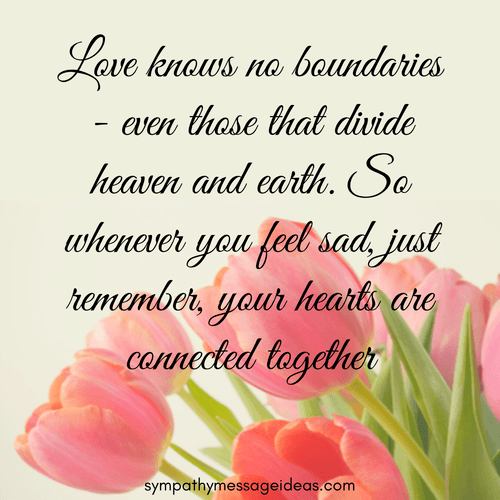 Love knows no boundaries – even those that divide heaven and earth. So whenever you feel sad just remember, your hearts are connected together
You are in my thoughts and prayers, and have my deepest condolences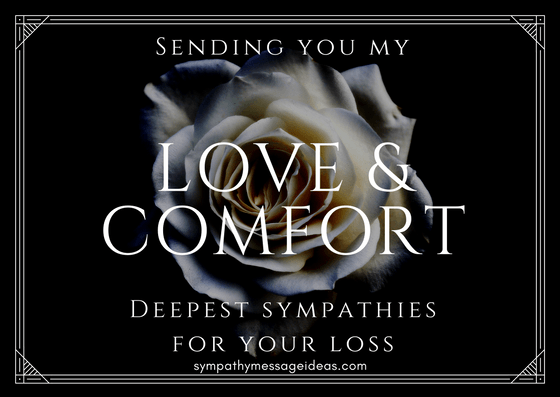 Sending you my love and comfort. Deepest sympathies for your loss
"And we wept that one so lovely should have a life so brief"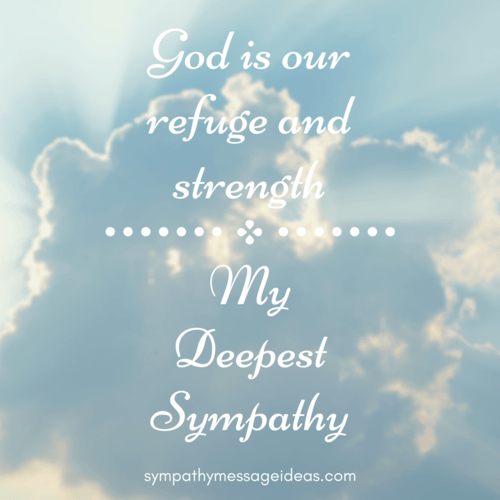 God is our refuge and strength. My deepest sympathy
"Unable are the loved to die, for love is immortality"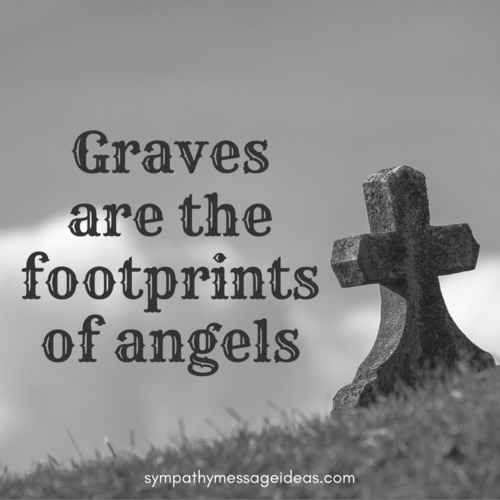 Graves are the Footprints of Angels
Grief is the Price we pay for Love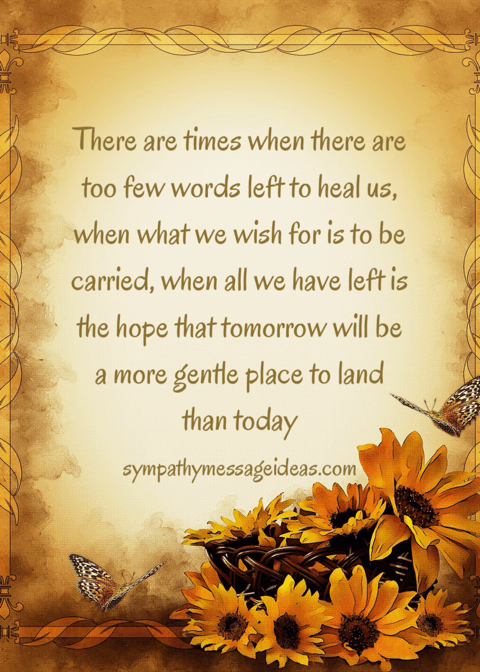 There are times when there are too few words left to heal us, when what we wish for is to be carried, when all we have left is the hope that tomorrow will be a more gentle place to land than today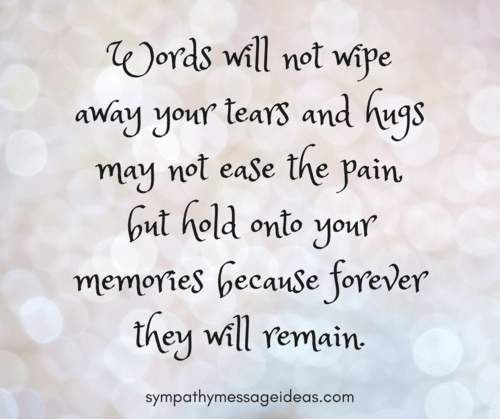 Words will not wipe away your tears and hugs may not ease the pain, but hold onto your memories because forever they will remain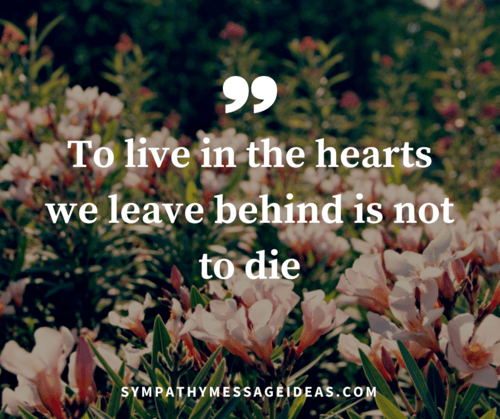 "To live in the hearts we leave behind is not to die"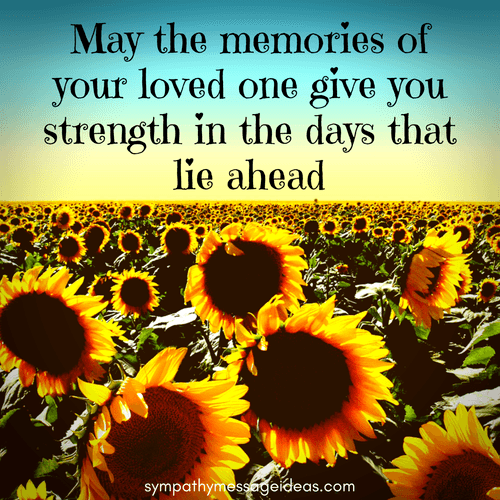 May the memories of your loved one give you strength in the days that lie ahead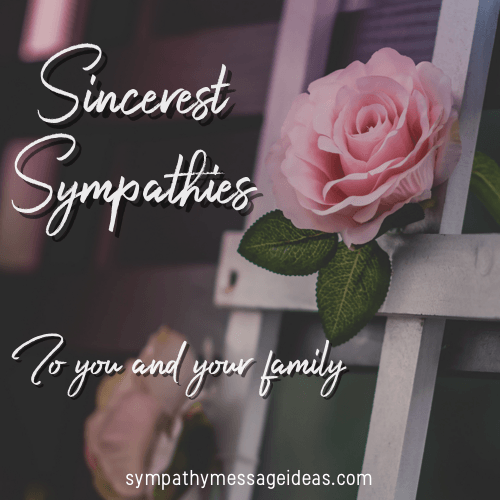 Sincerest sympathy to you and your family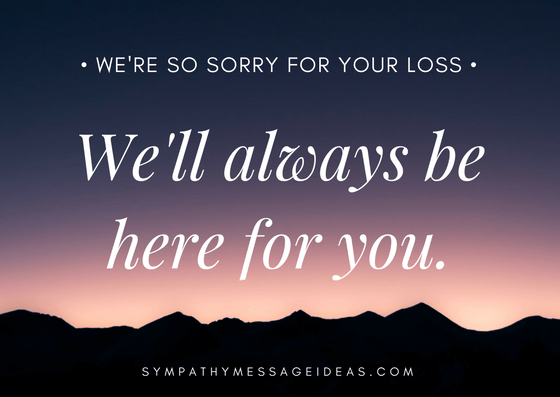 We're so sorry for your loss. We'll always be here for you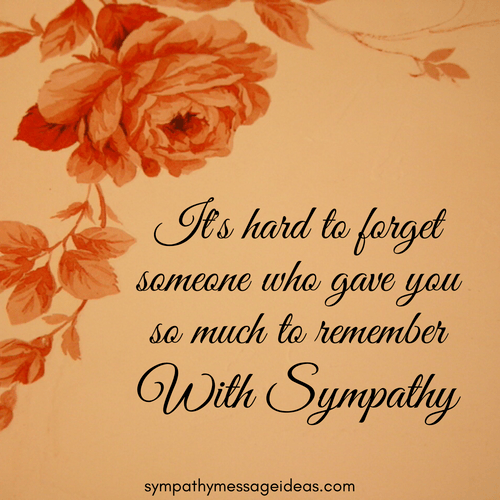 It's hard to forget someone who gave you so much to remember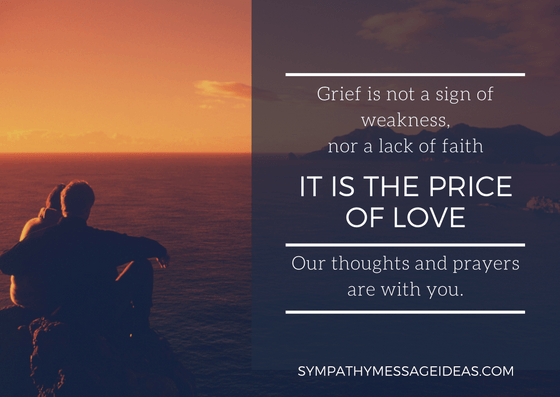 Grief is not a sign of weakness, nor a lack of faith. It is the prices of love. Our thoughts and prayers are with you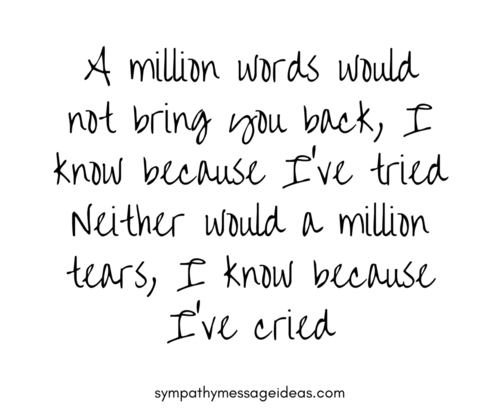 A million words would not bring you back, I know because I've tried
Neither would a million tears, I know because I've cried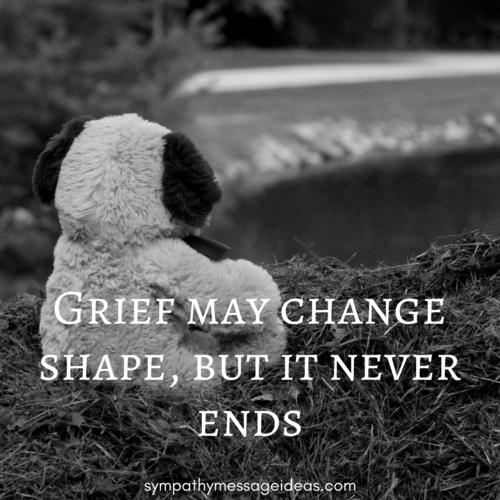 Grief May Change But it Never Ends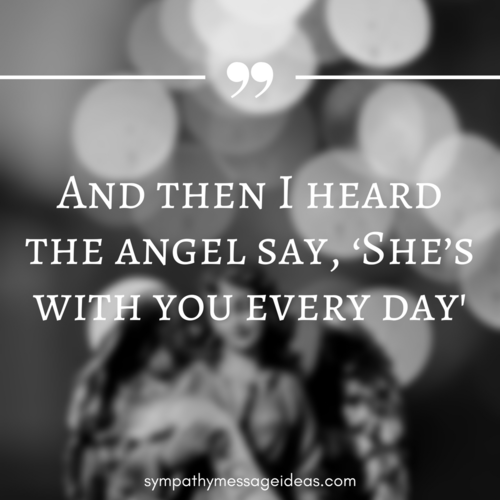 "And then I heard the angel say, 'She's with you everyday'"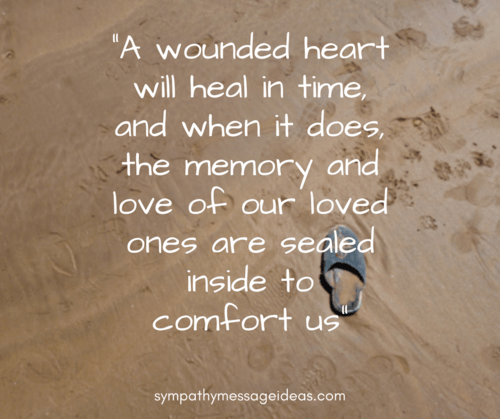 "A wounded heart will heal in time, and when it does, the memory and love of our loved ones are sealed inside to comfort us"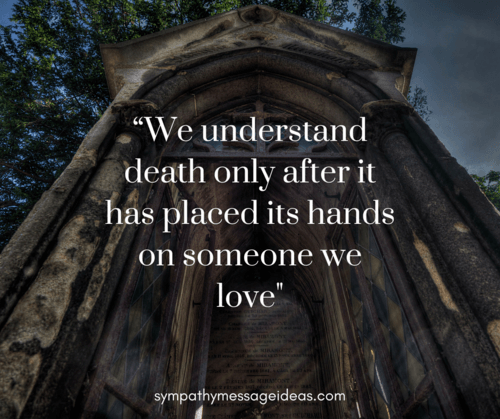 "We understand death only after it has placed it's hands on someone we love"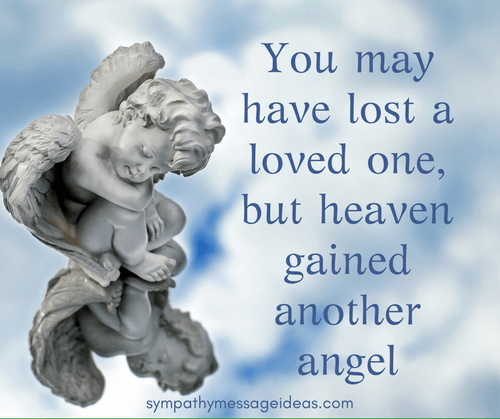 You may have lost a loved one, but heaven gained another angel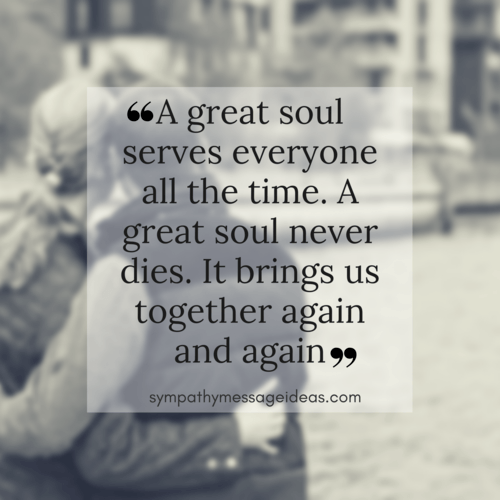 "A great soul serves everyone all the time. A great soul never dies. It brings us together again and again"
The goodbyes and tears will morph into memories that you'll hold close to your heart, now and forever
Our love and thoughts are with you – Deepest sympathy
"When you lose someone you love you gain an angel"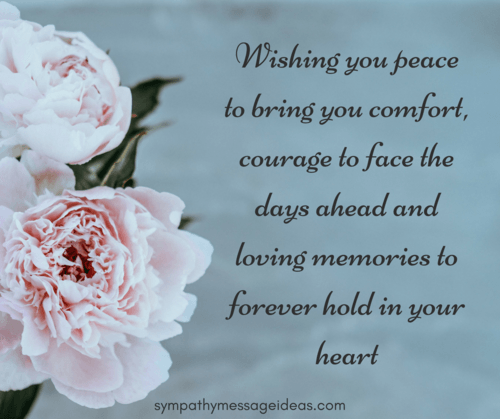 Wishing you peace to bring you comfort, courage to face the days ahead and loving memories to forever hold in your heart
May you take comfort in the knowledge that there is one more angel in heaven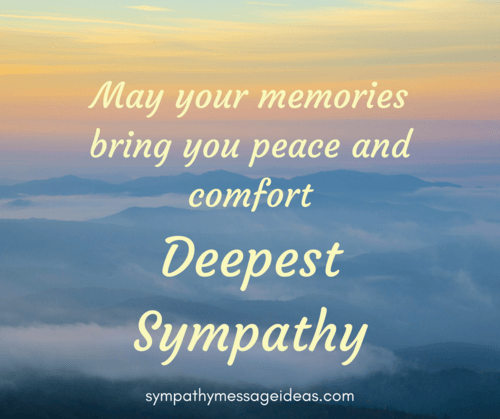 May your memories bring you peace and comfort – deepest sympathy
When you love someone enough, there is no such thing as goodbye
"May your heart heal over time with the help of the memories of your loved one"
When someone that you love becomes a memory, that memory will then become a treasure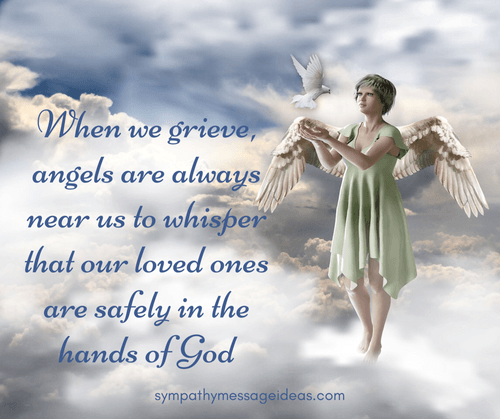 When we grieve, angels are always near us to whisper that our loved ones are safely in the hands of God
You have my sincerest sympathy
for your loss
Wishing you strength for today and hope for tomorrow
There are no words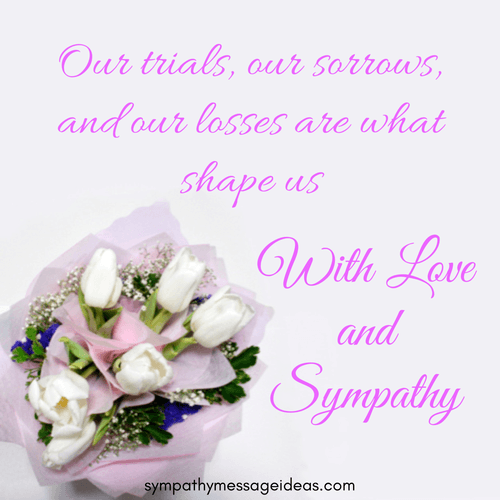 Our trials, our sorrows, and our losses are what shape us. With love and sympathy
May beauty live on in your memories and bring you peace
"Our joys will be greater, our love will be deeper, our life will be fuller because we shared your moment"
"We never truly lose the people that we love, even to death"
To live in the hearts that are left behind is not to die
"There are no goodbyes for us. Wherever you are, you will always be in my heart"
My Deepest Sympathies are With You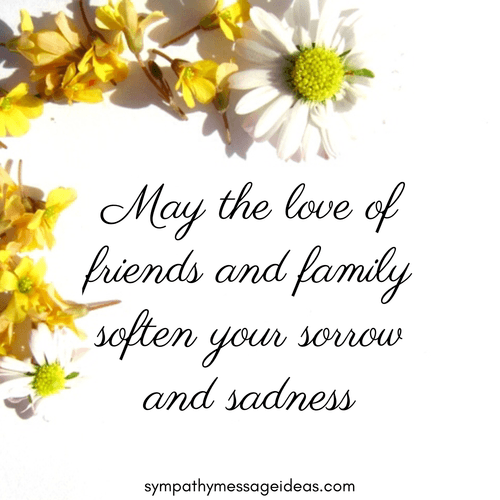 May the love of friends and family soften your sorrow and sadness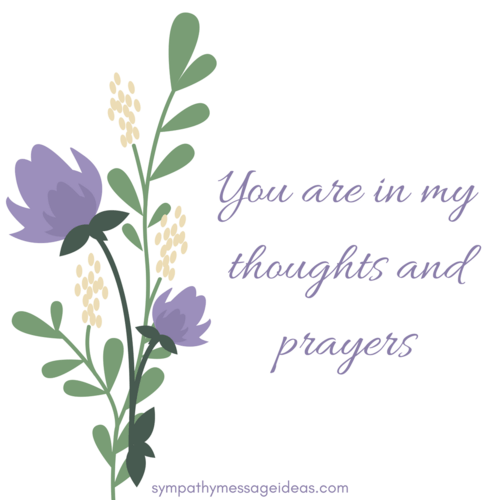 You are in my thoughts and prayers
Flowers can grow out of the darkest moments
You went to heaven too soon, leaving behind you only tears and pain. May God rest your soul
Do not lose hope. When the sun goes down the stars come out
Praying that the love of God enfolds you during this time of loss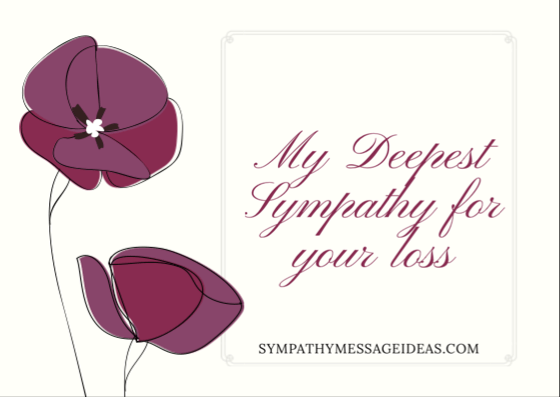 My deepest sympathy for your loss
Death leaves a heartache that nobody can heal and love leaves a memory that no one can steal
Wishing you strength, courage and much love
Short Sympathy Quotes
You may want to reach out to those suffering after a loss to offer them your sympathy. Try these short condolence quotes to show them how much you care and let them know they are not alone.
Holding you close in our prayers during your time of sorrow
With all my heart I send my sympathy and condolences for your loss
May you find comfort and love amongst those closest to you
Although no words could hope to take away your sorrow, may it help to know we are all thinking of you
May time heal your sorrow and friends ease your pain
I hope you can heal and find peace during such difficult times. My condolences
Sometimes there are no words. My sympathy
While we could never understand your pain, we feel your loss. Our condolences
Sympathy Quotes for Loss
These quotes are about remembering those taken from us. They can be used in a sympathy card but also shared on Facebook or other social media.
God didn't promise days without pain, laughter without sorrow, nor sun without rain. But he promised strength for the day, comfort the tears and light for the way
Your life was a blessing, your memory a treasure, you are loved beyond words and missed beyond measure
Your wings were ready, but we were not
Grief is the last act of love we have to give those we loved. Where there is deep grief, there is love
You left your blueprint on my mind, your handprint on my heart and your imprint on my soul
The loss is immeasurable, but so is the love left behind
May the prayers of those who love you carry you through this time of sorrow
May the wind of heaven blow softly and whisper in your ear, how much we love and miss you and wish that you were here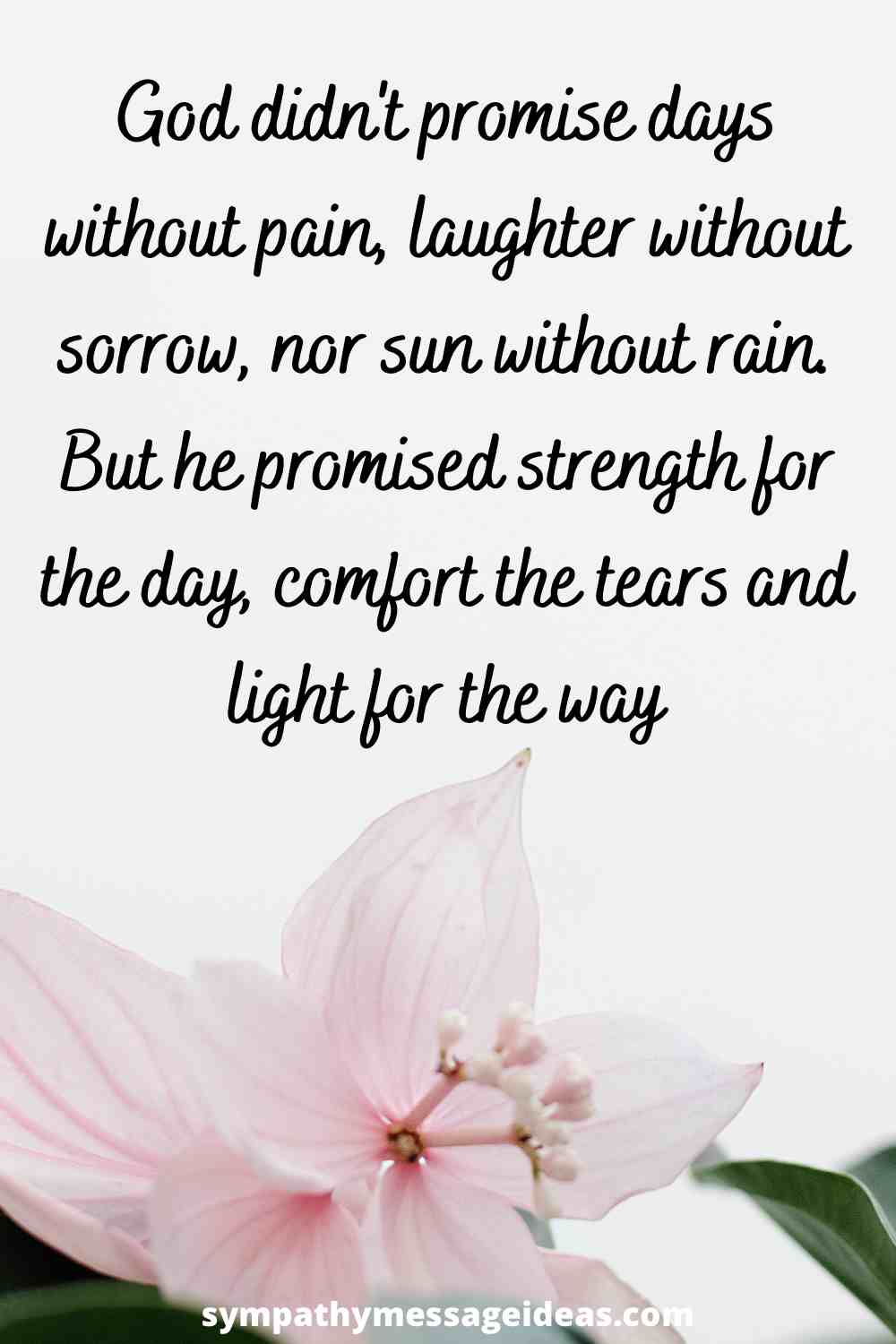 Uplifting Condolence Quotes
To lose anyone is heartbreaking, but these quotes can hopefully bring some comfort and hope.
I know I can't be with you now and you can't be with me. But safe inside my heart you'll stay, that's where you'll always be
There are some who bring a light so great to the world that even after they have gone the light remains
Gone from your arms but still in your heart
Those we love are never more than a thought away
We were blessed to have had you and in our hearts you will stay
When you have lost a loved one may you find light in enveloping darkness
In honor of a live so beautifully lived. May you carry all the special moments and cherished memories in your heart today and always
May cherished memories bring you moments of comfort amidst the pain
We hope these sympathy quotes and sorry for your loss images will have helped you find the words to show your support. Or will have given you some comfort amongst the pain of losing someone special to you.