Posted by
Sally Collins
Someone losing their father is one of the most difficult things they will have to go through. The bond between a son or daughter and their dad is profound and everlasting.
The loss of a father can bring about not only feelings of loss and grief, but also fear. We often view our father's as protecting us and so that loss can affect our feeling of safety. Overall though the strongest emotion will be grief.
Trying to find the right words to express your sympathy towards the bereaved and the pain they are feeling is remarkably hard. You want to find the most respectful and comforting phrase you can.
The worry is you will just come up with the usual tired and clichéd sayings. Not to mention the same words that everyone else will have used when expressing their sympathy.
With all that in mind, the list of words of sympathy for loss of a father below should help to give you some ideas and inspiration for what to write in your sympathy card or say to the bereaved. Either use one of them directly or personalize it in the what you feel is the most fitting and appropriate way.
Short Condolence Messages for Loss of Father
These short, comforting words for the death of a father are well suited for a sympathy card, note or quick text message. Use them as a brief way to let someone know how sorry you are they have lost their dad.

I'm so sorry for the loss of your father. He was a wonderful man.


May your father rest in peace. My deepest condolences.


Sending you warm and loving thoughts after the tragic passing of your father.


May memories of your dad provide you some comfort as you mourn his passing.


Your father was a truly special man. He will be deeply missed. My condolences.


There are no words I can offer other than how sorry I am. You will be in my thoughts and prayers.


My most sincere sympathy for your loss. I'm always here if you need a shoulder to cry on.


May your father's spirit live on long after he is gone. My condolences.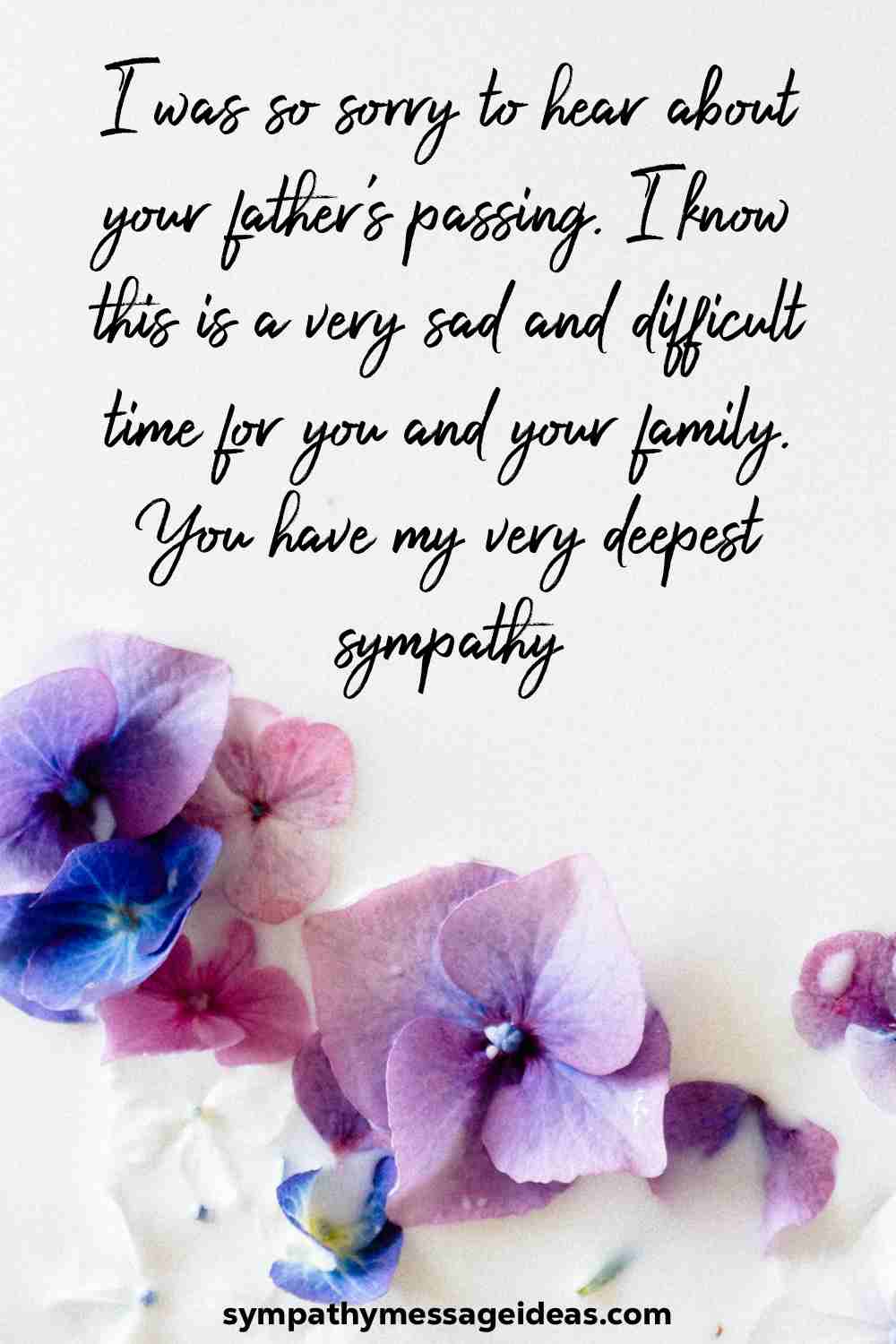 Sympathy Messages for Loss of Father
If you aren't sure what you say to someone who's father died then these example messages should help you to reach out with your condolences.
My heartfelt condolences. Your father was an outstanding man and it seems that he has left us too soon.
Your father always bragged about how wonderful you were. I hope you know that you meant the world to him. He was a wonderful man and will be missed. Truly sorry for your loss.
Your father was one of the nicest people I knew and I know that he was a great dad too. You have my deepest sympathy on your loss.
I am truly sorry for your loss. There is no grieving message that can express how much he meant to me. My heart is aching.
No matter where he is, he'll always be watching over you. He will stay with you forever.
I was so sorry to hear about your father's passing. I know this is a very sad and difficult time for you and your family. You have my very deepest sympathy
I am sorry to hear about the loss of your father. If you feel like talking to someone, know that I am a good listener.
I cannot tell you how sorry I was to hear about your dad. I was shocked and saddened by the news. Please extend my sympathy to your mom and the rest of your family.
The loss of one's father marks one of the most profound rites of passage in our life.
My condolences to you for the passing of your father. There will never be another man like him.
I am really sorry for you loss. I know how close you were to your father and what an influence he had on your life. We will miss him.
I hope it comforts you to know that your grief is shared by all of us who knew your dad. He was a wonderful man and he will be sorely missed
I am deeply and sincerely sorry for the loss of your father. May his memory forever be a blessing.
Life doesn't seem fair sometimes and this is one of those moments. Your father was one of the good guys. I will miss him terribly. My condolences.
I will keep you close in my thoughts and prayers in the coming weeks as you are going through your process of grieving.
A father may pass on but his thoughts, hopes and dreams live on in us. Remember the amazing life he lead and how much he loved you. I'm very sorry for your loss.
Your father was always there for my family when I was growing up. He was so giving and thoughtful. He will live on in our hearts forever.
Losing your dad can be extremely difficult because you are losing a source of strength, stability and consistency in your life. I am sorry for your loss.
Your dad was a wise man, but at the same time, he had a great sense of humor. He will be missed greatly and remembered often.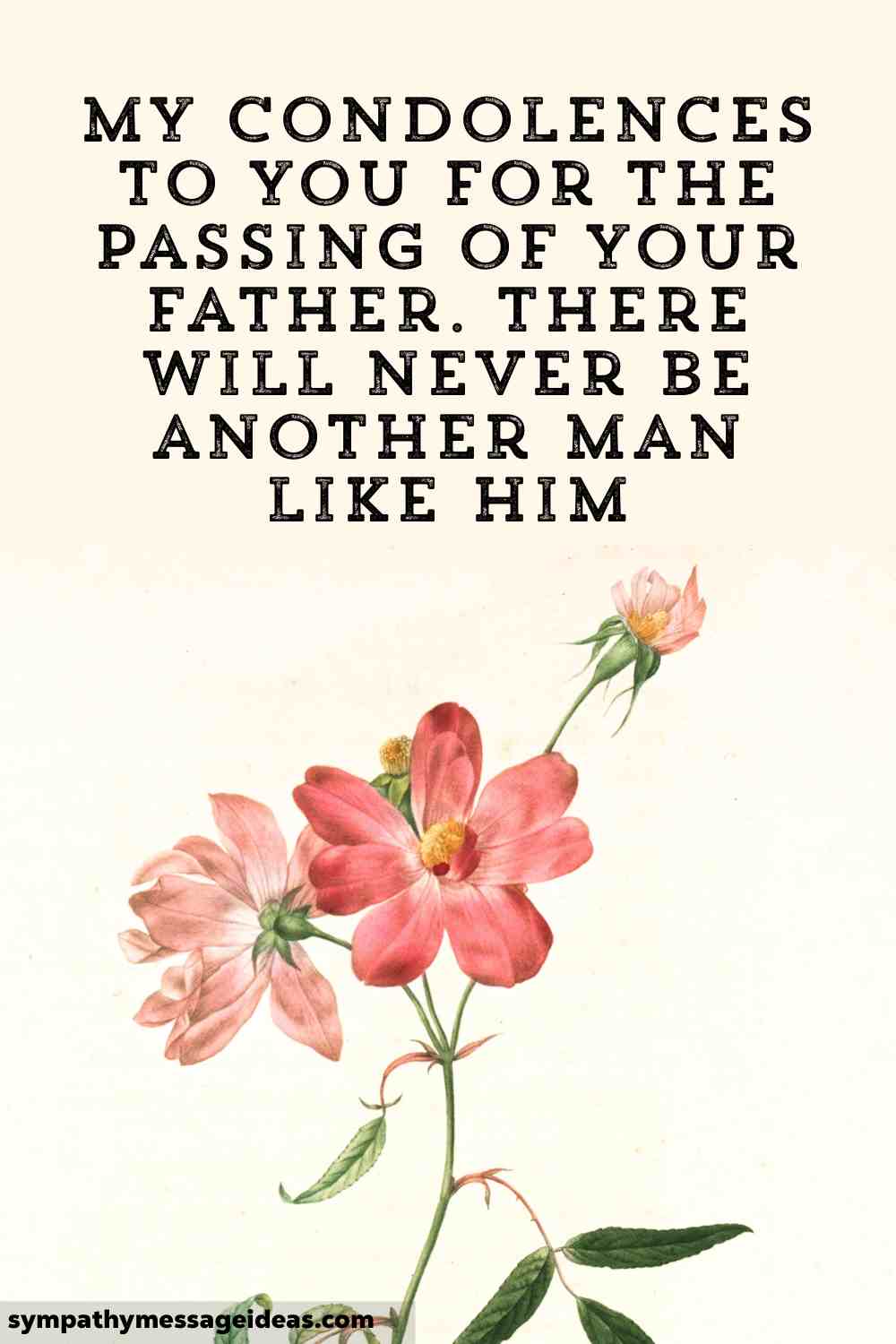 Condolence Messages on Death of Father

May the wonderful memories of your dad help ease your suffering. It's so hard to say goodbye to someone so loved but I hope you can find the strength to get through this tragic time. My most heartfelt condolences.


Please accept my most sincere condolences to you and your family. May you find strength and support amongst each other. I am thinking of you and sending my love.


I could never know how hard this is but know that I will always be there for you. I will support you through every moment. My heart goes out to you.


I wish I could do more than offer my most sincere condolences. It is so heartbreaking that you have lost your beloved father and I am devastated for you. I only hope the love he leaves behind can bring you some comfort in this face of such a difficult time.


I hope that friends and family are surrounding you and bringing their love and support following the loss of your dad. I understand that there is only so much they can do but I sincerely hope that the kindness and support of loved ones can help you deal with the grief. My condolences.


I am so very sorry for your loss and wish to express my deepest condolences. I hope they loved ones are with you for support and you can find some strength to get through the hard days ahead.


I would like to express my condolences to you and your family for the loss of a devoted father and husband. I am always thinking of you and want you to know I am here if you need any help. May you find some peace to heal.


There is nothing harder than losing someone as loved as your dad. You may feel alone as you go through this but we will all be there if you need us. I can promise I won't let you down. You have all my sympathy and love.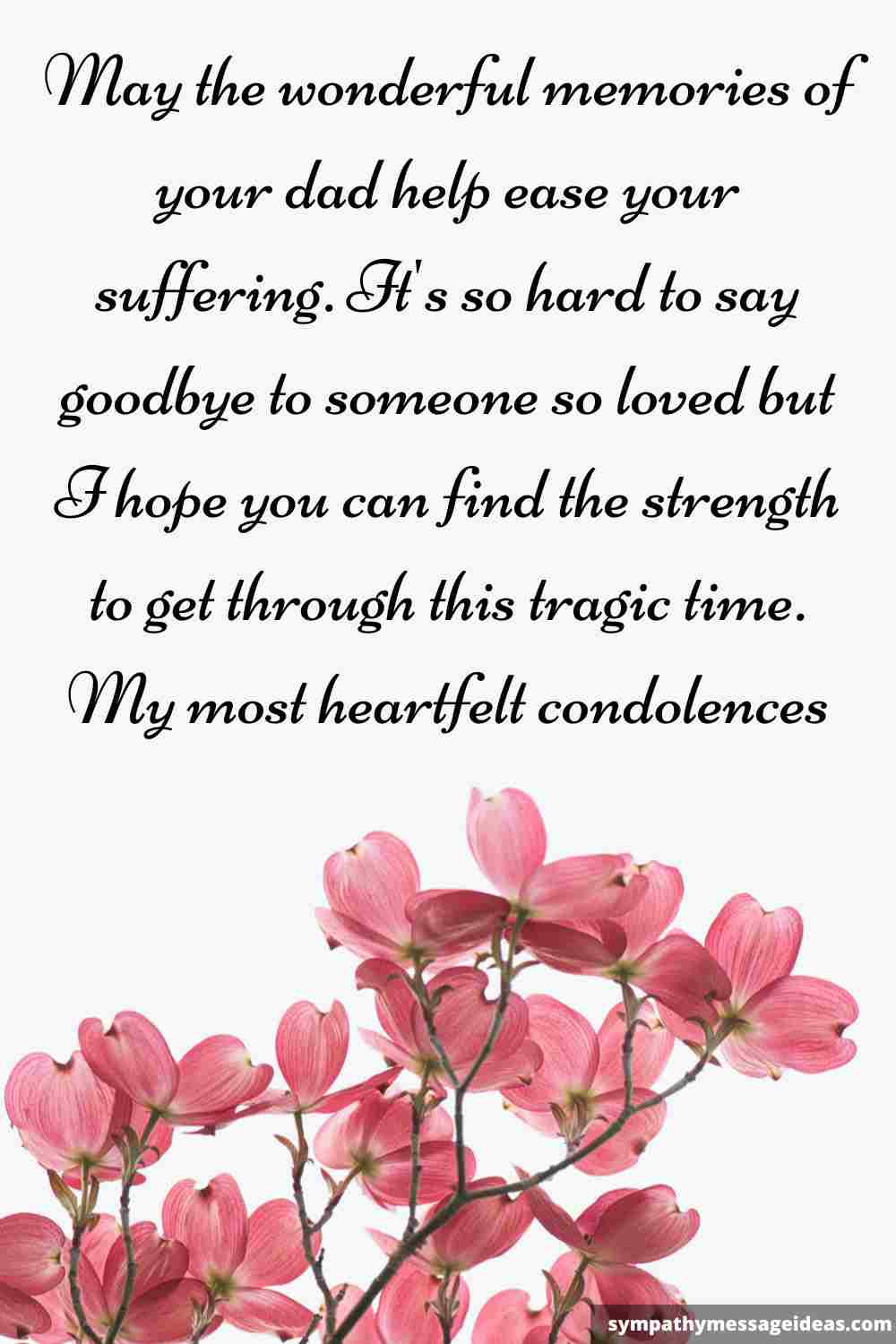 Condolence Messages for a Friends Father's Death
When a friends dad has passed away then they will be hurting and grieving. Knowing their friends are thinking of them and sending their love helps. So use these examples to send them a message of condolence.

I know how close you and your dad were. I saw firsthand the love you shared and bond you had. I am so very sorry he is gone.


I'm going to be there for you as you cope with the loss of your father. I can't make the pain go away but I can help you through the grief and mourning. I'll do everything I can.


You are as good a friend as I've ever had and I'm so sorry you're father has passed away. He was a kind and loving man who touched so many lives. My sincerest condolences.


I have very fond memories of your dad and spending time with him. Its so sad that he's no longer with us. May his memory never leave you.


Losing your father is just awful and I can't imagine what you're going through. But you have always been there for me and I will do the same with you.


There is nothing I can say to take away your pain. But please know I'm here, always thinking of you and ready to help any way I can. With loving sympathy, your friend.


I want to do all I can to help you through this terribly difficult time. I can't understand what you're feeling but I can support you when you need it. I'm so sorry for your loss.

What to Text Someone Who Lost Their Dad
I'm deeply saddened to learn the news of your father's passing. Please accept my deepest regrets for your loss.
I'm so sorry for the loss of your beloved dad. He will be sorely missed.
My condolences to your and your family after the tragic loss of your father.
May your fathers memory live on forever in your heart.
I'm here for you if you need me. I'll check and see how you're doing very soon.
My thoughts go out to you and your family at this time. My condolences.
My deepest sympathies to you for the loss of your dad.
I'm thinking of you and praying you find comfort to get through such a terrible loss.
We hope these examples of what to write in a sympathy card for loss of father have helped you to offer support and comfort to someone who's dad passed away. It will be an incredibly tough time for them so try to be there and do whatever you can to make things easier whilst they grieve.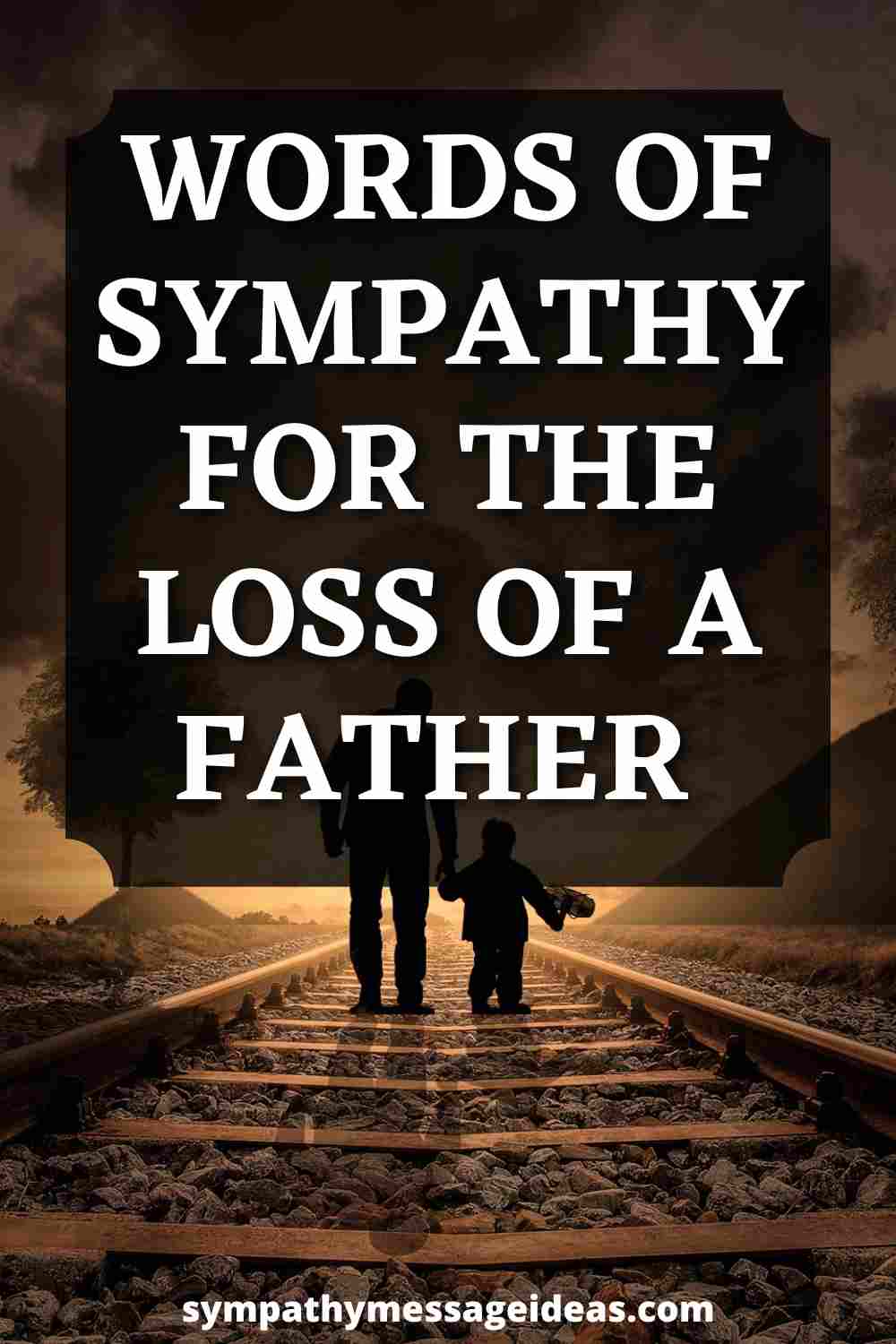 Sally Collins is a writer and the founder and owner of Sympathy Message Ideas. Her passion is to help others deal with grief and provide assistance with talking to those grieving. Learn more about Sally.