A eulogy is an opportunity to share the memories and feelings about the deceased and reflect on their life. It is a chance to pay tribute to whoever has passed away.
But it's also extremely difficult to write a eulogy. Especially for someone like your husband.
So if you're struggling then use these eulogy examples for husbands to help give you some ideas or inspire you with what to say.
Short Eulogies for Husband
My dear husband, [name], has been taken from us far too soon. He was a loving, caring and completely devoted person to his family and friends. A wonderful husband and father, his warmth
[name] could be relied on to always come through for me and our family. It didn't matter what was going on he was a source of support and strength. In every sense of the word he was my partner. He taught us how important hard work and dedication are but never failed to put family first and go to any length for our happiness.
[name] will be with us, always, and hold a place in our hearts that can never be taken. The memories we have of him will be with us forever and he will be missed so deeply.
**************
I stand before you to remember my dearest husband, [name], the most affectionate and loving man who has been taken from us too soon. He was my best friend and soulmate and I'm devastated that he is no longer with us.
The love and bond that [name] and I shared was unique and special. He was there for me through the good times and the bad and could always put a smile on my face. I will be forever grateful for how much joy and love he brought to my life.
No one will ever replace [name] and I hold those treasured memories of him deep in my heart. He won't ever be forgotten.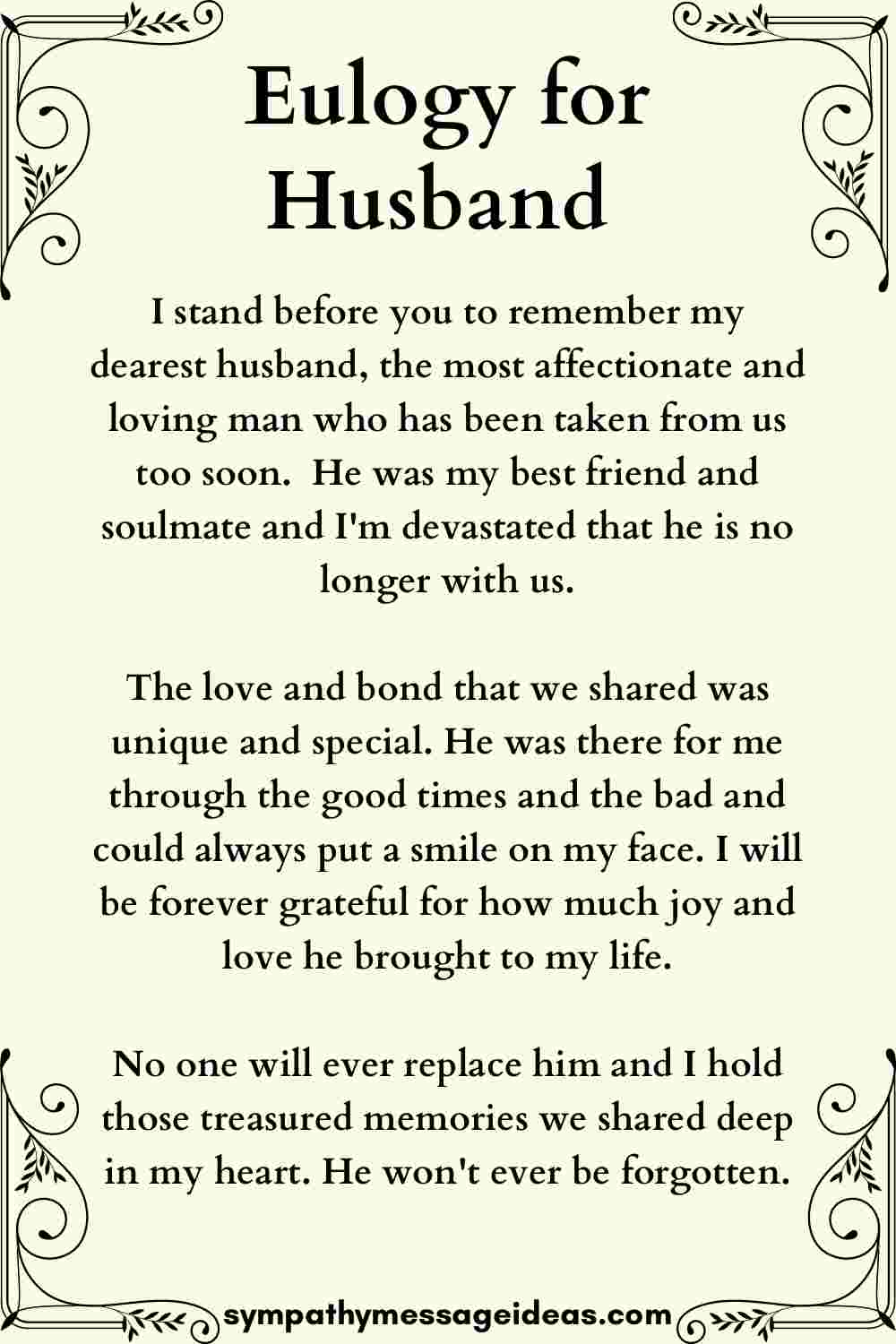 **************
I am heartbroken to be delivering this eulogy for my husband [name]. I still can't believe he is truly gone.
[name] was more than just my partner, he was a wonderful father and friend to all. His loyalty and dedication marked him out as someone so special.
Family and friend always came first for [name] and his selflessness was just one of his amazing qualities. His independence, zest for life were truly inspiring and I know so many people looked up to him.
Goodbye [name]. I will miss you more than this eulogy could ever say and hope one day we will be reunited.
**************
I stand here today with a broken heart to say goodbye to the love of my life, my soulmate – my husband.
Together we made memories that will last forever, we laughed every day and shared the most wonderful moments. [name]'s kindness, strength and humility touched not just our family but all who knew him.
His contagious smile and goofy sense of humor would light up any room he was in and make even the worst day seem a bit brighter.
I am beyond grateful he was by my side through our incredible journey and won't ever forget the love in his eyes that melted my heart every time he looked at me.
Although he may be gone from this world his legacy lives on through the people he touched. We carry his memory with us and it brings me comfort to know that so much of him is alive in friends and family.
Goodbye, my love.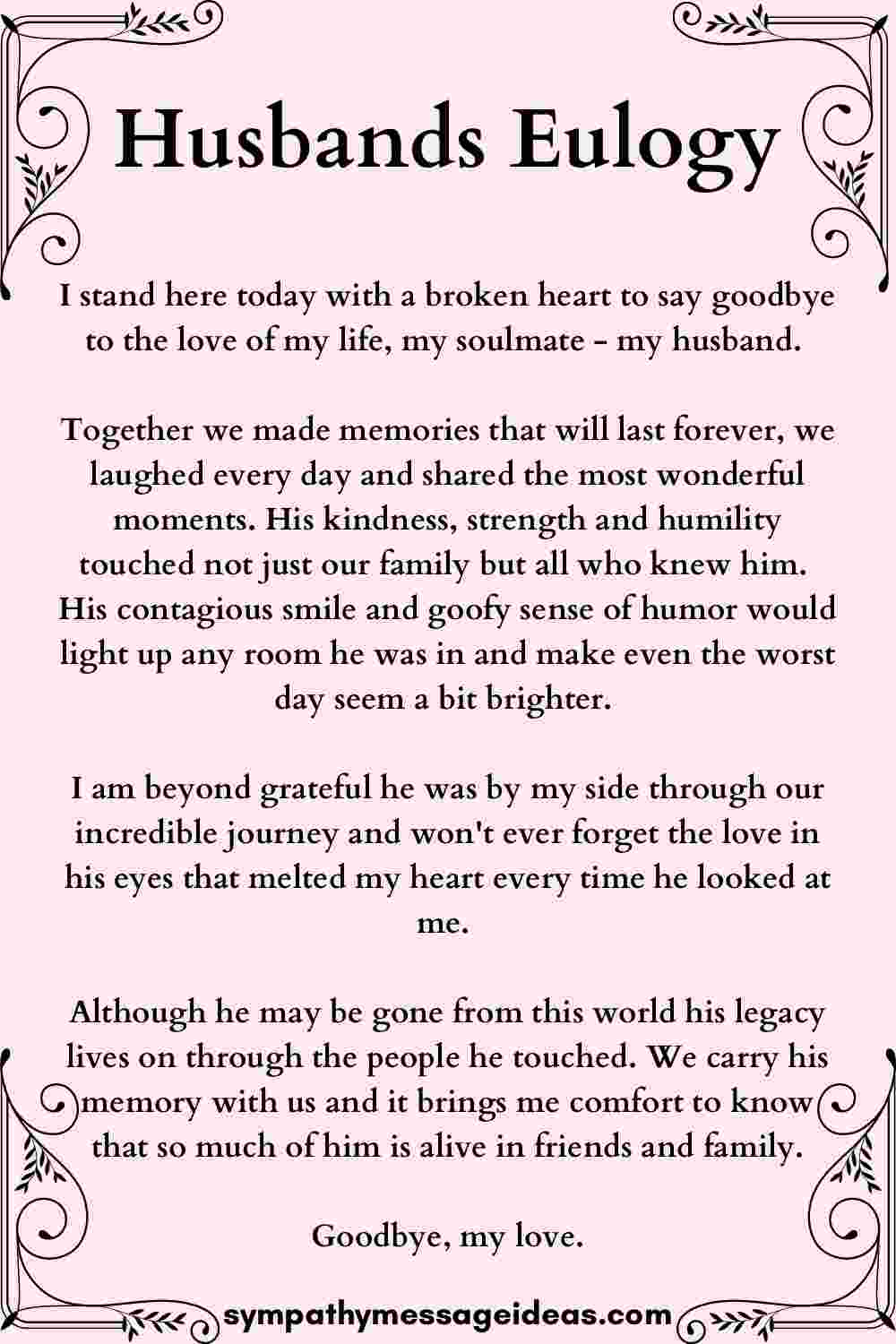 Husband Eulogy Examples
Ladies and Gentlemen, I stand here before you as a wife grieving her soulmate. Losing the man I loved more than anyone, who was my best friend and rock throughout the hard times.
From the moment I met him I knew that he was someone special. His warm smile and contagious laugh instantly set me at ease and it wasn't long before his kindness and generosity shone through. He never took a day for granted and treasure every moment of life. You could rely on him to be there for you no matter what, with a shoulder to cry on, a friendly ear or just a hand hold. It was that openness and ability to communicate so well that made our relationship as special as it was.
As a father he brought laugher and so much joy to our children lives. He offered them the guidance they needed as they began to navigate the world and his wisdom and life lessons were grounded in his own upbringing. The lessons he taught them – hard work, respect and compassion – will remind me of him as I see them continue to grow. I know he would be proud of them and all they do.
As a friend he was the most dependable you could have wanted. Whether that was being there for those who needed him with advice or just a chat. His selflessness was one of his most amazing qualities and the needs of others always came first. It didn't matter who it was he would find the good in them and alway see the best.
I will never forget the warmth of his smile and the love in his eyes. He leaves behind a mark on those who knew him and one that will be remembered forever.
So today I honor my husband and and promise that his legacy will live on. That legacy of kindness, love and generosity is how I will live in his honor. Though he may be gone I know that his spirit will on in all of our hearts and the fact that his memory will endure is only a testament to the kind of man he was.
Rest in peace my love. You will be deeply missed.
**************
Ladies and Gentlemen, we gather here today to celebrate the life of a truly remarkable husband, father, and friend.
[name] was a man who inspired everyone around him, who's integrity and passion were a defining part of his character. He loved deeply and was always there for those in need.
While he wasn't perfect and there were times when he made me so angry I wanted to scream I also knew I could rely on him through thick and thin. He worked tirelessly to improve our relationship and make it stronger every day. I loved him with every fibre of my being.
As a father he was unsurpassed. I feel privileged to have had a man who loved his children like [name] did and would have done anything for them. They have grown up with the kindness and honesty I know he instilled in them.
So let us celebrate the life of [name], my husband and a truly remarkable man. Let us honor his memory and take with us the legacy he leaves behind. He may be gone but his spirit is still alive and found in those of us who loved him.
Rest in peace, dear husband. You will be deeply missed.
**************
Today we are here to honor my husband and best friend, [name]. I am left devastated that my one true love is gone.
[name] was my guiding light and a true partner in every sense of the word. We were made for one another and cherished every day we had together.
That love he had for his family was also extended to friends. I know you will all have amazing memories of [name] and how he helped you in your time of need. He always made himself available and ready to help with any problem and everyone knew they could turn to him.
I feel so fortunate to have spent so many years of my life with [name]. We enjoyed some absolutely fantastic times and made memories I won't ever forget. Even today I can think of vacations we took or our early days of dating and it brings a smile to my face.
I will miss [name] more than I could ever hope to express here. But I know he wouldn't want me to be sad and to carry on with my life. He would want us all to celebrate the wonderful man he was and how much joy he brought to our lives. And that is what I intend to do.
Goodbye [name], I will always love you.
Tips for Writing a Eulogy for a Husband
When you are writing a eulogy for a husband it's a good idea to make those cherished memories you have and major achievements of your husband the focus.
Use simple and easy to understand language.
Make the cherished memories you have and major achievements of your husband the focus of a lot of your eulogy.
Pick a theme or main message that your eulogy works around. It might be the type of father he was or one of the big achievements from his life. It lets your eulogy and the tribute you pay to him be as clear as possible.
Be honest. Don't lie to make your husband sound better than he was. Even if it feels like you don't have that many interesting things to say you should stick to the truth.
Going Further
If you want to add more to a eulogy the you can bring in elements such as photos, readings and even videos. This can help to make your tribute even more meaningful.
You could have a slideshow of photographs that show your husband over different stages of his life. It could play in the background as your or others eulogies are being given.
Or even a video tribute that features friends and family sharing their beloved memories of your husband. This will require more planning but can be extremely effective and very touching.
If your husband had a favorite book or poem then having readings of one or both is a good way of making it more personal and reflecting your husbands interests.
A live musical performance is also an option. If he had a piece of music that meant a lot to him or was very special then having it played during the service be very moving.
The Importance of a Eulogy
Losing a husband is such a difficult and painful experience. Having to write a eulogy will be a challenging and emotional task.
But it does give you a final opportunity to reflect on the person's life, honor their legacy and pay tribute to them.
Reflecting on how special your husband was and remembering his life is always going to be hard when you are grieving his passing. And finding the right words to do him justice even tougher.
Hopefully the examples and tips found here will have helped you with your eulogy for your husband and made it that bit simpler.