Sometimes when you want to offer someone your sympathy you only need a few short and simple words. Here are some very short condolence messages I have used myself and think express sympathy in a concise yet heartfelt way.
Short Sympathy Messages
Please know that you are in my thoughts and prayers.
Wishing you peace and comfort.
Thinking of you during this difficult time.
May your memories bring you comfort.
Sending love and hugs your way.
I'm so deeply sorry for your loss.
With deepest sympathy and condolences.
Wishing you strength and peace during this challenging time.
My heartfelt condolences.
Thinking and praying for you and your loved ones.
______'s soul has found rest.
May our love engulf you in this tragic moment.
Those who care will help you through this trying time.
Sending my love and strength to your family.
These words aren't enough but know I'm so sorry.
For more message ideas try the guides for what to write in a sympathy card and 145 heartfelt sympathy messages.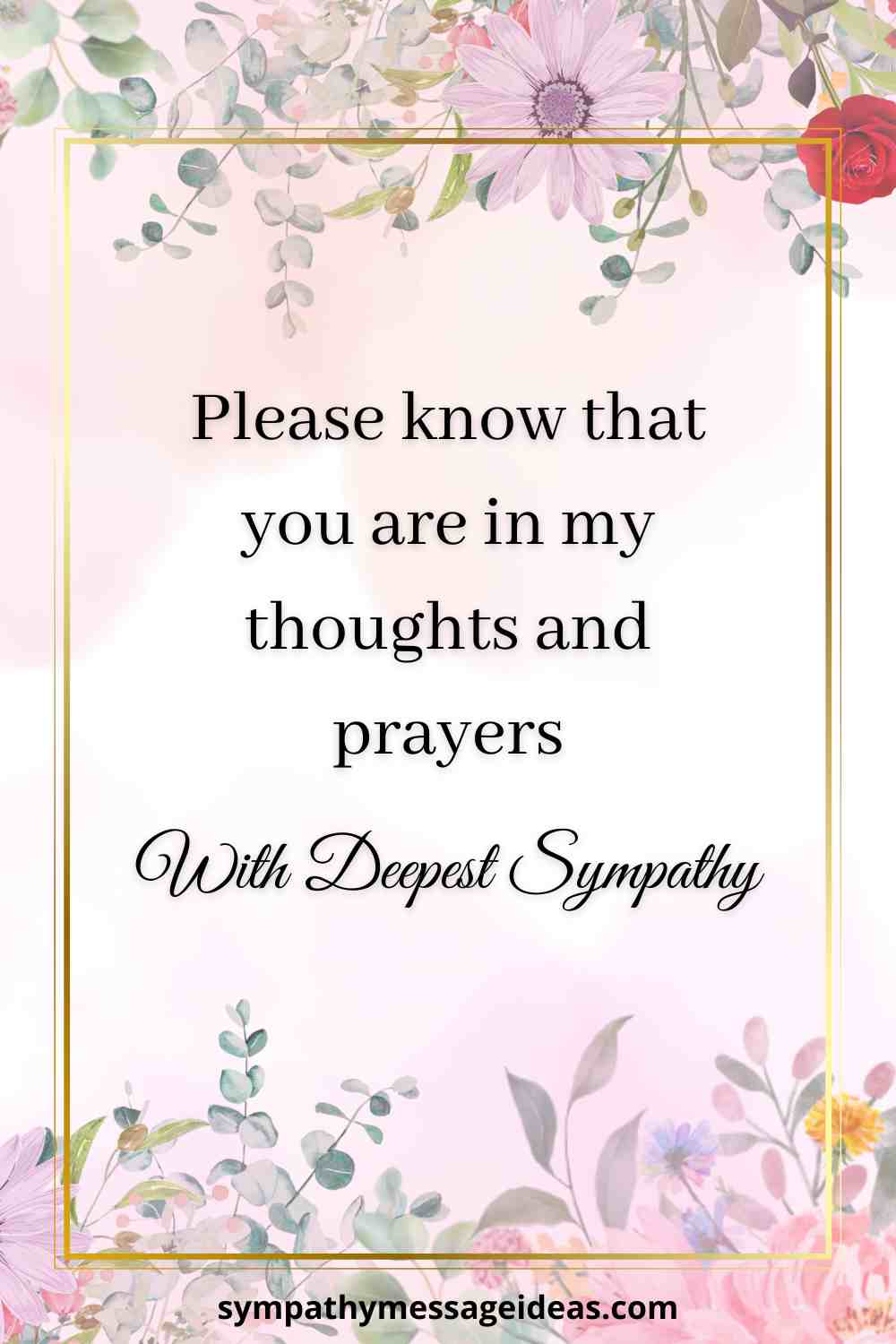 Short Condolence Messages for a Sympathy Card
Thinking of you at this time of loss.
Losing someone so special is so painful.
Please know I am always here for you.
There are few people as special as _____ was.
We are devastated by such a tragedy.
Please accept my most sincere condolences.
With the deepest sympathy.
My heart and love goes out to you.
You always have friends who love and will support you.
You are never far from my thoughts.
With a heavy heart and sadness, my condolences.
Words can't truly express my sorrow for your loss.
Extending my sympathy for your loss.
Such devastating news. My sincerest condolence.
Whatever you need I will always be there.
See more with these 120+ condolence messages for expressing your sympathy.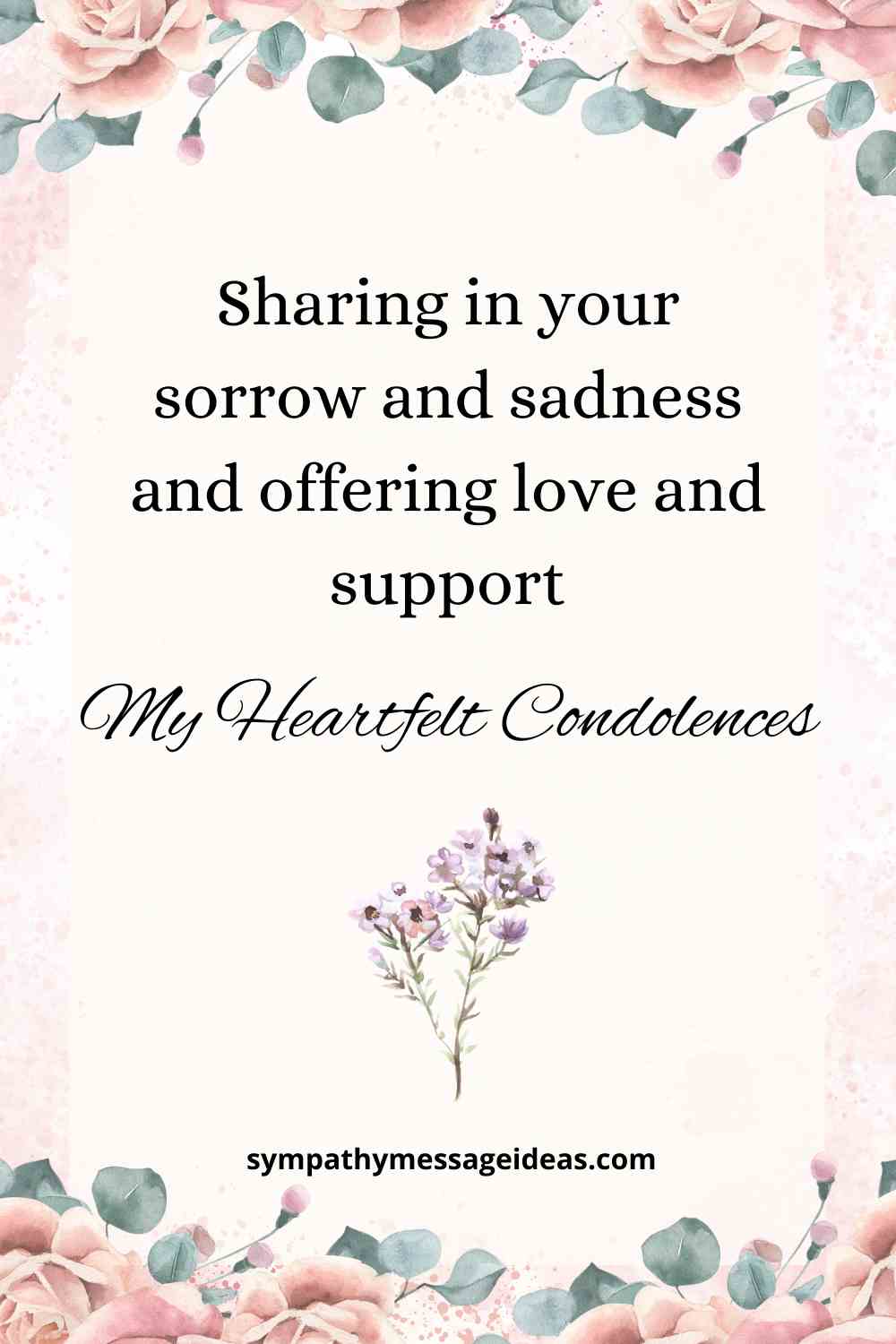 Short Sympathy Messages for Flowers
Remembering and honoring a beautiful life.
We share in your sorrow and offer our deepest condolences.
In loving memory of a life well lived.
Forever in our hearts and memories.
______ shall be sorely missed. With love and sympathy.
With heartfelt sympathy during this difficult time.
We will always cherish the memories of your loved one.
With love and heartfelt condolences.
______ has found rest now.
______ is with the angels now.
If you want more ideas for funeral flowers try these guides for what to write on a funeral wreath and funeral flower message examples.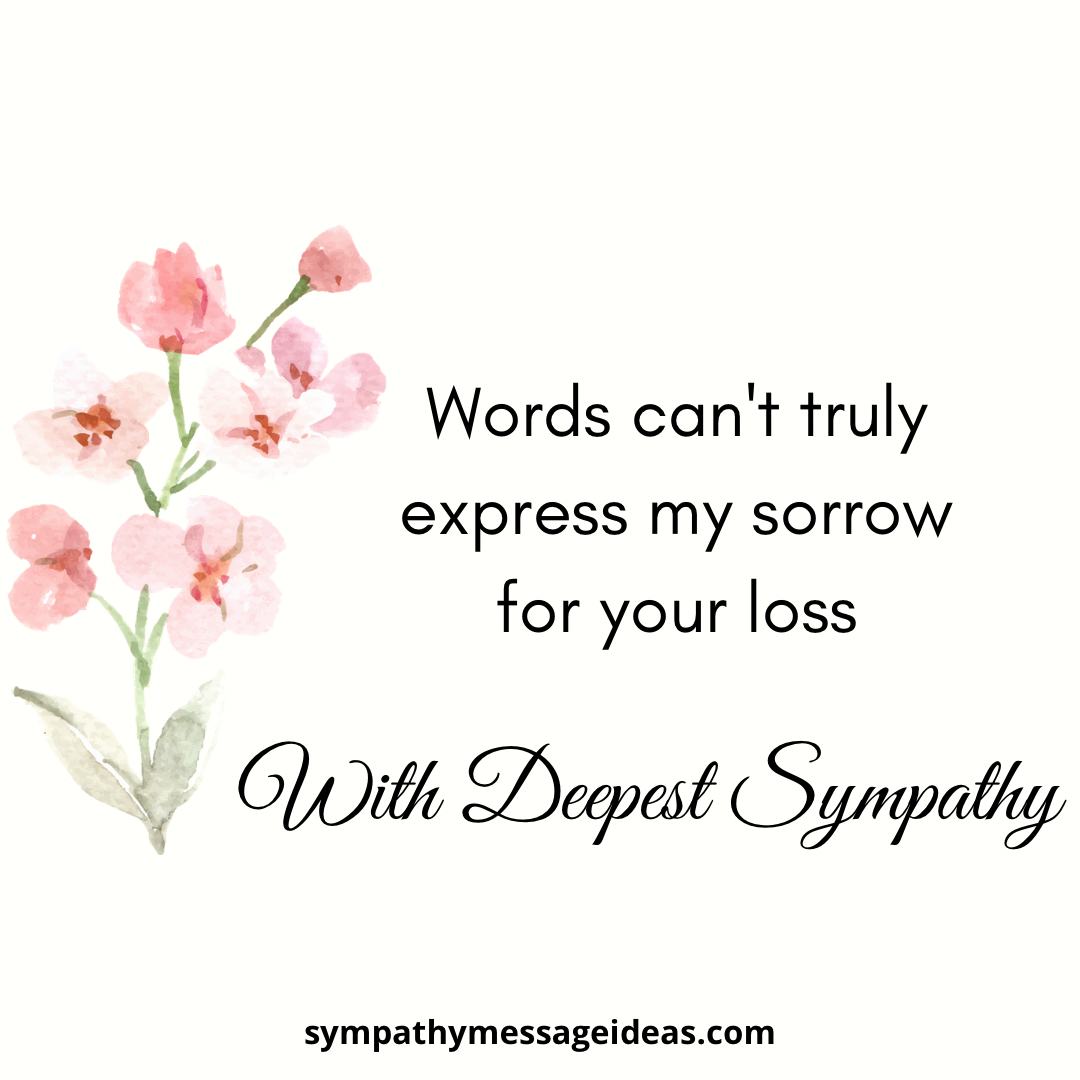 Simple Condolence Messages for Loss of Mother
May your mother rest in peace.
Your mother will always be remembered fondly.
In loving memory of your mother.
May memories of your mom bring you some peace.
Someone as special as your mother will never be forgotten.
She brought so much joy to the world. My condolences.
Your mom will live on in our hearts.
She was an amazing woman. I'm so sorry she's gone.
Her spirit will always be with you.
Please accept my condolences in this time of such heartache.
Offer your condolences to someone who lost their mom with these sympathy messages for the los of a mother.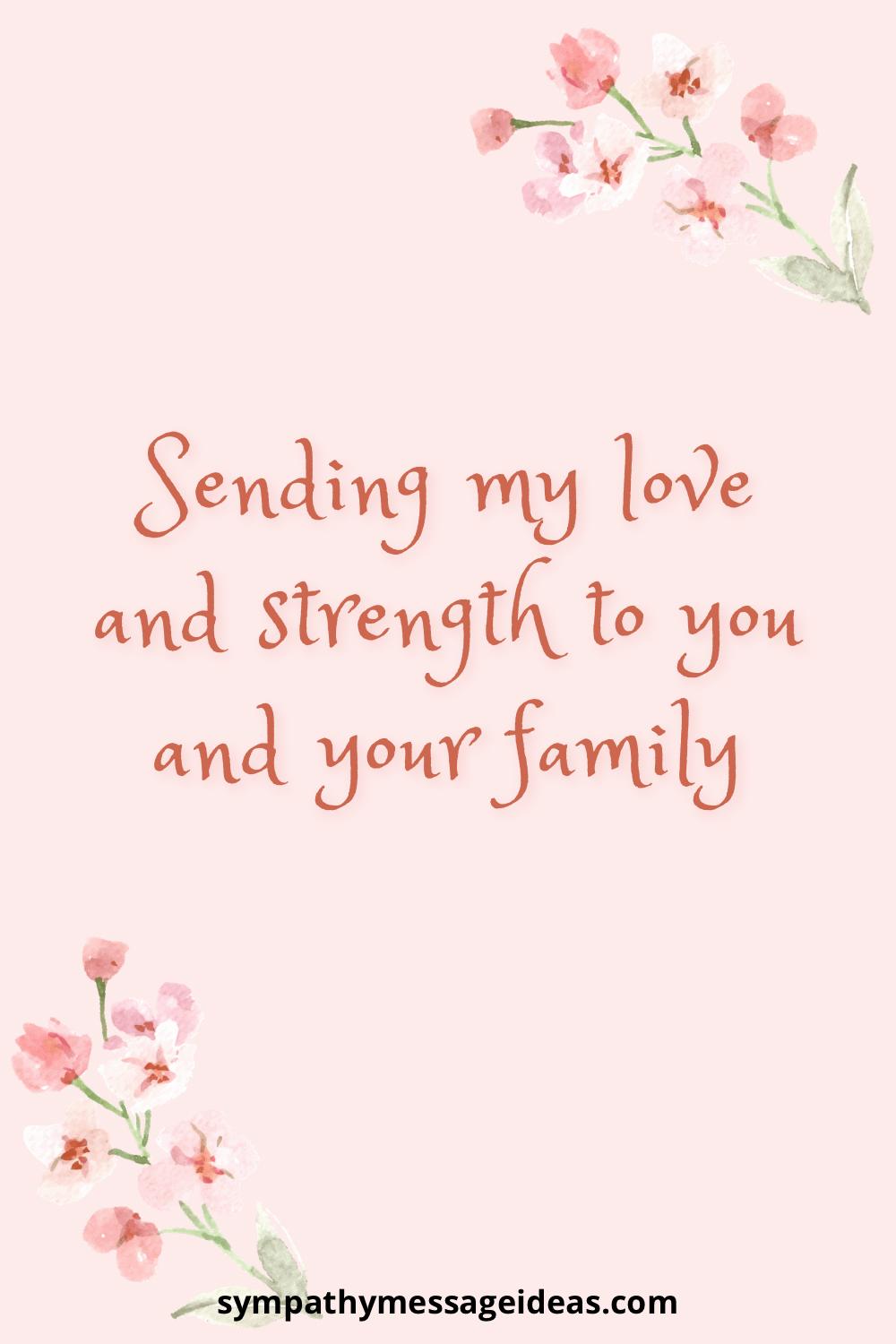 Short Condolences for Loss of Father
Your father will be deeply missed and always remembered.
He was a great man. My condolences.
May your father rest in peace and his memory be eternal.
Your father will forever hold a special place in our hearts.
Your dad's spirit will live on through the love and memories he created.
We are with you as you mourn.
Your father may be gone but he won't be forgotten.
The best are taken too soon.
There will never be anyone else like your dad.
I am with you as you deal with a tragic loss.
If you would like more examples try these sympathy messages for the loss of a father.
Short Religious Sympathy Messages
May the Lord be your rock and your refuge during this time of grief.
May God give you strength and comfort during this difficult time.
I hope you find strength in the Lord.
May the love and grace of God surround you and bring you peace.
May the promise of eternal life in Heaven bring you some comfort and hope.
May the Lord bless you and keep you and may His face shine upon you during this time of sorrow.
Our Lord will be there for you in this terrible time.
May Angels hold your heart in their hands.
In times of loss may you find comfort in your faith.
May your loved one find eternal rest in the arms of the Lord.
Look to God for guidance and love as you grieve.
We hope our prayers will lift you up and offer our condolences with faith that God's grace will sustain you.
For a greater selection of faith based messages see these Christian condolence messages and religious sympathy quotes.
Why Short Sympathy Messages Matter
A short sympathy message can be a good way of expressing your condolences and support but without overwhelming the person who is grieving. You have far less chance of saying the wrong thing or offending them.
A simple condolence message is:
Easy to read and understand even when emotions are running high.
Can be used in a variety of settings including sympathy cards, social media posts, text messages and more.
Allow you to express your condolences quickly and efficiently.
Short sympathy messages are also a good way to start a conversation or offer support in a non-intrusive way. It gives whoever is grieving the chance to respond in their own time and on their own terms.
When it comes to expressing sympathy though it's important to remember that there's no perfect way to do it. Everyone grieves differently. What might be comforting and touching to one person may not be to another.
But if you keep your message short and simple you can show your support and let your loved one know that they're not alone without it being too intrusive or overbearing.
Whichever way you choose – sending a card, a text message, email or a phone call – the most important thing is to let whoever is mourning a loss know that you're there for and thinking of them.