To many people a job becomes more than just the way they earn their money. It's an integral part of their identity, giving them a sense of achievement and worth. So when someone loses their job it can be devastating.
It can lead to real unhappiness and depression. And in those tough times what people need most is friends and family to rally round them, being there to console and help when they're at their lowest point.
But that isn't always easy. What do you say to someone who has lost their job? How do you comfort and say sorry for the loss of a job?
You want to offer your sympathy and support, but also say something encouraging. Maybe give them some motivation and inspiration about the future and finding a new job.
So if you're struggling with what to say to then the sympathy messages and words of encouragement below are perfect for showing you're thinking of and wishing for better times to those who have lost their job.
Sympathy Messages for Loss of Job
These messages offer your sympathy as well as some hope to anyone that has been fired from their job. You can add them to a sympathy card or just say them to whoever it is when you see them in person.
I'm really sorry to hear of you losing your job. You honestly deserve so much better. I know you'll bounce back stronger though.
Sending all my love after learning of your employment situation. I know how awful this must be but try to look at it as the chance for a new beginning and reaching your full potential
I'm so sorry you're having to go through this but it is just a bump in the road on the way to even more success. Sending my love and positive vibes
It was such a shock to see your lose your job in the way you did. I will be thinking and praying for you
I will miss having you around at work. The way you've been let go is so cruel. The office won't be the same without you, and I've really enjoyed having the chance to work with you
You've been treated appallingly and I am so angry about it. You deserve so much more respect. I can only hope you find an even better job in the near future
My condolences for the loss of your job. I know how much you loved working at ______ and I'm sending all my love and best wishes for brighter days ahead
My sympathies to you on losing your job. You've always worked so hard and to be let go in such an unceremonious way is really upsetting
You have all my sympathy after the way you were fired. Some employers are just the worst and in time you might be pleased you're not working there anymore
I realise you will be need time to adjust after being let go but if you need any help or just someone to talk to about it I can be there for you. All my love
It was an absolutely ridiculous decision to sack you and everyone agrees. You have my sympathy and support in whatever you choose to do next
You have our sympathy for the end of an era. You have spent so many years working at ______ and for it to end this way is unfair. We are beside you at all times and sending our love
I feel lucky to have had you as a colleague and friend. You were hardworking, diligent and always upbeat. I will miss you and feel so disappointed you have lost your job
You valued that job so highly and to lose it in such a harsh way is unforgivable. You are in my thoughts at this time and if there is anything I can ever do please don't hesitate to get in touch
All my best wishes for you to find a new job as soon as possible. I know how difficult it is to have lost one and I only wish it hadn't had to happen to you
We wanted to reach out and express our sadness as hearing of you losing your job. The corporate can be so tough. Hang in there and remember we are here if you need us
You are in joy thoughts as you deal with the stress of this upheaval. Losing your job is never easy and to have it thrust upon you with no notice is dreadful
I just learned the sad news. I know how much you treasured that job. If there is anything I can do to help you find your next position I will do evening I can. All the best
I wanted to wish you the best of luck after being let go. It's a hard, sometimes unfair environment and you deserved better. I hope you find another job as soon as possible
I will be praying God grants you many more wonderful opportunities after this unfortunate setback. My love and best
It's absolutely awful how you were forced out and felt no option but to quit. You have my deepest sympathy for a situation that should never have been allowed to happen
We've all taken work for granted before so to lose it so suddenly is truly terrible. I can only offer you my sympathy and let you know how sorry I am
My sympathy for losing your beloved job. If anything positive could come from this it is that you get a new perspective and clarity on what you want in life. I hope you find the strength to do what you want from now on and put yourself first
I can't get you your job back but I can do what a friend is for – cheer you up and help you forget about it. Just give me a ring when you want to meet up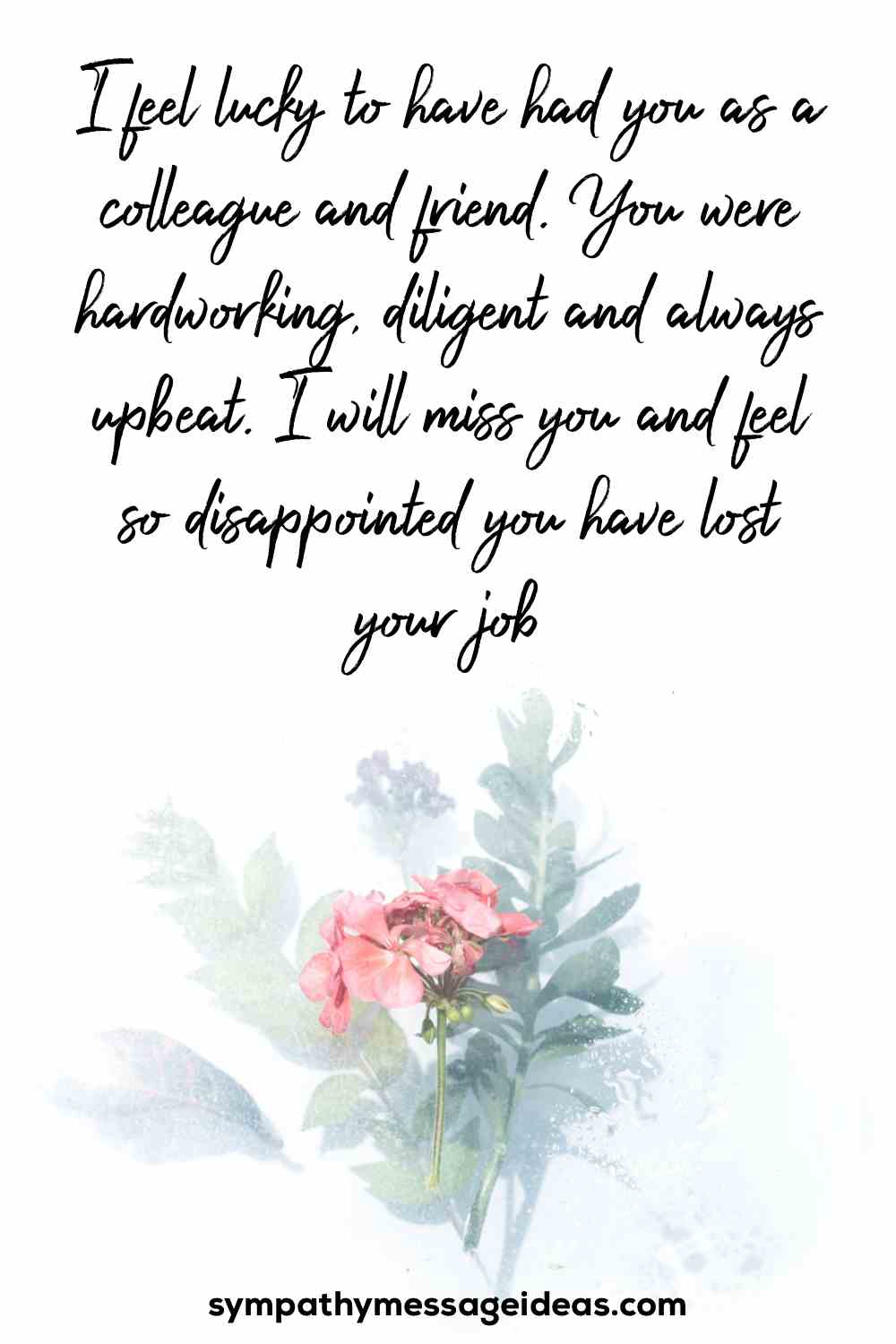 Words of Encouragement for Someone Who Lost their Job
Sometimes people need to hear something encouraging on top of some words of comfort. Use these messages to inject some much needed confidence and hope into whoever has lost their job.
Sometimes we can't see how new and exciting things can arise from what seems like our lowest moments. I just know that you will go on to even bigger and better achievements and that this is merely a minor setback
I know this must feel terrible right now but with a little time and perspective things won't seem quite as bad. Because you've lost this job doesn't mean you're career is over
I know how hard this is now but in a few years you'll look back stronger n it from a better position and see it as just a stepping stone to even greater things.
Keep your chin up and never stop striving! You can still do and be anything you want and this loss of a job will only make you stronger
You are one of the smartest people I know and I can guarantee you will be getting an even better job in no time!
You are blessed with a strength very few others have. Losing your job like this is a blow but one you will come back from and only strengthen your determination and resolve
All good things must come to an end. You can now use this as an opportunity to really achieve all you've ever wanted and chase fine those dreams. I believe in you!
With your skills I don't see you being unemployed very long! Just keep your head up and new and exciting times are on the horizon, I promise
Whatever you plan to do next I am certain you will be a huge success. Nothing can hold you back and although you've lost your job you will be in high demand
New opportunities are just around the corner and I will be right here as the first to congratulate you when they present themselves.
Never feel downhearted or lose your confidence. This had nothing to do with you, nor was it a reflection on your abilities. Remember how talented you are and stay positive because good things are coming your way, I'm sure of it
You can now take a break, recharge your batteries and come back with a whole new lease of life and be ready to do whatever it takes to overcome any obstacle your faced with
Remember to stay strong. You have so much talent that another job will be waiting for you. Until then look to us – your friends and family for all the support you need
Don't feel discouraged – you have many more years to achieve everything you want. This is only a small setback and one you will recover from and be stronger because of
Whilst losing your job may not be the worst thing that can happen to you it is still a terrible turn of events. So whoever it is you know that has lost there's will need a lot of support and love.
So do your best to reach out and offer your sympathy for their situation but also some words of hope. They will probably be feeling worried and depressed, so knowing they have friends and family around them will be a boost and help to lessen any feelings of being alone.
Your words may not seem like much but it's surprising what a difference they can make.