The loss of an uncle can be extremely painful. Uncles are important members of the family and they often develop very close bonds with their nieces and nephews.
So when an uncle passes away it's a time of real sadness and grief for the whole family.
You may know someone who has lost their beloved uncle and want to say how sorry you are for their loss.
But you aren't quite sure about how to, and what, you should say.
Do you just offer some words of sympathy for their loss? Maybe more support? What shouldn't you say to avoid causing offence?
Well if you're struggling with finding the right words of sympathy for the loss of an uncle try the messages below.
They can be used as they are or edited and changed to fit your situation.
Sympathy Messages for Loss of Uncle
I'm so sorry to hear about your uncles passing. He was a wonderful man and will be missed. My condolences
The death of your uncle was such a shock. I know how close you were. My deepest sympathy
Losing an uncle is so difficult, especially when they were so important to you. If you need to talk I'm right here. My condolences
My heartfelt sympathy for your loss. I can be there to talk or just listen whenever you need
Your uncle will be missed by so many. He was a truly special man. My deepest condolences
I can't understand what you're going through but wanted to offer my condolences for such a tragic loss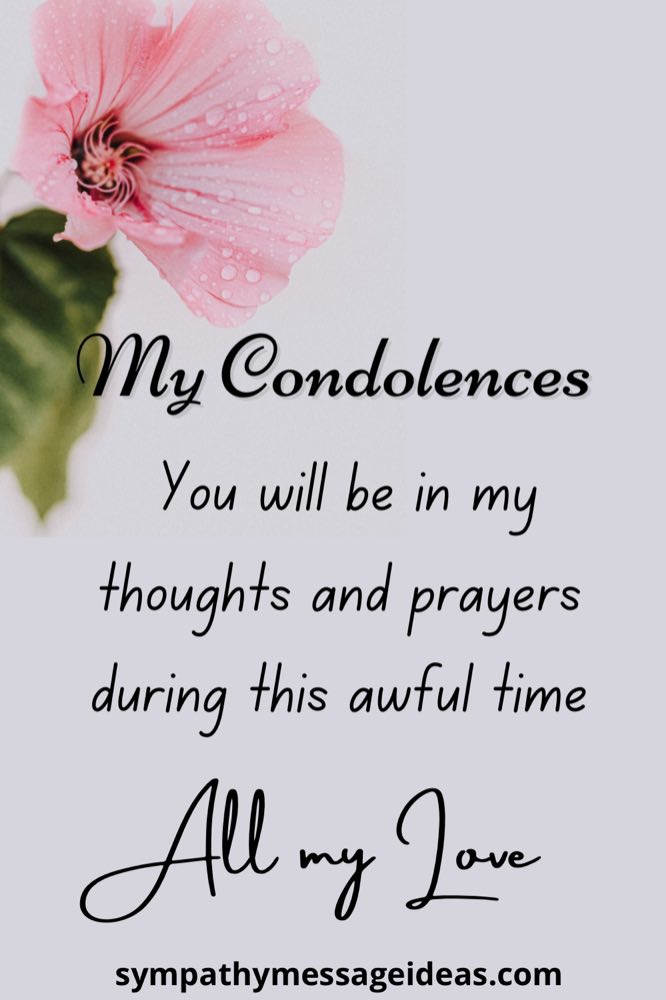 You are in my thoughts as you deal with such a terrible loss. My most sincere sympathy
People come into our lives and touch our hearts so strongly. I know your uncle did this to you and so his passing will be so difficult. Please accept my condolences amidst this trying time
You will be in my thoughts and prayers throughout this awful period. Stay strong and all my love
This must be so difficult for you. Please remember I'm here if you need anything at all
I shall never forget your uncle and all the good he did in this world. It is a poorer place without him. My condolences
I will be praying for you and your deceased uncle. All my sympathy for your loss
Sending my sincere sympathy for your loss. It is heartbreaking to lose someone so special
Condolences for the Loss of an Uncle
Your uncles legacy will never be forgotten and his memory will live on in our hearts. Here's to an amazing man. My condolences
Hold onto the memories of your uncle and try to remember the good times. My sincere sympathy for your loss
My sympathies for the loss of your uncle. If you need anything don't hesitate to let me know
Your uncle will be sorely missed. He was a great man and you have my condolences for an awful loss
My sympathy for your loss. I hope you find strength in friends and family during this time of grief
You will be in my thoughts as you deal with losing your beloved uncle. My condolences
Uncles become such important people in our lives so to lose one like this is heartbreaking. You have my sympathy and will be in my thoughts
There will never be another like him. Your uncle cannot be replaced. But we will honor his memory and let it live on forever. My sympathy for this loss
I'm so terribly sorry for your uncles passing. If there's anything I can do I'll be there for you
We send our condolences for your uncles passing. He was a great friend will be missed by many
We are reaching out in case there is anything you need. Please stay strong. Our condolences
We were so saddened to hear of ______'s passing. He was so dear to us. We hope you're coping ok and are sending our condolences
As uncles go youre was one of the best. He can't be replaced and leaves a huge hole in so many lives
Words of Sympathy for Loss of Uncle
My sympathy for the loss of a great man. Your uncle will forever be in your heart
Sending our love and sympathy after the loss of your uncle. Hoping you find the strength to see your through this terrible time

Celebration of Life Memorial Wind Chimes in Memory of Loved One – Ideal Sympathy/Bereavement Gift for the Loss of an Uncle
Take Comfort from friends and family and let their love support you through this loss. Our sympathy
My deepest sympathy for your loss. I know you will miss your uncle so much. He was a one of a kind
Sending our condolences and sympathy for your uncles untimely passing. He will be remembered so fondly
If you need some support or someone to talk to I'm never more than a phone call away. My sincerest sympathy for your loss
Offering my condolences for your deceased uncle. He was a joy to know and I shall miss him
We remember those loved ones who have passed so vividly. Your uncle will never be forgotten and his memory lives on inside you
I'm so deeply sorry for your loss. You will be in prayers
I was fortunate enough to know your uncle and he was such a wonderful guy. We were lucky to have him and he will be missed very much
Let us never forget how amazing your uncle was. He brought such joy to all who knew him. My sympathy for this loss
My condolences for your uncles passing. His presence was felt by so many and he leaves behind wonderful memories
We hope you can have some ideas and inspiration for what to say or write to offer your condolences for the loss of an uncle.
Just remember to say something and be there for anyone you know going through a loss. Your support at times like this is vital. If you can only do that then it will still mean the world to the bereaved.