When someone you care about passes away you will receive condolences and sympathy cards from the likes of friends, family, colleagues and more. That means in time you will want to thank those people and send sympathy thank you notes to coworkers, friends and family.
It's only polite to let them know you appreciated their kind words and that they thought of you during such a difficult time. But what you say and how you express that thanks isn't so easy.
Finding the right words to fully show just what it meant to you isn't easy. The support of your colleagues when you're struggling with a loss is going to have been so helpful. It's when we go through those hardest times we need people to be there for us.
So use these example sympathy thank you notes to coworkers to help you show your gratitude for thinking of you.
Sympathy Thank You Notes to Coworkers
Say thank you to coworkers for any support or help they've shown whilst you grieve the loss of a loved one. If they have expressed their sympathy and condolences then show them how you appreciate their kindness.
Thank you for reaching out and offering your condolences. It was a touching gesture and I am very grateful.
I was overwhelmed by your support and the way you thought of me whilst I dealt with the loss of my dad. I am forever thankful to have had someone like you by my side.
I can't say how much I appreciate you sending such a lovely floral tribute to my mom's burial. It was very beautiful and so thoughtful of you.
Your assistance with the funeral arrangements made a massive difference when I was struggling. I can't express my thanks enough.
Thank you for stopping by and bringing a lovely casserole. We were touched you thought of us. I apologise for not being home when you dropped by but after things have calmed down I'll give you a ring so we can catch up and find out how things are going at work.
You didn't have to think of us but the bouquet you sent to the funeral was absolutely beautiful and I know my grandmother would have loved it. Thank you.
After losing a loved one you find yourself having to do so much in preparing for the funeral and sorting out affairs. So you bringing over some home cooked food was greatly appreciated when I had very little time to do any cooking myself. Thank you for thinking of me.
I've always looked to you for support at work and found you so helpful. After losing my brother you came through once again and were there when I needed you most. Thank you for everything.
Thank you so much for the flowers you sent. They were stunningly beautiful and really helped cheer me up during such a difficult time.
Sending my thanks for your kind words of condolence. They were very comforting and thoughtful.
READ MORE: Example Funeral Thank You Notes for Money
Thank You Notes to a Group of Colleagues
You can say thank you to a group of coworkers rather than each person one by one. Use these examples to help you thank your whole office or multiple colleagues at once.
Thank you to everyone at work who sent flowers and cards. It was deeply moving and I can speak for my entire family when saying how touched we were.
To see how many friends I have in the office who have made the effort to offer their condolences and ask me how I am
has been very moving. I appreciate your kindness so much and wanted to let you know how much it helps during this difficult time.
Never did I imagine that so many of my coworkers would go out of their way to be there for me. From flowers and gifts to helping out with the funeral and providing food. I am forever grateful to everyone for your amazing help.
An office is like a family and I can say with confidence that you all supported me like family does. Thank you to each and every one of you who made losing my mom that little bit easier.
Thank you to those of you who visited and sent your condolences over the last few weeks. It's been hard but your kindness and support have made a big difference.
You don't necessarily expect coworkers to be as understanding and kind as so many of you have been. It's been so heartwarming to experience the collective help and support of you all and I'm going to be grateful forever.
The outpouring of love and well wishes I received was a testament to how wonderful all my colleagues are. Thank you from the bottom of my heart.
I have the best coworkers in the world. Through thick and thin I know you will be there for me. That's why after my dad passed away it was you who rallied round me and were there to help me through. Thank you so much to everyone.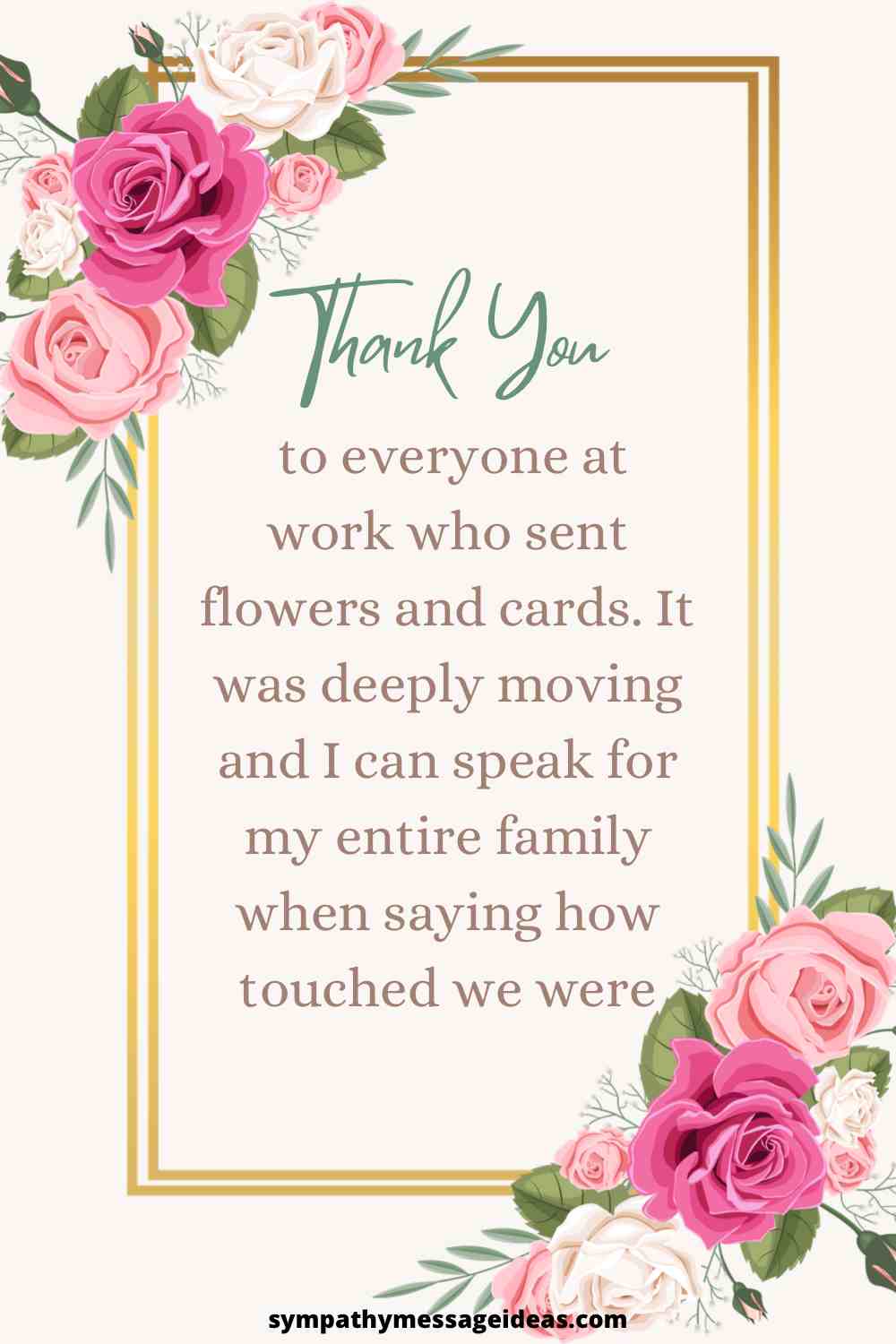 Thank You to a Specific Coworker
If a coworker went out of their way to specifically help or offer their support then you can thank them individually with these notes and messages.
I know how busy you are so to make it to the funeral and wake was a huge and welcome surprise. I can't express my gratitude for that support and reassurance your presence gave me. Thank you.
You were such a help with the funeral planning. I am so grateful and appreciate your amazing friendship. Thank you.
It was your warm words amongst many that really stood out. I will always remember them and how much you cared after losing my mom.
When you did my grocery shopping without me asking I knew had a true friend. It was the help I needed and allowed me to focus on the funeral. Thank you for thinking of me.
Making a donation to my moms favorite charity was a lovely gesture. I know how much she would have appreciated it. Thank you for remembering her.
The funeral flowers you sent were beautiful and made a real impression on everyone. My family were blown away that it was a colleague of mine who had made such an effort. We all wanted to say how much we loved them and how grateful we were.
The message you left in the condolence book for my brother was so deeply moving. You spoke about him with such warmth and love it broke my heart. Thank you.
You went above and beyond in your support for me. It's been a very trying time and having someone like you to be there and help was greatly appreciated.
Thank You to Coworkers for Attending the Funeral
If a coworker attended the funeral of your deceased loved one show them how much you appreciate it with these thank you messages.
I know you didn't know my mom well but it meant a lot to me that you came to the funeral. Thank you for your support.
Your attending the funeral was a real surprise but hugely appreciated. Thank you for making the effort to come.
To all of you who came to the funeral – thank you. It meant so much to me to have not just family but some of my coworkers who have become true friends being there.
It would have meant a lot to my mom that you attended her funeral. I had talked to her about my coworkers and how they have become such good friends to me. So she would have been happy they supported me at her funeral.
Many thanks for coming to my dads funeral. Every little bit of support helps and seeing colleagues alongside friends and family was a big part of getting through the worst of it.
You didn't have to come to the funeral as I knew it would be difficult for you but it was very heart warming to see you there. I really did appreciate it.
Thank you for your support by coming to my sisters funeral. Your presence meant a lot to me.
The whole family was pleased to see you at the funeral. We felt the love and were really happy to have so many people paying their respects.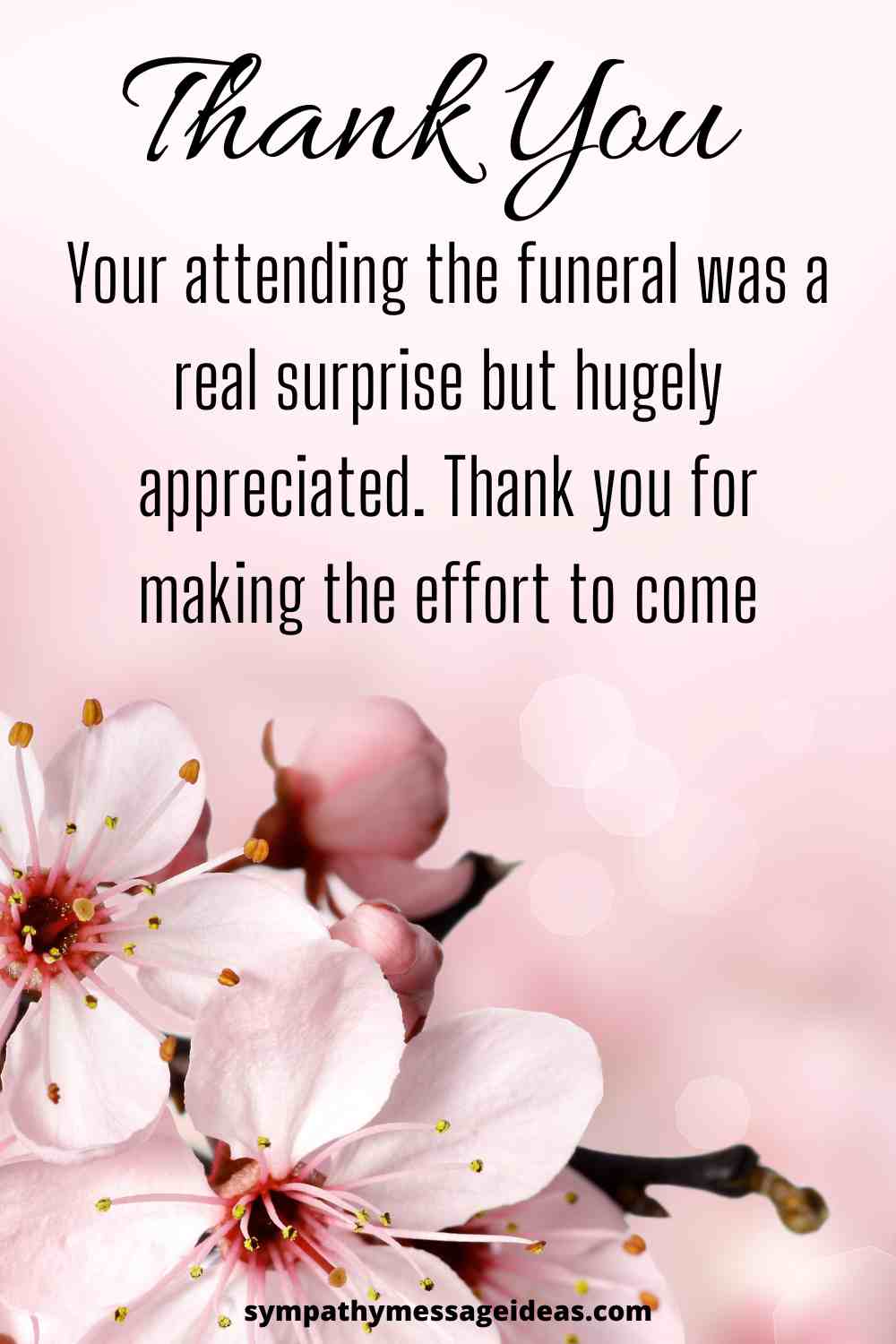 How Do You Say Thank You to Coworkers for Condolences?
Thank you for your condolences. It was very thoughtful of you to send such kind words.
Your words of condolence were confirming during such a difficult moment.
I appreciate your sympathy card and touching words. Thank you.
Many thanks for thinking of me with your condolences.
Sending my thanks for your gift and card as I mourned the passing of my dad.
I am grateful to everyone who sent condolences after losing someone very special to me.
I'm not sure how to say thank you for taking the time to reach out with your words of sympathy. I really do appreciate it.
Thank you to everybody in the office who offered their sympathy for my loss.
We hope you these sympathy thank you messages to coworkers has helped you to find the right words to thank colleagues for their condolences.