When there is a national tragedy or just the passing away of a loved one then a condolence book is often opened to leave messages of sympathy. But knowing what to write in a condolence book can be both difficult and worrying.
You don't want to write the wrong thing but at the same time your words need to be heartfelt and sympathetic, expressing either your condolences or memories of the deceased.
So if you're struggling with what to write in a condolence or remembrance book then the guide and examples below should help you find the right words.
What is a Condolence Book?
A book of condolence is a book that allows people to write their condolences after someone has passed away. It is often used for the most terrible of tragedies – things like earthquakes, flooding and other disasters – or the loss of important figures like great leaders or statesmen and women.
Although it has now become more popular for ordinary peoples funerals. Those attending will have the chance to sign the funeral book with whatever they choose – a condolence message, treasured memories or just to say goodbye.
For a national tragedy or loss the condolence book will be made available to the public somewhere that is easily accessible and then anyone who wants to pay their respects can sign or write in the condolence book. This lasts for a specific period of time and the book is then closed before being given to the family of the deceased or placed in an archive.
With the internet becoming such a major part of our lives there are now digital condolence books that let people write their condolences online without the need to actually attend or write in a physical book.
Why Have a Condolence Book
A condolence book can be helpful in coping with the grief or just touching for the family and relatives to see all the heartfelt expressions of condolences and sympathy in a condolence book. Knowing your loved one had such an impact on so many people and reading all the positive thoughts and memories can be comforting to the grieving family.
It can also act as a keepsake for the family as something they can look back on to remember the deceased. A condolence or memory book that features not only messages of sympathy and sadness for the loss but also those most heartfelt memories is a wonderful way to commemorate the deceased.
Adding photos or poems and other items that had a special meaning can turn the condolence book into a celebration of the deceased's life.
What to Write in a Condolence Book
Knowing the right thing to write in a condolence book isn't easy. But there are a few tips to help you with choosing what to
Don't feel pressured to write something that is extremely verbose or intense. You don't have to be the greatest writer or wordsmith in the world. Just be honest, genuine and speak from your heart.
It also doesn't have to be particularly long. You don't need to write a story or paragraphs. Just a few sentences is more than enough.
Consider including a treasured memory or anecdote you may have of the deceased. Something personal that goes beyond a simple condolence message.
Pictures are treasured keepsakes and something the family will love. If you have a picture of the deceased you can include it when you sign the book or leave it with an accompanying note.
SEE MORE: What to Write on Funeral Flower Messages
Intro Examples
If you're having trouble with starting your condolence book message then these examples should help inspire you how to start it.
Your whole family are in my thoughts.
I am so deeply sorry for your loss.
It was a terrible shock to learn of [names]'s passing.
There is nothing I can hope to say that will ease your pain.
Our hearts go out to you during this tragic time.
[name] was such a special person.
Ideas of What to Say
To follow up on your intro sentence from above here are a few ideas of the sorts of things you can write. Some happy memories or stories of the deceased are a lovely way to remember them and will be warmly received by the mourning family.
I feel so lucky to have known Joanna, she was truly the best friend I could have had. Whenever I felt you down or needed someone to cheer me up she always knew exactly what to say. I'm going to miss her warmth and her kindness so much.
Joe was such a good laugh and could always put a smile on anyone face. That incredible sense of humor is what I think I will miss the most.
I will never forget the first time I met James and how kind he was to me. That initial first impression was only the beginning and as I got to know him I saw just how he would go out of his way to help everyone around him. We have lost someone very special.
In memory of Sue, who's amazing spirit and love of life touched us all. There will never be another like her.
I'm already missing Chris more than I can say. He brought so much joy to our lives and those cherished memories will never fade.
SEE MORE: What to Say at a Funeral
Signing Off/Finishing your Message
Try finishing or signing your condolence book message with one of these examples.
Losing a loved one is devastating so if you need a friendly ear to listen or someone to talk to then I am always here for you. Please don't hesitate to reach out.
My heart goes out to you and I wish you peace in the coming days.
If there's anything we can do to help, be that helping with the kids or some chores then we will be there for you.
Your entire family will be in my thoughts and prayers.
My most heartfelt condolences to your and your family.
May you find comfort amongst friends and family in the coming days.
SEE MORE: How to Sign a Sympathy Card
Condolence Book Message Examples
I can't express how sad I was when I learnt of Sam's passing. He was a true friend and even though we drifted apart over time I remember some fantastic memories of him from when we were young. I hope you're coping and send my sincerest sympathy for your loss.
Justin meant the world to me and his death is so upsetting. It only feels like yesterday we were raising hell as kids and enjoying ourselves. He was a huge part of my life and I am heartbroken I won't get to spend anymore time with him. May he be remembered for the amazing man he was.
Angela will be missed by so many people but I will especially feel her loss as we became very good friends. I do hope your family are able to find some peace and are comforted by all the outpourings of love for Angela. My condolences.
John had the most incredible smile that would light up any room he was in. He has been taken far too soon and will be missed more than words can hope to say.
Mary may not be with us anymore but her legacy lives on. She adored her children and was so proud of them. All she ever did was brag about them! But it was her family that made her happy and she cared about them more than anyone I've ever known. May she rest in peace.
For a Friend
I loved Jen like she was my sister. We were the closest of friends and my heart is broken she is gone. I will remember those truly special times we shared and how much joy she brought to my life. Words won't ever be able to describe how much I will miss her.
Jake was my best friend and his passing leaves a hole in my heart I doubt I'll ever fill. No one knew me like him and I could guarantee when we got together we were going to have such a good time. If I'm feeling this upset I can't imagine how much you are hurting. If there's anything I can do to help please don't hesitate to call.
Nothing will ever replace Sarah and just how much she meant to me. I owe her so much, and think back on the fun we had together as some of the best times in my life. My heart goes out to you and I send my deepest condolences.
I knew Suzan for over 30 years and don't think I'll ever have a better friend. She was the most genuine and loving person I've known. You have my sympathy for losing someone so beloved.
Luke and I shared some of the most amazing moments. He could always be relied on for a good time and used to get into such hilarious scrapes. I feel like the world has becomes a less fun place without him. I'm really very sorry and wanted to say that I'm here if I can be of any help.
SEE MORE: Condolence Messages for Friends
For a Family Member
Your mom was the kindest, most generous person you could ever hope to meet. I can't imagine how hard this must be but if you need anyone to talk to I'm always here.
I am deeply sorry to hear of your fathers death. A friendly nature and ever present smile are what I think of most when I remember him. It's so sad he's gone but I know he will be remembered for all the best reasons. All my sympathy.
Your brother was always one of my best friends and it's heartbreaking that he has passed away. We grew up together and even when our lives took us in different directions we kept in touch. He was loyal, smart and hilarious. We are all worse off now he is gone. Please accept my condolences.
I didn't know your aunt well but everyone talked about her in the most loving way. When I did have a chance to meet her she was so good natured and kind hearted. I am very sorry for your loss and offer my condolences.
Please accept my sympathy for the loss of your grandmother. I know how close you were to her and the love she had for you. I'm sure she was a very special person and I hope you are coping.
For a Work Colleague
Sarah became such a good friend over the years we worked together. We would always gossip and take extra long coffee breaks! I am truly going to miss her. May she rest in peace.
David was a wonderful boss who always had time for everyone. He went out of his way to help you with any problems you had and was well liked by the entire workforce. I'm very sorry for your loss.
Shaun and I spent countless days side by side in the office and I came to think of him as almost like family. We would joke and keep each other sane whilst doing some of the most boring work imaginable and I still look back on those days with such fondness. I'm so sad to learn he passed away and will always remember him.
Condolences to you and your family for the loss Ruth. We were colleagues and although not close she was always warm and helpful to us all. She will be missed.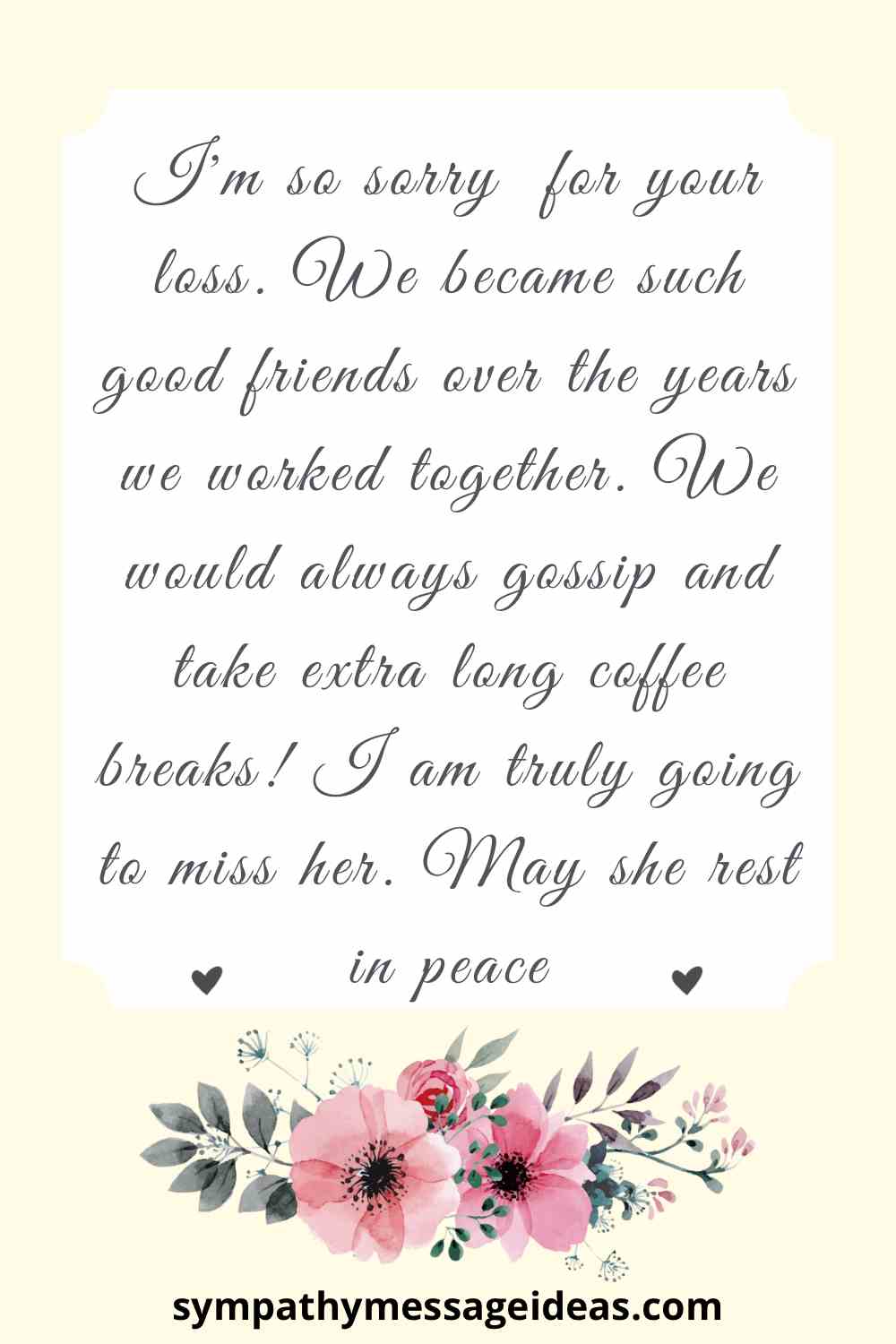 SEE MORE: Condolence Messages for Colleagues
What NOT to Write in a Condolence Book
Avoiding writing the wrong thing is a big part of the battle with what to write in a condolence book. These are a few tips to make sure you don't write anything offensive or upsetting.
Be wary of overly religious messages, especially if you know the deceased and their family weren't religious themselves.
Any inappropriate language. Regardless of how upset you are it's never right be offensive.
Avoid saying anything like "they're in a better place now" or "everything happens for a reason".
Don't talk about inheritance of other personal family matters. This isn't the tune or place.
It may not be right to mention the nature of the death or anything medical.
If the deceased had left a widow/widower it's best not to say "you will find life again". So soon after losing their husband or wife this could be upsetting.
SEE MORE: What NOT to Say to Someone Grieving
We hope these example condolence book messages will have helped you deciding what to write in a condolence book. Remember to speak from the heart and with sincerity. If you do this then whatever you say will be appreciated by the family and loved ones as they grieve.