Knowing what to say to someone going to a funeral may seem difficult at first but it doesn't have to be. When someone is attending a funeral it can cause strong emotions.
Funerals are when we remember and say goodbye to our loved ones. This can be difficult for many people, so keep that in mind when they're about to attend a memorial.
This means finding the right words to say to someone before they go to a funeral and offering your support is important. For those attending knowing that friends and family are there to help them get through such a tough event is only going to make it easier.
So if you know someone attending a funeral then use this guide to find exactly what to say to them. The encouraging words to say on the day of a funeral below should help you to offer support and comfort to whoever is it attending the memorial.
What to Say to Someone Going to a Funeral
Make it clear from your words that you are there for whoever it is going to a funeral. Offer your support and understand that it will be very difficult for them whatever you say. Just be there for them when and if they need you.
This must be really difficult for you but I'm here if you want to talk.
If you need some support or want to be with someone after the funeral give me a call.
I hope you find the strength to get through the funeral and it brings some closure.
This must be so hard for you but know that we are all here for you if you need us.
May you never forget [deceased's name] and that their memories live on. All the best for the funeral.
I'm deeply sorry you're having to face going to a funeral soon. My condolences and thoughts are with you.
Thinking of you today and sending hugs.
May you get through today and begin to heal.
Sending my love and thoughts for today and hoping you cope with the grief.
I will be thinking of and praying for you on such a hard day.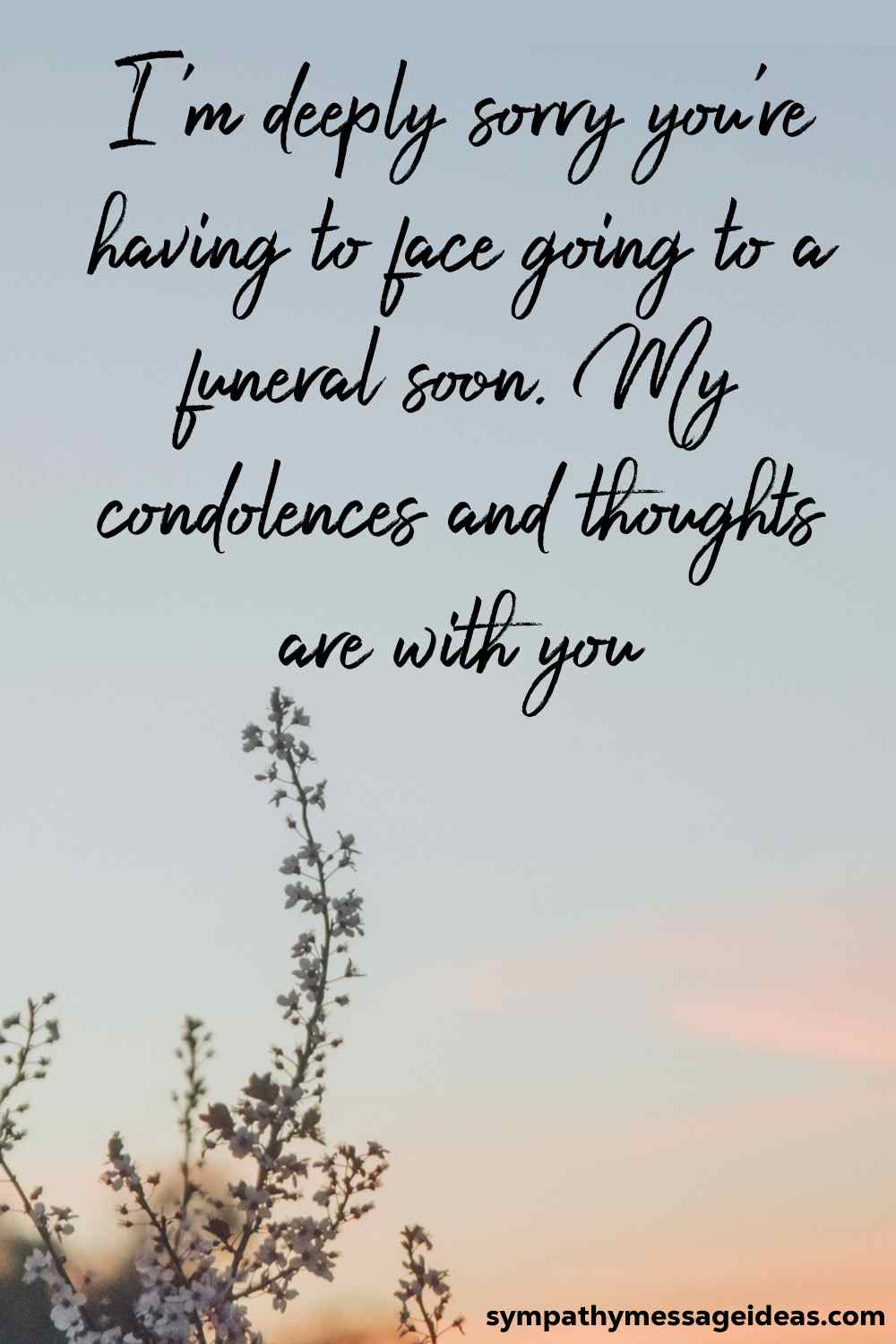 What to Text Someone on the Day of Funeral
Sometimes all you can do is send a text message to someone before a funeral rather than talk to them in person. If so then these example messages should help with what to say.
My thoughts are with you and your family.
Thinking of you today and here if you need me.
Good luck today and I hope it goes as well as it can.
Stay strong and know I'm always here for you.
Wishing you strength to get through today.
I will be praying and thinking of you.
I hope you get through today as best as you can.
With loving thoughts on such a difficult day.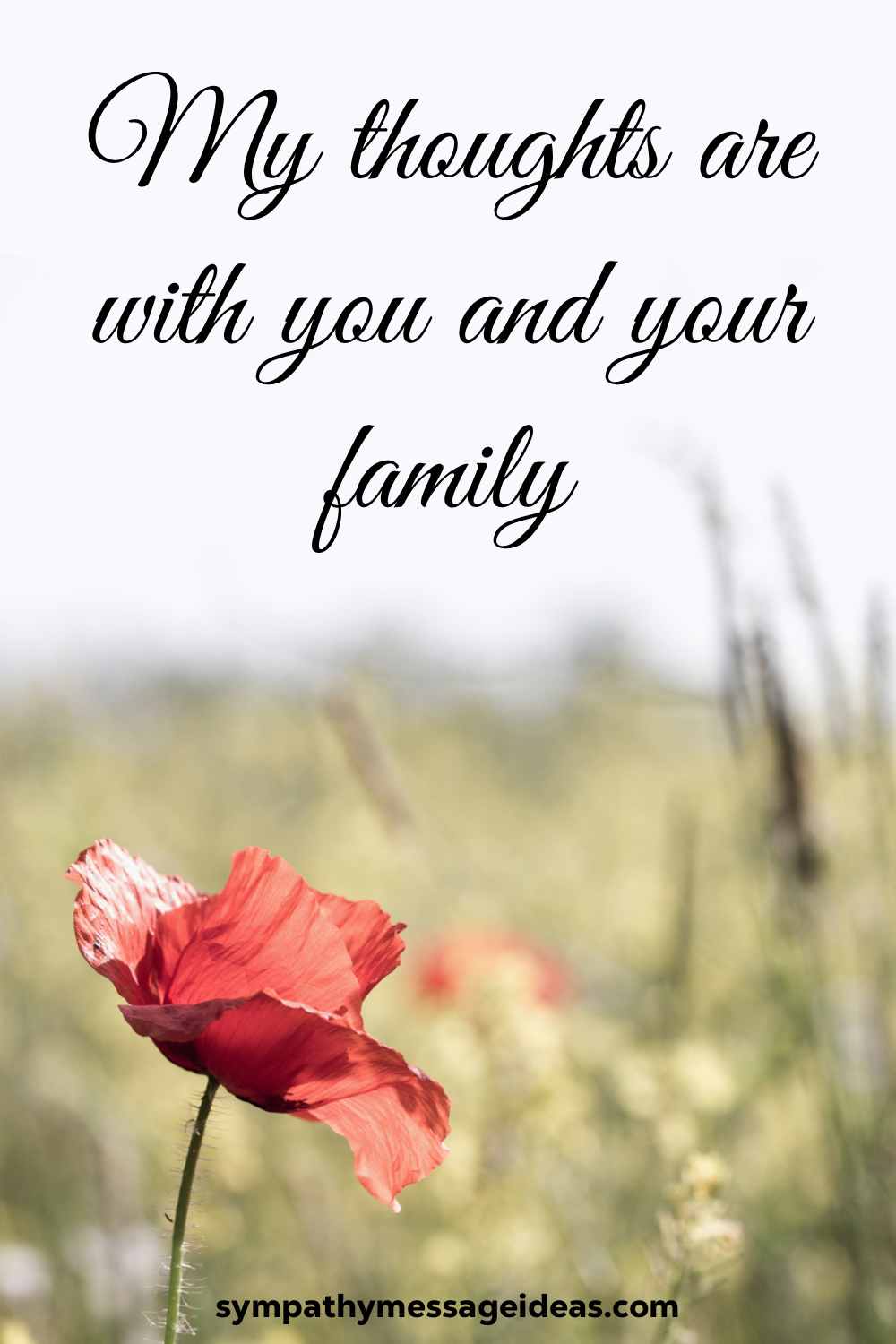 What to Say to a Friend Attending a Funeral
A close friend will be expecting your support more than acquaintances. When it comes to friends you should show them just how you will be by their side and there for them during such a difficult time.
I'm so sorry for your loss. Your mom was such an incredible woman and she will be missed by so many. May her funeral be the perfect way to say goodbye.
The memories of your father will never fade. May he be with you always. I hope he has the send off he deserves.
Today is going to be unbearably tough but you know I'll be with you, no matter what. I'm by your side and together we'll get through it.
I'm going to miss your brother so much. He was a great guy and always made me laugh. May he rest in peace and his funeral be a fitting tribute to his memory.
Your grandmother was a woman of such kindness and love. Today will be a day of sadness and I hope you have the strength to get through it.
If you'd like to stay with me tonight or have someone to talk to tomorrow then I will always be there for you.
I will forever remember your dad and his practical jokes. He was a one in a million and can never be replaced. I hope that his funeral isn't too tough for you. I'll be thinking of you.
No one could ever forget your uncle – he was such a character. May he rest in peace and we will all miss him.
Everyone who knew your aunt thought she was the most amazing woman. Losing her must have been so hard. May today be one filled with her memories and not the grief of her passing.
If you need someone to support you through this time I'm by your side.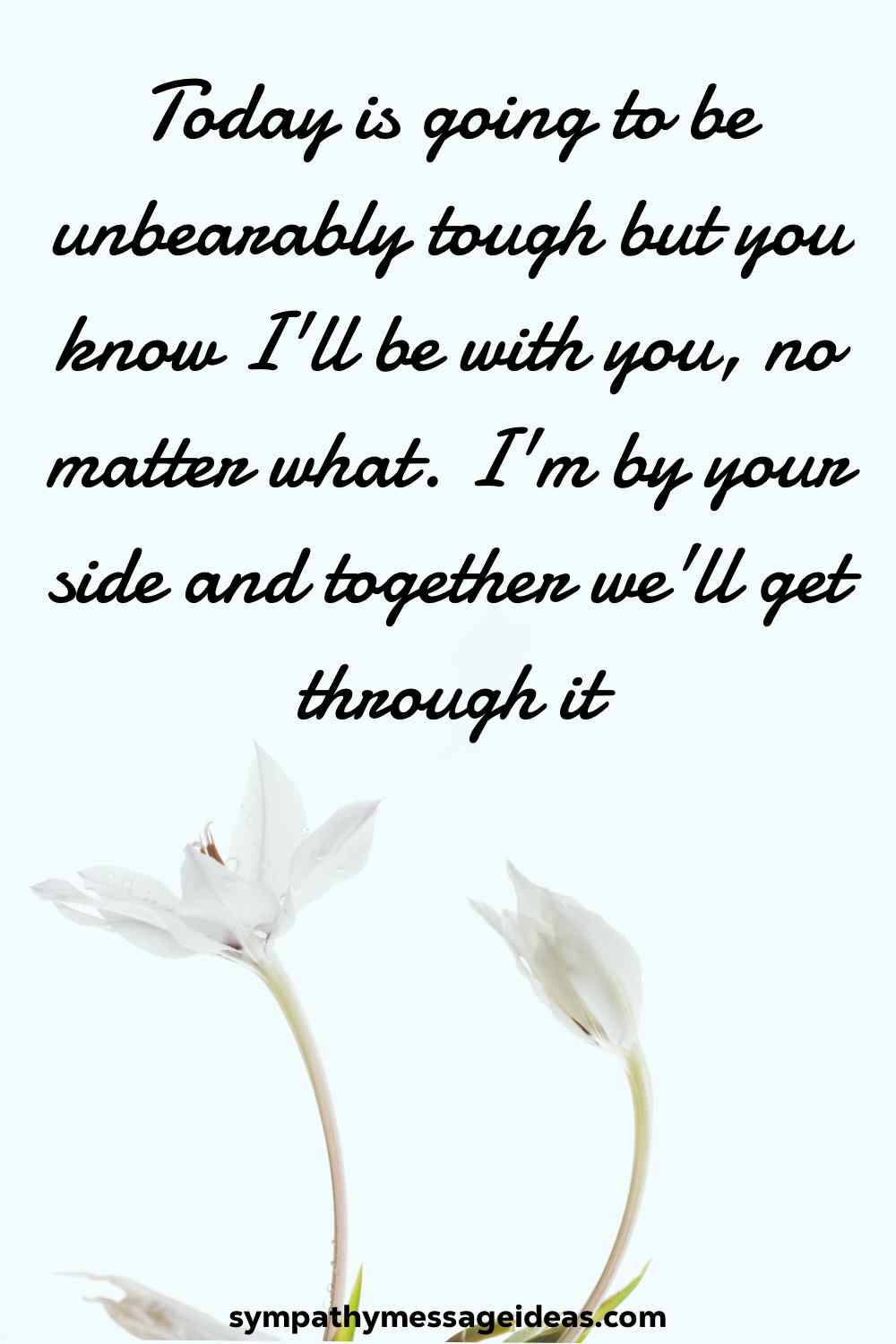 What to Say to a Coworker Going to a Funeral
When it's a colleague or boss that is going to a funeral it's still a good idea to offer a few words. You obviously shouldn't speak in the personal way you would with a close friend or family member. But just a simple message to acknowledge how attending a funeral is tough.
We may not be that close but I understand how hard a funeral can be. I'm sorry for your loss.
Don't concern yourself with work, I'll make sure I cover for you. All the best for the funeral.
I didn't know [name of the deceased] but I saw how close you were and I'm very sorry for your loss.
I've attended funerals before and understand the turmoil they cause. I'll be thinking of you and hoping it goes well.
Very sorry to learn of your loss. Take all the time you need today at the funeral and beyond.
I was lucky to meet your mom a few times and she was a lovely lady. My condolences and wishing you the best for the funeral.
My sympathy for your loss and all you're having to go through.
I'm really sorry and thinking of you as you attend the memorial.
If you need someone to talk to or listen I'm here.
At times like this it puts our work in to perspective. My condolences for the funeral.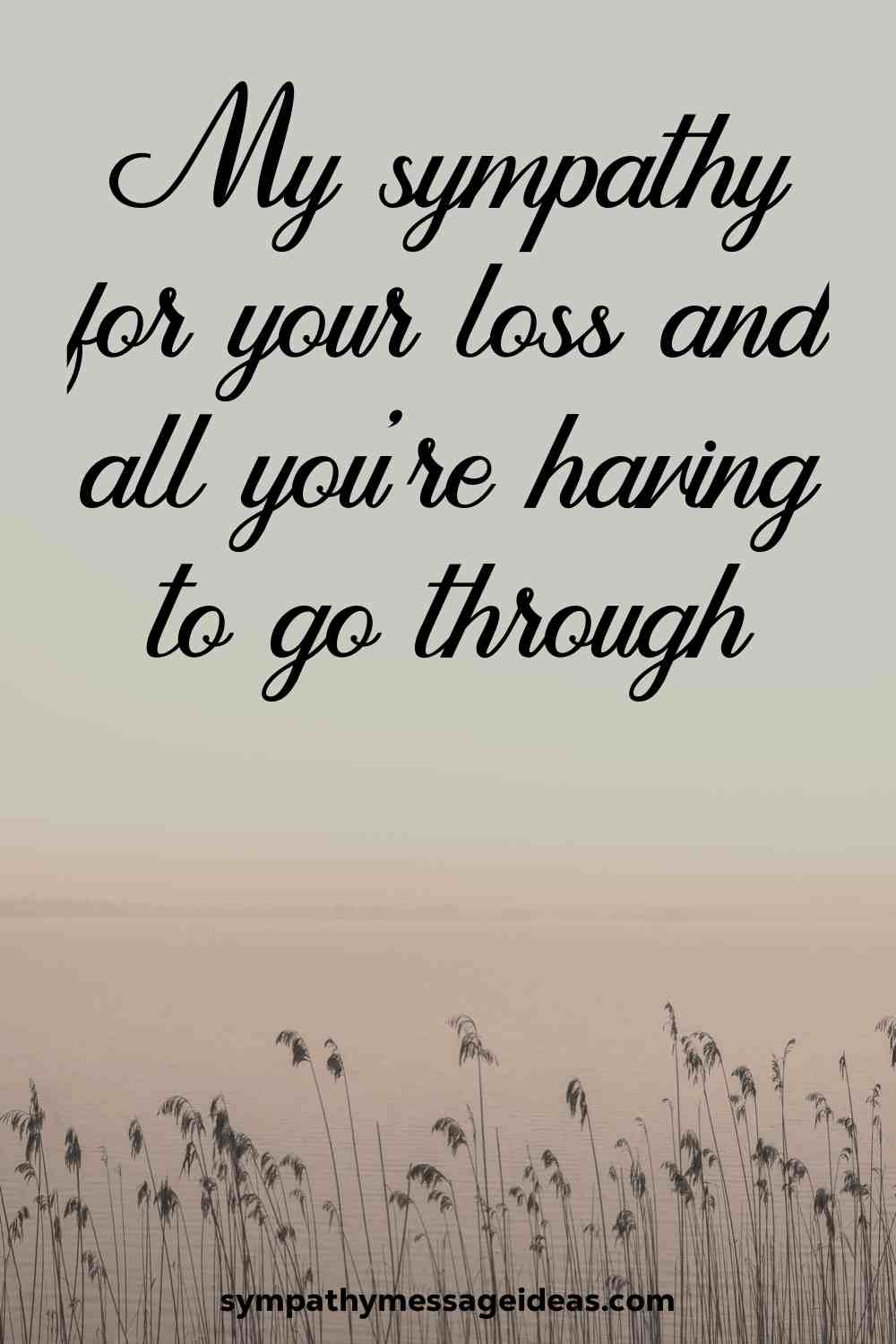 What Not to Say to Someone Going to a Funeral
When someone is attending a funeral there are certain things you should avoid saying. Try to be mindful of how difficult this is for those in mourning and remember their is etiquette around what you should and shouldn't say.
The following examples are just a few ideas of what not to say to someone attending a funeral:
At least [name] is in a better place now.
It was God's plan.
Everything happens for a reason.
I understand what you're going through
With time you will feel better, just give it time.
It's been a while now, try to move on.
They led a full life.
Keep busy and it'll take your mind off of it.
It's good they are no longer suffering.
I'm sure they wouldn't want you crying over them.
Don't Compare Your Experiences
It's understandable to want to share your own experiences with loss and grief. While some will find this helpful and let them see others have gone through similar not everyone responds well to it.
It can come across as like you're downplaying their grief or experience and making it about yourself, however unintentional. So it's probably best to avoid sharing too many details of you're own experiences of funerals.
Don't Put a Positive Spin on it
As much as you want to help and make whoever is grieving feel better it's important to let it happen naturally. You can't find the positives in losing a loved one because there aren't any.
So don't look for the good in this situation, just let them grieve and mourn. Being there for them as they do and offering support is the best way you can help.
It Doesn't Have to be Words
Sometimes silence or listening is as helpful as what you say. Making an effort to be with them and maybe a physical gesture like an arm around them or hug can be as comforting as kind words.
So don't feel like you absolutely have to say anything.
What You Can Do to Support Them
Words can only do so much. If you really want to help them there are some extra things you can do.
Drive Them to the Funeral
If you can then offering to drive them to the funeral is a gesture they will definitely appreciate. It gives them more time to prepare and get comfortable with the idea of attending the funeral.
See Them Afterwards
For some people it's how they feel after the funeral that is the hardest to deal with. So make sure you let them know you're available to talk or be with with them once the funeral is over.
Offer to Help
You can offer some practical help like looking after their kids or cooking food for them on the day to make everything a little easier. Anything that reduces the stress on the day of the funeral will help.
Read More:
We hope these funeral day messages have helped you when choosing what to say to someone going to a funeral.