When someone loses their mother it will be a devastating time for them. The connection between a daughter or son and their mother is like nothing else.
Losing someone you thought would always be there for you, that person you turned to for comfort and support in your toughest moments – it's one of the hardest periods of anyone's life. And the overwhelmingly feeling will be of grief and loss.
Attempting to come up with the right words to express your condolences for those going through such a hard time and make sure you reflect the suffering they are feeling is an near impossible task.
Trying to navigate between being utterly respectful but also try to console them in the best way you can. It's understandable to be concerned you might offend them or just not get the tone right and capture the severity and grief they're experiencing.
So we hope the examples of words of sympathy for loss of a mother below will be the first step to helping you write a sympathy card message for the bereaved. You can choose to use them as they are or as inspiration to write your own personal version.
Sympathy Messages for Loss of Mother
These words for someone who lost their mother can be used in a sympathy card, letter, email or even said in person. So reach out and send them your condolences for the loss of a mother and express your sympathy when they need it most.
I am sorry you had to lose someone so important and special in your life. I'll be praying for you and the rest of your family
Moms are special people, especially ones like yours. From the time I spent with her, I could tell she was an amazing lady
Good mothers hold a special place in their hearts for their children and most children hold a special place in their hearts for their mothers. I'm sorry for the hole that you have now
Please accept my condolences for the loss of your mother. From what I heard, she was a great woman to be admired. I'll be thinking about you in the coming days and saying a prayer for you now and then
Your mother was the type of person who inspired integrity in those around her; she encouraged others to be the best people they could be. That's reflected in your life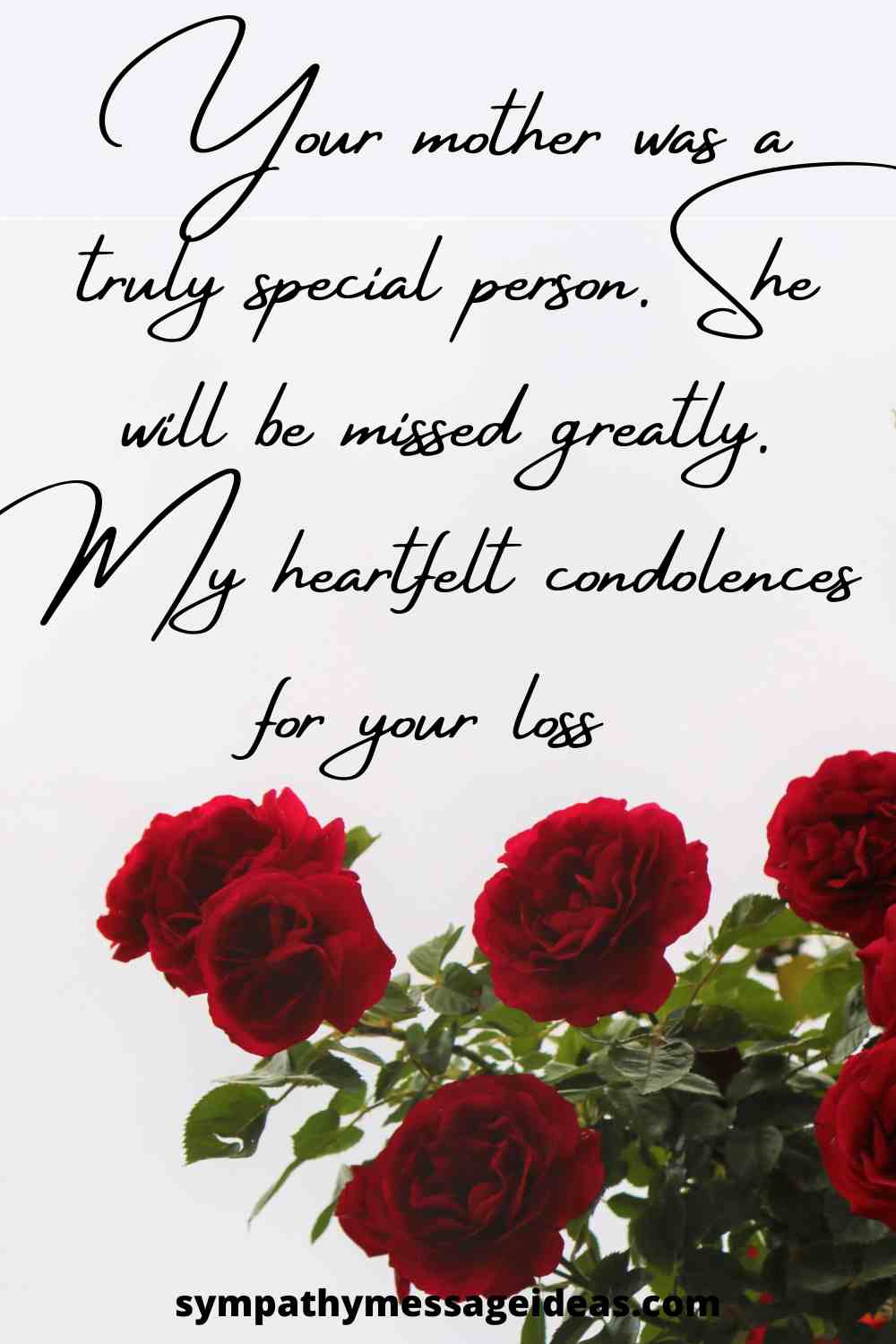 May these words comfort you on the loss of your mother. I will always remember her sweet smile and beautiful nature. May God keep you in his embrace at this difficult time
Extending my deepest sympathy on the loss of your mother and praying that your faith will give you strength in this sad time
A mom is someone who cares deeply and always, whether you have just scraped your knee or found out about a terminal illness
Your mom was a very special lady and loved by everyone who knew her. Please know that we share in your grief and extend our deepest sympathy to you and your family
From what I have heard you talk about your mother, it sounds like she was a great woman. She did an excellent job raising you. I am sorry for your loss
Moms keep us alive when we are helpless babies, so it's our responsibility to keep mothers alive in our minds after they pass
There's a special place in all of our hearts for our mothers, just like there's a special place in every mother's heart for her children. You must continue to carry her memory in that special place in your heart. I am sincerely sorry for the loss of your mother
Moms are important and special people. I am sorry for the loss of such a valuable person in your life. My thoughts are with you and your family at this time
Your mother was the kindest and gentlest woman I have ever met. I feel so fortunate to have known her and extend my deepest sympathy to you and your family
Even though moms are the quickest people to give love to children, they are also the people who their children need love from the most
Your mother was one of the warmest and most caring people I have had the pleasure of knowing. I am sorry for your great loss
The heart that your mother had for others is a rare gift to the many people who had the privilege to know her and be blessed by her. Please accept my condolences
May you find peace and comfort in knowing that your grief is shared by so many. Your mom will be sorely missed. God bless you and your wonderful family
Most people only have one mom, and that is why moms are so special. I'm sorry for your great loss
I admire the life that your mom lived, and I can only hope that I can have as strong of a finish to my life as she did
No one can replace your mom, but God can comfort your heart. He knows what you need during this time much better than anyone else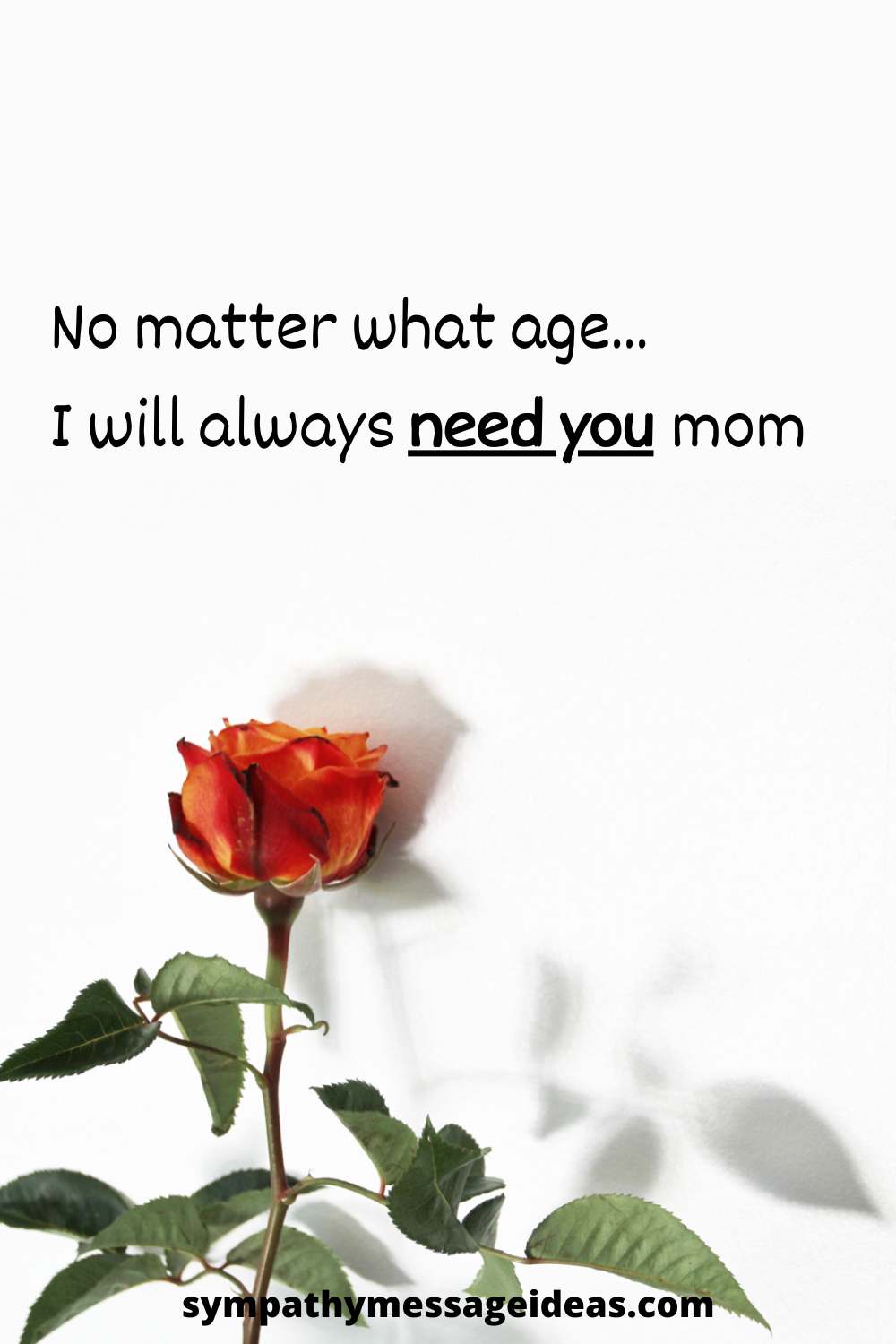 Condolence Messages for Death of Friends Mother
When a friend lose their mom it's important to be there for them. So use these words of condolence for loss of mother to show your support for a friend and let them know you're thinking of them.

I can't even start to understand how hard this must be for you. But as your friend I will be there will love and support at any time to help you through. I'm so sorry


Your mom was such a special person and I feel lucky to have known her. I will treasure those memories and remember what a wonderful woman she was. My condolences


May the loving memories of your mother help to ease your suffering. Saying goodbye to someone as important as your mother is always going to be terrible but I hope the strength we all know you have will help you to get through the worst of it. May her memory always be with you


My heart breaks and goes out to you during this time of grief. I will be there for you whatever you need. Whether it's someone to listen or cry with, a friendly face to talk to or just a phone call to check in and see everything is ok, I'm going to be here supporting you every step of the way


Please accept my sincerest condolences to you and your whole family. May the love you have be a support to each other and the beloved memories you can look back on of your mom provide some comfort. You will be in my thoughts


I can only offer my most heartfelt condolences after a truly tragic loss. Your mother was someone I looked up to you and her passing has been such a shock. I hope you can find some comfort amongst the darkness, and remember your friends are always there for you


Whilst I want to offer my condolences and say how sorry I am for your loss I know that my words mean so little. They cannot bring back your mom or stop your grief. But I will do all I can to support you and your family as you find your way through the pain of losing your mother


In such a time of sorrow I am at a loss for words. I have known you and your mom for so long I can't quite believe she is really gone. May her warm spirit live on in us forever and her memory never be forgotten. All my sympathy and love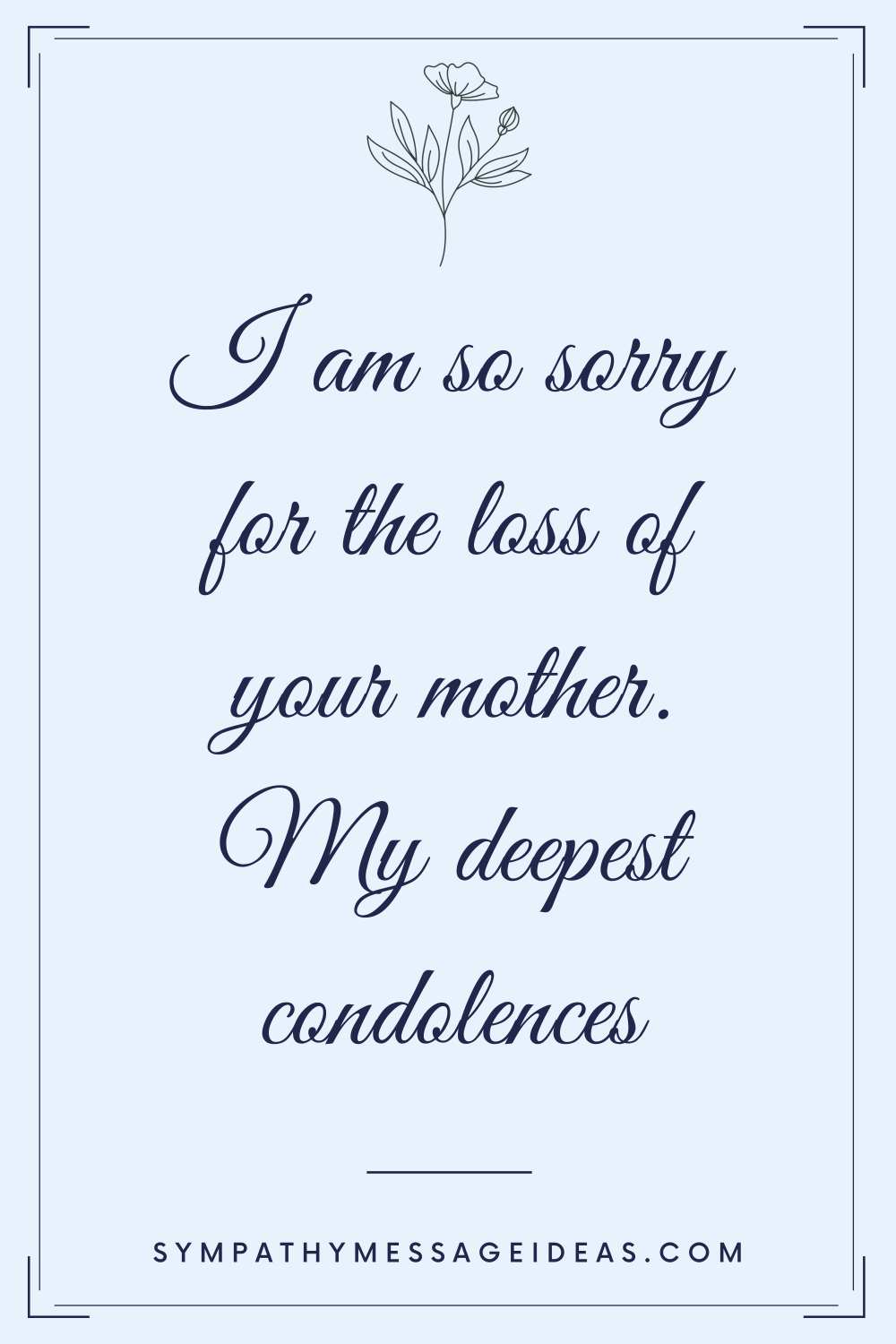 Condolences Messages for loss of Mother to a Colleague
It can be difficult to know what to say when a colleague loses someone. So hopefully these example condolences for the loss of a mother will help you to offer a coworker your sympathy in such a difficult time.

Everyone at work was so sorry to learn of your mothers death. Please take all the time you need and don't worry about work at all – we will cover any deadlines you have coming up and make sure everting isn't taken care of. Our deepest condolences and we look forward to seeing you back in the office when you feel ready


I know we weren't that close but I wanted to reach out and extend my sympathy for your loss. To lose someone like your mother is so very hard and I hope you are coping. My condolences


You have always offered me such guidance and kindness since I started working with you. So when I learnt of your mothers passing I was so upset. I can only hope you are getting by and supported by your loved ones and friends. I know everyone at work feels the same. You are in our thoughts


I want to take this opportunity to express my sympathy and condolences for your loss. I hope you can find some cherished memories to hold on to and remember all those amazing times. Please know you will remain in my thoughts and prayers


I was lucky to have met your mother and know just how important she was to you. In what must be one of the hardest moments of your life I hope you can accept my condolences. I am always here for you


Everyone at the office wanted to send a note to say how shocked and saddened we were to hear of your loss. We know these words may mean very little but we are all thinking of you. Stay strong and know that you have all of our support


You have always been the kindest and most courteous colleague of mine and I am deeply sorry that you are having to go through this. To lose anyone is terrible but when it's your mother it is unlike anything else. You are loved and you are in my thoughts


Knowing what yo say after such a loss is hard. I know there is nothing that can make any real difference. But I wish to offer my deepest condolences, and that your mothers memory lives in in the wonderful memories you have

Religious Condolence For Loss of Mother
Sometimes those grieving or mourning prefer a faith based message. Especially if their mother or the family was very religious. So use these religious sympathy quotes for the loss of a mother to offer your sympathy in a respectful way.

May God bring you peace and some comfort that you so need in this terrible time and keep you in His embrace as you grieve your lost mother. My condolences


We will be praying for you and your mother. May your faith in God bring you some peace amongst the pain. All our sympathy


Whilst the pain of losing your mother can be like nothing else please know that God will be with you. He will always love and care for you, and be there to turn to when you need the most support and comfort. May your mother rest in peace


I'm so very sorry for your loss. May God grant her eternal rest and peace for her soul. And may He look after you and your family bad you mourn losing someone so special. My sincere condolences


Through prayer I will presenter your mother and hope you find the strength to get through such a testing time. Your mother will always be looking down on you from heaven candy watching over to keep you safe


I hope your faith and the knowledge that God is always with you will help to ease the pain they losing your mother brings. Find strength in His love and teachings and remember just how special your mom was. May she rest in peace


Though nothing could ever make up for losing your dear mother I will be praying that you are looked after and helped through the shock of her passing. May God always be there for you when you need Him most

We hope these condolence messages for the loss of a mother have helped you to offer some encouraging words for someone who lost their mom. At such a terrible and heartbreaking time for the family knowing friends and loved ones are thinking of them can offer a little comfort amongst the grief.