If you're finding it difficult to come up with the right words for a sympathy card message, you're not the only one. It is a problem that most people will face at some time.
What's the correct thing to say? How can I express exactly what I feel in words? And how can I not make it sound corny or forced? Sympathy messages should be heartfelt and truthful, not forced and fake. Thankfully we can help you.
We have combined a large selection of sympathy card messages to give you ideas and inspiration for your own messages, making sure you will never have trouble thinking what to say.
So try some of the general sympathy card messages below that should be suitable for practically any card. Or head back to the home page and select the category that most suits what you are looking for.
Short Sympathy Messages
These sympathy messages and wishes are short and to the point. Sometimes you just want a few simple words for a card that acknowledges a loss and let's someone know you're thinking of them. If that's the case then these are perfectly suited.
With Deepest Sympathy
With Heartfelt Condolences
Sharing your sadness
Always in our hearts
Our love and thoughts are with you
Our Thoughts And Prayers Are With You
Keeping you in our prayers
Thinking of you in these difficult times
Thinking of you
So sadly missed
We are very saddened to hear of your recent loss
My heart goes out to you and your family at this difficult time
We would like to express our sincere condolences to you and your family
We want to express our sympathy and let you know that our thoughts are with you
Words cannot even begin to express our sorrow.
Please remember that you are not alone. we are always here for you
May your memories give you peace and comfort
Some people come into our lives, leave footprints on our hearts, and we are never the same
Wishing you as much peace as possible during this difficult time
I am sending you a hug and my love through this note.
I wish you peace and healing during this time
We join all of you in your sorrow.
Our warmest condolences
Please accept my/our condolences
With caring thoughts
Keeping you in my thoughts and prayers
I am so deeply saddened by your loss
My heart is aching for you
I'm so sorry you're having to go through such a difficult time
Never forgotten, always remembered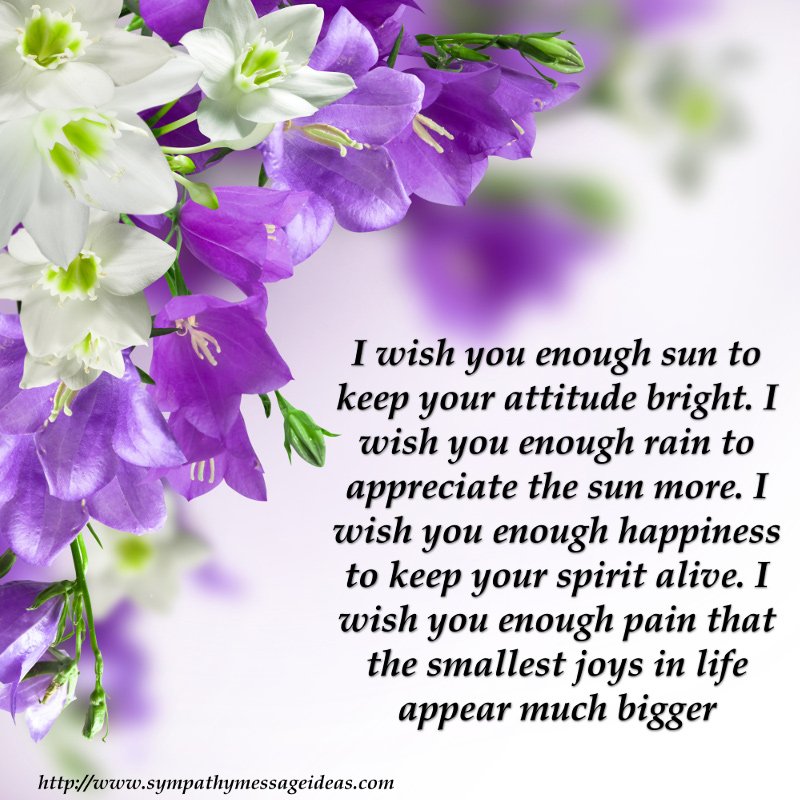 Long Sympathy Messages
If you want something a bit more expressive then a longer message will do the job. This allows you to expand further and offer your condolences in greater detail. You can use these as they are or as inspiration to write your own sympathy message. Finding the right words is tough but if you speak from the heart and are understanding then your message will be appreciated.
It seems so cruel to lose one so dear. Time may dull the pain, but we will never forget _______. Please accept my condolences.
I wish you enough sun to keep your attitude bright. I wish you enough rain to appreciate the sun more. I wish you enough happiness to keep your spirit alive. I wish you enough pain that the smallest joys in life appear much bigger
There are times when there are too few words left to heal us, when what we wish for is to be carried, when all we have left is the hope that tomorrow will be a more gentle place to land than today
It was with great sadness that we/I learned of _______'s passing. Please accept our heartfelt condolences and we hope that in a small way they help through these trying times
Grief can be so hard, but our special memories help us cope. Remembering you and your loved one today and always
As the days and weeks pass, and as you return to life's routine, may you continue to feel comforted by the love and support of family and friends
May your hearts soon be filled with wonderful memories of joyful times together as you celebrate a life well lived
May memories of _______ and the love of family surround you and give you strength in the days ahead
Hold tight to memories for comfort, lean on your friends and family for strength, and always remember how much you are loved
Wishing you peace to bring comfort, courage to face the days ahead and loving memories to forever hold in your heart
I am at a loss for words during this sorrowful time. Please know that I am thinking of you and praying for peace and comfort
Words seem inadequate to express the sadness we feel about ______ death. We are here to support you in your grieving process. With sincere sympathy,
We share comfort in knowing _______ is no longer suffering. We send thoughts of sympathy and support to you as you begin your journey without _______
I am praying for you to get through this time with the peace that comes from the knowledge that God loves you and that He will take care of you
I hope you understand that when people write in a card, 'Sorry for your loss,' it is only because they can't put together words to describe what they are wanting to express to you during this time. With that said, I am sorry for your loss
I was saddened to hear of your loss, and I realize you have lost a blessing from God. I pray that God will bless continue to bless you in other ways and strengthen you.
I wish I could do more than give you my sympathy. Please let me know how I can help. Know that I am here if you need anything, and I love you
I wish I could express to you all the appropriate words. All I can say is that I am sorry for your loss and that I want you to know that you mean a great deal to me
It was with great sadness that I learned of _______'s passing. Please accept my heartfelt condolences and I hope that in a small way they help through these trying times
I can't imagine what you must be feeling right now, but I want you to know that we are just a phone call away. My heartfelt condolences
Sympathy Quotes
You can also use a quote to offer your sympathies to someone. Quotes work well as famous people have often said insightful, profound and comforting things in regards to loss and bereavement. So try one of these sympathy card quotes
"What we have once enjoyed, we can never lose. All that we love deeply becomes part of us." – Helen Keller
"Unable are the loved to die, for love is immortality." – Emily Dickinson
"We understand death only after it has placed its hands on someone we love." – Anne L. de Stael
"There are no goodbyes for us. Wherever you are, you will always be in my heart" – Gandhi
"A great soul serves everyone all the time. A great soul never dies. It brings us together again and again" – Maya Angelou
For more see our Sympathy Quotes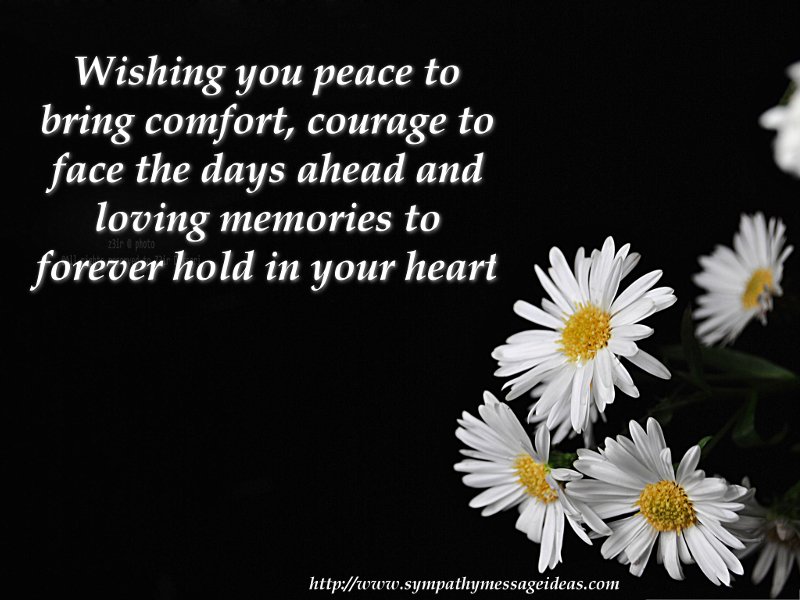 Sympathy Messages to a Friend
When it's a friend you're trying to comfort and offer condolences you will want to be more informal. They need support and the knowledge their friends and family are their for them. Hopefully the examples below will help to console them and with friends support show there is light at the end of the tunnel.
I'm here for you, whatever you need
We'll get through this together
Wishing you strength and peace during this awful time.
Remember that so many people are here for you if you need us. Please don't hesitate to ask
If you need anything at all, be that to talk or some support when things get tough, I'll be there for you
You are in my heart at such a difficult time. You have my deepest sympathies
It may not mean a lot but I hope my words of condolence can help bring you some comfort at this time
Take the time to heal and remember I'll be here whenever you want to talk
May care and love of those around you provide comfort and peace to get you through the days ahead. My most sincere condolences
I know that what you are going through right now is very difficult, just know that I am here for you. I am truly sorry for your loss
Try our Condolence Messages for a Friend for more examples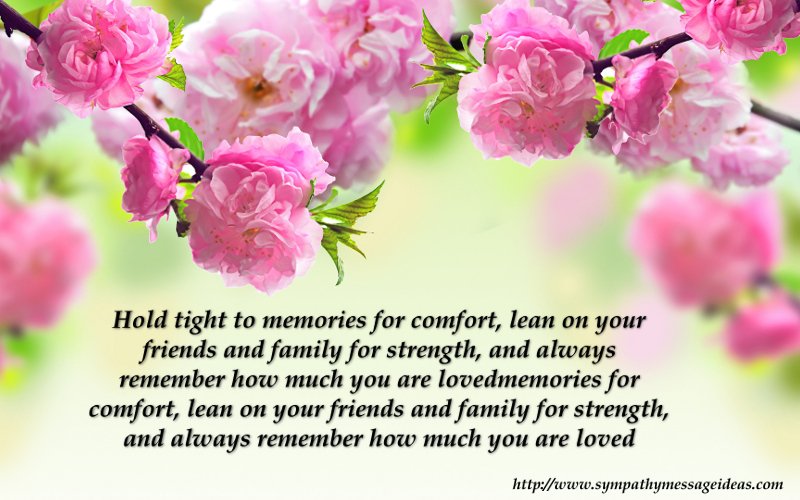 Sympathy Messages for Loss of Mother
The loss of a mother is devastating and often some of the hardest times in anyone's life. During this period the support and love of friends and family is key. Offer your sympathies and show you're there for them with these condolence messages.
Your mothers amazing generosity and incredible spirit will never be forgotten. She was so special. My sincerest condolences
Your moms passing has been such a shock to us all. Let us know if there's anything we can do. Stay strong
Everyone who knew your mom was touched by her presence. She was an incredible woman. We're so sorry for your loss
I am here for you and your family if you need anything at all. Don't hesitate to ask
Our thoughts and prayers go out to you during this tough time
Sympathy Messages for Loss of Father
The loss of a father is as equally devastating as losing your mom. So the same should apply – console and support those grieving, and offer your condolences with one of the messages below.
The loss of your dad will leave a hole in so many people's lives. Please accept our deepest condolences
I'm here for you if need anything, even just to talk. I'm so sorry for your loss
My sincerest condolences to you and your whole family
Your father was a great man blessed with a heart of gold. He will be greatly missed
I hope you can take a little comfort from knowing everyone who met your dad knew what a fantastic person he was. His Loss will affect us all deeply
What to Avoid Saying
As this is such a sensitive time for those suffering a loss there are a few things you will want to avoid saying to make sure you don't cause offence.
Don't compare a loss you've suffered to theirs. Each is individual and unique, and by comparing them you could make there's feel less important
Avoid using anything like "it's for the best" or "it was Gods plan". These sorts of phrases may be well intentioned but make assumptions that the person suffering the Loss could disagree with.
Try to always send an actual card rather than an email or Facebook message. A card always shows you've made an effort and put some thought into it
Don't go into unnecessary details about the person's death. Going over the cause of their passing just brings up unwanted memories
And never bring up money or a will. This isn't the time and would be very disrespectful
For further ideas and help see our sympathy message writing tips. We also have a guide on how to sign a sympathy card too that you may find useful.