After a funeral or memorial is over you have to think about thanking all those who were involved in some way. The guests who attended, whoever offered their condolences, those who provided food etc. and of course those who sent flowers.
The flowers are an important part of the funeral. For the family of the deceased it is a moving sight to see all the different bouquets and wreaths loved ones have sent. It's a reminder of how many people cared about the deceased and the lives they touched.
But after the strain and emotion involved in a memorial you might be struggling to write your thank you notes for funeral flowers. If so then the following note examples and tips should help to relieve some of the stress and make it easier.
Thank You for Funeral Flowers Examples
Each note will have a different tone depending on who it is for. Some will be more personal and informal compared to others. But whoever is the recipient you should express your gratitude and show them their flowers were noticed and made a difference.
For Family
Dear Cousin Helen,
We were really pleased to see you at Richards funeral and we all agreed the flowers you sent were our favorites.
Having you at the funeral really meant a lot to us and I know it would have meant the same to Richard too. He really cared about you.
With love,
********************************
Dear Uncle Alistair,
Many thanks for sending a lovely arrangement to Mary's funeral. I know she would have been really moved by the flowers.
Family is so important at a time like this so we appreciate your presence at the funeral and being there for us. We need to stick together during these difficult moments. Thank you again.
Love,
For Friends
Dear Matthew,
I'm really grateful that you came to Ian's funeral. The bouquet of flowers you sent was such a lovely thought and were beautiful.
It has been difficult to come to terms with Ian not being here anymore but knowing I have the support of friends like you means a lot. Thank you for your friendship during this time.
Love,
********************************
Dear Amelia,
Thank you for your constant support since my wife passed away. Your help at the funeral and lovely flower arrangement you sent was just amazing and I can't express my gratitude enough.
Thank you for being such a brilliant friend.
Love,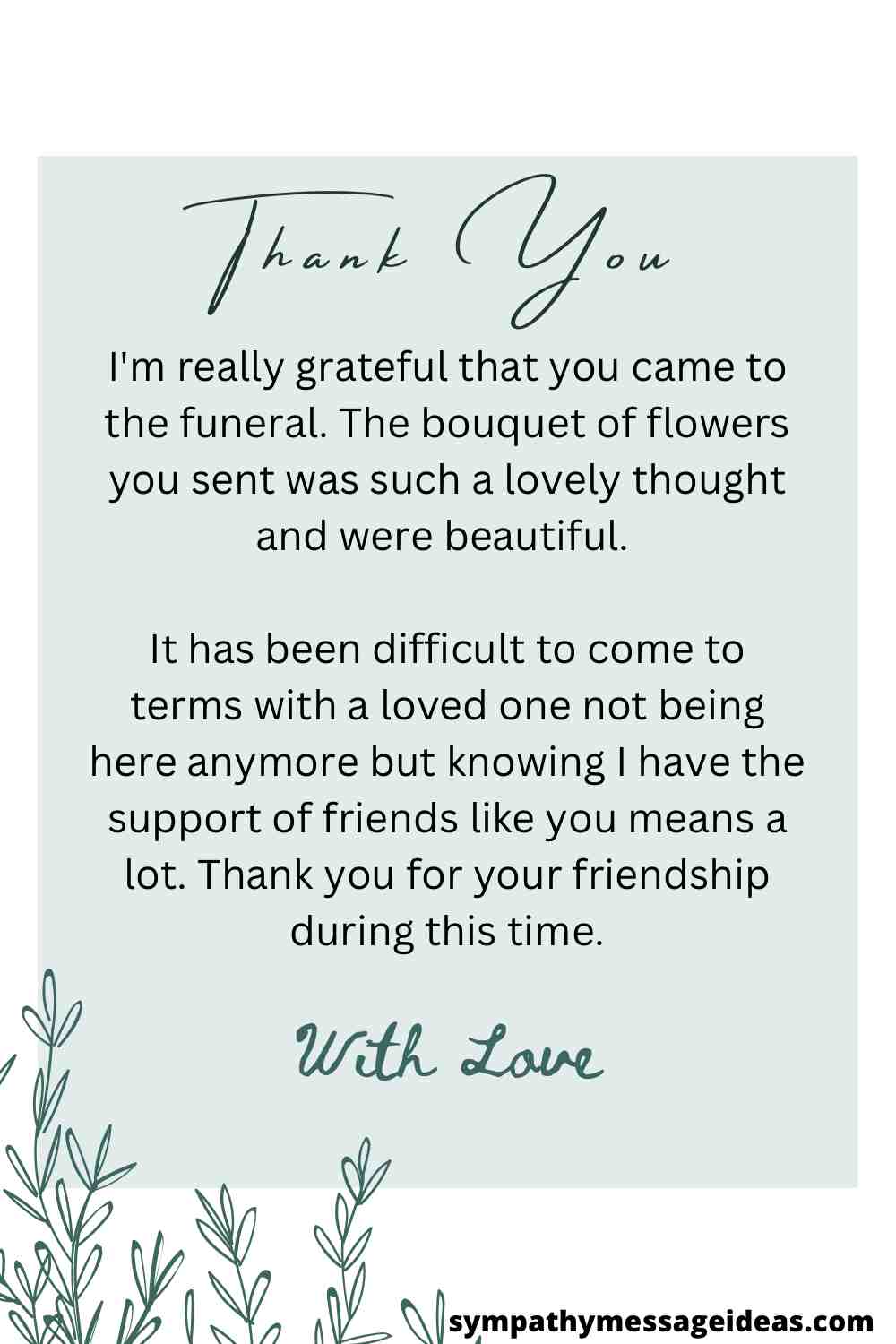 READ MORE: 12 Example Funeral Thank You Notes for Money
For Coworkers
Dear Craig and Amanda,
Thank you for sending such beautiful flowers to Jason's funeral. He enjoyed his work so much and a big part of that were his coworkers like yourselves.
Knowing you had made such an effort would have touched him greatly.
Sincerely,
********************************
Dear James,
Thank you for attending the funeral of my husband and sending flowers. I was very grateful to have colleagues amongst family and friends there to offer support.
It meant a lot to me as I deal with the grief to be surrounded by those who care. Your flowers were a beautiful thought as well. Thank you.
Regards,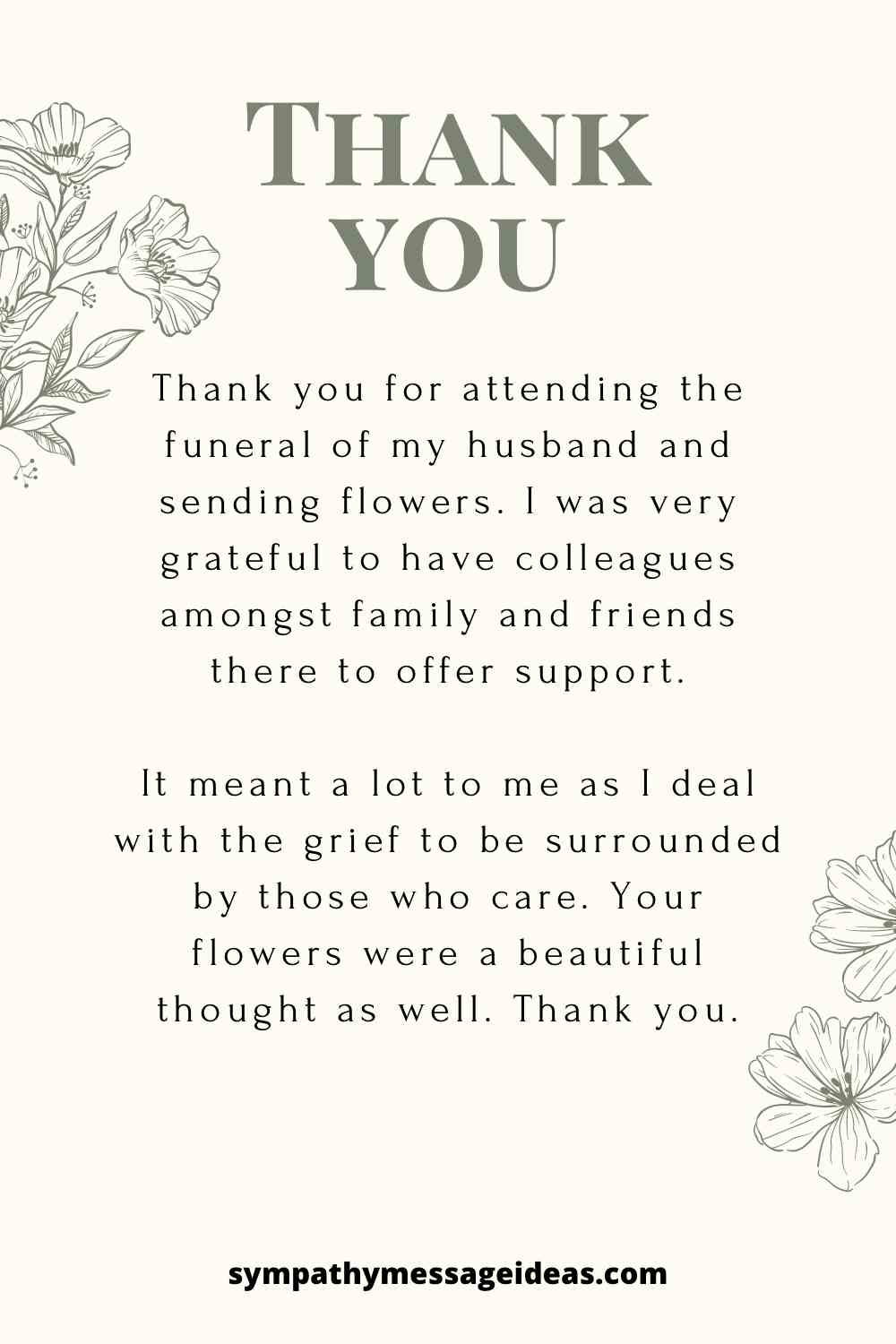 For Neighbors
Dear Sarah and David,
The stunning arrangement you sent to Jane's funeral was so appreciated. She would have been so pleased you remembered and picked her favorite flowers.
Thank you again for thinking of Jane and being wonderful neighbors. I'm very touched.
Sincerely,
********************************
Dear Pat,
I wanted to reach out and thank you for the funeral flowers you sent to Anne's memorial. I know after we became neighbors you and her developed a real friendship and she would have been very moved by your gesture.
Thank you for thinking of her and our family as we remember Anne's life.
Sincerely,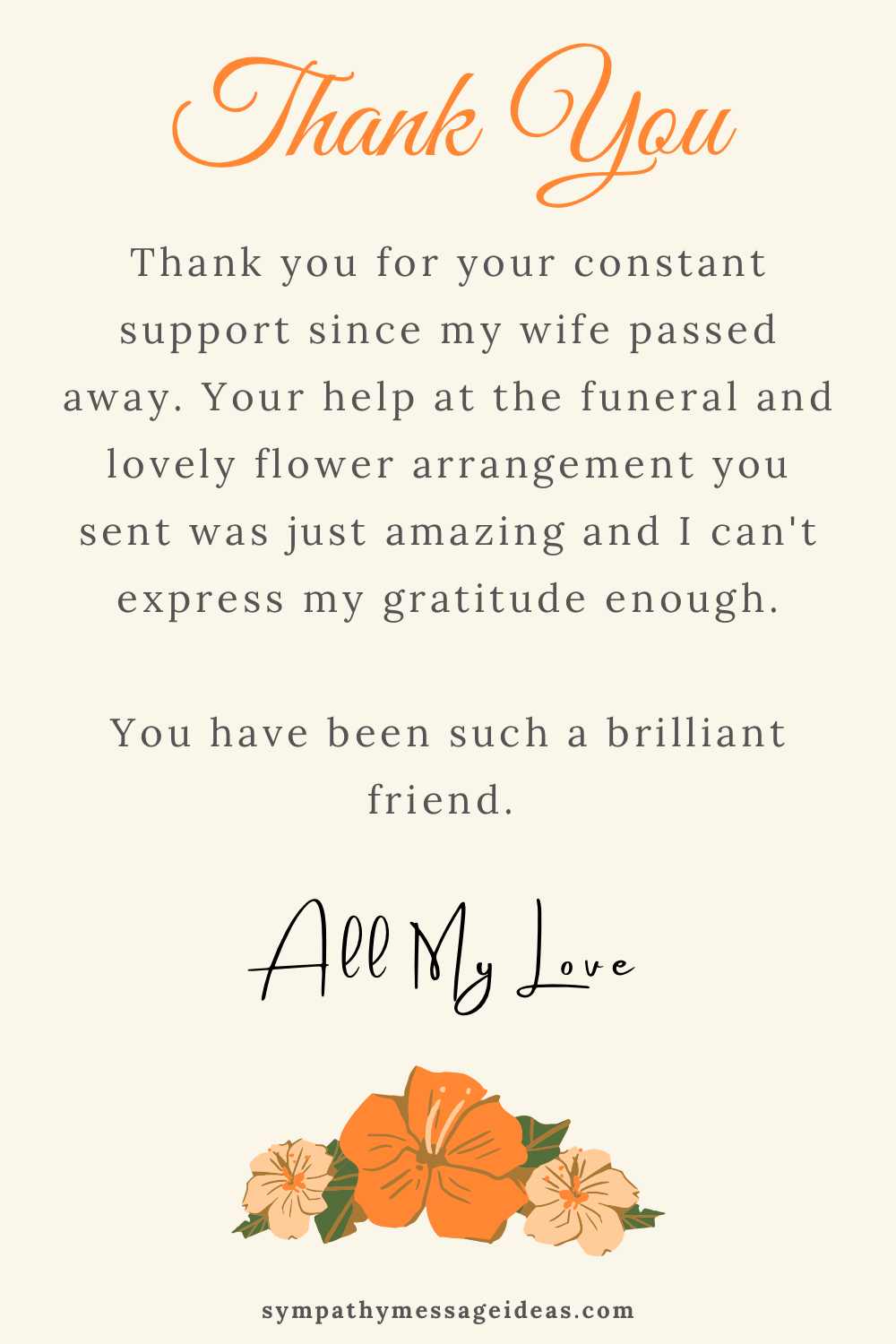 For an Acquaintance
Dear Fiona,
Even though you didn't know Steve very well you still sent a lovely bunch of flowers for his funeral. That really means a lot to our whole family and we are deeply touched that you thought of someone who wasn't a close friend.
Thank you again,
********************************
Dear Tom,
We appreciate your sending flowers to Shaun's funeral. Though we may be no more than acquaintances you thought to honor Shaun's life and pay your respects with a beautiful arrangement and we are very touched.
Thank you, it meant a lot to the whole family.
Do You Send Thank You Notes for Funeral Flowers?
Yes, it's polite and the correct etiquette to send some form of thank you to those who have bought or sent flowers. Either send a thank you card or note or thank them in person if you have the opportunity.
Whilst it's not always necessary to thank those who only attended or sent condolences if someone has sent flowers then it's best to acknowledge that and say thank you.
Do you Send Thank You Notes to Family for Funeral Flowers?
Even with close family it's still good etiquette and a nice gesture to send them a thank you note or card for funeral flowers. If they have made a real effort with the arrangement they sent then a small card to show your appreciation isn't too much to ask.
How Do You Address your Note?
First, have a good envelope. It doesn't have to be too fancy but one that matches your card/note is preferable.
You should use the card that came with the flowers to decide who to address the card to. If it was signed by just one or two names then that's simple – you address the card to them.
If it was signed by the whole family then address it as such, like 'Mr and Mrs Jones and Family'.
If each name has been listed individually then you should thank and mention each one. This applies to both within the note itself and on the envelope.
How Long After a Funeral Do You Send Thank You Notes for Flowers?
It depends on when you feel up to it. The usual timeframe is within a few weeks of the funeral. But if you need more time before you are ready to face writing the thank you notes then don't feel pressured into doing so.
Conclusion
We hope you have found these example thank you notes for funeral flowers helpful. It may be tough after the funeral of a loved one to write thank you cards but those who receive them will appreciate your efforts.