If you're sending flowers or a wreath to a funeral you may be worrying about what to say. It can be hard to know what to write on a funeral wreath.
How can you be expected to find the right words to remember or say goodbye to someone you loved. You only get one chance to express those last sentiments and so it's natural to want to say something meaningful and heartfelt.
But you only have a short space to work with. A funeral wreath ribbon affords you only a small amount of room to write whatever you choose. It's makes it even more important to get those few words just right.
So if you're struggling with what to write on a wreath then these example messages and tips should help you to come up with the perfect words that express how you really feel.
What is a Funeral Wreath
A funeral wreath is a floral tribute for someone who has passed away. It is an accompaniment to the deceased as they make their way to the funeral and will follow them from the service to the graveside. This is opposed to flowers that are sent to the bereaved family or friends as a way of expressing sympathy or condolences.
Funeral wreaths originate from Ancient Greece and were worn as signs of power by important members of society. When used for funerals they signified the circle of life.
When used by Christian's to commemorate martyrs they would be made from evergreens which because of its ability to survive the harsh winters represented victory of the soul over death.
Short Funeral Wreath Messages
If you are writing a message on a card to go with your wreath then these short funeral flower messages will be ideal.
Always remembered and in our hearts
Gone but never forgotten
Forever in our hearts
In loving memory
Missed more than words can say
Loved deeply, missed terribly
Until we meet again. Goodbye
Forever treasured in our memories
Rest in peace with the angels
Forever remembered and cherished
With love and sympathy
With you in sorrow
The memories will live on
Always in our thoughts
May you rest in peace my love
In love and remembrance
SEE MORE: What to Write on Funeral Flower Messages
Religious Funeral Wreath Ribbon Messages
A religious sentiment is often used for a funeral wreath. But before doing so make sure you are confident that the deceased was religious and whether they would have felt it appropriate to have a religious message on their funeral flowers.
May angels watch over you
Rest in Heaven
With Gods love
Heaven will welcome you
There is a new angel in heaven
Now asleep in God's embrace
Rest in eternal peace with Christ
May you be received in heaven
In to God's hands
Heaven's gates will be open for you
On angel wings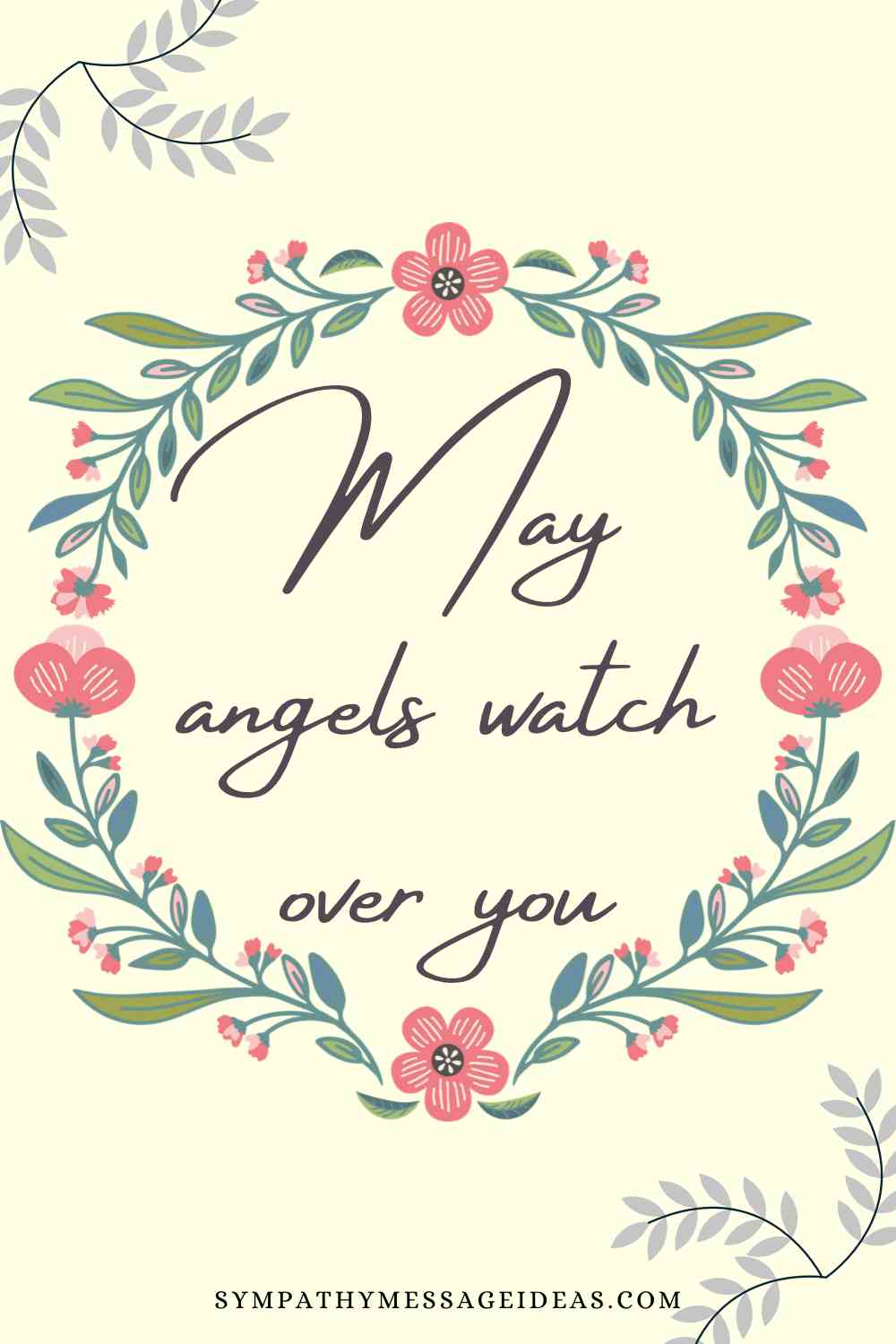 SEE MORE: What to Say Instead of Rest in Peace
Non-Religious Funeral Wreath Examples
If the deceased wasn't religious or you don't know of their religion then you should avoid a religious message on the wreath. Go with a standard sentiment or heartfelt words.
Missed dearly
With all our love
Always loved. Never forgotten
Loved eternally
Remembered in our hearts
Treasured by family and friends
A shining star, forever in our hearts
The memories will never fade
Too special to ever be forgotten
He/she walked in beauty
Our lives were better because of her/his presence
In my heart forever
Funeral Wreath Messages for Family
It's not unusual for the more extended members of a family to send a funeral wreath or flowers when a family member has passed away. Closer family can also send a funeral wreath so the messages below are ideal for all different relatives.
Funeral Wreath Messages for Mom
I will love you forever mom
Nothing could say how much I miss you
In memory of a beloved mother
You will be so very missed
Thank you for everything, mom
Loving mom and wife
Cherished by all who were lucky to know her
Touched by her love
You were an inspiration
In memory of an adored mom
Your love will always live on
SEE MORE: Funeral Flower Messages for Mom
Funeral Wreath Messages for Dad
I love you, dad. Goodbye
No words can express how much I will miss you
Thank you for everything, dad
A dear father who will be missed greatly
A man too loved to ever be forgotten
You made my life so much better. Thank you dad
A wonderful man we were lucky to have
I treasure every moment I spent with you
A dad who will live on in our hearts for all time
Your life will be a beautiful memory
Funeral Wreath Messages for Grandmother
Your memories will never die
Time may fade away but memories of you will always remain
You are gone but always in my heart
Rest in heaven now gran
Your memory will last forever
Treasured memories of a our beloved grandmother
Your memory will live on long in our hearts
Sleep peacefully my sweet gran
May you be at peace in God's arms
I only had a short time knowing you but I treasure it
SEE MORE: Funeral Flower Messages for Grandmother
Funeral Wreath Messages for Grandfather
A light has gone out of my life without you grandpa
You leave a hole in my heart I will never fill
When a person becomes a memory, the memory becomes a treasure
Missed every day
You brought joy and happiness to our lives
Deeply missed by everyone
Eternally missed
No one compared to you
Rest in bliss, grandpa
One day we will remember you with wonder, not grief
Funeral Wreath Messages for Friends
Here lies a beloved friend
In loving memory of a true friend
A cherished and treasured friend
In memory of an unforgettable friend
You captured a place in our hearts
The greatest friend
We only part to meet again
A friend to all
To live in the hearts of those we love is not to die
Once met, never forgotten
Funeral Wreath Messages for Coworkers
Quite often if it's a coworkers funeral then everyone in the office or workplace will group together to send a funeral wreath or flowers. The messages below are good ideas for a wreath for a colleague.
Beloved colleague and friend
An employee we all looked up to
A coworker we all adored
More than just a colleague – a friend
Remembering a wonderful boss
In memory of our valued coworker
The office won't be the same without you
Out team will never be the same
A dearly missed colleague and friend
We cherished and will miss you
SEE MORE: Condolence Messages for Colleagues
Funeral Wreath Sympathy Messages
Sharing your sorrow
With deepest sympathy
All our love
In our thoughts and prayers
With all our hearts and love
Wishing you peace and comfort
Our sincerest sympathy
With loving thoughts
Wishing you courage to face the days ahead
SEE MORE: 123 Sympathy Card Message Examples
Sending a funeral wreath is a touching gesture and the words that accompany it can have a real impact on the deceaseds family. That's why it's important to try and make what you write on a funeral wreath as moving snd heartfelt as you can.
Hopefully these example messages for funeral wreaths will have helped you to find those words and express the way you feel as best as you can.