Dealing with the loss of a loved one is one of the most challenging experiences you can go through. Having to come to terms with the fact that someone you shared your life with is no longer around is heartbreaking.
In that situation it can be hard to find the right words to say about someone who has passed away. If you're struggling then using some of these sample tribute messages for the dead may help.
These sample tribute messages for the dead can give you ideas of what to say to someone who has lost a loved one. They can also be used for memorials or other ways you choose to remember the deceased.
They are beautiful and heartfelt words that can help both you to express your emotions and to offer comfort to those who are grieving. Don't be afraid to show your sorrow by sending one of these messages for someone who has passed away.
Sample Tribute Message For The Dead
Honor the passing of a loved one with these sample tribute messages for the dead.
I miss you more than words can say. The whole world is less bright without you in it. But I will cherish every moment we shared together and the memories I have of you. They will last forever.
It hurts so much you're gone but I am so grateful for the time we shared together. You brought so much joy and happiness to my life and I will never forget you. You will always hold a special place in my heart.
You may be gone but your memory will live on forever. You touched the lives of so many people with your kindness and generosity. Words cant express how much I will miss you. Rest in peace my dear friend.
Your light shone so brightly I can't really believe it's gone. You touched not only my heart but so many peoples and left a mark on this world that won't be forgotten. Goodbye my friend.
You were always there for me through the good times and the bad. We had a bond that was like no other and I was so grateful to have you in my life. I hope you're at peace now and know that I will see you again.
You left us far too soon but your legacy will live on forever. You were strong and brave and I am better for having known you. I hope you're at peace now.
Losing you has left a void in my life that I will never fill. You were a true friend and someone I knew I could always turn to no matter what. I've cried so many tears for you and will cry many more. Rest easy.
Words can't hope to express how much sorrow I feel that you're gone. You were the best, and having you in my life was a true gift. No one will ever replace you.
The world has lost one of its brightest lights and I have lost my best friend. I can't do anything without thinking about you and my heart aches from missing you. Although it hurts I'm so grateful for the time we had and how much you brought to my life.
Your loss has hit us all so hard. You were the kindest soul and had a heart of gold. We struggle each day to come to terms with you not being here.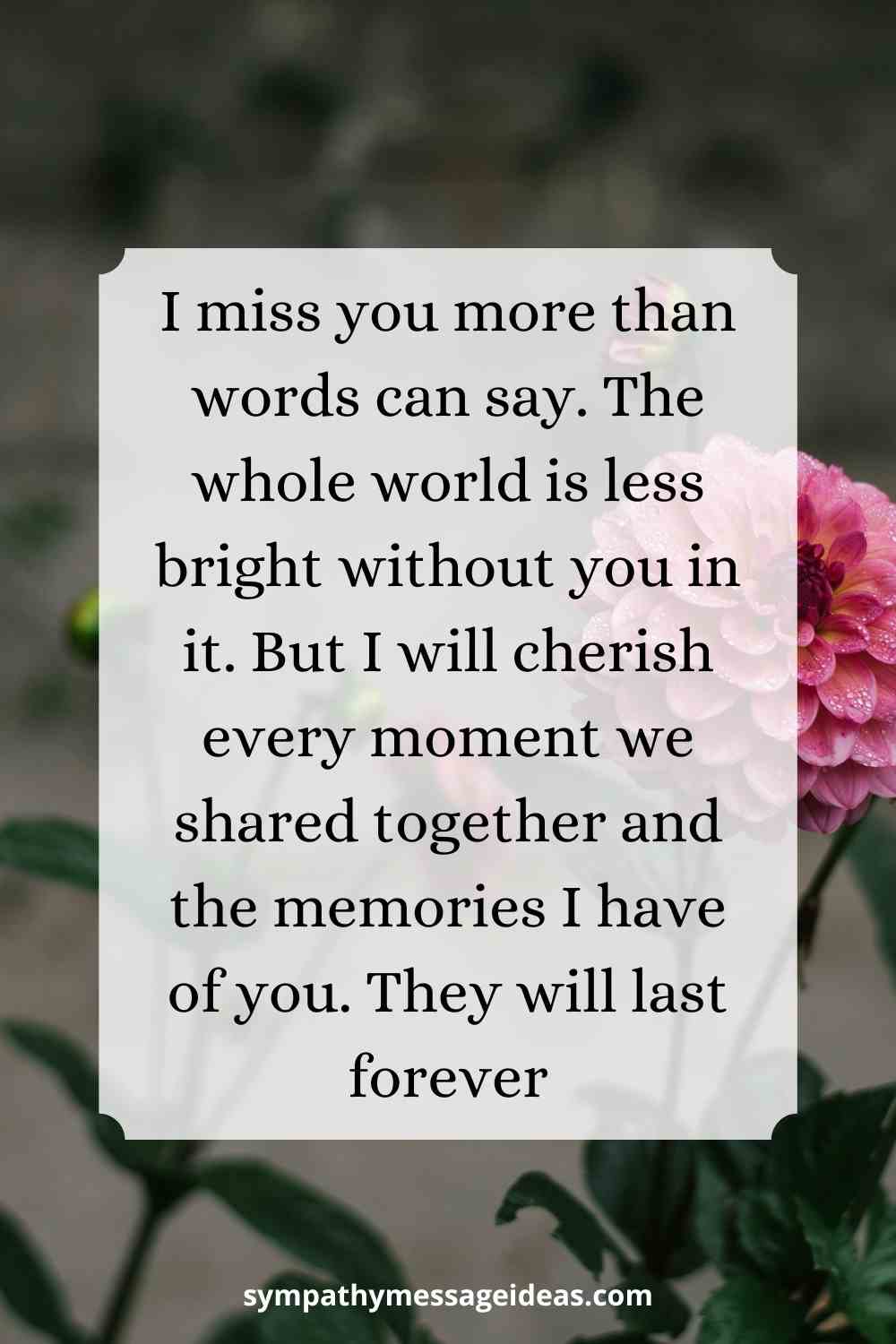 Tribute for Someone Who Passed Away
In loving memory of [name], who will always remain in our hearts and memories. We will cherish the time we had with [name] and look back on it and smile.
Life may be fleeting but the love you shared with us will last forever. Thank you for being a part of our lives.
We will always remember [name] for their infectious smile, their love of life and their positivity. They touched so many lives and made the world a truly better place. Rest in peace, my dear friend.
With tears in our eyes and heavy hearts we say goodbye to someone who made our lives so much better. Thank you for the love and laughter.
You touched so many hearts in your lifetime. Your legacy is going to live on long after you and will ensure we remember all you accomplished. Thank you for being such an important part of mine and so many others lives.
It's so hard to say goodbye. You brought such joy to my life and inspired me every day. I don't know what to do without you and feel so lost. All I know is you were amazing and I won't ever forget you.
You were more than a friend; you were family. We were fortunate enough to have you in our lives and are so grateful for your warmth, love and kindness. We know you're watching over us and feel your presence all the time.
You may have left this world but your spirit lives on in every single one of us. Thank you for the unforgettable memories that we shared. I will treasure them forever.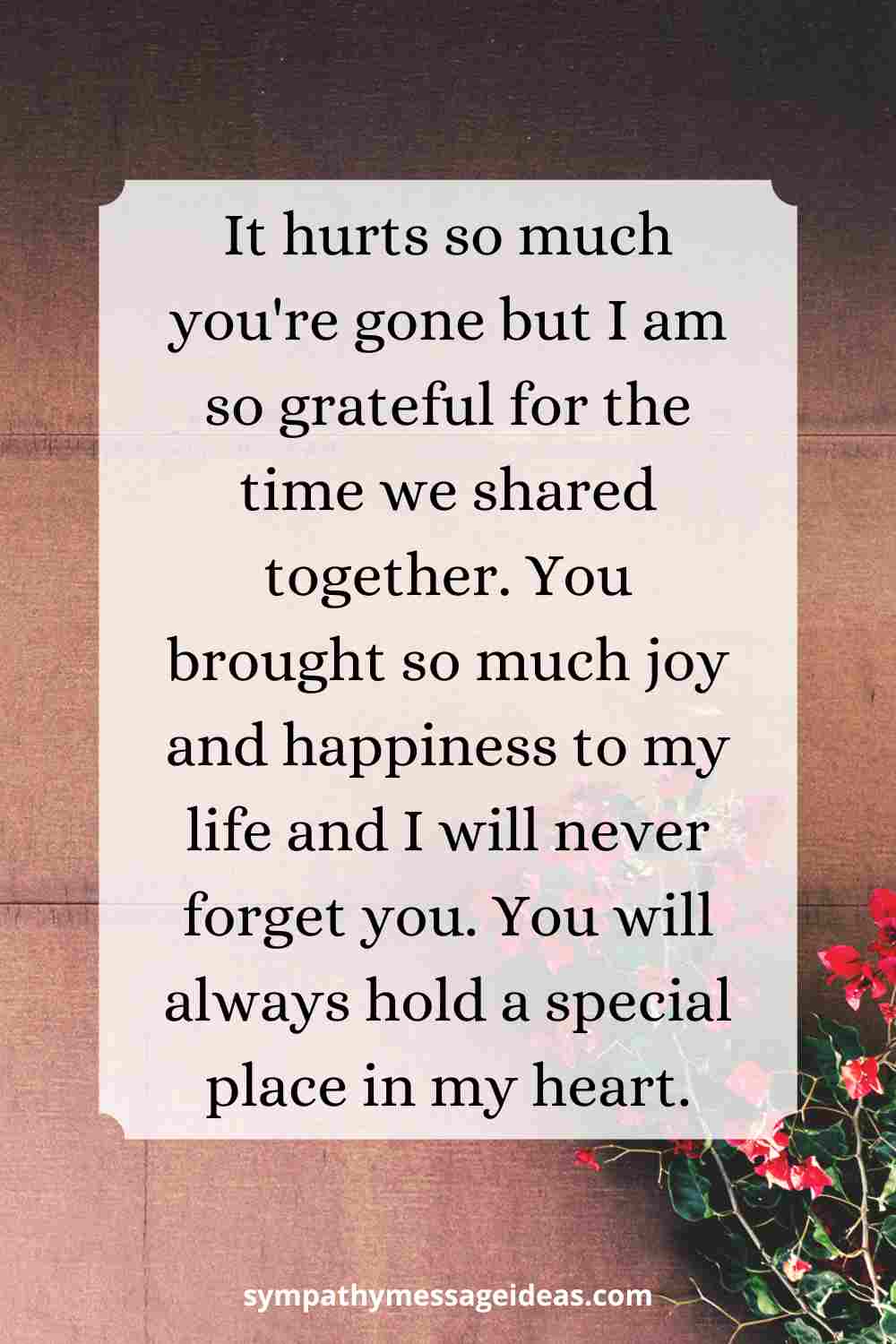 Short Messages for Someone Who Passed Away
Thank you for the beautiful memories and the never-ending love. I miss you.
Your compassion and strength inspired us all. We will carry on your incredible legacy.
You were a shining example of strength and courage. We will honor you in death as we did in life.
Thank you for how much laughter and joy you brought into our lives. We will always remember the good times..
We may be separated now but your spirit will always be there to guide and inspire me.
Your passing may bring tears to our eyes but the love you radiated will never fade away.
Thank you for your love, your generosity and your trust. It was an honor to know you.
I have so many beautiful memories of you that I treasure. They will stay with me forever.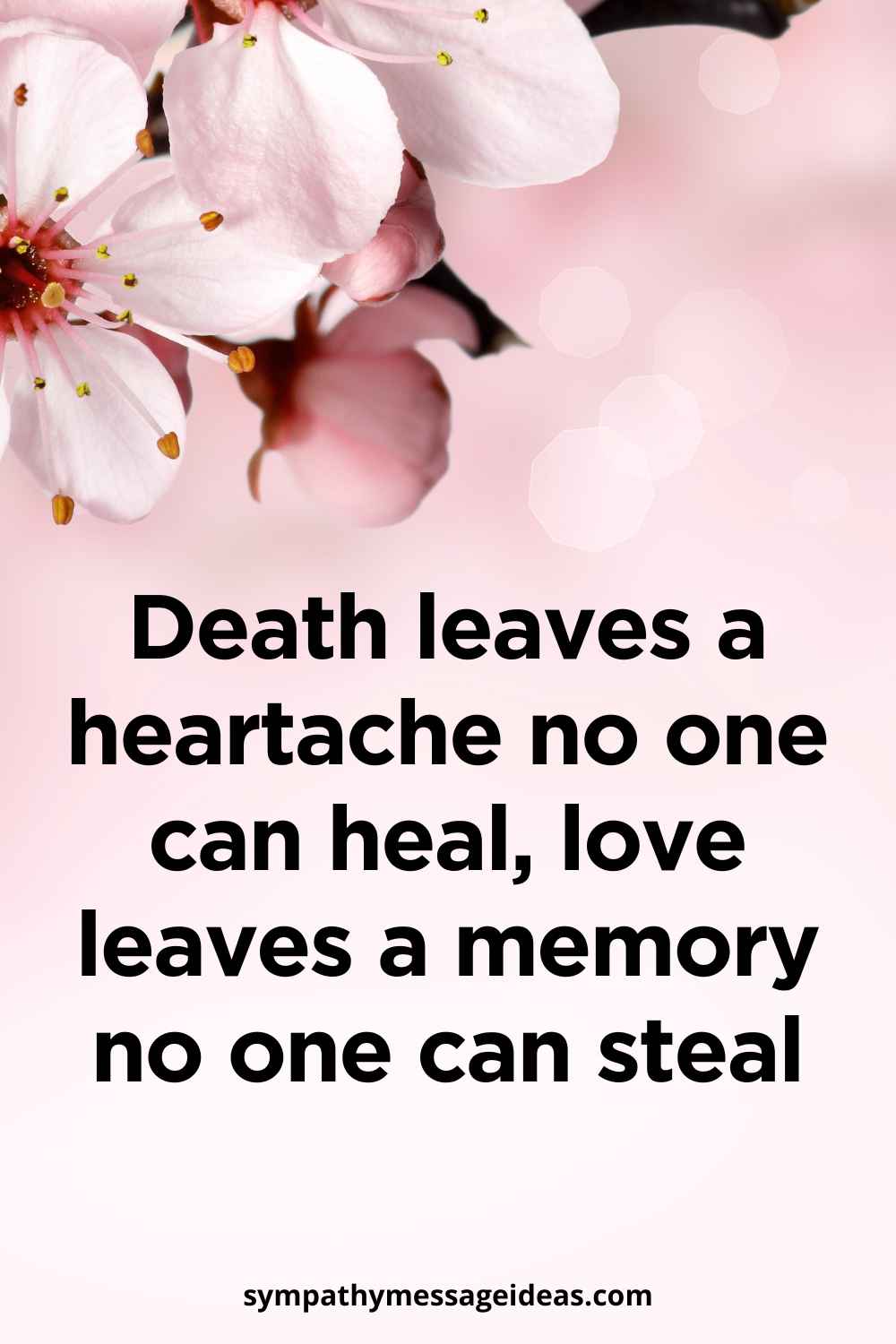 Quotes for a Tribute to the Dead
You can use the words of other people and their quotes to pay tribute to someone who passed away.
"We may mourn your loss but we celebrate your life."
"It's hard to say goodbye to someone who had such a big impact on our lives."
"You were not just a person but a ray of sunshine in our lives."
"I'm so grateful for the time I had with you. I just wish it was longer…"
"Rest in peace and know that your impact on this world will never be forgotten."
"Your light may have gone but your love will never leave us.
"Those we hold closest to our hearts never truly leave us. They live on in the kindness they have shared and the love they brought into our lives." – Anonymous
I was blessed to know you and thankful for every single moment we spent together.
Quotes About Remembering Someone Who Died
These quotes are ideal for eulogies, memorials, funeral service or celebration of life to remember someone's life and the impact they had on you.
"Those we love don't go away, they walk beside us every day. Unseen, unheard, but always near, still loved, still missed and very dear." – Anonymous
"What we have once enjoyed deeply we can never lose. All that we love deeply becomes a part of us." – Helen Keller
"Grief is the price we pay for love." – Queen Elizabeth II
"The dead never truly die. They simply change form." – Suzy Kassem
"We never truly get over a loss, but we can learn to live with the pain and make room for the memories." – Anonymous
"Perhaps they are not stars, but rather openings in heaven where the love of our lost ones pours through and shines down upon us to let us know they are happy." – Eskimo Proverb
"Death leaves a heartache no one can heal, love leaves a memory no one can steal." – Irish Proverb
"When someone you love becomes a memory, the memory becomes a treasure." – Anonymous
"The best and most beautiful things in the world cannot be seen or even touched. They must be felt with the heart." – Helen Keller
A tribute message is a beautiful way to honor the memory of a loved one who has passed away. These tribute messages can help you to comfort their grieving and also let you express any emotions you are feeling.