Sending flowers after a death is a kind gesture to offer condolences and provide comfort to those grieving. But knowing when to send flowers can be confusing.
If you're not familiar with the traditions of death and mourning you might be worried about sending them at an inappropriate time. You don't want to cause offence by having flowers arrive too early or late.
So if you're not sure you'll find all you need here to navigate the etiquette of sending flowers after a death. We'll look tips on timing, types of arrangements and cultural considerations. On top of that we will also look at the right timing for different types of relationships, location and more.
So whether you're sending flowers to a close family member or just an acquaintance this guide will help you to send flowers in the correct way.
When to Send Flowers After a Death
It is best to send flowers within the first two weeks after the death. It's these first few weeks when a gesture of flowers will provide the most comfort and when the family or loved ones of the deceased will need the most support.
If you are unable to send flowers within those first couple of weeks then it's still acceptable to send them later. Its definitely better to send flowers late rather than not at all!
What Else to Consider
There are a few other things you should consider before sending flowers:
Religious and Cultural Traditions
It's a good idea to take into consideration certain religious and cultural traditions that the family of the deceased may have. For example some cultures have specific flower traditions whereas others may prefer donations to a charity in lieu of flowers.
There are some Jewish traditions where it's appropriate to send flowers immediately after the death. But in others it's customary to wait until after the funeral.
Many religions have their own customs so I would recommend taking some time to research the families cultural preferences to ensure you don't make a mistake. If you're still not sure about the appropriate timing then you could even consult with a religious leader or ask the family directly.
Funeral or Memorial Service
If there is a funeral or memorial service then it's appropriate to send flowers to the funeral home or place of memorial. If that is the case then you should aim to send the flowers in a timely manner so they arrive before the service.
Make an effort to find out the details of the service or memorial from the family or funeral home so you know the deadline for when to send flowers.
Family Wishes
Think about the family's wishes. Flowers are popular but some families may have made a request that donations should be made to a charity in lieu of flowers.
If so then don't go against those wishes. Respect what they have asked for and make a donation instead.
Your Relationship with the Deceased
The relationship you had with deceased and their family will play a role in when you send flowers.
As an example if you were very close to the deceased then it would probably be acceptable to send flowers directly to the family and before the funeral service or memorial. But if you weren't particularly close to the deceased or family then it might be better to wait until after the service (if there is one) to send any flowers.
Sending Flowers Immediately After a Death
Many people choose to send flowers to the funeral home or the family's home within the first few days of the death. This gives the family the chance to have the flowers on display during the wake or funeral service.
It also works as a way of showing the family they aren't alone in their grief and that others are thinking of them. So if it feels appropriate sending flowers quickly can be a very touching gesture.
It's also important to consider the type of flowers being sent. White lilies, roses and carnations are traditional choices for sympathy flowers.
Avoid bright colors and yellow flowers though as they will feel wrong during such a sad time. You don't want any flowers that are seen as celebratory, upbeat or 'bright' in their nature.
Additionally some families may prefer potted plants or arrangements that can be taken home after the funeral service.
Sending Flowers After the Funeral
It's usually recommended to send flowers within the first two weeks after the funeral. This gives the family some time to grieve and settle back into their routine before they receive more condolences.
If you send your flowers too soon or too late they may not have the intended impact. In fact they may even upset the deceaseds family if you get it wrong.
Etiquette for Sending Flowers
There are some basic etiquette guidelines you should follow to make sure that your gesture of flowers is received in the way you would want it to be.
Here are a few tips to keep in mind:
Choose an appropriate arrangement: when you pick your arrangement you need to think about where it is going to be displayed. If it's going to be a funeral or memorial service then that should be a different arrangement to flowers you send to the family at their home. Avoid sending overly extravagant or showy arrangements as well as they could be seen as inappropriate or insensitive.
Include a sympathy message: A message that expresses your condolences is always good to include with flowers. You don't need to write much, just a few short words to convey your sympathy. Something as simple as "thinking of you during this difficult time." or "you're in my thoughts and prayers." is absolutely fine.
Be sensitive to the family's emotions: Remember that the family is going through a difficult time. That means you should be sensitive and respectful in your both how you communicate with them and your actions. Avoid saying or doing anything that could be seen as insensitive or dismissive regarding their loss and offer your support and condolences in a genuine and kind way.
Respect religious customs: as mentioned earlier if the family or the deceased had specific religious beliefs or customs then make sure you respect them when sending flowers.
You want your flowers to arrive at the appropriate time and be fully appreciated. So getting the etiquette surrounding sending them is important and these tips should guarantee you don't make any mistakes.
Types of Flower Arrangements
Now you know when and how to send flowers after a death you still have to decide on the type of arrangement. These are the most common types of flower arrangements that are sent to grieving families:
Funeral Wreaths
A funeral wreath is a circular arrangement of flowers. It's most usually displayed on an easel at the memorial or funeral service.
While wreaths can be made from various flowers and come in many colors the traditional choices for a sympathy wreath is white and green.
Standing Sprays
Standing sprays are similar to funeral wreaths but tend to have an elongated shape. They are designed to stand upright and are usually displayed on an easel or pedestal/stand.
They typically feature a combination of flowers, foliage and other decorative elements. You will have a variety of options for sizes and shapes if you choose a standing spray, with wreaths, crosses and even hearts popular.
Standing sprays are usually sent by friends, family members or colleagues of the deceased as a way to express their condolences. They can be designed in a variety of colors and styles to reflect the personality and preferences of the deceased. You can even customize with specific flowers or decorations based on the family's wishes.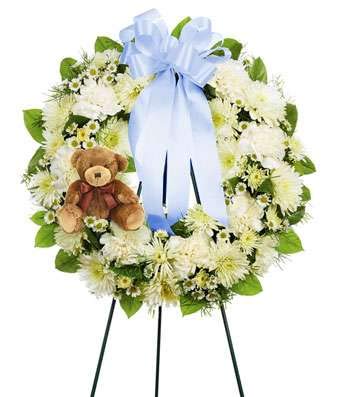 Casket Sprays
A casket spray is a large floral arrangement that is placed on top of the casket during the funeral or memorial service. Due to their size and prominence they are designed to be the central focus of the funeral display and their elaborate designs reflect that.
Casket sprays are often sent by immediate family members such as spouses, children or siblings and act as a way to pay tribute to the deceased and offer a final farewell. They can be designed in various different styles and colours using lots of flowers but they mainly reflect the personality and preferences of the deceased. In that regard they are similar to standing sprays.
There are several different types of casket sprays to choose from including full-couch sprays which cover the entire casket and half-couch sprays that cover only the top half of the casket.
Plants
Sometimes instead of an arrangement people send a plant as a type of gift. The likes of orchids, peace lilies and azaleas are all popular choices for plants to show your sympathy after a loss.
How to Pick Which One
When choosing a flower arrangement you should start by considering the preferences of the deceased and their family. If they have specified which type of flowers they would like then you shouldn't ignore that and pick your own.
Also think about the type of service or event where the flowers will be displayed. Certain flowers are going to be more appropriate for memorials or the funeral home compared to others.
It's also important to choose a reputable florist who can help you select an appropriate arrangement and ensure that it is delivered on time.
Alternatives to Sending Flowers
There are some alternatives to sending flowers after someone died if you'd prefer to go with something else:
Consider making a donation to a charity or cause that was important to the deceased or their family. You can honor the deceaseds memory with a donation in their name as well as it being a more meaningful gift or gesture than some flowers.
A heartfelt card or letter may seem too basic but it can actually be a really touching way to express your condolences and offer support to the family. Rather than a generic card and message instead make it as personal as you can. So include stories or anecdotes that involved the deceased, recount memories you have of them and remind the family of how special they were.
Sending food to the family is both a thoughtful and practical gesture. Having some tasty and nourishing food during a time when they will be struggling and probably not want to cook is going to be very well received. You might even consider sending a full meal or arranging for a catering service to deliver food to the family's home.
If you want to send a gift then rather than choosing a regular one think about going with a a personalized one that reflects the deceased's personality or interests. Think of something like a framed photograph, a piece of artwork or even a customized piece of jewellery.
It's more of a gesture but attending the funeral or memorial service let's you offer your condolences and support in person. If you're unable to attend the service then you could consider sending a video message or arranging for a special tribute to be played during the service.