'Heaven gained an angel' is a sweet phrase that is used to mark the passing of a loved one. When we lose someone special we like to think of them as happy and in a better place – like heaven.
So as a way to remember and commemorate the departed there are different quotes, messages, poems and more that speak of them as heavens newest angel.
The following can be used in a sympathy card or shared on social media to pay tribute to and help with the grief of losing someone.
Heaven Gained an Angel Quotes
"When you lose someone you love, you gain an angel you know. Earth hath no sorrow that Heaven cannot heal" – Thomas Moore
"Angels descending, bring from above, echoes of mercy, whispers of love" – Fanny J. Crosby
"The worst thing a parent can go through is having to give their sweet Angel back to heaven" – Toni Kane
"Half my heart is in heaven with my angel" – Anonymous
"Heaven has gained an Angel and a piece of my heart" – Anonymous
"You may have lost a loved one, but heaven gained another angel" – Anonymous
"I know Heaven must be beautiful right now because it has you in it. Goodbye my Angel" – Anonymous
"Angels sail back to God on a sea of joy" – Terry Guillemets
"When it comes to leaving earth for heaven, there's nothing to worry about. God wants you home so much that He'll send His own angel to meet you. And don't be surprised if the angel is wearing a big smile" – Larry Libby
"I believe in Angels because I have some in heaven" – Toni Kane
"It is not because angels are holier than men or devils that makes them angels, but because they do not expect holiness from one another, but from God alone" – William Blake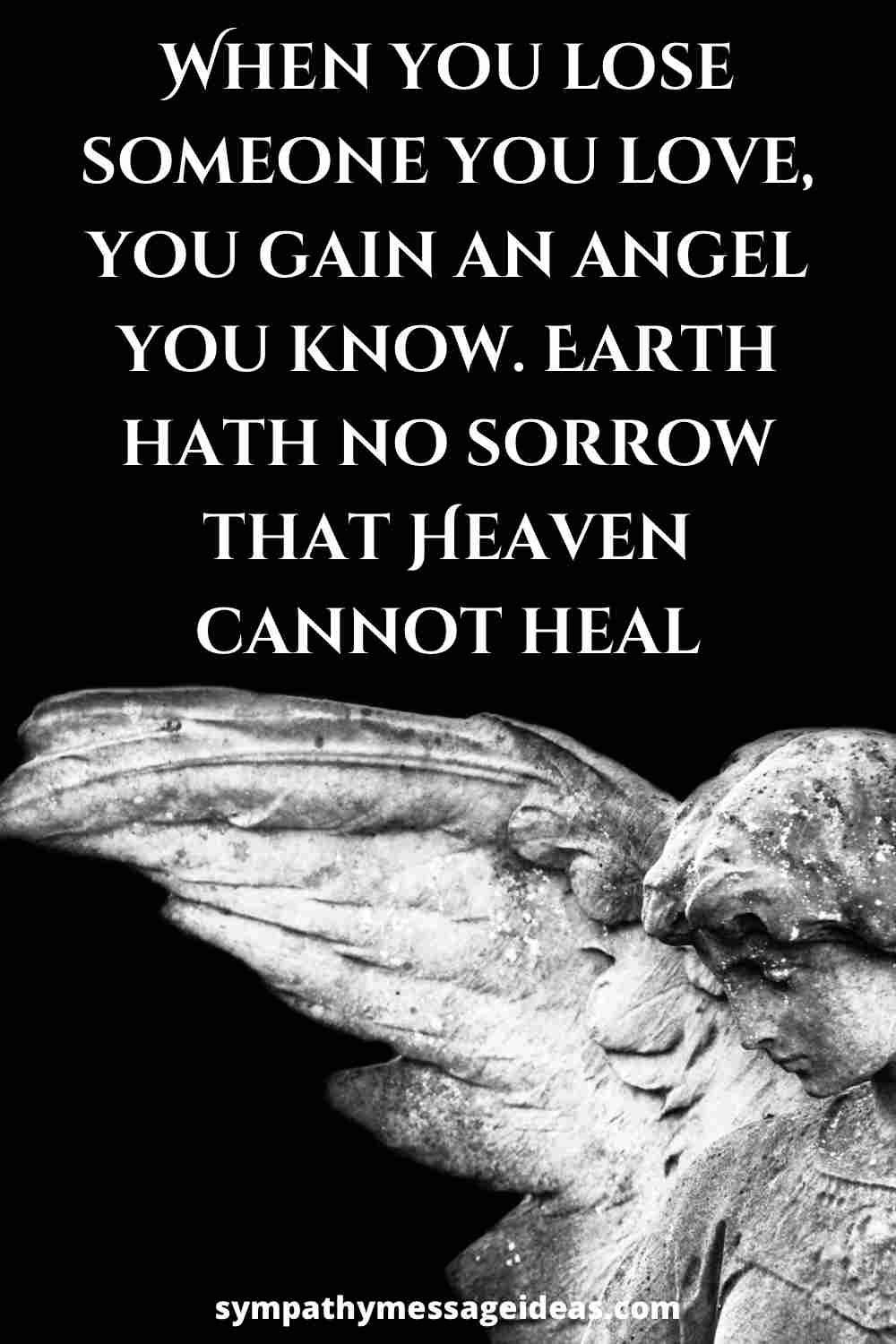 SEE MORE: Epitaph Examples for Headstones
Heaven Gained an Angel Messages
I'm so sorry for your loss. Heaven now has another Angel
One more star will rise in the sky tonight as Heaven gets another Angel
We have lost a beautiful soul but our loss is Heavens gain. There is one more Angel now who is looking over us
May it bring you comfort to know there is one more Angel in Heaven
Earth has one gentle soul less, Heaven has one special Angel more
When you lose someone you love you gain an Angel that you know
Sending my condolences for your tragic loss. May Heaven cherish her like you did
My deepest sympathy for your loss. She/he is with the angels now
Heaven has claimed another Angel as we lose one of the best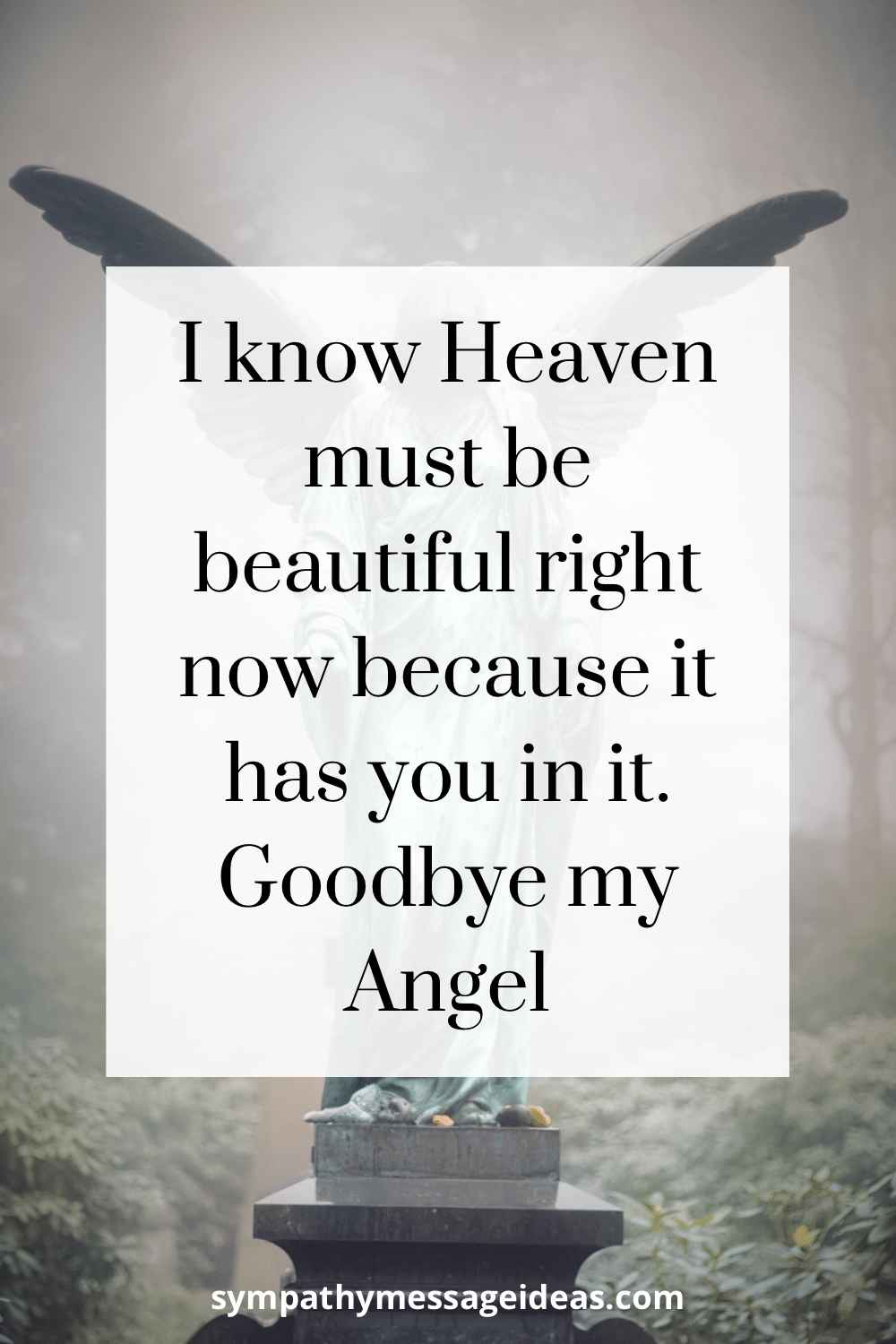 Heaven Gained an Angel Bible Verses
"The heavens declare the work of God; the skies proclaim the work of his hands" – Psalm 19:1
"For He will give His angels charge concerning you, To guard you in all your ways" – Psalm 91:11
"And I saw another angel ascending from the rising of the sun, having the seal of the living God" – Revelations 7:2
"At the resurrection people will neither marry nor be given in marriage; they will be like the angels in heaven" – Matthew 22:30
"He will wipe away every tear from their eyes, and death shall be no more, neither shall there be mourning, nor crying, nor pain anymore, for the former things have passed away" – Revelation 21:4
"No one has ascended into heaven except he who descended from heaven, the Son of Man" – John 3:13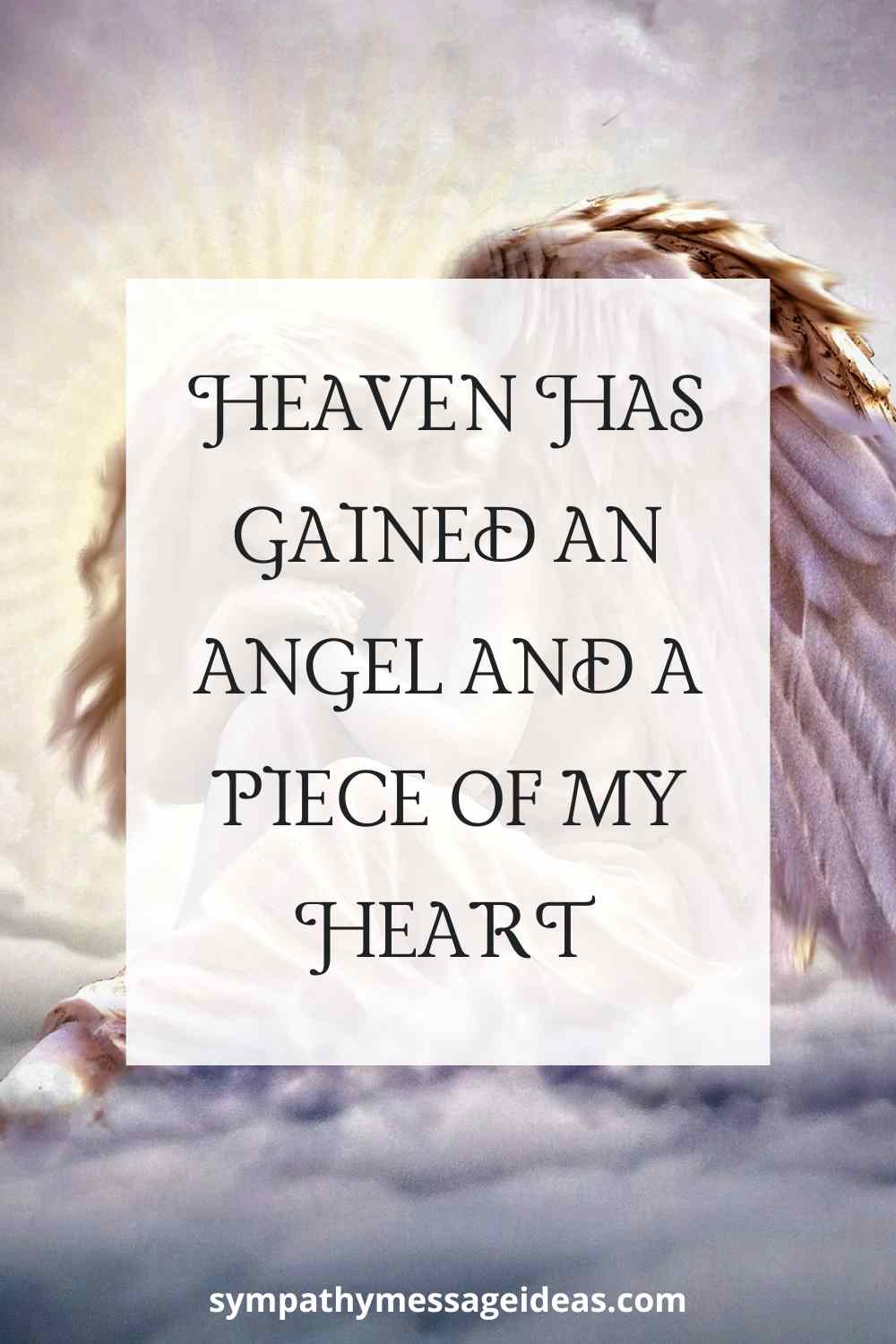 READ MORE: Bible Verses to Help with Loss and Grief
Heaven Gained an Angel Poems
God Took Another Angel Home
You laid there in that hospital
bed; you tried so hard to hold on.
God was calling you home. He needed
another angel to help pour out the rain.
Tears have fallen, hearts where shattered,
but it was time for you to fly home.
Your loved ones came to say their last goodbyes,
to tell you they loved you, and that you will be forever missed.
As your heartbeat stopped, and your eyes slowly closed,
God took another angel home.
Christina Wallace
*******************
Heaven's Gained Another Angel
When I saw that you had died, 
I couldn't believe my eyes. 
It felt like someone reached inside my chest 
and broke my heart in two.
When I heard what happened
All I felt was guilt, sadness and pain.
Yet I couldn't face the truth 
that we had all lost you. 
It wasn't till that day
when i was sitting at your funeral Staring at your coffin, 
That's when it hut me, When i really knew.
Knew that you weren't coming back
To tell one more knee- slapping joke.
I was holding out, Hoping it was all a dream,
But it really wasn't and that's what kills me. 
Right there i knew we'd lost you
and it broke my heart in two. 
I didn't think it would be that hard saying goodbye to you
But i was wrong,
So very wrong indeed. 
When i saw your family the pain fresh in their eyes, 
All i could do was hug your mum and feel you once again, 
My voice it croaked as i said i was sorry, 
All i could feel was a lump in my throat. 
I know that you are happy and smiling down on us,
We hope you are well and safe with your family. 
It toke me a while to accept it,
That you're truly gone but it still hurts to think of you,
To think of the life you should have lived.
All my days feel like a blur.
I'm missing you more than i ever did before.
I smile your smile, I miss your laugh, 
I miss the way you went around your day. 
But i think you ought to know
I really did love you All those years ago. 
You made me laugh,
You made me smile.
You made me feel a special way about myself with just a smile. 
You managed because you are you, 
And that's whats so special about you. 
I will never meet someone as incredible
Nor amazing as you in my life again 
And the thing is I'm okay with that. 
Because there can only be one of you. 
 You truly are one of a kind 
and i'm glad i got to know you,
That our paths crossed in life. 
I wish we had more memories
More laughs and smiles there too. 
But maybe in our next life.
I'll hold you in my heart till i die. 
I won't say goodbye just yet,
I'm not ready for that. 
So instead I will say Good Night
and i hope i see you again
I really will miss you more than you will ever know. 
I really do love you And i wish i told you so. 
You will hold a place in my heart forever
Good night, Sleep Well And I Hope To See You Soon
Annie Bernie
*******************
My Angel Up in Heaven
My angel up in heaven,

I wanted you to know,

I feel you watching over me,

everywhere I go.

I wish you were with me,

but that can never be,

Memories of you in my heart,

that only I can see.

My angel up in heaven,

I hope you understand,

That I would give anything,

if I could hold your hand.

I'd hold you oh so tightly,

and never let you go,

And all the love inside of me,

to you I would show.

My angel up in heaven,

for now we are apart,

You'll always live inside of me,

deep within my heart.
Dave Hedges
READ MORE: 45 Beautiful Funeral Poems
*******************
Heaven Got Another Angel
The roses aren't as pretty
The sun isn't quite as high
The birds don't sing as sweet of a lullaby
The stars are a little bit faded
The clouds are just a little more gray
And it feels like things won't ever be the same
Heaven got another angel the night you left this world behind
Heaven got a little better the day that it took you away from me
I'm missing you tonight
I'll see you again sometime
For now, I'll close my eyes
And dream of heaven tonight
The beaches aren't as lovely
The sky isn't quite as blue
Still, they're sweetened by the memory of you
The rain is a little bit colder
The fire is never quite as warm
Still, it seems that heaven isn't all that far
Heaven got another angel the night you left this world behind
Heaven got a little better the day that it took you away from me
I'm missing you tonight
I'll see you again sometime
For now, I'll close my eyes
And dream of heaven tonight
I'm spending a little more time now with the things that mean a little bit more
I'm noticing the wonders of this world
I love with a little more hope now
I live with a little more peace
Cause I understand how precious life can be
Heaven got another angel the night you left this world behind
Heaven got a little better the day that it took you away from me
I'm missing you tonight
I'll see you again sometime
For now, I'll close my eyes
And dream of Heaven tonight
Gordon True
*******************
Angel in Heaven
One night as I sat beneath a tree 

I cried to our dear Lord above

I looked up into the open sky and hoped he'd answer me

Lord I'm lost, I've traveled far but I still seem to roam 

Please light the way and lead me back home


I told Him of my burdens 

And of the everlasting sadness in my heart

That from his lost love I never felt so apart 

Why did you take my grandad, Lord?

I just can not comprehend why 

No longer can I touch his face or hold his hand

His loving smile has gone


I'm angry, Lord 

I'm missing him like mad

I'm drowning in my grief and sorrow 

Please help me heal my sad


It was then I heard his gentle voice 

And felt his presence near 

How I longed for him to stay

As I cried another tear 


He said, 'I'm an angel now 

My spirit is free 

I am an angel in heaven

So please don't cry for me

I was chosen by our Lord above and now I am in his care 

When you need me look inside your heart

I promise I'll be there 

I am an angel in heaven now 

So if you can not find your way 

or the road home just seems to far 

Look to the sky, I'll be your guiding star' 

He said, 'I'm an angel now

My spirit is free 

I'm an angel in heaven now 

No need to cry for me.'
Brie Carter
*******************
Heaven Has a New Angel
Your pain is gone
Your stay was short
Your memory will last forever
You've touched so many
Loved by all
There for us we were about to fall
A whisper of an Angel you will be
The glory of an Angel your light shall be
Our new guardian Angel you will be
Heaven has a new Angel
Mark Petro
*******************
Saying goodbye to a loved one is always heartbreaking. Hopefully these Heaven gained an Angel quotes, poems and Bible verses will have helped you to let someone go and find hope and comfort amongst your grief.