For most of us Christmas is a time of joy and cheer. But for some it can be a reminder of painful times. That's why when you're sending your festive greetings you need to be mindful of the christmas card etiquette after the death in a family.
After losing someone at Christmas it is never the same again. That doesn't mean you can't still enjoy the festive period and celebrate Christmas with friends and family.
But it will forever be associated with the loss of a loved one.
So when you're sending your Christmas cards it's important to think about the correct etiquette: namely should you send a card, and if so what do you say or write. This applies to both those grieving – should they send one and acknowledge their loss – and also to those sending to someone who experienced a loss – is it appropriate to wish them a Merry Christmas when they're grieving.
This guide to the Christmas card etiquette after a death should help you decide if it's the right thing to do and how to go about it if so.
Do I Send Christmas Cards After a Death?
There is a bit of a debate around whether you do or don't send Christmas cards after losing someone. A very old tradition, seemingly from Victorian times or a Catholic custom, said not to send cards, but there is very little in the way of substantial evidence to really back it up.
So it may not be worth following.
If you just don't feel like sending any holiday cards, and if you're still grieving a loss that's completely understandable, then you shouldn't do so. Your friends and family will understand if you don't feel up to it this year and definitely won't think it rude or be upset.
There are suitable cards if you'd like to send some but feel like they won't match the way you're feeling. Not all Christmas cards are jolly Santa's and happy snowmen. You can find some subtle and more understated cards that would fit your mood and the way you're feeling.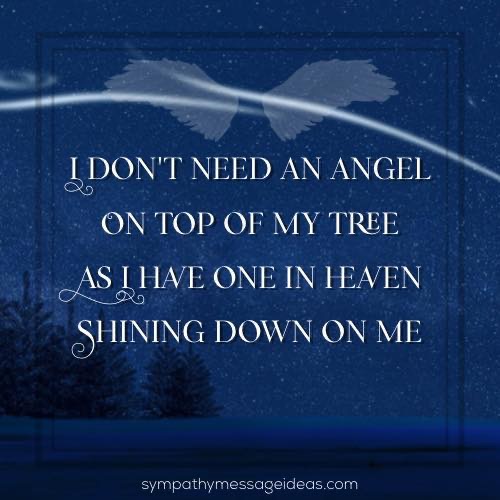 When Sending a Card do you Acknowledge a Loss?
This is another question that is really going to be down to you to decide what you feel is best. Basically both acknowledging and not acknowledging a death in your Christmas cards is fine.
If you still aren't sure consider these few things:
It's very unlikely that the recipients of your card won't be aware of your loss
If you're sure they don't know then this could be the time to tell them. It may seem wrong to do so at such a festive time but assuming they are close/important people in your life they are going to want to know about a major event like a death
Don't feel bad if you decide not to acknowledge it. There's nothing wrong with just wanting to stick with the standard card and greeting to avoid any awkwardness
If you do mention your loss then don't feel the need to try and make it more appropriate and festive. A loss is a loss. On the face of it it may not seem fitting for a time when most people are celebrating and grief doesn't "fit in" but you shouldn't feel uncomfortable talking about your loss, nor wanting to remember and be thankful for having had someone special in your life
Should You Send a Christmas Card to Someone Suffering a Loss
As mentioned above, the tradition was to not send anyone dealing with a loss a Christmas card. However that tradition seems old and out of date, if it was ever legitimate in the first place.
So it is now considered perfectly acceptable and even encouraged to reach out to those grieving with a greying and card at Christmas.
What do you Write in a Christmas Card After a Death in the Family?
Writing a Christmas card to a family after they've suffered a loss should aim to be uplifting and comforting. At a time of joy and celebration it can be easy for them to feel left out or lost.
So acknowledge their pain and grief but try to bring them some cheer as well as offering your support and love.
Examples Christmas Messages for After a Loss
Use these example messages as inspiration or a guide of what to write in a Christmas card:
Thinking of you and hoping you have a happy Christmas and all the best for the new year
May warm Christmas memories provide you comfort and peace during the holiday period
Sending my love and hugs and thinking of you during this Christmas
I hope you can find some hope in the Christmas season and comfort amongst family and friends
All my love to you and your family at Christmas. May the seasons blessings bring you comfort and hope
Wishing you and your family peace and happy memories during this difficult holiday. Merry Christmas
Praying the holiday season brings you some cheer as you go through very tough times. Have a wonderful Christmas
God bless your family and grant you peace during such difficult circumstances. I hope Christmas provides some cheer amongst the pain
Wishing the love of friends and family to surround you at Christmas. I know times have been bad recently but I hope you can still enjoy some of the holidays
It feels wrong to say Merry Christmas after what you've been through but I am praying for better times and that the holidays can give you some peace from your grief
READ MORE: Quotes for Remembering Loved Ones at Christmas
How do you Say Merry Christmas to Someone Who is Grieving?
Merry Christmas. I know this must be a really hard since you lost ______. The holidays without a loved one are always so difficult. I hope and wish for you to have as happy a Christmas as you can
I wasn't sure whether to wish you a Merry Christmas this year as I know it's not going to be Merry or happy at all. But I hope you have the best people to be around you at Christmas and it brings you some peace
I feel lucky to have known _____ and shared some wonderful times with them. I only wish he/she were with us during the holidays. I'm very sorry for your loss and hope you can still enjoy Christmas to some degree
Wishing you and your whole family a Merry Christmas. After such a tragic loss and difficult time I hope the spirit of Christmas can bring you together and let you comfort one another
I can't begin to understand how hard it must be to go into your first Christmas without ______ but try to hold on to those treasured memories you have of her and remember how much she loved Christmas. I'm so sorry for this tragic time you're going through and hope you're coping ok
I know Christmas must bring about many emotions after losing someone so special. I hope you find some peace and that the support of friends and family helps you through the holiday season. All my love
READ MORE: What to Say When it's Someone's First Holiday Without a Loved One
Tips for Christmas Cards and Loss
If you are sending a card with your family photo on then think about using a different card to those who are grieving. Seeing a happy family could bring back some painful memories
Don't ignore their loss. It may feel awkward to talk about it, especially in a card celebrating Christmas, but it's far better to be open than pretend everything is fine and go on wishing them a normal holiday
Offer your support and perhaps suggest a time to get together or meet up after the festive period. Show you're there for them and that you care
The etiquette for sending a Christmas card to a family after a loss can be tricky to navigate. Knowing what to say and how to avoid causing any offence or upset requires some tact.
Hopefully this guide will have helped you to find the words if you've been struggling. And given you some tips and advice on how best to go about saying happy Christmas when there is grief and loss involved.