When you have lost a loved one it's often the holidays which are the hardest times. Things like birthdays, anniversaries and Christmas are when you miss them the most.
A great way to remember your departed loved one or help deal with the grief you're feeling is some moving quotes. They can help you to express how you're feeling or pay tribute to whoever is no longer with you.
So use these quotes to remember loved ones at Christmas and give you strength to get through the pain of the holidays without them.
Remembering Loved Ones at Christmas Quotes
If you're struggling to get through the holidays without a loved one then hopefully these quotes will provide some comfort or help you express the grief you're feeling.
"My only wish this Christmas is to be reunited with you once again. I miss you so much."
"Christmas will come and go but you will always be in my heart."
"I'll always feel you close to me even though you're far from sight, I'll search for you among the stars that shine on Christmas night."
"There may be presents and decorations but Christmas just won't be the same without you this year."
"Even though you're gone I still feel your presence with me, bringing warmth and comfort to my cold Christmas nights."
"We are celebrating Christmas and keeping you in our hearts and mind. We love you and miss you more every day."
"I miss the bond between us and I miss your kind support. You're in my mind and in my heart and every Christmas thought."
"May you be celebrating Christmas up in heaven as we raise a glass to you down here."
Not a day goes by I don't think of you, but at Christmas it really hits home. You're gone and I long to have you back."
"Those we love can never be more than a thought away. For as long as there's a memory, they live in our hearts to stay."
"Without you here our hearts are heavy. We will be praying for you this Christmas season."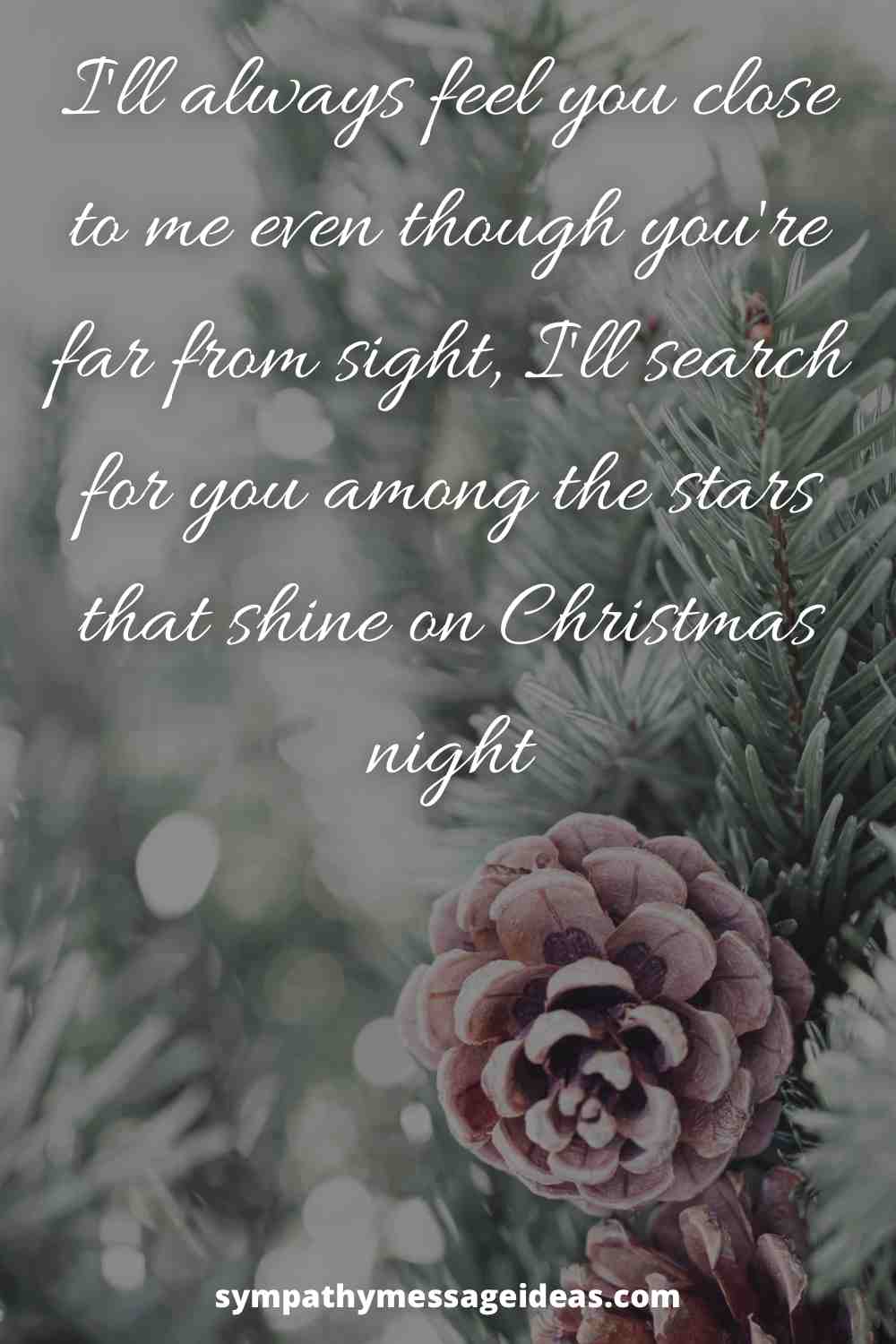 READ MORE: What to Say When it's Someone's First Holiday Without a Loved One
Holidays Without Loved Ones Quotes
"Although it's sad to reminisce on Christmases we knew, this year I shall celebrate in memory of you."
"We still hang a stocking for you. It always brings a tear to my eye."
The Christmas star shines brightly upon all those missing loved ones in heaven."
"I still place your present under the tree, hoping on Christmas morning I'll come downstairs and see your smiling face opening it. I miss you so much."
"Putting the star on top of the Christmas tree reminds me of you: the shining light you were in my life."
"Miracles are very rare, but for Christmas, one would do, to hear the doorbell ring and to have you walk smiling through."
"Praying and thinking of you this Christmas. Wherever you are you are in my heart."
"Christmas memories are some of the fondest I have of you. Even though you've gone I still smile when I think of those holidays together."
"When I wake on Christmas Day, I'll look to Heaven above, I'll remember every smile, and think of you with love."
"I wish you peace at Christmas time, wherever you may be. And thank you for the memories, they mean the world to me."
"Putting up the tree and decorations reminds me of you. May all our Christmas cheer shine brightly up to heaven."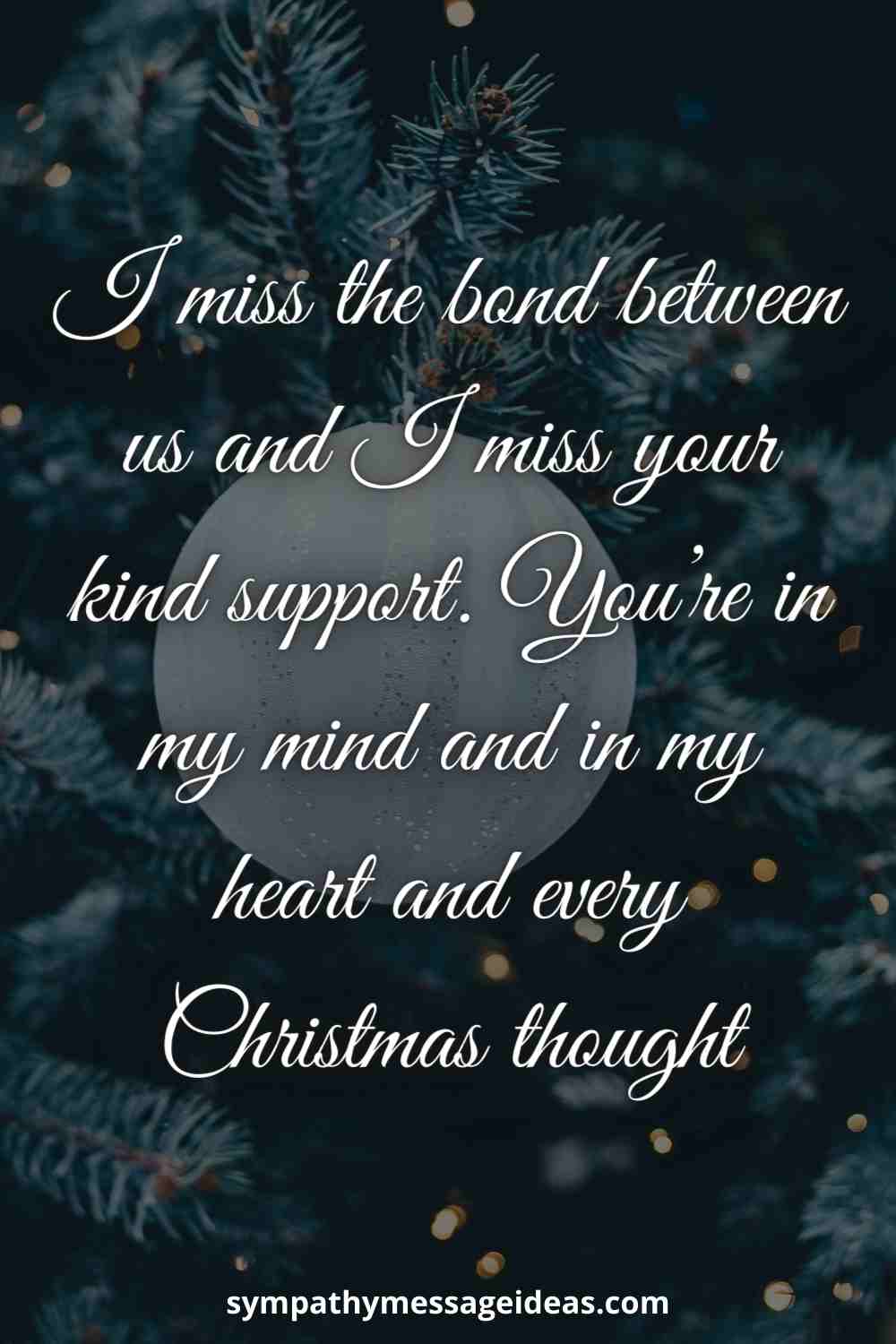 Quotes for Missing Family Members at Christmas
When it's a family member you are missing at the holidays then use these quotes to remember and pay tribute to them.
Christmas isn't the same without you mom. I miss you with each day that passes and only wish I could spend one more Christmas with you.
You loved Christmas dad, and it feels so quiet without you this year. It's going to be really hard to enjoy it as we miss you so much.
The holidays are going to be filled with a sadness I haven't ever experienced now that you're no longer with us. Missing your warmth this Christmas, grandma.
There's a new star in heaven this year, and it's shining down on us throughout the holidays. We miss you dear brother.
The holidays are empty without you, sis. I'll be lighting a candle for you.
We will remember and pay tribute to you mom by having the traditional Christmas you always loved. Everything will be just as you would have wanted it and we will celebrate your life.
I don't think I can enjoy the holidays without you, dad. Not seeing your smiling face and how much this time of year meant to you breaks my heart. May you always be looking down on me.
You were the light of my life and I am grateful for every moment I had with you. No gift, holiday or Christmas could ever compare to you.
No presents or Christmas cheer will make up for you not being here. Merry Christmas up in heaven, mom. I wish I could see you one last time.
My aunts Christmas cheer brought the holiday spirit to everyone. We are so sad she isn't here to celebrate with us.
For my best friend who sadly is no longer with us – you were a one in a million and this Christmas I am thinking of you. May you rest in peace.
We hope these quotes for remembering loved ones at Christmas have been helpful in coping with the pain of losing someone. The holidays are always difficult to get through when you've lost someone so special but look to the support of family and friends to be there when it all becomes too much.