A first holiday without a loved one can be filled with real grief and sadness. It coming so soon after having lost someone makes it harder to celebrate and enjoy the festivities.
So how do you approach it if you know someone in that situation? What do you say when it's someone's first holiday without a loved one?
You certainly shouldn't say nothing. Don't ignore them or the fact that it's the first holiday after their loss. Instead think about the words you're going to use a bit more carefully.
It's easy when you're sending a regular greeting card and message or talking to someone over the holidays who hasn't experienced a loss. But the cheery greeting you would use in those circumstances wouldn't be appropriate for someone still grieving a bereavement.
So if you're struggling with what to say or write in a card then the following examples should help you to find the right words.
First Holiday After Losing a Loved One Messages
When you are sending a greeting card or talking to someone over the holidays who has received you lost a loved one keep that in mind. You won't want to say "Merry Christmas" or "Happy Holidays" because it's not likely to reflect how they're feeling.
Instead try one of these example messages to help you say something more appropriate.
Sending you love and strength for the holidays. I know it's the first since you lost [name] and I wanted you to know I'm thinking of you and always here if you need anything.
I understand that getting through the holidays is going to be complicated for you this year. So I'm here for you if need me.
Put yourself first this holiday season. Don't feel like you have to anything you don't want to. Give yourself the time and freedom to grieve and process what has happened.
Whatever feels right and comfortable this year you should go with. Don't try to make the holidays the same as they were before.
I know it will be hard this year. But remember those wonderful memories you have and use them to help you get through.
If you need a friendly ear or shoulder to cry on over the holidays then I'm right here. If it's all getting too much then don't hesitate to ask for help. I will always be there.
May the love of family and friends help you through this holiday season.
You shouldn't have to put others first over the holidays. Think of yourself and focus on your needs.
Keep those treasured memories close to you and remember the best times. This year it will be different but I'm here if it gets too much.
It's not about making the holidays wonderful. It may just be about getting through.
READ MORE: Christmas Sympathy Messages: What to Say to those Grieving
Christmas Wishes After the Loss of a Loved One
Christmas is a really difficult tune for those grieving someone. When you send a card be respectful of those feelings and try to offer them some comfort or at least demonstrate you understand they might be struggling.
May you find peace this Christmas and be able to find whatever you need to move forward.
I am thinking and praying for you during this very difficult time. I hope the love of those closest to you can bring some peace.
I've been thinking about you a lot but at this time of year even more so. I hope you're coping ok and that the holidays don't cause too many unwanted feelings and memories.
If I could I would take away the pain you're feeling this year. You're in my thoughts.
Wishing you peace and rest this holiday.
Please know that we love you and are here for you this holiday. You aren't alone.
I'm never more than a text message or phone call away. Just because it's the holidays don't feel bad about reaching out.
This Christmas you will be in my thoughts as you face the first holidays without [name].
Everything about the holidays seems harder when someone you love is missing. But if they could see the effort you're making they'd be really proud.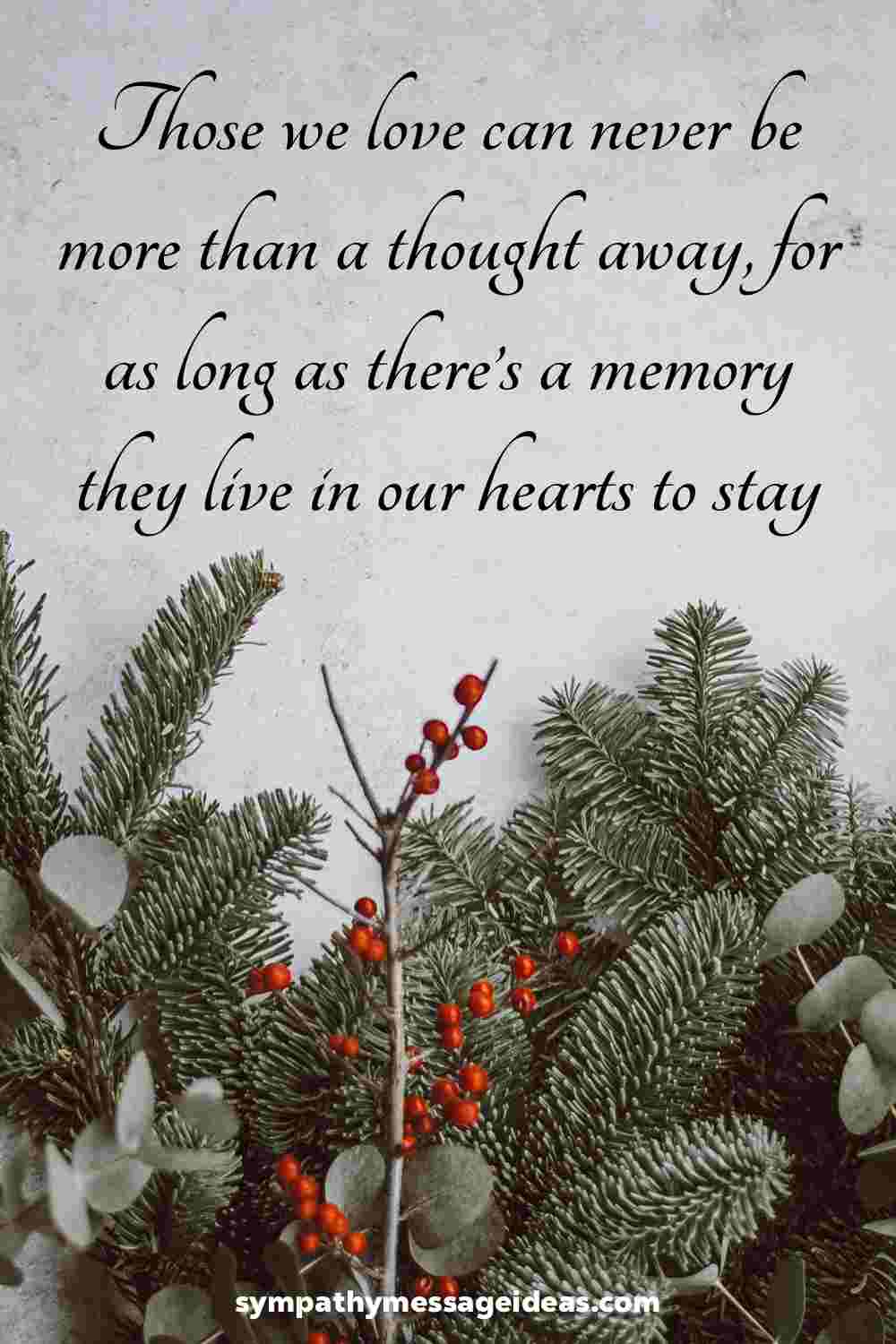 READ MORE: Christmas Card Etiquette After a Death in the Family
Quotes for those Grieving a Loss Over the Holidays
These quotes are fitting for those who are missing a loved one over the holidays.
"Until you have buried someone you love, you won't understand how hard a holiday, death day, birthday or any other day is without them."
"There are no rules for surviving holiday grief. Do what you need to do to survive. Honor your loved ones how you need to and do what feels best for your fragile, aching heart. You are missing a huge piece of you, so do whatever you need to do to find a sliver of peace." – Angela Miller
"Because someone we love is in Heaven there is a little bit of Heaven in our homes at Christmas."
"Memories come and some may fade, yet there's special ones that stay. Those that live within the heart, that are with us each day. These memories are treasured, of the happy times shared and in this world there is nothing, that could ever be compared. You are missed so very much, at Christmas and each day, happy thoughts of you both, are never far away."
"When Christmas is hard – It's hard to rejoice when your heart is hurting, and it seems like the world is celebrating around you.  But the same God who loved us enough to send His only Son understands you better than anyone else and he's closer to you now than anyone else can be." – Holley Gerth
"Those we love can never be more than a thought away for as long as there's a memory they live in our hearts to stay."
"There's a little place within my heart, that's with me every day, a place where all my memories, are safely tucked away. It is the perfect place for me, at special times to go, for words alone could not explain, how much I miss you so. And now that once again, Christmastime has come around, it's where the sweetest memories and thoughts of you are found."
READ MORE: 35 Quotes for Remembering Loved Ones at Christmas
Reaching out to someone during their first holiday without a loved one is difficult. You don't want to upset them or say the wrong thing. But it's important you make the effort because they will need the support of friends and family most at times like this.