Losing a cousin is really painful. Whilst they may not be the closest member of the family we still develop strong bonds and relationships with our cousins.
So when a cousin passes away it is a time of real sadness and hurt for the whole family.
If you know someone who has lost their cousin then you may be thinking of offering your condolences. Perhaps sending a sympathy gift or card. And that will mean you need to include a message of condolence.
But what sort of thing should you say or write? Finding the right words of sympathy can be tricky. You want to make sure you properly say sorry for your loss but in a respectful and heartfelt way.
If you're finding it difficult to know what to say then try these example condolences messages for a cousin's death.
Short Sympathy Messages for Loss of Cousin

These messages are short and concise, so perfect for a sympathy card or with flowers you are sending. They would fit perfectly on a note but could also be said in person if you are going to be seeing the bereaved.
My condolences for your loss
So sorry to hear of your cousins passing
My thoughts are with you during this time of loss
My sympathy for your cousins passing
I am here for you if you need me. My condolences
Offering my sympathies for your untimely loss
Your cousin will be remembered so fondly
It was terrible to learn of your cousins death. You will be in my thoughts and prayers
My sincere sympathy for your loss. Please get in touch if you need me
I can be there to talk if you want someone to listen
I'm so sorry for your loss. Your cousin was such a fantastic person
Your cousin will always be with you, in those incredible memories you made
My heart aches for you. I'm so sorry
I just wanted to write and say I am thinking of you throughout this difficult time
We all want express our condolences during this terrible time. We will be thinking of you
My heartfelt condolences for the loss of your beloved cousin
I can't understand how tough it must be but I can offer my sympathy and support
Words of Sympathy for Loss of Cousin
These messages are ideal for showing someone you are thinking of them after a loss. Be that in person, through a text message or just a sympathy card/note.
I was so sorry to hear of your cousins passing. You are in my thoughts and prayers
My condolences for the loss of your cousin. Sending sympathy and warm thoughts your way
I wanted to reach out and send my love after hearing of your loss. I hope you're feeling ok
So sorry to learn of your cousins tragic passing. I know you were very close. My condolences for your loss
We were so saddened to hear of your loss. It's a terrible shame and we wanted to send our sympathy and know we are thinking of you
I know you've just lost someone special to you and so if you need anything I can be there. Don't hesitate to get in touch
My sincerest condolences for your loss. Losing any family member is awful and I'm sending my love
I hope you find the support and strength you need from those around you to get through such difficult times. My deepest sympathies
My condolences for your tragic loss. You will be in my thoughts and prayers
May you find some peace in the wonderful memories you have of your cousin. My condolences
Never forget those treasured times you spent with your cousin. All my sympathy and love
Stay strong and remember the good times. I can be there whatever you need
My most sincere condolences for such a terrible loss. I hope you are coping and wanted to make myself available if you needed me. I'm just a phone call away
Your cousin was a truly special person and will be missed by so many. My love and thoughts
My heart goes out to you during this difficult period. Losing someone so special is awful but remember that friends and family are there for you
Your cousin was an amazing person and they leave behind a huge hole. Please accept my condolences for your loss
I know my words can offer little to ease your pain but I'm thinking of only you during this trying time
Praying you find some comfort after a dreadful loss. You have my deepest and most sincere sympathy
You and your whole family are in my thoughts as you deal with the grief of losing someone so important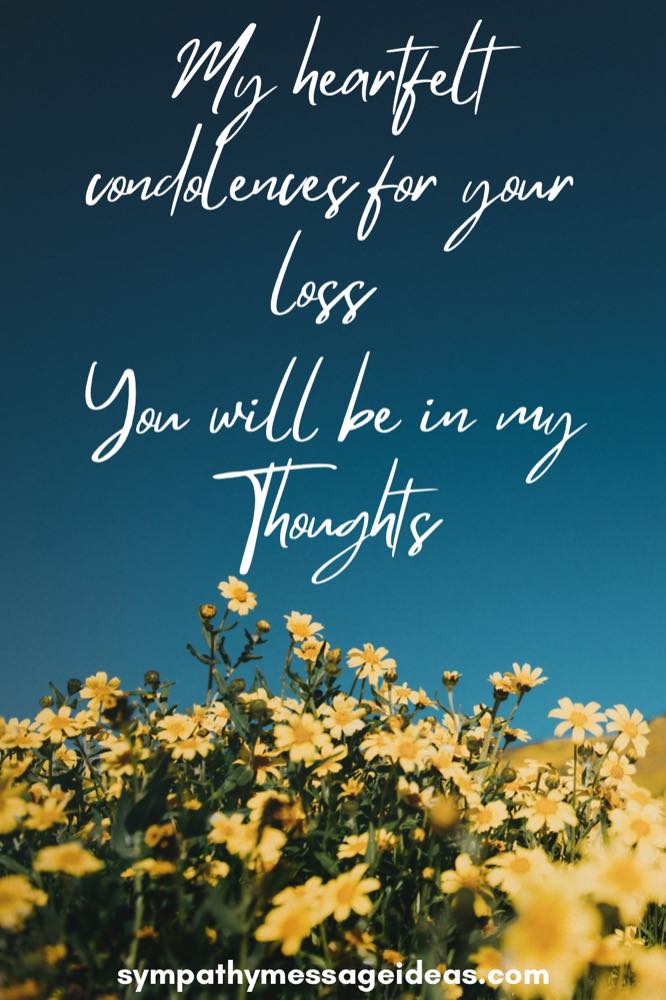 I can be that shoulder to cry on if you need one. You aren't alone and I will be there whatever. Just reach out
May your cousins warm spirit and kindness be everlasting and a comfort during this troubling time. My condolences
I can only hope that you find some comfort and consolation in the warm memories you have of your cousin. May their generosity and love sustain you and bring some solace throughout the mourning process
I'm sure you cousin is smiling down on you now as you remember all those cherished memories. Stay strong and don't hesitate to ask for anything you might need
Losing someone so special to us is devastating, but you have your friends and family to look to for comfort. They, including myself, will sustain you as you cope with your grief. My sympathy for this dreadful loss
May the lovely memories of your cousin be a shining light amidst the darkness of this time. We will be there to help you get through it all
I can't imagine how hard this is for you but as your friend I will be there to share the pain. You have my deepest condolences for the loss of your cousin
We hope these condolence messages will help you to reach out to someone you know that has lost their cousin.
Finding the right words to repress your sympathy can be difficult. But as long as you are speaking from the heart and being sincere then most messages of condolence will be received with love and appreciation.