If you know of someone who has suffered the loss of their husband then you are probably thinking of sending a sympathy gift.
A moving gift to offer your condolences is a thoughtful gesture. Those grieving an awful loss will appreciate you taking the time to think of them during such a tough period.
But you might be finding it hard to decide on what to send as your gift. What could possibly make up for or help when someone has lost their husband?
The answer to that is simple: nothing.
But that doesn't mean you shouldn't send a gift. Or that they won't appreciate it.
A well thought out gift can provide some comfort and let the bereaved know that people are thinking of them.
Just knowing you are in the thoughts of friends and family can be beneficial whilst you deal with your grief. And some gifts can provide real help.
So if you aren't sure what sort of gift to send then try these sympathy gift ideas for the loss of a husband.
Hopefully they will provide you with inspiration for the best sympathy gift you can get. One that will offer a little support and comfort to whoever it is dealing with their grief.
Sympathy Gift Ideas for Loss of Husband
Memorial jewellery is a lovely gift for someone who has lost their husband. It allows them to have a constant reminder of that person with them at all times.
It's also a beautiful item that serves as a keepsake and everlasting memory of all they meant to the bereaved.
Personalising the jewellery, in this case a necklace, just makes it extra special. Having the name of the deceased husband with you, near your heart, it's a moving gesture and gift.

---
A warm and comforting throw or blanket is a lovely way to offer your condolences and support after a partner lose their husband.
A blanket gives you the chance to snuggle up under it when feeling down. It's reassuring and soothing to those feeling lost or overwhelmed.
This throw by Chanasya provides comfort to those grieving or unwell. It measures 65×50″ and has a variety of colors available. A wife or partner mourning the loss of their husband would love the soft fabric to wrap themselves in when they need some consoling.
---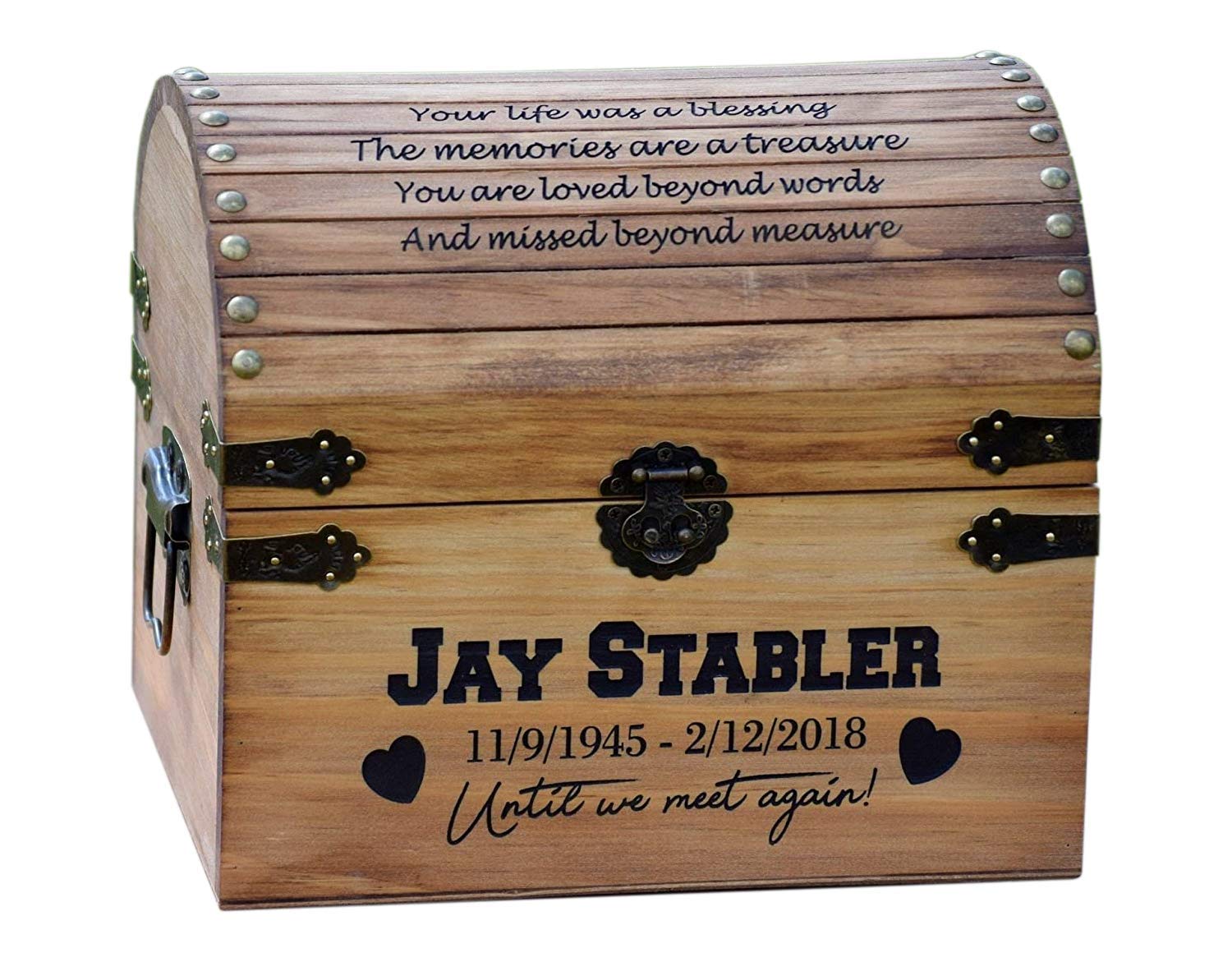 A memory box likes this one gives the bereaved the chance to keep, display and remember all those discuss memories. From trinkets and keepsakes to their most treasured photos, a memory box is ideal for never forgetting your deceased husband.
This box can be personalized by adding an engraving to really make it special.
A very moving gift that would be treasured and used for years to come by whoever you give it to.

---
Plaques in the memory of the deceased are a common gift. But that's for a reason.
A plaque dedicated to loved ones no longer with us remind us of them. They help us to keep that memory alive, and to never forget.
This plaque allows for personalization with the deceased name and a chosen sentiment. It's a touching tribute to a husband who had so sadly passed away.
---
A wind chime gives a gentle reminder of someone you've lost with it's peaceful, soft song. They can be placed in a suitable location that is special to the bereaved where they will be able to listen to their music and remember their lost husband.
The Carson Home Accents Wind Chime has a lovely, gentle but full tone to go along with its effortless and tasteful design.
Each tube has an engraving of "Those we love don't go away, they walk beside us every day… unseen, unheard, but always near, still loved, still missed and very dear". A moving sentiment to remember a passed husband and bring comfort to those mourning.
---
When we lose someone special remembering them is so important. We don't want to forget everting they did for us and the huge part of our lives they were.
So having something you can go to, can sit with and remember the deceased is invaluable. That's what makes this memorial bench such a fitting gift.
Comes with the inscription "May you find comfort in the arms of an angel" on top.
---
Many of the books that look at loss and grief can be extremely useful to those going through a bereavement. A fresh perspective on how to cope with a significant loss like your husband is going to be really helpful.
Or even just reading about others going through a similar situation and that what you're feeling isn't unusual can be calming. It's easy to feel like you're spinning out of control and are the only one affected by grief this way.
'How to Go on Living When Someone You Love Dies' by Dr. Therese Rando takes you through how to recover from losing someone important to you and looks at the grieving process in detail. It's a great choice for anyone grieving the loss of their husband but also any loss at all.
---
Caring Sympathy Gift Ideas after Losing a Husband
Sometimes the person you're giving a gift too really needs assistance. A thoughtful memorial gift is perfect for some but others would benefit far more from something that actually helps them.
If you think that might be the case then try these sympathy gifts that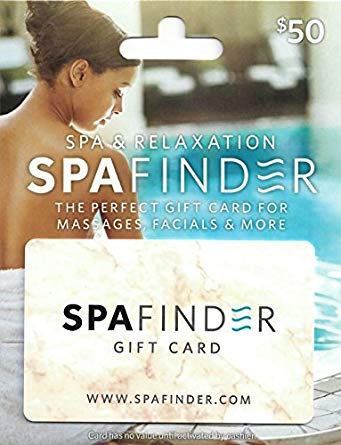 Grief can do terrible things to us. Both physically and mentally.
When we're faced with the hardship and pain of trying to get through a loss it can be so draining. Combined with maybe needing to look after children, do chores and housework etc. it can be too much for many of us.
So a really thoughtful gift to someone who has lost their husband would be to give them a break from all that. A way for them to have a rest.
A day or few hours at a spa is the perfect gift in this situation. Spafinder do gifts cards for massages, facials and more that can help relieve some of the stress of dealing with grief. Give a spa gift card to anyone who

---
When coping with loss and the grief it brings even the normal, everyday parts of life become hard. Something as basic as preparing food can seem like a mammoth task.
So receiving a gift of food that's ready prepared for you can be so helpful.
A sympathy gift basket or food box that comes with a range of different, ready to eat treats will be warmly appreciated as a gift after a loss.
This gift basket is hand assembled in the USA and features sweets, crackers, dips and more.
---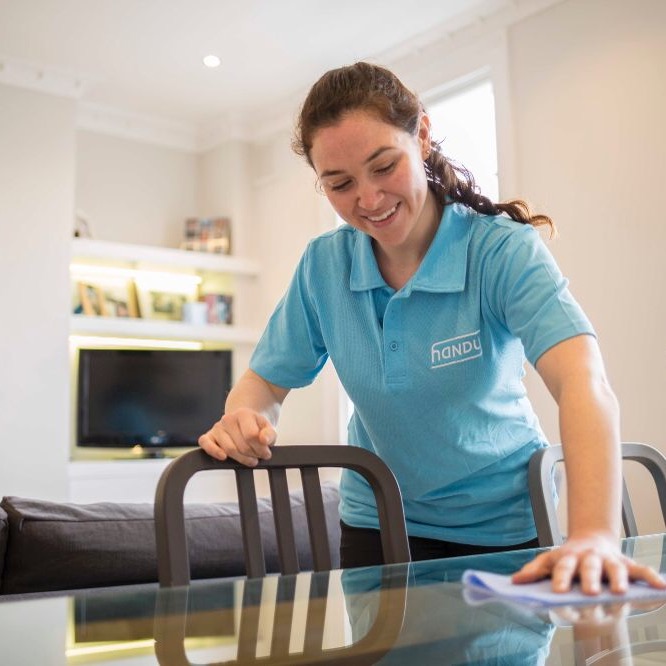 Much like the spa gift card for a wife who's lost her husband, a husband who's lost his wife will also appreciate a gift that helps him to deal with the practicalities of such a loss.
So a gift of help can be massively appreciated. A gift card for professional cleaning will reduce the burden of keeping things tidy whilst trying to process the tragic loss.
---
Other Gift Ideas
A Memorial Photo – you can find memorial photos on Amazon or on Etsy there are some brilliant artists who can customize and personalize photos of the deceased to be given as a gift. A photo of the sadly passed husband will make a beautiful reminder for the bereaved.
Plants or Flowers – flowers are a very traditional gift or way to offer your sympathy but plants work well too. You can get trees of sympathy that can grow into a reminder of the deceased. Or even seed kits to grow into a beautiful garden of remembrance.
A Sympathy Card – you may just want to send a card along with another gift. But you might decide that a card is enough or anything more inappropriate.
An Amazon Gift Card – it might seem a little thoughtless or basic but an Amazon Gift Card allows the bereaved to decide exactly what they want. It means you won't end up giving them the wrong thing or something they didn't really need/want.
Tips for Choosing a Sympathy Gift
Your gift should take into consideration any faith that the recipient follows. Religion and spirituality may influence the type of gift that is suitable so always keep that in mind.
Think about the sort of gift you might like to receive. It can be tricky to put yourself in the place of someone mourning such a loss but it will help you to make the right choice.
Send your gift with an accompanying sympathy card and >a href="/sympathy-card-messages/">message.
Conclusion
The loss of a husband is going to cause a profound and deep grief that lasts, in some form at least, a lifetime. So realistically a gift can't do much to make up for that loss.
But that shouldn't be your aim. Your sympathy gift should show you're thinking of your friend or family member who has lost their partner. It should demonstrate they have your support and you're love.
As long as it achieves that then it will have served its purpose. So don't get too caught up in making it perfect.
Just try to reach out with something from the heart that you think they will like. If you do that then you can be confident your gift will be received with appreciation and gratitude.