Our grandmother's are such wonderful and important parts of our lives. We develop really deep connections with them that are unlike other relationships. So when your grandmother passes away and you have to attend her funeral you will want to remember and pay your respects to her.
That might mean giving a moving eulogy or memorial speech. But one of the most common things we do to commemorate someone at a funeral is send flowers.
Sending beautiful funeral flowers with a touching message to pay respects to your grandmother is lovely way of celebrating her life and remembering all she meant to you.
But knowing what to say in a funeral flower message for your grandmother isn't easy. Finding the perfect words to really express how much she touched your life is hard.
If you need some help with your note or message then these funeral flower messages for grandmothers should give you some ideas and inspiration for what to say.
Funeral Flower Messages for Grandmother
Saying goodbye is so hard. I love you grandma, rest in peace
I feel blessed to have had you in my life. May you rest in peace
You were always the one I could turn to and who was there for me. I'm going to miss you so much
You inspired me like no one else. I can't imagine life without you. Farewell gran
Thank you for everything gran. You were the kindest person in the world. I will miss you, always
It was your guidance and love that helped me become the person I am. I love you grandma
You will be in my heart forever. Goodbye my sweet gran
Thank you for just being such an important part of my life. I can't say how much I'm going to miss you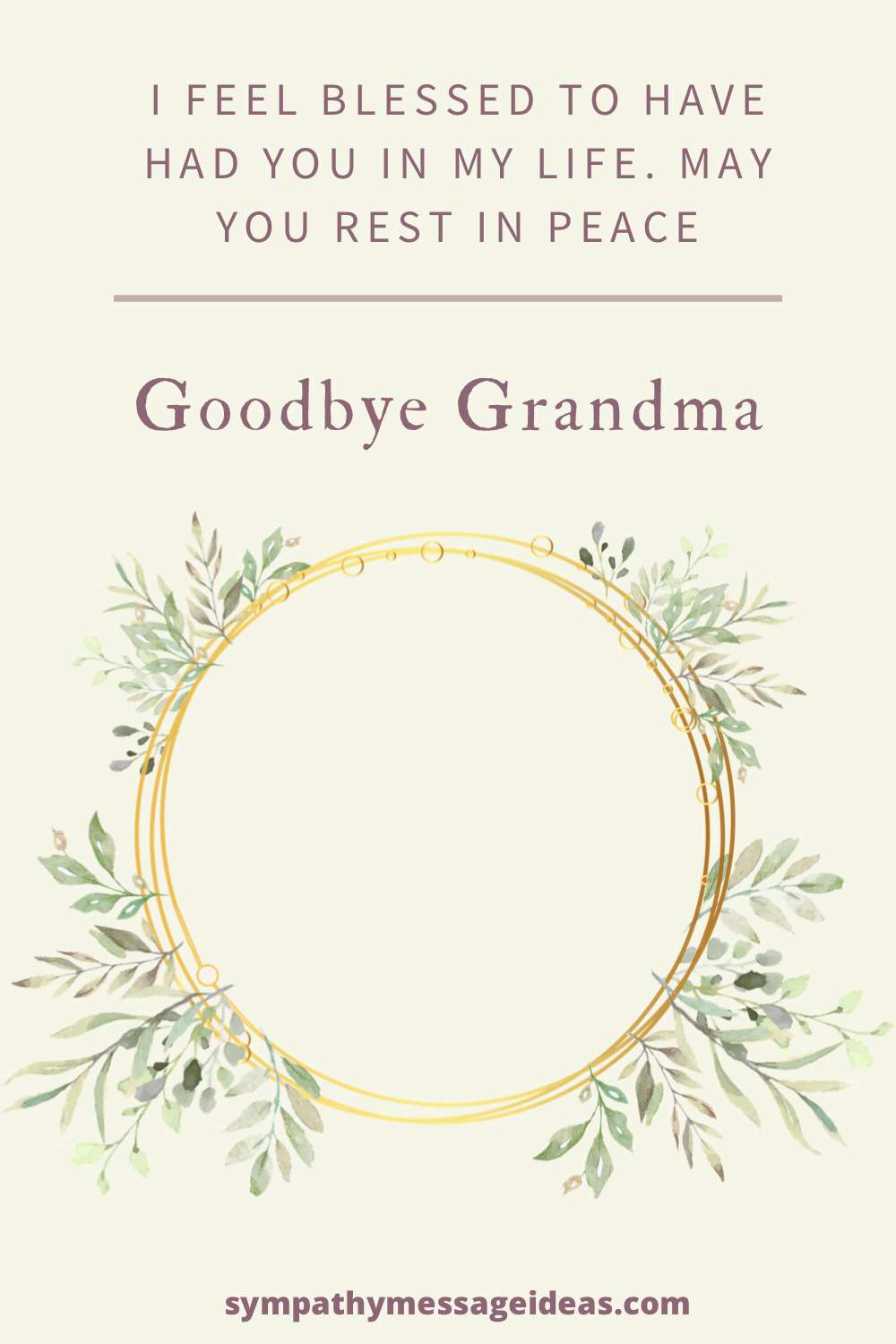 Love you beyond words, gran. My heart is broken now you're gone
It didn't matter what I needed, it was you I could turn to. I will love you forever
I will never forget your warmth and generosity. Goodbye my nana
I can't quite believe you're no longer with us. Goodbye my sweet grandma
For more ideas see our guide Funeral Flower Messages: What to Say
What do you Write on Funeral Flowers for your Grandma?
Keep your flower message for your grandmother short. It needn't be more than a short few words or sentences that express how much you will miss her.
A note with flowers tends to be fairly small so is designed for no more than a short message. Just say what's in your heart and be honest about how you feel.
As above, keep it short and sweet
If you choose to write a longer message then you could think about sharing some special memories you have of your grandmother
If your grandmother was religious then you can make your message fit with her beliefs and reflect her faith
If she wasn't religious though then it's best to avoid anything like that and just stay with a regular message
The below examples will help you if you are unsure of what to say. They can be used both in notes with flowers or on funeral wreaths.
Funeral Wreath Messages for Grandmother
Thank you for being there for me. Through good and bad I could depend on. Miss you always
I hope you're happy in heaven. May your soul rest in peace
May the Lord grant you peace and bless your soul for eternity
There will never be anyone as special as you. Goodbye and rest in peace
You will be remembered as the incredible woman you were. You were truly a blessing
Forever loved and sadly missed. Goodbye
In loving memory of a wonderful grandmother and shining light for us all
Always remembered but never forgotten. RIP
Forever in my heart. May your soul rest in peace
In sadness we say goodbye to our grandmother
Funeral Messages for Grandmother
Goodbye grandma. Nothing can prepare you for losing someone so special. I'm going to keep all the wonderful memories of you in my heart, forever
You were the most amazing grandmother, my heart is broken that you're gone
I will miss you gran. I don't think I will ever get over you leaving us. Farewell and rest in peace
Dear gran, you may be gone but the treasured memories I have of you will always live on
Nothing hurts as much as having to say goodbye to you, gran. I love and miss you
There won't be a day that passes that I don't think about you. Goodbye gran, may your rest in peace
Losing someone like you has left a void in my life and I feel lost without you. I hope you're in heaven looking down on me
It was you who always made me feel safe and like everything would be alright. I'm not sure how I'm going to cope without you. Goodbye gran
Your legacy is one of love and kindness. We are devastated that you're gone. We will miss you so much
I will see you again, gran. One day we will be reunited. Until then it's not goodbye
What do you Write on Funeral Flowers for a Great Grandmother?
Goodbye my great grandmother. You were an inspiration and I learnt so much from you. Rest in peace
Your spirit was so strong and vibrant. I will miss all your wisdom, goodbye great gran
You will be remembered as such a fantastic woman who achieved so much. May you rest in peace
Goodbye great gran, you were so special to me. I am grateful to have had you in my life
We remember and commemorate a truly inspiring life. Farewell my amazing great grandma
May these flowers be a small expression of how much you meant to me. Goodbye and rest in peace
The funeral of a grandmother can be incredibly tough for family and friends. Sending flowers is a sweet gesture and a beautiful bouquet can be very moving.
Hopefully these funeral flower messages for grandmothers will have helped you to find the right words for your note.