Sending funeral flowers to someone during a time of loss is a lovely thing to do. It shows you care and want to wish them well throughout such a difficult time.
However, you will often be given the option to include a card and message with your funeral flowers. If you decide to include a card it can be stressful trying to find the correct words to say for funeral flower messages.
Take the time to consider your wording, as funeral flower messages have the power with only a few lines to raise someone's spirits and show that they are not alone. A sense of understanding and support can be conveyed which will be greatly appreciated when they are struggling through a loss.
These sympathy messages for flowers will be suitable for the card you wish to accompany the flowers you send or you can adapt so they are most suitable for your situation.
What to Write on Funeral Flowers
Your flower message needn't be too long or a literature master work. A few words of sympathy, acknowledging their loss and maybe offering comfort is all that is needed.
Often the flowers you buy come with a small card that you can write your message on, and because of it's size that doesn't leave much room to write a lot. But a short and simple sentence or couple of lines is more than enough to express your condolences.
Alternatively if you want to say more, and it's absolutely fine to do so, you can buy your own card and send it with the flowers. As long as you speak from the heart and are sincere though then your message will be warmly received.
You can stick to these few simple tips when writing your own:
Keeping your message short and simple is the way to go if you're struggling with what to say. As said above a short few words or sentences are enough to get your feelings across
If you can, and if you are going for a slightly longer message, share something personal about the deceased. Possibly an anecdote or memory of them. This personalisation of your card can
Be mindful of the beliefs of the deceased and their family. For example if they aren't particularly religious then you should avoid a religious message in case they take offence to it or find it uncomfortable
If you are still a bit unsure or not confident of what to say in a funeral flower message then the examples below should give you an idea and hopefully some inspiration to write your own.
Many of them are also perfect for a funeral wreath message if you are sending one as opposed to a regular bouquet of flowers.
Short Funeral Flower Messages
These short funeral messages for flowers are the perfect length for including on a note or card.
My thoughts go out to you
Rest in Peace
Thinking of you during this difficult time
Forever missed
Gone but never forgotten
Always in our thoughts
Forever in our hearts
Goodnight and God bless
All our hearts are filled with sorrow
A simple wish that you were here
Loved and remembered, forever
In loving memory
You will be sorely missed
With our deepest and heartfelt condolences
With hope that it helps you to know we care
With warm and heartfelt sympathy
With blessings, love and prayers
We hope these flowers express what our words never will
Know that you are in our thoughts and prayers.
Please accept these flowers and hear the words we are not able to speak
With love to you and your family
May these flowers remind you of our loving thoughts and prayers
Please know our loving thoughts embrace you
May these flowers serve as an expression of my deepest condolences
With my deepest sympathy
Rest in peace and know that we will never forget you
At a time such as this, words cannot express our feelings
Especially for you at this difficult time
Thinking of you at this time of sorrow
SEE MORE: What to Say to Someone Going to a Funeral
Longer Messages
If you need or have room for a longer funeral card message then the following examples are more than just a few short words.
Please know that we are thinking of you and your family during this time of sorrow
Flowers and prayers go out for our dear grandmother and great-grandmother that left us too soon
Words seem inadequate to express the sadness we feel about [name of deceased] death. We are here to support you in your grieving process. With sincere sympathy, may beauty live on in your memories and bring you peace
Our hearts are filled with sadness and tears but our memories are filled with smiles and laughter of the good times we shared over the years
We don't know how to ease your pain, but we hope that these flowers remind you of the beauty of life that your husband still wants you to see
Wishing you peace and comfort. And wishing you the courage to face the days ahead. Please know that you are in our thoughts and prayers
May these flowers in some small way express the sympathy and sadness we feel for you during this difficult time. With deepest sympathy
May these flowers bring some comfort during this difficult time
Though words, however gentle, cannot take your loss away, still may these flowers sent in sympathy help comfort you today
May the peace which comes from the memories of love shared comfort you now and in the days ahead
Religious Funeral Flower Messages
Some families will prefer a religious message for funeral flowers, especially if the deceased had a strong faith. Use these funeral messages if that's the case.
You are in our prayers
May God comfort with you in this time of sorrow
I hope you find strength in Gods love during this time of grief
May you rest in peace in God's heaven
Wherever you are, god is
Praying for you to have peace and strength at this time. You have my deepest sympathies.
In God's arms may you gently rest
Praying that Our Heavenly Father will comfort your heart and bring peace to your spirit during this difficult time.
In Gods arms may you gently rest
Peace, prayers and blessings
Funeral Flower Messages for Dad
If you need a funeral message for flowers for your dad then these touching and heartfelt examples will help you with what to write.
I am going to miss you more than words could ever say. You were the most amazing dad, and I am heartbroken to have lost you
I will miss you dad. Miss you so much I doubt it will ever stop hurting. Goodbye
Dear dad, you may be gone but you will forever live on in our hearts. Those cherished memories I have of you will never be forgotten
I am the person I am today because of you. You gave everything to make me happy and I can't believe you're gone. It hurts so much to say goodbye to you, dad
I will love you forever dad. May you rest in peace with the angels
For further ideas take a look at our sympathy messages for the loss of a father
For Mom
Not a day goes by when I don't think of all you did for me. Thank you for being the most amazing person and mother. I am going to be lost without you.
Losing you has left a huge hole that can never be filled. I feel lost and bereft without you, and will never stop thinking of you
Thank you for always being there when I need you. You made me feel safe, and like I could do anything. I don't know how I'm going to cope without you mom
You leave behind a legacy of love and inspiration. I will miss you in ways I can't explain. Goodbye mom
We will be reunited again mom. This is not goodbye, it's see you soon
For more ideas try our sympathy messages for the loss of a mother
For a Brother
Whenever I was down I could always turn to you for a shoulder to cry on. Thank you for being an amazing brother
I will always remember the fun we had as kids and as we grew up. Your spirit will always be with me bro
You will be remembered by so many as a great man, but by me you will always be the best brother in the world
I can't even begin to say how much you meant to be and how devastated I am to face lost you. Goodbye my amazing brother
I love you, bro. Rest in peace
Our loss of brother quotes have some more message ideas
For a Sister
We may have argued at times but we were still so close. I'm going to miss you so much sis
I looked up to you and followed your example. Life feels incomplete without you in it
You were such a bright spark, it feels like the world has become a less fun place. I'm going to miss you dearly
I will forever cherish all the memories we made together. Goodbye my sweet little sister
I watched and copied you big sis. You were my idol and I feel lost now you're gone
For more ideas see these words of sympathy for the loss of a sister
For a Grandfather
Goodbye granddad. I will always love and remember you
You were the one I turned to when I need advice and guidance. I am going to miss you dearly, grandpa
You were always the one who could make me smile. Rest in peace, granddad
I will treasure the wonderful memories I have of you, granddad. May your soul rest in peace
I will miss your wisdom and kindness, but most of all I will just miss you. I love you granddad
For more ideas try our loss of grandfather quotes
For a Grandmother
I am so sad to be saying goodbye to you grandma. May you rest in peace
Whenever I needed support it was you I turned to. I will miss you always
To have known you was a blessing. I love you grandma
You were an inspiration like no other. I was lucky to have had you as my grandmother and will miss you forever
There was no one more kind and thoughtful than you gran. Your memory will never be forgotten
See our loss of grandmother quotes for more messages
For a Friend
I feel blessed to have had you as a friend. I love you you and will never forget all the times we shared
No one will ever be as special as you. You were the best friend I have ever had and I will miss you like no other
Time may pass but my cherished memories of you will never fade. Goodbye my friend
Though you aren't with us anymore you will forever remain in my heart
My heart is filled with sadness knowing I will never see you again. Rest in peace my sweet angel
For more ideas try our condolence messages for a friend
For a Child
Rest in peace little angel
There's another angel in heaven now
Taken too soon
Only with us for a short time, but leaving behind so many memories
Forever missed but never forgotten
Try these words of sympathy for the loss of a child if you need more inspiration
What do you Write on a Funeral Wreath?
What you write on a wreath is very similar to what you write in a card with flowers. A short message expressing your sorrow and condolences to those grieving. It doesn't need to be too long, just something simple but heartfelt, like the examples below:
Forever loved and sadly missed
Always remembered
In loving memory
Forever in our hearts
With our sorrow and sympathy
Our condolences and sorrow
May your soul rest in peace
In sadness we say goodbye
Funeral Flower Images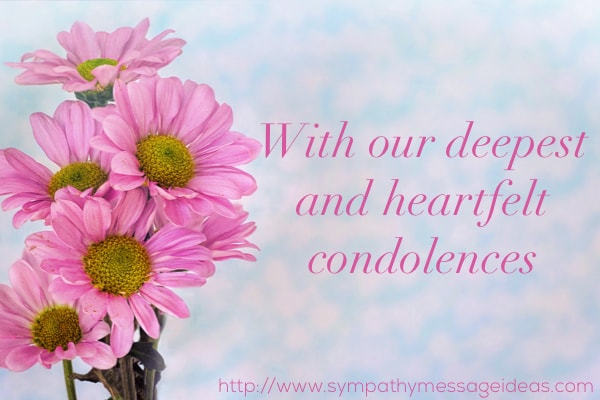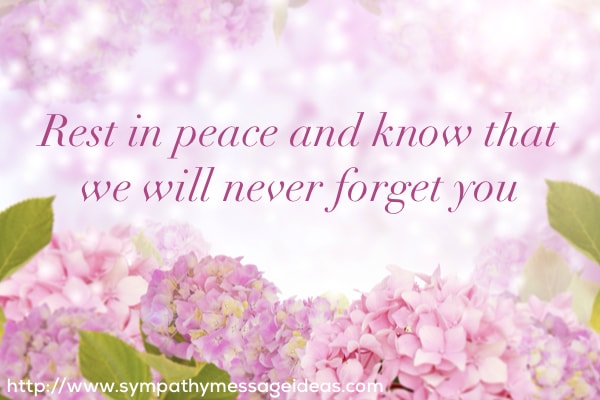 FAQ
Do you Write your Name on Funeral Flowers?
Yes, you sign the card with flowers or ask the florist who is sending them to sign your name for you. If it's from just you then sign your full name. If it's from your family then sign it as 'The Smith family'.
If your flowers are part of a group, from a workplace for example, then you would sign it as a group rather than each doing so individually.
Are Funeral Flowers Addressed to the Deceased or Family?
If you are sending flowers to the Funeral then those flowers should be addressed to the deceased and not the family.
Flowers sent to show your sympathy after a loss should be addressed to the family of the departed.
When Should you Send Funeral Flowers?
Flowers intended for the funeral should, ideally, arrive on the day of the service. However sending them a few days before is also acceptable. As long as they arrive before the service itself. Flowers sent to express sympathy and offer condolences for a loss can be sent before or after a funeral.
Where Should you Send Funeral Flowers?
If your flowers are a larger arrangement (a wreath or standing spray) then they should be delivered directly to the funeral home or wherever the service is service held.
If you have sent a bunch or bouquet of flowers to offer your condolences then they are addressed and sent to the family home where they can be displayed.
What Kind of Flowers do you Send When Someone Dies?
There are many choices that work well as sympathy flowers after a death. White Lilies are a popular option and won't be controversial. A mixed arrangement is also a good choice. If you aren't sure then ask for advice from your florist. They will be able to offer help and guidance, and in some cases put together the arrangement for you.
What to send to a Funeral Other than Flowers?
Flowers are the traditional choice but there are many alternatives.
A donation in the deceased or families honor
A gift card for a house cleaning service to do the chores and cleaning whilst the family of the bereaved grieves
A food gift basket
A Sympathy plant or tree/shrub
A candle
For more ideas see our selection of sympathy gift ideas.
Hopefully the message examples here will have helped you if you're struggling with what to write on a funeral card.
Remember that your words and what you say is far less important than making sure you say something.
You should always try to make the effort to send a card or flowers to a funeral. But whatever you choose to write the grieving family will appreciate you having taken the time to reach out and won't be concerned with your message not being perfect.