Illness affects us all. But when it is a loved one or friend who is unwell or injured our first instinct is to want to see them get well soon. Sending your sympathy to someone you care about who is ill is very commonplace.
You've probably seen numerous get well soon cards that go with a nice bunch of flowers. And reaching out with a sweet get well soon message and small gift is a lovely way to show you're thinking of someone whilst they're feeling poorly.
That may not seem like much but small gestures can have big impacts. And anything that might help a friend or loved one feel better as soon as they can has got to be worth your time.
So if you're struggling with what to say to someone who is unwell, or need a bit of inspiration for some comforting words then try these get well wishes.
Kind words and knowing you're in the thoughts of those closest to you can help with feeling less alone and with speed up recovery. So some thoughtful get well quotes and messages to show your sympathy and understanding is the perfect way to
Sympathy Messages for Illness
So sorry hear you're not feeling well. I hope you make a speedy recovery and feel much better as soon as possible
Wishing you a really quick recovery! You'll be in my thoughts as you get better
Sending lots of healthy thoughts and prayers your way! I know you'll be feeling better in no time
There is no one who is stronger than you. You can and will beat this and will be back to your old self soon
Find comfort and strength in your friends and family. They will be there for you whilst you recover
My sympathy and best wishes for a full and quick recovery. I'm sure you will be feeling better soon
Sending all my loving thoughts for you to feel better really soon. I know how miserable being ill can make you and I'm sorry you are having to go through it
All my sympathy and thoughts during this time of ill health. I hope you begin to feel like your old self as soon as you can
Sending warm thoughts your way. Just keep resting and taking it easy and I'm sure you will make a full recovery
I am really sorry you're feeling unwell. Try to stay positive and know that there are so many people out there thinking of and routing for you
All my love and sympathy to you for your health problems. If I could I would take it all away and have you feeling perfect again in an instant
My thoughts are with you as you fight this battle. I know you're strong enough to overcome whatever is thrown at you. Get well soon!
I am so terribly sorry you have to go through this. Your courage is inspiring and I know it won't be long until things are looking up
I realise my words mean very little so I wanted to offer a shoulder to cry on or friendly ear if you ever wanted to talk. I'm sending my love and hope for a full recovery
You are brave and strong. Nothing is going to stop you and I know it's only a matter of time before you've beaten this. Hoping you feel better real soon!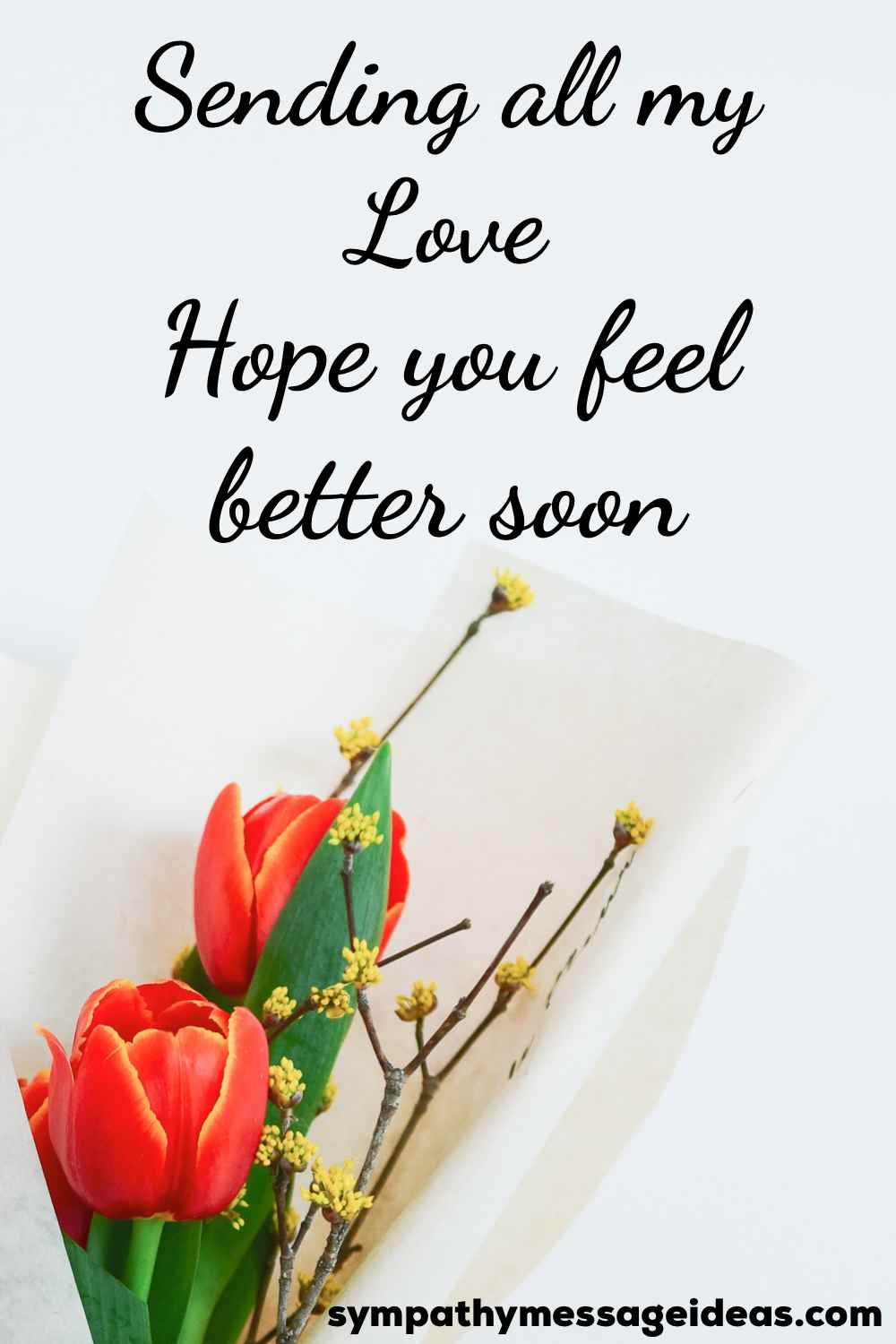 Get Well Wishes
Wish someone well and tell them you're thinking of them as they recover with these get well quotes.
Don't rush things. Just take it slow and steady, one day at a time, and you'll make it total recovery. If there's anything you need we are here for you
Wishing you a speedy return to full health. I know how active you usually are so this must be really tough for you. Don't hesitate to reach out if you want to talk
So sorry you are going through such a difficult illness. Hoping you get back on your feet soon
Wishing the fastest recovery possible and we get to see your smiling face again. Feel better soon!
I hope this small note and flowers will help to cheer you up a little bit and add some sunshine to your day
As you recover and get back on your feet you will be in all our thoughts and prayers. Heres going you feel like yourself again very soon
Wishing you much better health in the coming days. We will always be thinking of you
Sending big hugs and warm wishes for a quick and full recovery
Wishing you a speedy recovery and hoping that you find that spark of yours that makes you shine like no one else
You aren't alone going through this. We will all be there by your side to help in any way you can. Hope you feel better soon
For After Surgery
If someone is recovering from surgery then send them a get well card or gift/flowers accompanied by one of these thoughtful messages.
Don't rush trying to get back on your feet. Focus on recuperating and resting until you're feeling 100% again
Hoping that your recovery after surgery is smooth and easy with no setbacks. I can't wait until we can catch up again
You're bravery with facing surgery has been so inspiring. To take it all in your stride the way you have is amazing, and now you can look forward to getting back to your old self
I know how hard surgery must have been but you're through the worst of it now. It's all about getting better and I'll be right by your side to help
I was so happy to hear you're surgery had gone well! It's going to amazing to see you again and I'll be sending all my love for you to make a swift recovery
You are in our thoughts as you recover from surgery. Get well soon
Sending prayers for you to make a complete recovery and good health from now on. Get better soon!
Listen to the doctors, rest and let yourself heal! I'm sure you'll be back to your energetic self in absolutely no time
I'm in awe of how well you've coped with your surgery. You deserve so much love and I can't wait to be able to get together again. It won't be long now until you've got your old life back
I was delighted to learn your surgery went so well. Just a bit more rest and recuperation and you can try to forget about this whole ordeal and move on
For a Friend
Let your friend know just how much you care for and want to see them getting better soon with these moving feel better messages.
I've been missing you so much! Get well soon bestie and we'll have so much fun to celebrate you being back to full health
I'm going to by your side throughout this nasty illness. We will get through it together, as friends should
Sending positive thoughts to one of my best friends to feel better very soon!
Good friends are there for one another when they need them. And I'm here for you. Get well soon
To the sweetest friend in the world – wishing you the fastest of recoveries!
I hope you can find strength in the people around you – friends and family – and will start to feel better soon. All my love
You need a big dose of friendship to help get better! I'm going to be there whatever it takes, you won't be alone
What better way to get over being ill than with the help of your good friend – me! Wishing you a fast recovery
Stay strong and keep resting. It won't be long before you are feeling new again
To my dear friend – I so hope you feel better really soon and we see that lovely, bright smile of yours again. Sending my love
For a Coworker
It can be hard to know what to say to coworkers or colleagues. If you're struggling a bit then the example wishes here should help you to show them how much you are rooting for a fast recovery.
It just isn't the same without you at work. We are counting down the days until you are well enough to come back so here's to you making a very speedy recovery! All the best
We really miss you at work whilst you've been away, but we hope you're getting better and we will see you really soon. Get well!
Looking forward to your return to the office! Rest up and feel better!
Everyone misses you so much! It'll be so good to have you back with us again. Really hoping you're starting to feel better
Don't feel any pressure to get back to work too soon. Your health is the most important thing. Take all the time you need and make sure you're feeling completely well before coming back
The office feels empty without your warmth and laughter. We all miss you and are rooting for you to make a quick recovery
So glad to hear you're on the mend. Keep resting and we all look forward to seeing you back at the office when you're ready
We've got work covered for you so just put all your efforts into getting better. Our prayers and thoughts are with you
To an amazing colleague but more importantly a good friend – I hope you get better soon and we see you back at the office whenever you feel ready
Everyone really misses you! Hoping you get well soon!
Funny Get Well Messages
Laughter is the best medicine, as they sat. So put a smile on someone's face with these funny get well wishes.
It's not getting back your health that's tough, it's the getting back to work! Hope you feel better soon
I know you were looking for a way to get some time off work but this is taking it a bit far!!
I'm really sorry that your sick days are because of actual sickness
Can you get well really soon? As I don't know how much longer I can carry on being nice to you!
Try not to think of it as a hospital stay. Think of it as a spa package that includes meals, regular health evaluations and jello cubes
You're so popular even germs can't leave you alone!
I'm really sorry you had to eat hospital food
You may well be ill but don't you understand that you're taking all the attention away from me
You better get well soon.. I'm not coming to visit you more than once!
People who think laughter is the best medicine apparently have never had morphine
Get well soon! But until then keep a safe distance please
What to Write in a Get Well Card
If you'd prefer to write your own get well message of sympathy for someone unwell or recovering from an injury, rather than using the examples provided here, then there are a few rest steps you can follow:
Stay positive! The last thing someone feeling unwell wants is to be reminded how awful it is. Be upbeat and try to lift their spirits.
Think about what you're saying and how it will be received. A funny or witty message has a time and place. Some people will appreciate a good joke whereas others not. So be considerate to the type of person you're say get well to
Offer your support if it's appropriate or you feel you can be there for them. Knowing someone is going to be visiting or bringing food can he a real boost to someone's mood.
Talk about how they will be in your thoughts. This is important as it can be comforting to know that the people closest to you – friends and family – are there and thinking of you whilst you're not well.
What NOT to Say
As above, stay away from negativity. You want to offer words of encouragement not make them dwell on their ill health.
Don't treat them any differently. They won't want special treatment or to feel like people are walking on eggshells around them. Just be the same as you always are with them.
Avoid anything too religious. Many people find this uncomfortable so it's just easier to steer clear of it if you're in doubt
It can be hard to know what to say to someone who is ill. You obviously want to wish them a speedy recovery but finding the right words isn't easy.
Hopefully the example get well wishes here will have helped. Remember that whoever it is you are reaching out to will appreciate the kind words, and so whatever you end up saying it's the effort and thought that is more important.