Burying someone after they have passed away is incredibly hard. Not only because of the pain of having to say goodbye but also having to arrange the funeral when grieving.
Funerals planning requires a lot of administration and hard work. So it's easy to be overwhelmed, especially whilst also dealing with your grief.
And something that often gets overlooked or forgotten about is what to put on the headstone.
Headstones or tombstones are markers inscribed with details about the deceased, most commonly their name, date of birth and date of death.
They may also have a few extra words or short and simple verse that they themselves chose before their death or their family thought fitting.
The headstone is then placed above or in front or the grave as a means of differentiating it from others.
Many people like to add a special saying or quote for a headstone. This could be a phrase or sentiment that they find especially moving or a touching tribute to the deceased.
If you would like to add your own words to a tombstone then follow the guide below and see the range of quotes and sayings that are perfect for headstones.
What to Write on a Headstone
If you're struggling with making a decision on the words for a headstone then there are a few things you can use to help. Following the tips below should make choosing your headstone quote that bit easier.
Don't feel the need to rush your decision. After losing someone your emotions are all over the place and so you may end up choosing a phrase or saying that you later regret. So don't be afraid to take your time and put a lot of thought into what you really want the epitaph to be
Keep in mind that space will always be limited. Realistically you're only going to be able to fit a few lines or sentences on a headstone. So whatever it is you want to say it convey then remember it needs to be short and to the point
Headstone inscriptions and epitaphs are usually positive and uplifting. Few people want to remember their loved ones with a negative or depressing sentiment. So you will probably want your words to reflect the positive aspects and celebrate the life of whoever it is
If nothing instantly springs to mind or their isn't something that you associate with the deceased that fits as an epitaph fit them then look for inspiration elsewhere. Song lyrics, literature and writings, Bible verses/religious texts and poetry are all popular places to find fitting words for a headstone
Finally consider who's voice you want the epitaph to come from. Do you want the words to sound like they are being spoken by the deceased, their family or a friend?
These are just a few starting points for you to think about when deciding on an epitaph. Remember it will be something that lasts forever and so it's a good idea to get in the mindset of it being timeless. Aside from that take your time and go with what speaks most to you.
Short Headstone Sayings
These are very simple but touching sayings that are ideal for a headstone of any type.
Treasured by family and friends
Here lies a beloved friend
Always loved. Never forgotten
In loving memory of
He/she walked in beauty
Our lives were better because of her/his presence
We will meet again, one day
A shining star, forever in our hearts
Once met, never forgotten
To live in the hearts of those we love is not to die
Sweet are the memories that never fade
We only part to meet again
Personal Headstone Quotes
You can choose to use a more informal saying for your headstone too, perhaps a quote from the deceased loved one.
Because I have loved life, I shall have no sorrow to die. I have sent up my gladness on wings, to be lost in the blue of the sky
Where He leads me I can safely go
Tread softly for you tread on my dreams
Life is not measured by the number of breaths we take, but by the moments that take our breath away
Life is not about waiting for the storm to pass. It's about learning how to dance in the rain
If you can remember me, I will be with you always
Be sure, wherever I may roam, my heart is with your heart at home
Given the chance there is not one thing I would change
Tombstone Messages for Mother
Your mother deserves a fitting and appropriate epitaph so try one of these examples for some inspiration.
Here lies a beloved mother, daughter and wife
In memory of an adored mom
Treasured by all who knew her
A mother who will always be missed
An inspiration to all she met
Our mother's love lives on
Mother, Daughter, Leader, Friend
There was grace in her steps, love in every gesture
We were touched by her endless kindness and love
For Father
Finding the ideal way to remember your father with the right words is tough. These headstone quotes may help make it easier.
A dear father and grandfather. Missed dearly
He filled his life with laughter, happiness and the love of friends and family
His life a beautiful memory, his absence a silent grief
A man too loved to ever be forgotten
To have been lucky enough to know him was to love him
A gentleman through and through. Simply one of the best
An inspiring life well lead
His name is written in letters of love, on the hearts he left at home
For Grandmother
The heart and soul of our family
Her kindness and warmth shall not be forgotten
May she be remembered as she remembered others
Always loving and always loved
A wonderful light has been extinguished from our lives
She sowed courtesy and reaped friendship. She planted kindness and gathered love
For Grandfather
A man of grace and benevolence
One who lived life to its fullest
A truly special man who touched so many
Although he sleeps, his memory lives on
A life of radiant kindness and unending love
In loving memory of a generous spirit that never failed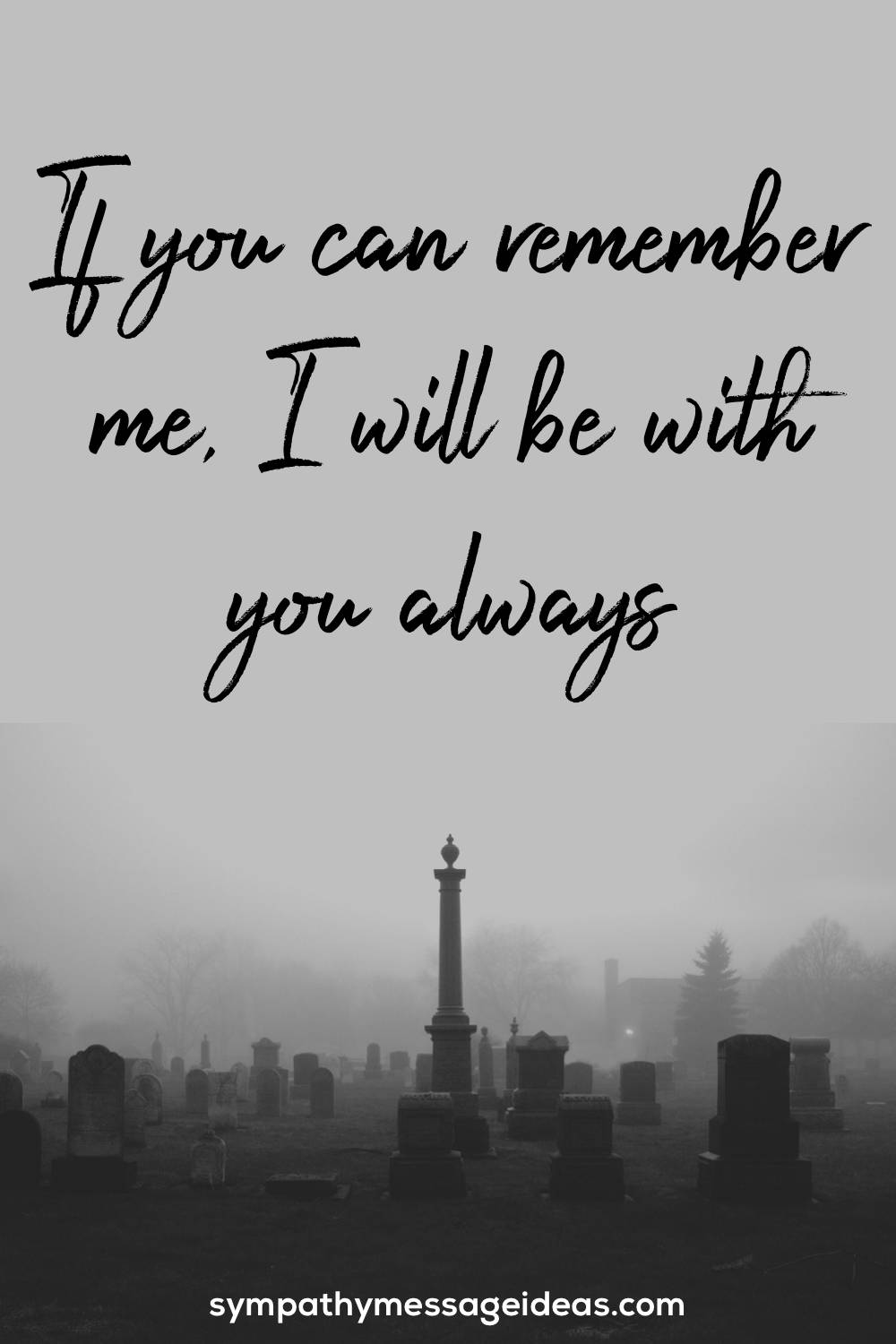 For a Child
An Epitaph for a child can be more difficult to write. The examples below would be appropriate for both young and older children who have sadly passed. We've broken them into separate headings for sons and daughters.
For Son
So small, so sweet, so soon
Called by one who loves him dearly
May the arms of angels keep you safe
Held for a moment, loved for a lifetime
Sleep my little one. Sleep
For Daughter
Too briefly you shone
Taken by angels
May her soul enjoy glory
There is no foot so small that it cannot leave an imprint on this world
Taken to be an angel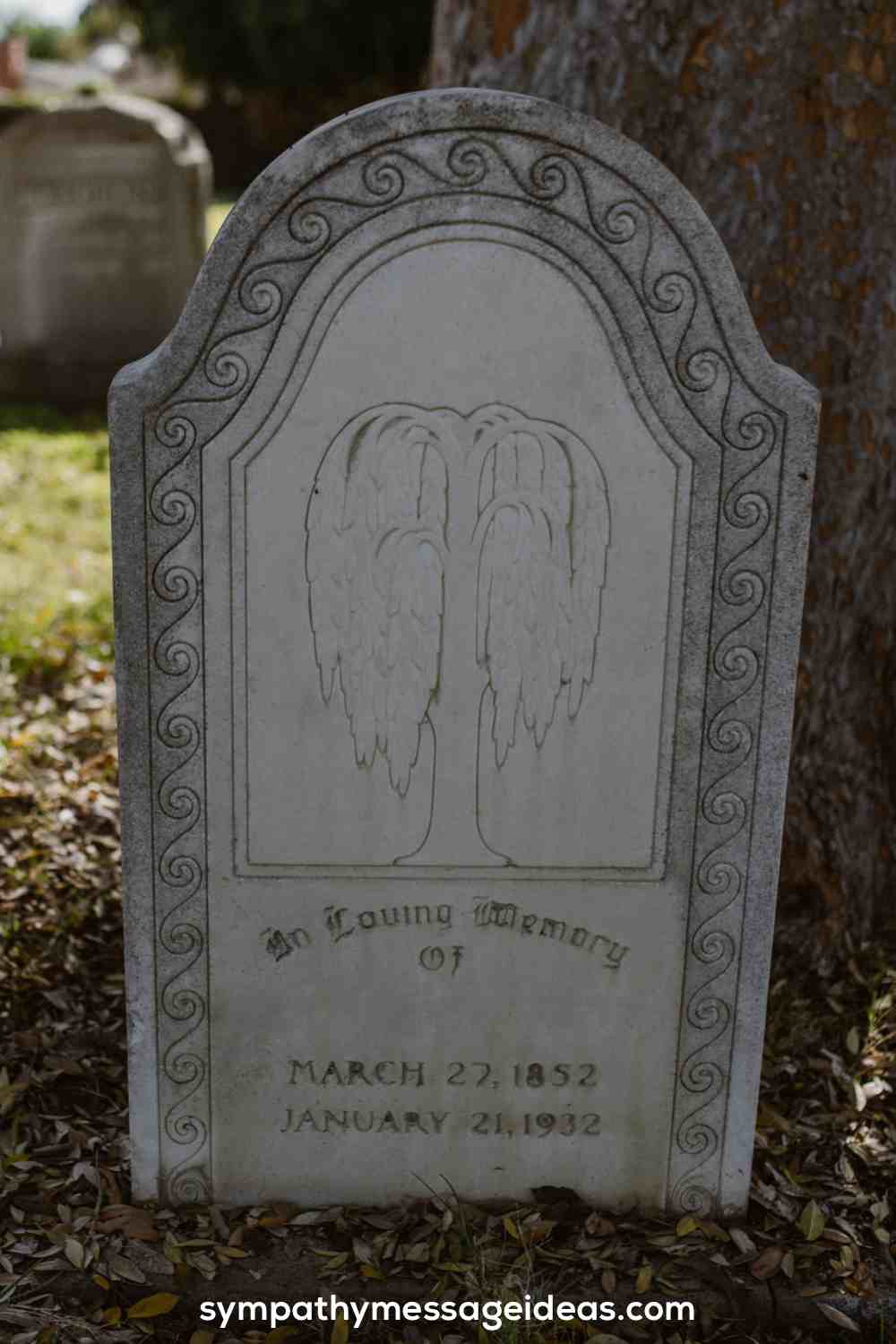 Bible Verses for Headstones
A fitting Bible verse can make a great inscription for a tombstone. Try these if you
"The righteous shall go into life eternal" – Matthew 25:46
"Blessed are the pure in heart, for they shall see God" – Matthew 5:8
"They can no longer die; for they are like the angels" – Luke 20:36
"I have fought the good fight, I have finished the race, I have kept the faith" – 2 Timothy 4:7
"I will fear no evil for thou art with me" – Psalm 23:4
"I sought the Lord and He heard me and delivered me from all my fears" – Psalm 34:4
He shall receive in the world to come eternal life. Mark 10:30
"Whosoever believeth in Him should not perish, but have eternal life" – John 3:15
Funny Headstone Quotes
Some people like to leave behind laughter. If you want something a bit more irreverent and humorous then the funny tombstone sayings below may be just what you're looking for.
I told you I was sick!
Here lies an atheist. All dressed up with no place to go
I came here without being consulted and I leave without my consent
Go away – I'm asleep!
I was hoping for a pyramid
Damn it's dark down here!
Sucks to be me
My loss but your gain
Writing a headstone inscription or quote is a difficult thing to do. Hopefully the examples provided here will have helped you to find the perfect words for a passed loved one. Or alternatively assisted you with deciding on your own epitaph (there's nothing wrong with planning ahead)
Keep in mind that headstones are final, and last forever. So whatever you do decide on, be that for yourself or a loved one, be absolutely certain it's what you want. There's not much chance to change it so best to get it right the first time.