Losing a mother is one of the most difficult experiences in life. But writing a tribute that honor's your mothers memory can bring some real comfort and closure.
When I wrote a tribute for my mother after losing her I found the process of writing very cathartic. It helped me to remember what a wonderful person she was and the good times I had with her.
You can also use your tribute or sections of it in a eulogy or as part of the funeral or memorial service.
So if you want to write a tribute to your mom but aren't sure how keep reading. The tips and examples here will help you to write your own meaningful tribute to your late mother and to say goodbye.
How to Write a Tribute to a Mother
There are some easy steps you can take to get your tribute perfect. You don't have to include all of the following but it will give you some good ideas and a starting point if you want to write your own.
If you want to see some sample tributes then click here to scroll down and past these steps.
Choose the Right Tone
The first thing you should do is decide the tone your tribute is going to take. This will depend on your relationship with your mother. These are a few examples of how you may want your tribute to sound.
Warm and affectionate – if your mother was your best friend and close confidante then a warm and sentimental tone would be fitting. You might share your fondest memories of here you have and the ways she made you feel loved.
Respectful and reverent – on the other hand if your relationship was more formal then you could go for a respectful and admiring tone. This would allow you to highlight your mother's strengths and virtues and focus on her accomplishments.
Honest and candid – often our relationships with our parents are complex. If that was the case then don't gloss over those difficulties. An open and truthful tone that acknowledges both the highs and lows can be just as meaningful as one that is all positive.
Hopeful and grateful – Even if your grief is raw then it might be good to try and at least end your tribute looking forward with some hope. Maybe showing appreciation for all your mom did.
Use Meaningful Anecdotes
An anecdote or story that gives some insight into your mothers personality or the relationship you had is always good to include. This can bring your tribute to life and really make others understand the type of person your mom was.
Some examples of anecdotes you could use:
A time she gave you advice that you still live by today.
Inside jokes or silly memories that show her humor and warmth.
A favorite ritual or tradition you shared. Something like baking Christmas cookies together or a trip you always took.
Be as specific as you can and include lots of details. You want the memories to be as vivid as possible so describe everything you remember.
Highlight Her Accomplishments
What achievements made your mother proud? Think about the accomplishments that she was pleased with.
Things like educational degrees, career highlights, creative talents or any community service she did. Anything that you know she found fulfilling and showed pride in.
For example: "Mom was the first female engineer at her company and loved mentoring younger women entering the field."
But also don't overlook what might be considered more mundane. If she was proud of the family she raised then mention that – "Raising four children and managing a household was mom's greatest accomplishment."
Describe Her Positive Qualities
A tribute should focus on the positive aspects of the person, in this case your mother. So talk about her strengths and what made her special.
For instance you could say: "Mom faced every challenge with courage and determination. Even when diagnosed with cancer, she stayed positive."
But it doesn't have to be something sad or related to her death. Things like loyalty, kindness, patience, how fun loving she was etc. are all qualities you can mention in your tribute.
Here's a few more examples of what else you could include:
"Mom treated everyone with such kindness, no one had a bad word to say about her."
"No matter the situation mom managed to find the positives. She was so upbeat and enjoyed life to the fullest."
"I always knew I could turn to my mom whenever I was struggling. She had such wisdom and her advice helped me through some of the hardest times."
Pick a Meaningful Quote
This isn't a necessity, and some may prefer not to, but consider including an appropriate quote. One that reflects the love of a mother and child.
For example:
"There is nothing as sincere as a mother's kiss." – Saleem Sharma
"A mother's arms are more comforting than anyone else's." – Princess Diana
"Life began with waking up and loving my mother's face." – George Eliot
Or alternatively choose a quote from literature, movies etc. your mother loved. Introduce it by saying why it reminds you of her or talk about why it meant so much to her – it was from her favorite film, writer etc.
These quotes about losing a loved one are a good starting point or see all our quotes for more ideas.
Close with a Tribute
Most tributes finish by directly addressing the person they are about. So speak to your mother and sum up her lasting impact.
These are a few closing tribute ideas:
"You were the heart of our family, Mom, and that heart will never stop beating within us."
"I hope I can be as strong, caring and giving as you were. You set an amazing example for us all."
"Your guidance, wisdom and love made me who I am today. I hope to pass those gifts to my own children someday."
"While we may be grieving your loss your spirit lives on in your children and grandchildren."
"We miss you every day but your memory guides and comforts us."
For more ideas see these tribute messages for loved one's.
How to Write a Tribute if You had a Difficult Relationship
If you and your mom didn't get on well or your relationship was complicated it can be hard to write a fitting tribute. You may have mixed feelings and be unsure of how to properly express them.
A good way to work around those concerns are to focus on the positive memories you do have, even if they are small moments. Or you could highlight her virtues, talking about things like her strength and resilience when faced with adversity.
For most of us the mother-child connection remains, even when fractured. You can honor what your mom meant to you by being honest and acknowledging your complex relationship while still reflecting on the impact she had one your life.
Remember that grief comes in many forms – a troubled relationship does not diminish your loss. So your tribute should reflect your truths.
Sample Tributes for Mother
If you're still unsure of what to put in your mothers tribute these samples that take different approaches should help.
Sample 1 – Warm, Affectionate Tone
Our beloved matriarch, Helen Jones, passed away last month at the age of 87. Mom was the heart and soul of our family. A constant source of love, wisdom and encouragement. I can still feel the warmth of her hugs and her infectious laugh even now. And she had a smile that was so radiant and lit up every room she entered.
From childhood through adulthood Mom and I shared a bond that was special. She was my the person I knew I could turn to, confide in and look for help when I needed it. Basically she was my best friend. When I was scared, she soothed me. When I achieved success, she cheered louder than anyone. And when I struggled it was her who lifted me up with a faith in me that never wavered.
And family meant so much to her. She had a gift for making every family occasion magical, especially Christmas. Some of my most treasured memories are of baking cookies, decorating the tree and curling up in mom's lap as she read "Twas the Night Before Christmas.". The holidays will never be the same without her.
While we mourn mom's passing we take comfort knowing her legacy lives on through her children and grandchildren. I will be forever grateful for the unconditional love she gave me. Her kindness and warmth touched everyone she met. Losing her leaves an ache in our hearts, but also inspiration to live up to her beautiful example.
Sample 2 – Respectful, Grateful Tone
Dr. Sophie Roberts, beloved mother, grandmother and groundbreaking scientist, passed away on January 5th at age 78. She lived a full and vibrant life defined by her intellectual curiosity, pioneering research and love for her family.
Dr. Roberts was a molecular biologist who made critical contributions to understanding RNA. She authored over 100 research papers and won numerous awards, including the National Medal of Science for her advances in genetics. She was especially proud when one of her discoveries led to a major breakthrough in treating leukemia.
While Dr. Roberts achieved so much professionally she always put family first. Whether it be a sporting every, play or graduation ceremony, she never missed a single one. She was always encouraging and helping her children to dream as big as they could. The scientific knowledge she passed on was so valuable but above all it is the love and support she gave that we will remember most.
Mom lived a life guided by determination and discipline. She was our role model and exemplified hard work, excellence and perseverance. While her absence is felt so deeply her principles and caring examples she set continue to guide us. We will always be grateful for the full, rich life she led and the time we had together. Your spirit lives on, Mom, through all you taught us.
Sample 3 – Honest and Candid Tone
Our relationship was complicated, but I always knew deep down that you loved me, mom. We clashed often as I was growing up. You had such high expectations for me and I felt like they were impossible to reach. It weighed heavy on me and I struggled to deal with that pressure. And we had our fair share of arguments over the years. But now you're gone all I can think about is how much you sacrificed for me and that you only wanted me to have the best.
You worked three jobs to make sure I had everything I needed. I never went without, even when money was tight. And you always supported my interests, whether that was driving me to piano lessons or rehearsals for plays. It didn't matter when they were or how exhausted you were from work, you made sure I got there. I know I didn't say it enough, or at all, but I was so proud to call you my mother.
We had our differences, of that there's no doubt, but your actions spoke louder than words. You may not have shown your love through words but you did instead through sacrifice. I admire you so much for the hardships you went through to raise me right. I wish we had more time together to mend fences. But I know you're still watching over me and I am going to make sure I live a life that would make you proud.
Sample 4 – Hopeful and Grateful Tone
Losing you so suddenly Mom has left us all devastated. Not having you around and the pain of your passing is still raw. Our family will never be whole again with you gone. But even in such grief we can strive to find comfort in all the wonderful memories we shared over the years.
Like our yearly beach trips, where we built sandcastles, collected shells and watched the sunset over the ocean. And all those times you cheered so loud at my basketball games you drowned out every other parent. Or when you swallowed your fear of flying just to visit me in college.
Your love was like the ocean – vast, powerful and constant. You gave so much and asked for nothing in return. And while you may no longer be with us we feel your love still burning as strongly in our hearts and memories.
I miss you every single moment, mom. But I know you'll always be with me, your spirit by my side and supporting me like you did in life. We will all honor your memory by following your generous and kind example and trying to do as much good as you did.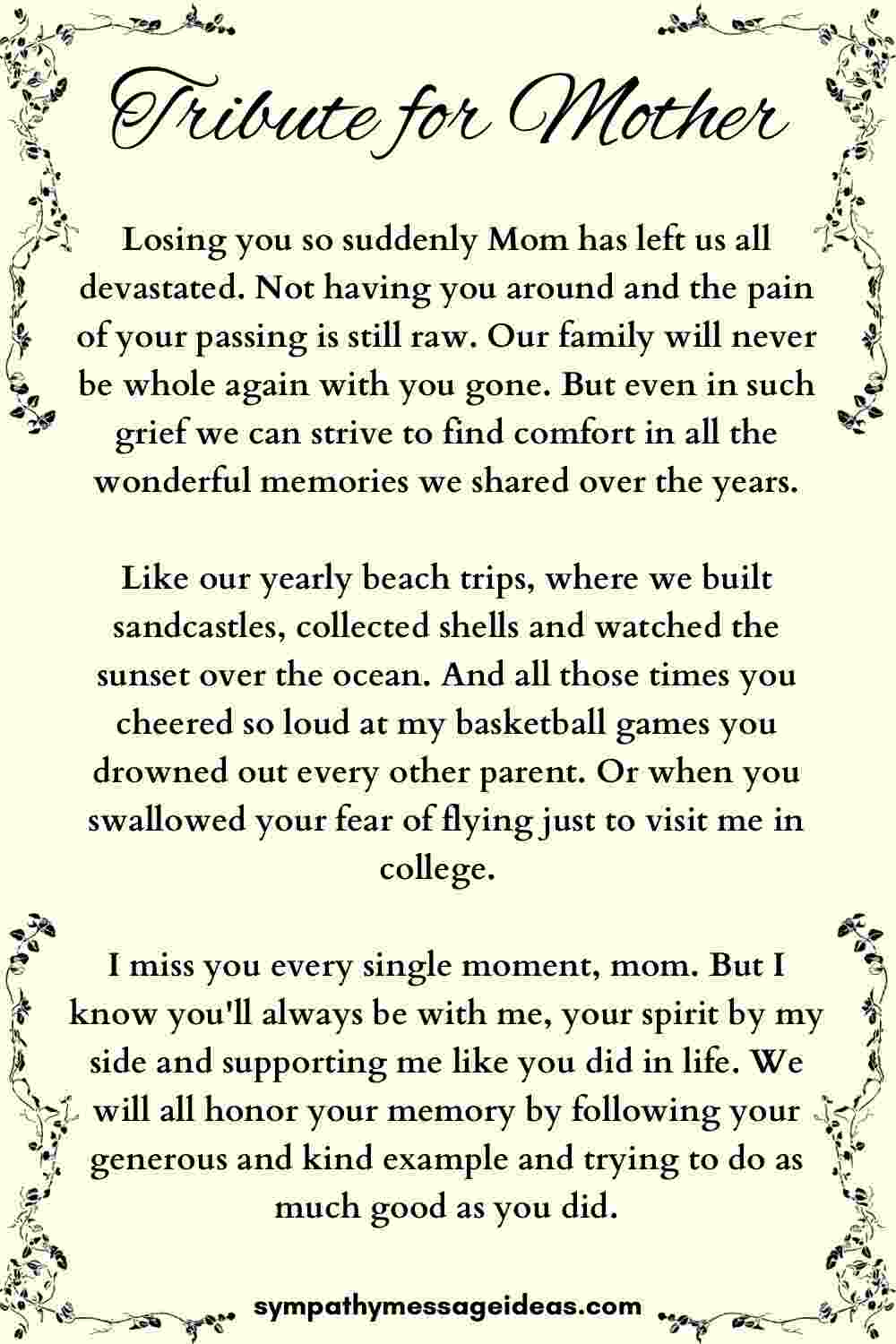 Sample 5 – Reverent and Respectful Tone
On February 19th we lost our beloved mother, Andrea Carter, at the blessed age of 94. She lived an extraordinary life defined by serving others and a wisdom we all benefited from. Her faith was an ever present throughout her life and so important to her.
Andrea set an example of what it means to walk with God. She volunteered tirelessly with the church and could always be counted on to provide meals and support to those in need. She could lift the spirits of everyone she met through an overflowing of compassion and kindness.
Andrea faced many of life's challenges with grace, courage and humility. Even into her 90's she maintained fierce independence, wit and lust for life that was inspiring to all who knew her. Her mind remained sharp as a tack and she took great joy in being with her many grandchildren and great grandchildren.
While we grieve her passing we can find solace in Andrea's faith. She is in the arms of the Lord now. We will honor Andrea's beautiful soul by following the example she set – loving with all her heart, selflessly serving others and walking faithfully with God.
Conclusion
Writing a tribute for a mother is never going to be easy. Emotions will be raw, you'll still probably be grieving and will have to think of those most cherished memories you had with your mom.
But while it may take its toll you can take some comfort knowing your words will contribute to memorializing her memory. And being able to pay tribute to someone as special as your mom will be a big part of the grieving process.
So honor her life and all she meant to you with a fitting tribute.
Grief Support
For more help and support when dealing with losing a loved one and grief that follows these resources are worth checking out: