The loss of a spouse is a heart wrenching experience. A widow will face profound grief and the need for healing.
Finding inspiration in such hard times can be difficult. Inspirational quotes can provide hope and solace though.
These quotes are powerful and uplifting and will hopefully help widows be reminded they aren't alone and that strength can be found in unexpected places.
Short Inspirational Quotes for Widows
"The pain you feel today is the strength you feel tomorrow." – Anonymous
"You are stronger than you know, and braver than you think." – Christopher Robin
"Grief never ends… but it changes. It's a passage, not a place to stay." – Hollye Jacobs
"Grief is the price we pay for love." – Queen Elizabeth II
"You have within you right now everything you need to cope with your loss." – Brian Tracy
"You never know how strong you are until being strong is your only choice." – Bob Marley
"The sun will rise again and you will find the strength to carry on." – Unknown
"Unable are the loved to die, for love is immortality." – Emily Dickinson
"In the midst of darkness, remember you are the light that shines through." – Unknown
"Your loved one may be gone but their love and memories will forever remain in your heart." – Unknown
"When someone you love becomes a memory, the memory becomes a treasure." – Unknown
Try these example sympathy messages for the loss of a husband if you aren't sure what to say.
Uplifting Quotes for Widows
"We understand death only after it has placed its hands on someone we love." – Anne L. de Stael
"The song is ended but the melody lingers on…" – Irving Berlin
"If the people we love are stolen from us, the way to have them live on is to never stop loving them." – James O'Barr
"Courage is not having the strength to go on; it is going on when you don't have strength." – Napoleon Bonaparte
"The journey may be challenging but you'll emerge stronger and wiser." – Unknown
"You are not alone; you have the support and love of those around you." – Unknown
"In every difficulty, there's an opportunity for growth and transformation." – Albert Einstein
"What we have once enjoyed we can never lose. All that we love deeply becomes a part of us." – Helen Keller
"The risk of love is loss, and the price of loss is grief. But the pain of grief is only a shadow when compared with the pain of never risking love." – Hilary Stanton Zunin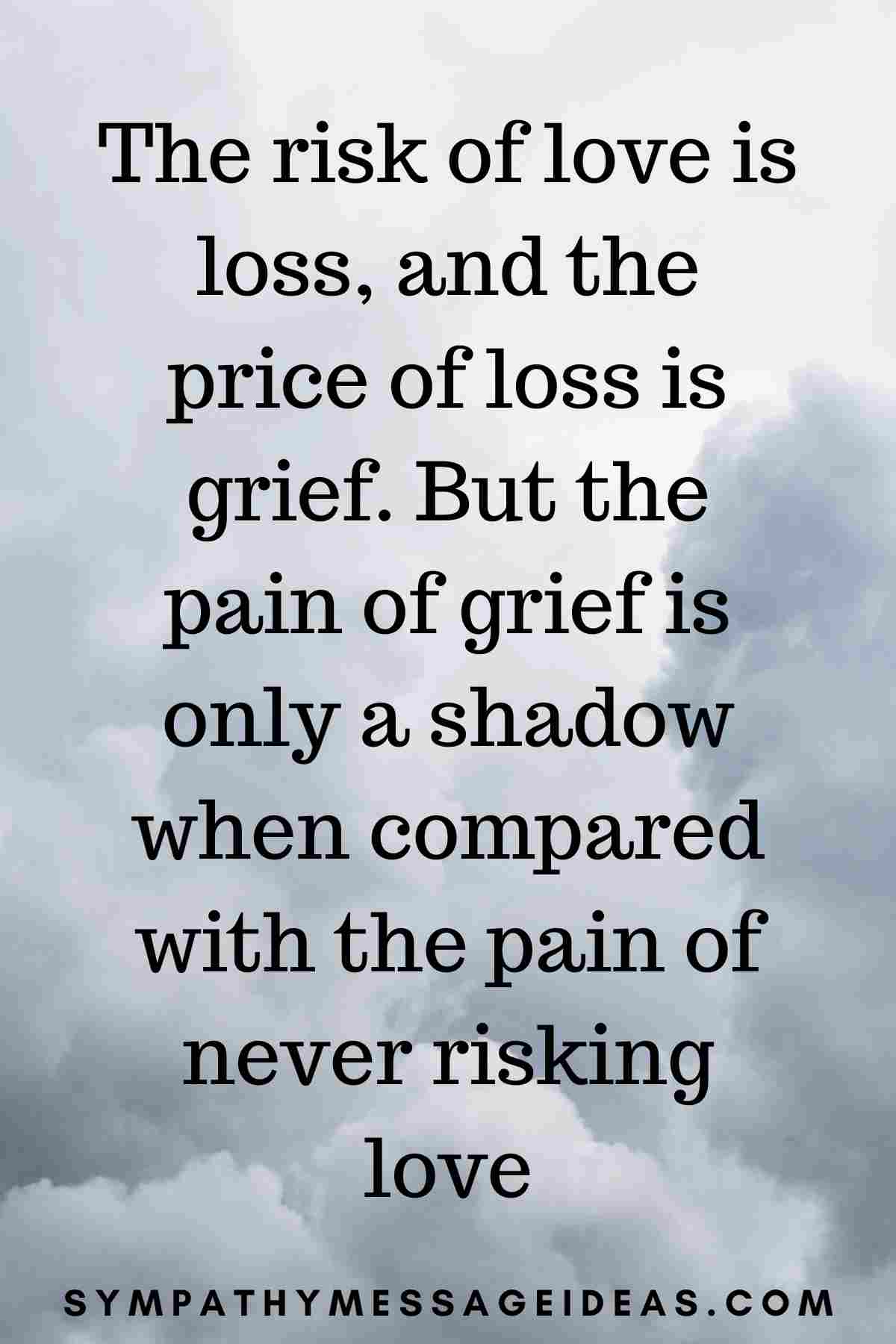 Comforting Quotes for Bereaved Widows
"When you go through deep waters, I will be with you." – Isaiah 43:2
"He who has gone, so we but cherish his memory, abides with us, more potent, nay, more present than the living man." – Antoine de Saint-Exupéry
"The pain passes, but the beauty remains." – Pierre Auguste Renoir
Life is eternal, and love is immortal, and death is only a horizon; and a horizon is nothing save the limit of our sight." – Rossiter Worthington Raymond
"Perhaps they are not stars, but rather openings in heaven where the love of our lost ones pours through and shines down upon us to let us know they are happy." – Eskimo Proverb
"The reality is that you will grieve forever. You will not 'get over' the loss of a loved one; you will learn to live with it. You will heal and you will rebuild yourself around the loss you have suffered. You will be whole again, but you will never be the same. Nor should you be the same, nor would you want to." – Elisabeth Kubler-Ross
"When someone you love becomes a memory, the memory becomes a treasure." – Author Unknown
"Although it's difficult today to see beyond the sorrow, may looking back in memory help comfort you tomorrow." – Author Unknown
Encouraging Words for Widows
Take small steps forward and celebrate every triumph along the way.
Give yourself the space to grieve. But also allow yourself to experience moments of joy.
There is no timeline for healing; allow yourself to grieve and mend at your own pace.
You have the strength to face each day no matter how difficult it may seem.
Surround yourself with love and positivity as you navigate this journey.
The pain may seem unbearable but please remember – you are never alone in your grief.
Your loved one's spirit will always live on in the memories and love you shared.
Lean on those who care for you. In the darkest days they will be there to help you through.
"Grief is like the ocean; it comes on waves ebbing and flowing. Sometimes the water is calm, and sometimes it is overwhelming. All we can do is learn to swim." – Vicki Harrison
I hope these inspirational quotes for widows have helped you or someone you know to feel even a little better whilst going through the terrible loss of a spouse.