As we say goodbye to beloved family and friends we can be thankful their memories will remain with us. And 'gone but not forgotten quotes' can serve as poignant reminders of the love and inspiration that our departed loved ones have left behind.
I've found comfort through quotes after losing those closest to me. It's one of the reasons I've shared them often on this website.
So this collection of heartfelt fine but never forgotten quotes that honor the essence of those we've lost will hopefully bring you some strength and comfort. A loved one's presence lives on through the treasured memories we have of them, and remembering them will help us to keep that love alive.
Short Gone But Not Forgotten Quotes
1. "To live in hearts we leave behind is not to die." – Thomas Campbell
2. "Gone from our sight, but never from our hearts." – Unknown
3. "Those who live in the hearts of others never die." – Unknown
4. "Those who walk uprightly enter into peace; they find rest as they lie in death." – Isaiah 57:2
5. "Death leaves a heartache no one can heal, love leaves a memory no one can steal." – Irish Proverb
6. "Although we are apart, your spirit lives within me, forever in my heart." – Unknown
7. "Grief is the price we pay for love." – Queen Elizabeth II
8. "Those we love and lose are always connected by heartstrings into infinity." – Terri Guillemets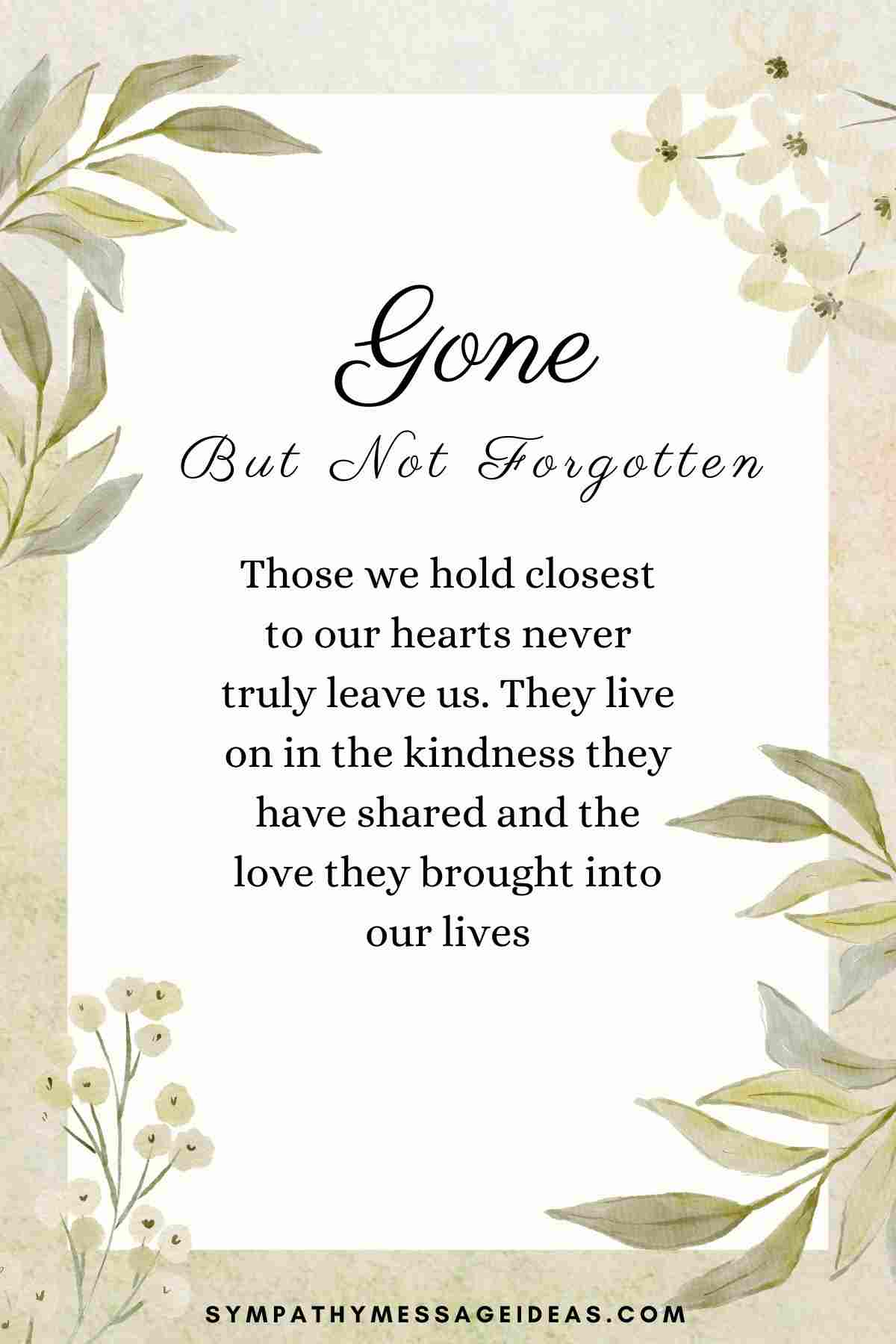 Always Remembered Never Forgotten Quotes
9. "The dead never truly die; they simply become living memories." – Robert Morgan
10. "The heart that truly loves never forgets." – Proverb
11. "The legacy of heroes is the memory of a great name and the inheritance of a great example." – Benjamin Disraeli
12. "They may forget what you said, but they will never forget how you made them feel." – Carl W. Buehner
13. "The remembrance of the good done those we have loved is the only consolation when we have lost them." – Demoustier
14. "Those we hold closest to our hearts never truly leave us. They live on in the kindness they have shared and the love they brought into our lives." – Unknown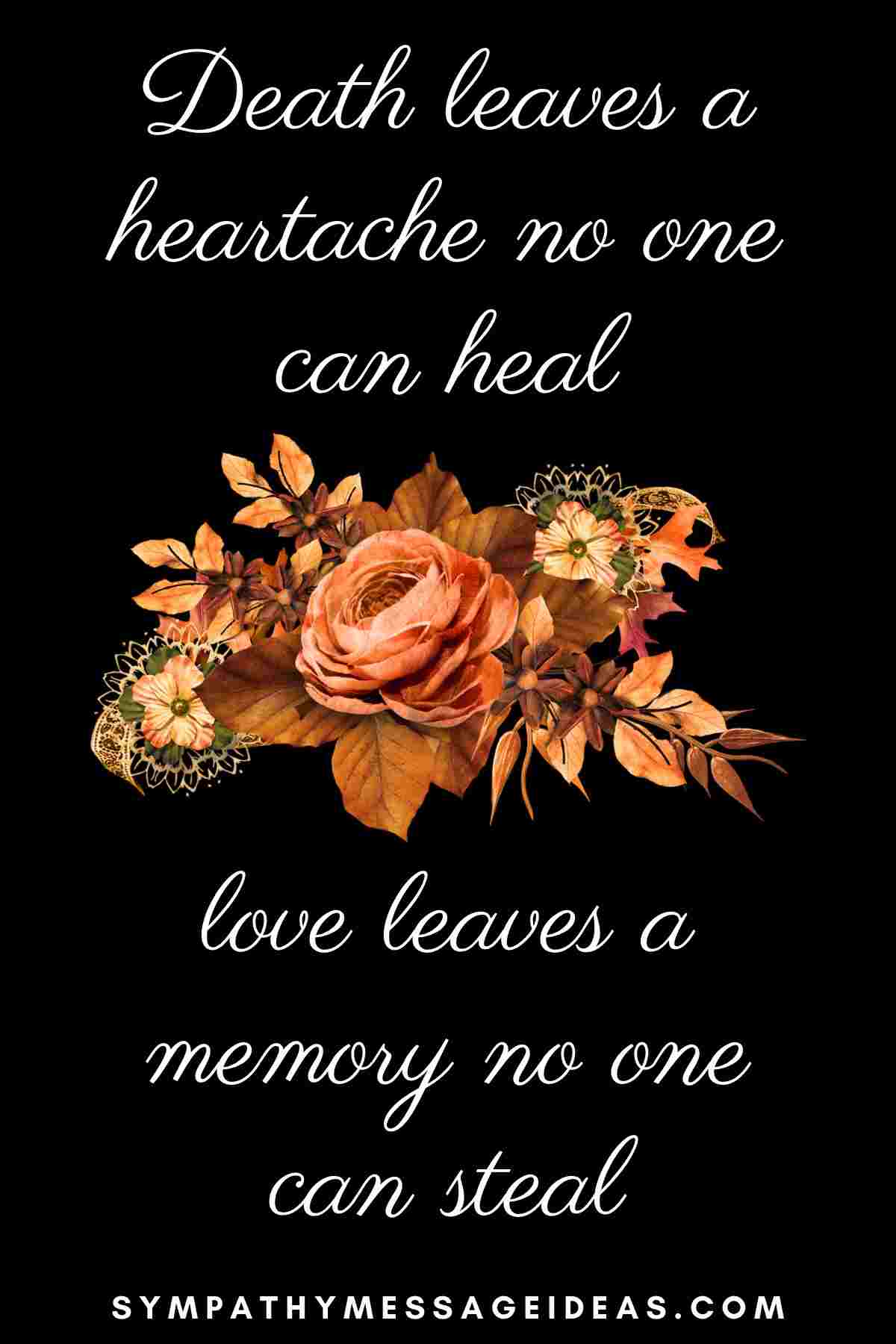 Gone But Not Forgotten Quotes for Mothers
15. "A mother's love is a guiding light that shines on even after she's gone."
16. "Her love was a force that continues to live on, shaping who we are."
17. "Mom, your memory is etched in my heart forever. It's a precious treasure I shall never part with."
18. "In every heartbeat we feel your presence. A mother's love knows no boundaries, not even death."
19. "Though you may be gone, mom, your love remains a constant source of strength and comfort."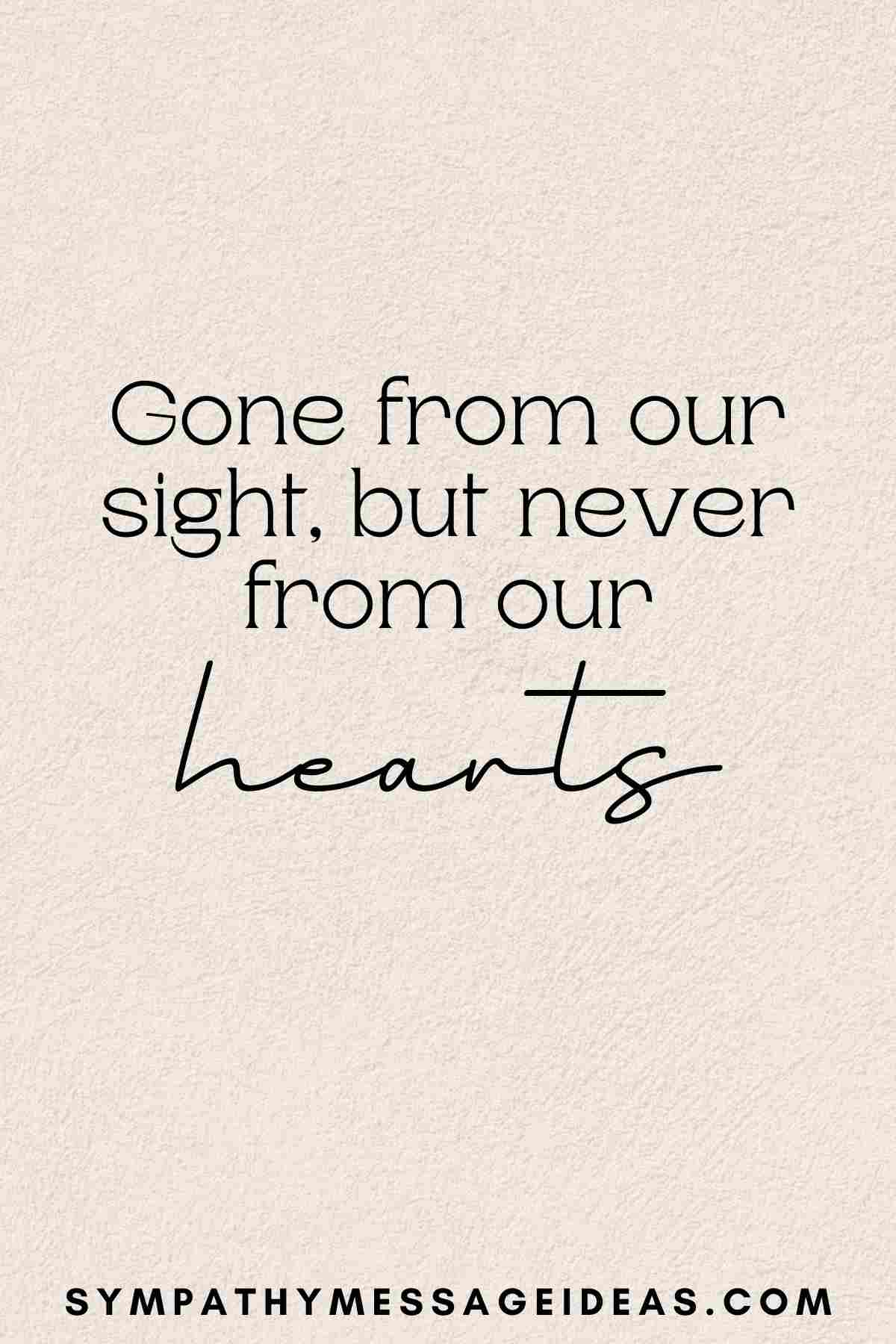 Gone But Not Forgotten Quotes for Fathers
20. "Dad, we are still guided by your love wisdom and we always will be."
21. "A father's presence may fade but his legacy and love will endure."
22. "The memory of your strength and support inspires us to carry on with courage."
23. "You live on in our hearts, a treasured part of our lives that will never be forgotten."
24. "Though you are no longer with us the impact you had on our lives is ever present and helps us every day."
Gone But Not Forgotten Quotes for Grandmothers
25. "Grandma, your love was a thread that wove us together and your memory forever bind us."
26."Whoever you hold in the heart of you, is forever and always a part of you." – Rossiter Raymond

27. "Your loving embrace may be gone but your warmth lingers, embracing us from afar."
28. "We were gifted your love grandma, and it's a treasured gift that we hold dear."
29. "Granny's presence lives on through memories, a reminder of the love she bestowed us with."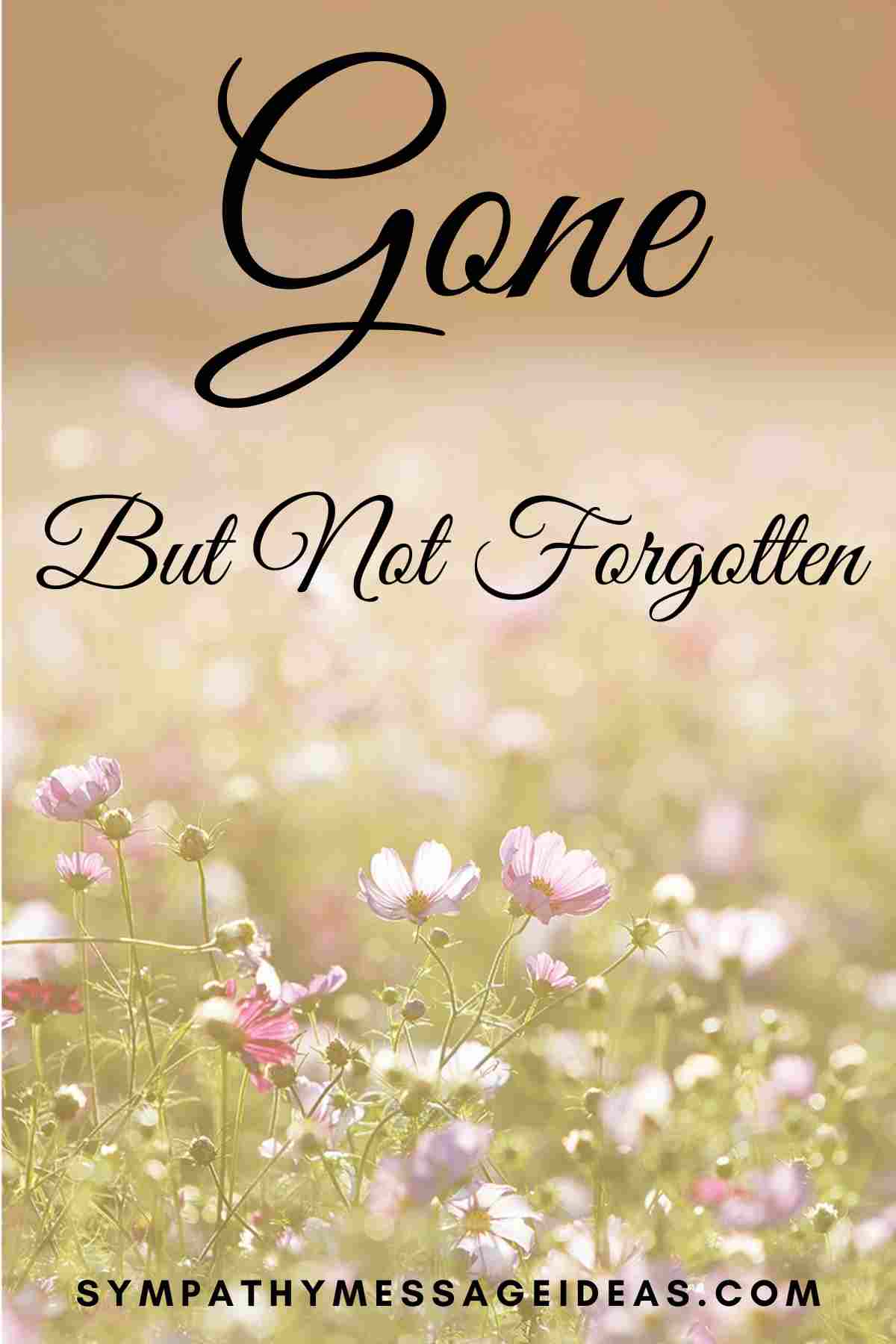 Gone But Not Forgotten Quotes for Grandfathers
30. "Carrying a photograph of someone in your pocket is like carrying a little bit of their soul." – José Saramago
31. "It has been said, 'time heals all wounds.' I do not agree. The wounds remain. In time, the mind, protecting its sanity, covers them with scar tissue and the pain lessens. But it is never gone." – Rose Fitzgerald Kennedy
32. "Wherever a beautiful soul has been there is a trail of beautiful memories." – Ronald Reagan
33. "I think it is all a matter of love; the more you love a memory the stronger and stranger it becomes." – Vladimir Nabokov
34. "Even as time passes the memory of Grandpa's remains as vivid as ever. It is forever a part of our hearts"
Gone But Not Forgotten Quotes for Brothers
35. "Brother, your smile and laughter echoes in our hearts, a wonderful memory that we will treasure forever."
36. "Though you are absent from my life, your spirit lives on in my heart, unbreakable and true."
37. "You are never far from my thoughts and always with me, bro. I won't ever forget you."
38. "I miss you every day brother. I am only comforted by the amazing memories I have of you. They will never be forgotten."
39. "Memories of all the times we shared together sustain me. They keep me going when it becomes too much to bear you're not here anymore."
Gone But Not Forgotten Quotes for Sisters
40 "Sister, your love was a light that continues to shine brightly in our hearts."
41. "Though you are no longer part of my life your spirit lives on in the laughter and love we shared."
42. "A sister is a little bit of childhood that can never be lost." – Marion C. Garrett
43. "A sister is a forever friend, a bond that can never be broken." – Unknown
44. "Sisters may part ways in life but their bond remains unbroken, a connection that lasts for eternity."
Gone But Not Forgotten Quotes for a Friend
45."We understand death only after it has placed its hands on someone we love." – Anne L. de Stael
46. "Though nothing can bring back the hour of splendor in the grass, glory in the flower, we will grieve not; rather find strength in what remains behind." – William Wordsworth
47. "In life, we loved you dearly, in death, we love you still. In our hearts, you hold a place no one else could fill." – Unknown
48. "When someone you love becomes a memory, the memory becomes a treasure." – Unknown
49. "Your life was a blessing, your memory a treasure. You are loved beyond words and missed beyond measure." – Unknown
50. "You may be gone from my sight, but you are never gone from my heart." – Unknown
51. "A life that touches others goes on forever, for it is the love and memories that keep it alive." – Unknown
52. "As you danced in the light with joy, love lifted you. As you brushed against this world so gently, you lifted us." – T.C. Ring
"Gone But Not Forgotten" Quotes to Remember a Loved One
53. "Those we love don't go away; they walk beside us every day. Unseen, unheard, but always near; still loved, still missed, and very dear." – Anonymous
54. "Like a bird singing in the rain, let grateful memories survive in time of sorrow." – Robert Louis Stevenson
55. "What we have once enjoyed we can never lose. All that we love deeply becomes a part of us." – Helen Keller
56. "The world changes from year to year, our lives from day to day, but the love and memory of you shall never pass away." – Unknown
57. "Those we love can never be more than a thought apart, for as long as there's a memory, they live on in our hearts." – Unknown
58. "Your presence we miss, your memories we treasure, loving you always, forgetting you never." – Unknown
I hope these quotes have helped with remembering someone special to you and acted as a reminder that though they are gone from our lives they never truly leave you.
For more quotes try: