Losing a horse is awful. Whilst they don't have the same reputation for being a pet like a cat or dog does that doesn't mean their owners don't develop bonds and relationships that are just as strong.
Horses and their owners have a unique relationship that shouldn't be underestimated. And just because it doesn't look like a horse is showing much in the way of affection
So the loss of a horse is as heartbreaking as any other pet.
And after losing a horse we want to commemorate their departure and the impact they had on our lives with horse loss quotes.
A horse loss quote is a short few words that demonstrates just how much we miss our deceased horse. They may also be used to offer condolences to anyone who has lost their beloved horse.
Quotes about losing a horse can help with finding closure and letting our loved pet finally go. They may also help if you are struggling with how to say sorry to others for their loss and offering your sympathy.
So use the horse loss quotes found here to find some comfort if you're missing your horse or to offer your condolences to those who have lost their own equine friend.
Loss of Horse Quotes
"Horses lend us the wings we lack" – Pam Brown
"Once touched by the spirit of a horse, your soul remains forever enlightened" – Unknown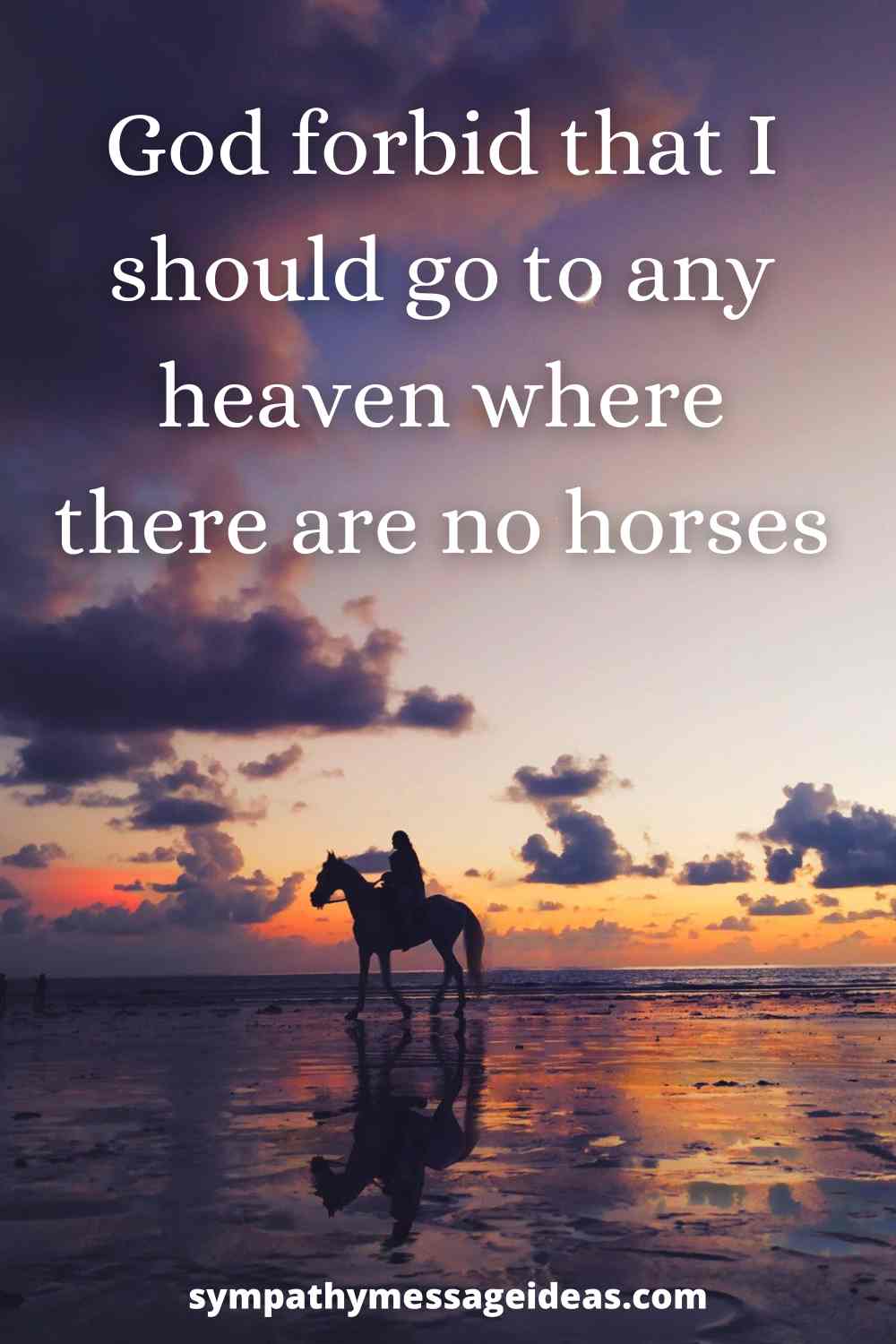 "God forbid that I should go to any heaven where there are no horses" – R. B. Cunningham-Graham
"Our hoofbeats were many, but our hearts beat as one" – Unknown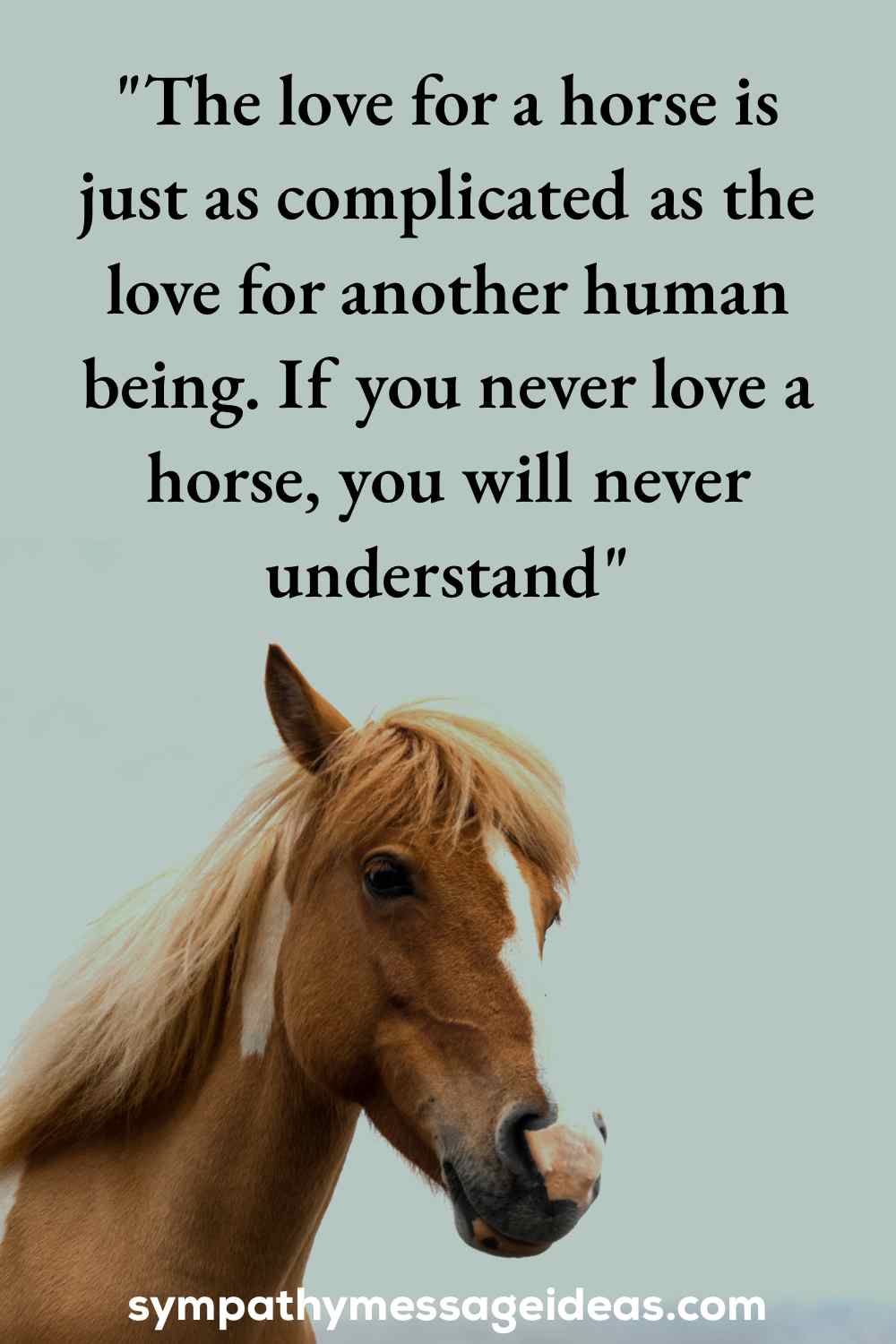 "The love for a horse is just as complicated as the love for another human being. If you never love a horse, you will never understand" – Unknown
"No heaven can heaven be, if my horse isn't there to welcome me" – Unknown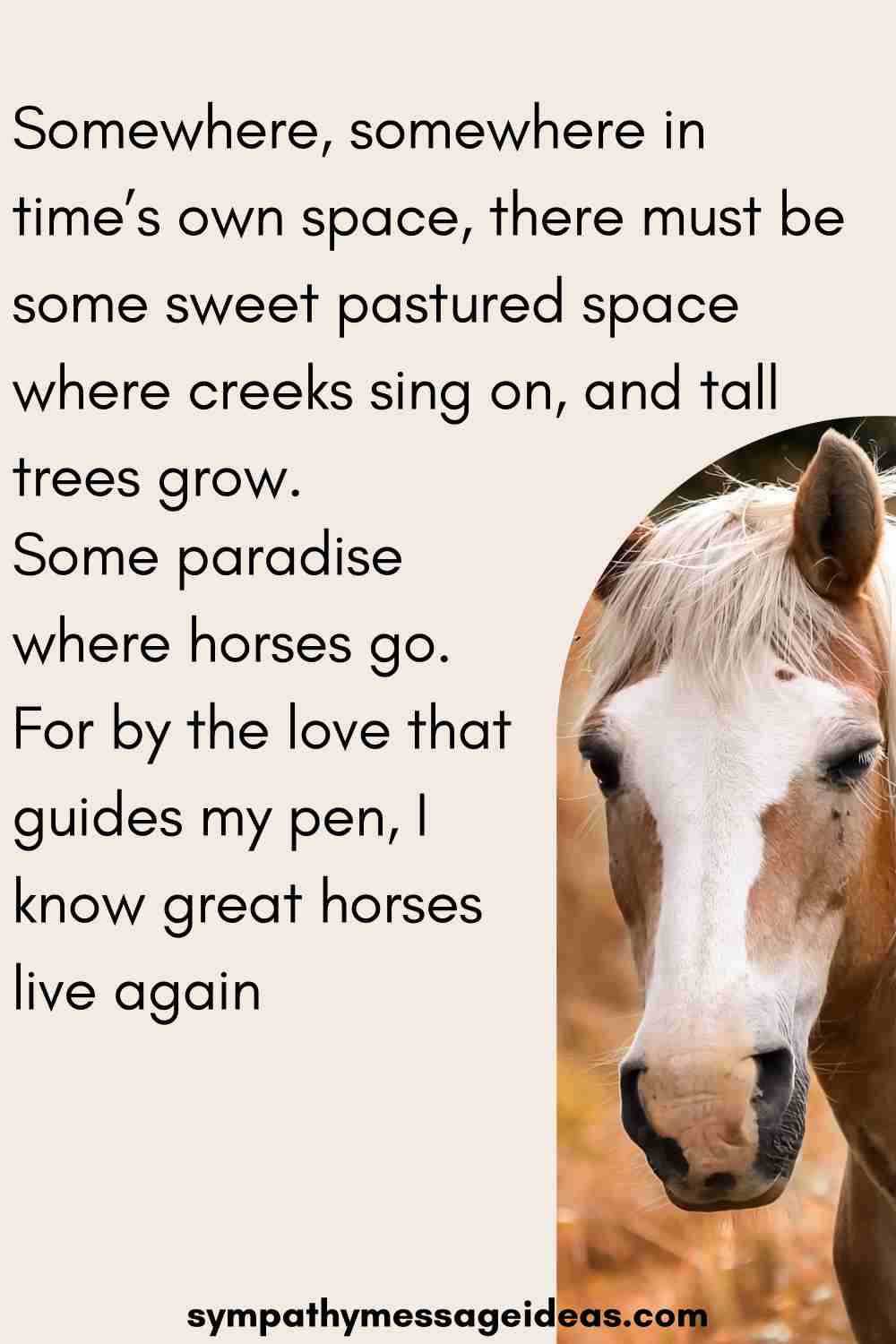 "Somewhere, somewhere in time's own space, there must be some sweet pastured space where creeks sing on, and tall trees grow. Some paradise where horses go. For by the love that guides my pen, I know great horses live again" – Stanley Harrison
"While time will fade, these hoofprints, the ones left on your heart, will never disappear" – Unknown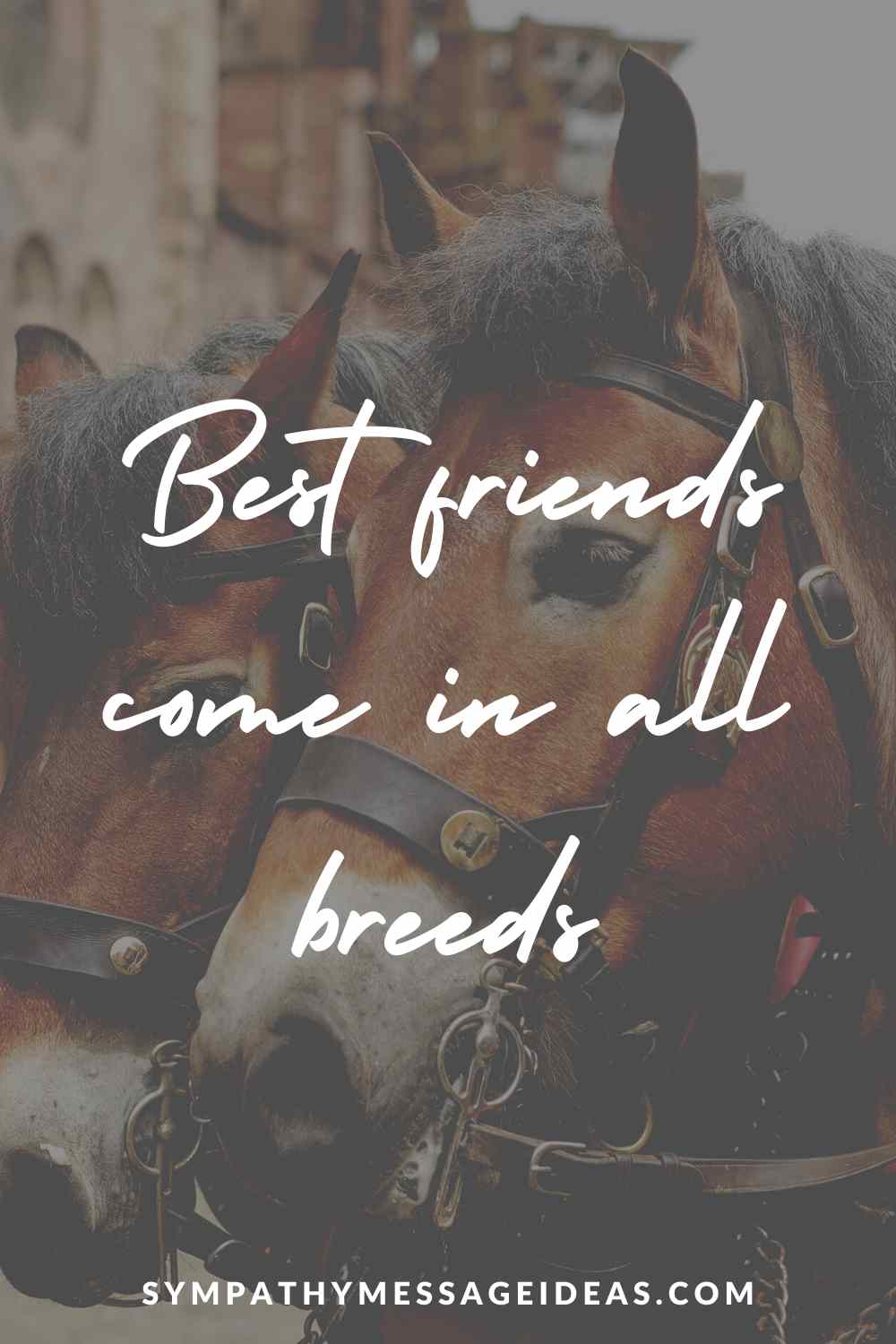 "Best friends come in all breeds" – Unknown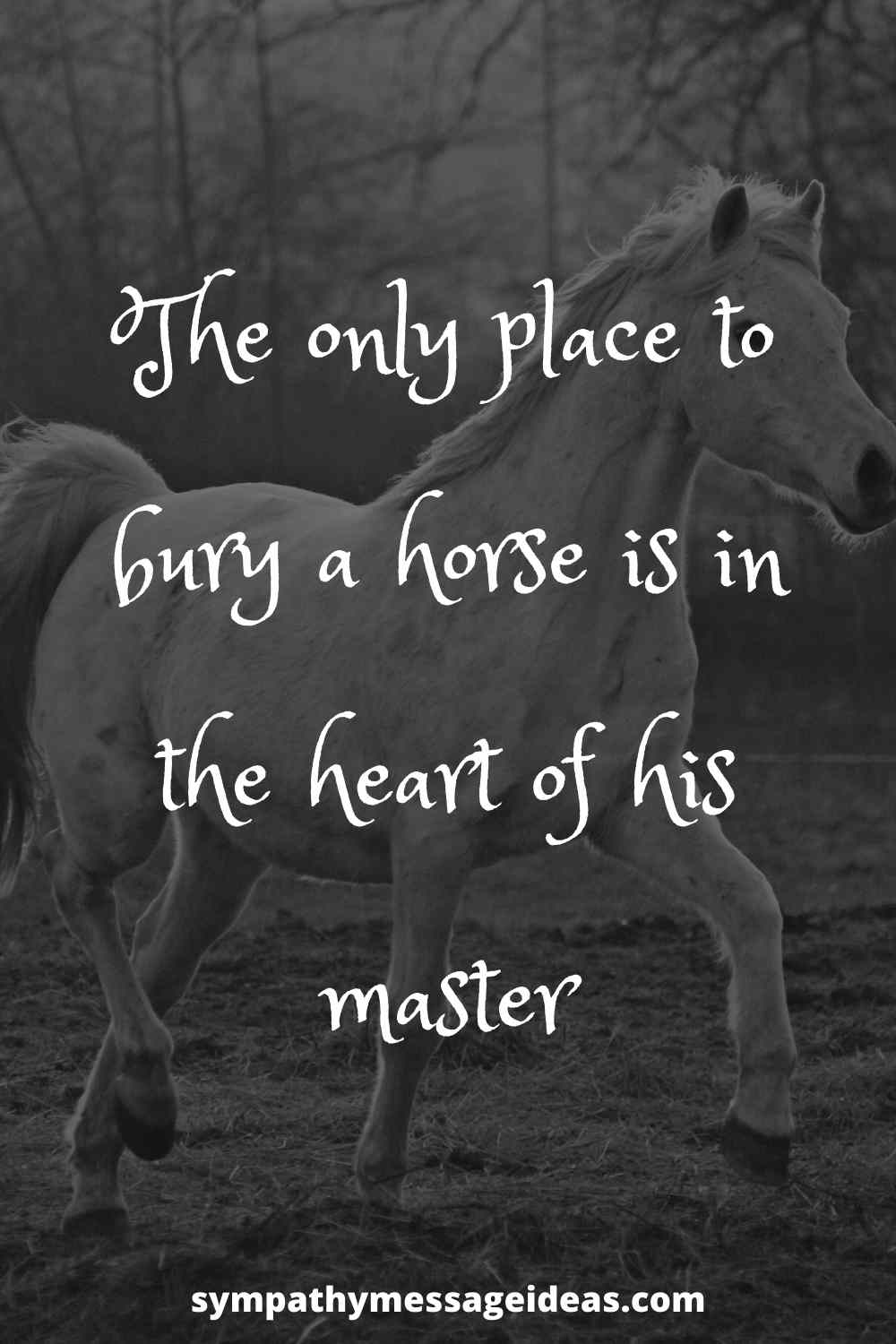 "The only place to bury a horse is in the heart of his master" – Unknown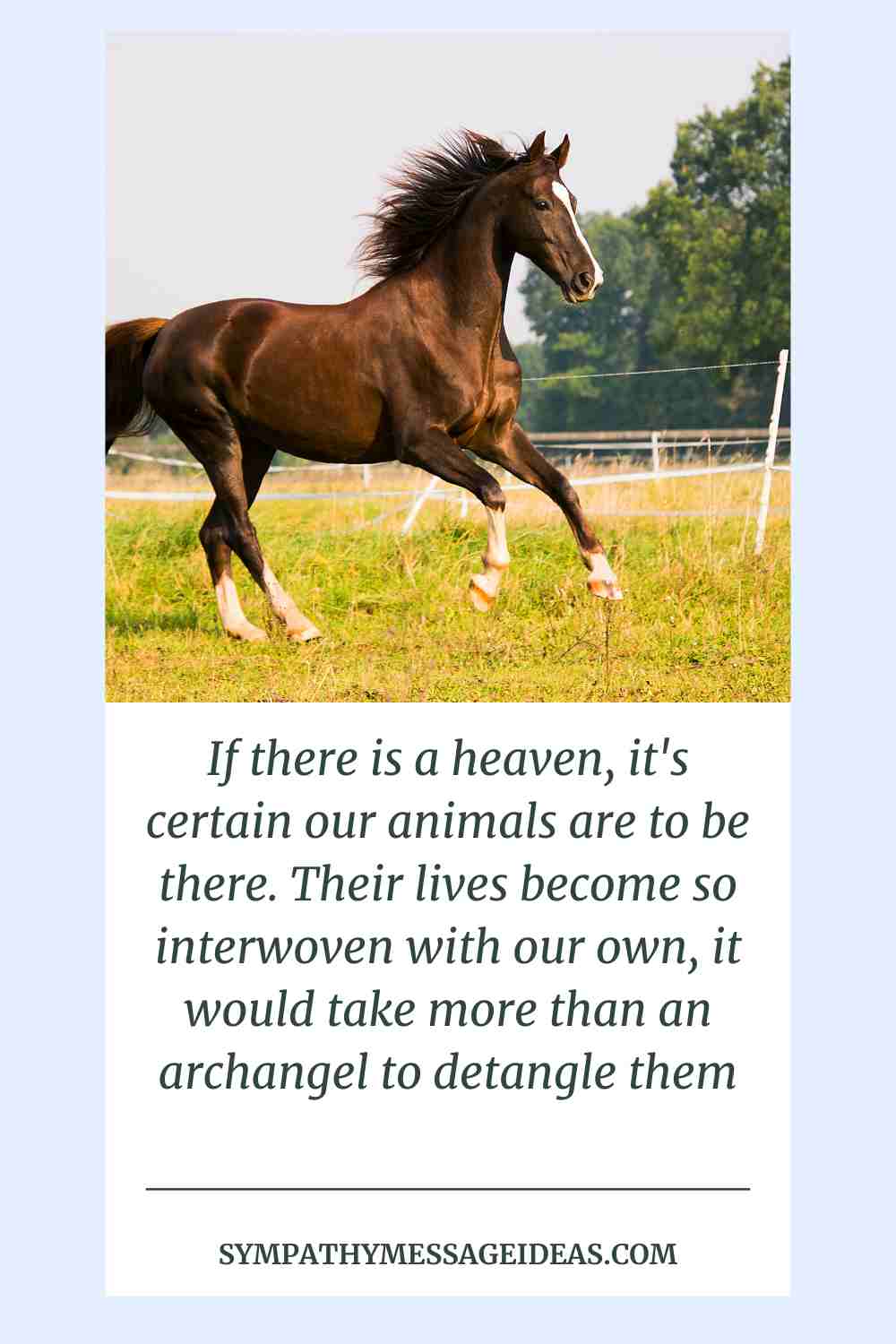 "If there is a heaven, it's certain our animals are to be there. Their lives become so interwoven with our own, it would take more than an archangel to detangle them" – Pam Brown
"There are friends and faces that may be forgotten, but there are horses that never will be" – Andy Adams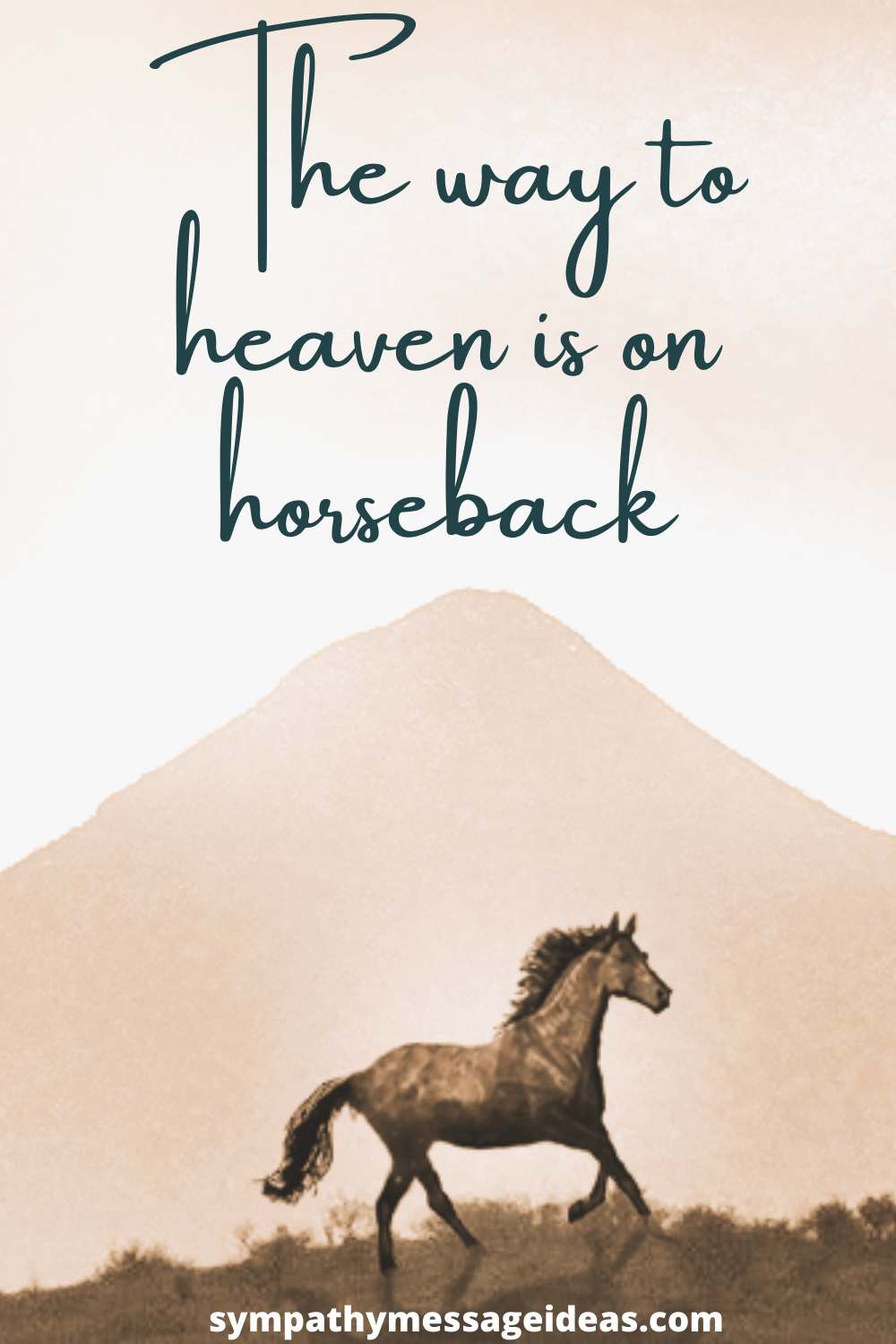 "The way to heaven is on horseback" – Unknown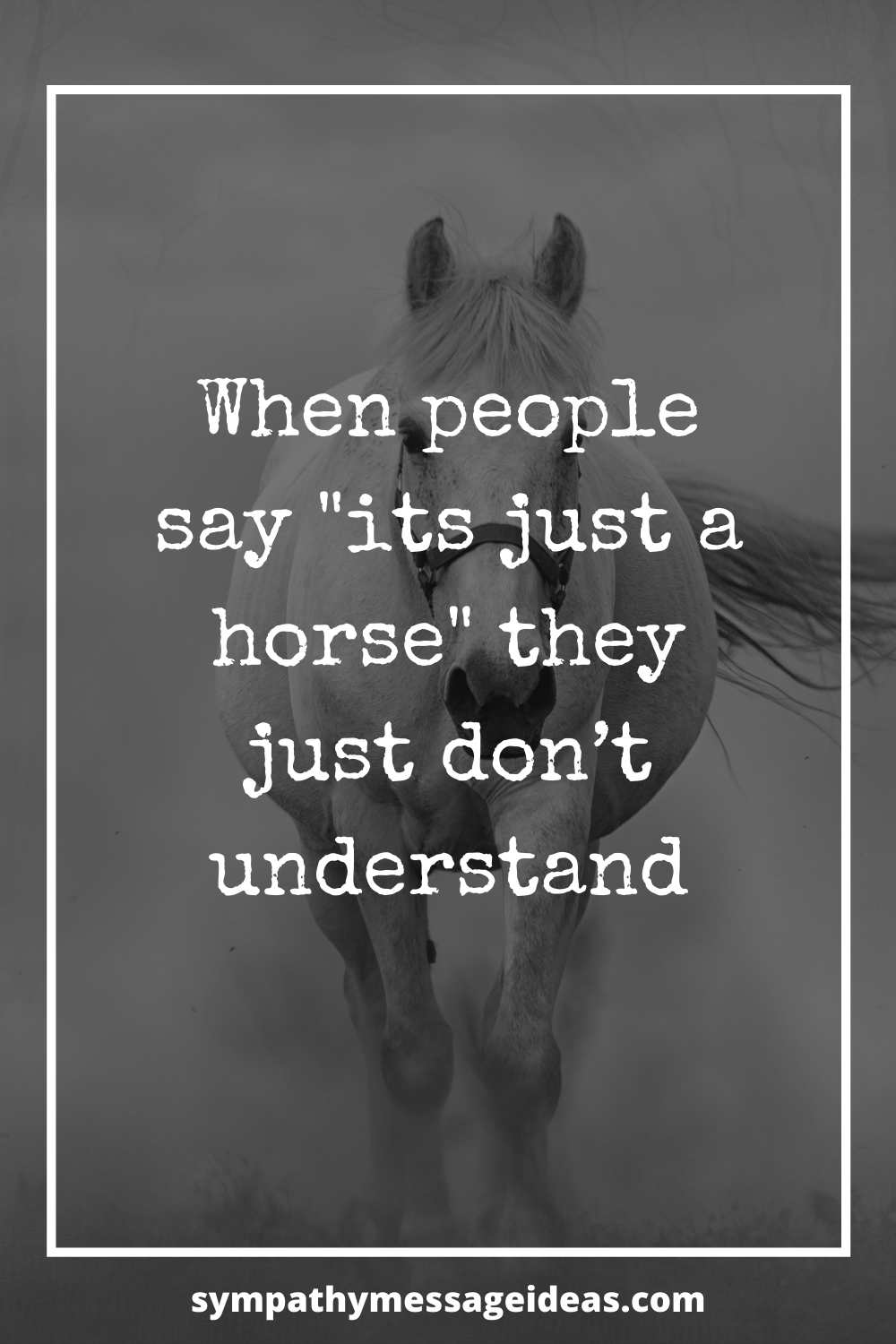 "When people say "its just a horse" they just don't understand" – Unknown
Horse Sympathy Quotes
You may also want to offer your condolences to someone who has lost their horse. Making the effort to express how sorry you are after the death of a beloved pet or animal is a lovely gesture. These sympathy messages should help you to show you are thinking of those who are having to deal with the passing away of their horse.
"I am still under the impression that there is nothing alive quite so beautiful as a horse" -John Galsworthy
"When you have been blessed by the companionship and loyalty of a horse, life's most treasured gift has been bestowed upon you" – Unknown
"The love of a horse knows not its own depth until the hour of separation" – Unknown
"Always remember that once a horse has touched your soul, they will always be with you" – Unknown
"Horses lend us the wings we lack" – Unknown
"No hour of life is wasted that is spent in the saddle" – Winston Churchill
"Horses leave hoofprints on our hearts" – Unknown
"To many, the words love, hope and dreams are synonymous with horses" – Unknown
"When your horse follows you without being asked, when he rubs his head on yours, and when you look at him and feel a tingle down your spine.. you know you are loved" – John Lyons
"Horses change lives. They give our young people confidence and self-esteem. They provide peace and tranquility to troubled souls. They give us hope" – Toni Robinson
"Through the days of love and celebration and joy, and through the dark days of mourning – the faithful horse has been with us always" – Elizabeth Cotton
"His hooves pound the beat, your heart sings the song" – Jerry Shulman
"We kept him until he died, and sat with him during the long, last minutes when a horse comes closest to seeming human" – C. J. Mullen
Condolences for the Loss of a Horse
These sympathy messages are for the mourning horse owner and work well with a sympathy card or note, or even a gift.
However you decide to send your message of condolence and support the main thing is to let them know you're there for them during such a tough time.
I'm am so terribly sorry for your loss. You will be in my thoughts and prayers
I only you were so close to your horse and so to lose him/her like this must be agonising. I'll be there for you if there is anything you need
When we lose our beloved animal friend we have to try and remember all the good memories. I hope you can hold onto those and find some comfort in them whilst you grieve
I know it will mean very little at this time but you gave ______ a wonderful life and cared for him/her with all your heart. Sometimes that's the most we can do. Please accept my condolences
I'm going to miss _____'s gentle nature and cute neighs. His/her memory shall never be forgotten and will remain in our hearts, always. You have sympathy for a dreadful loss
We are all here to support you, be it friends or family. Take as long as you need to get through what I know must be such a devastating loss. My condolences
My sincerest sympathy for your tragic loss. _______ was a loving and beautiful horse who I know meant the world to you. I'm so sorry, if you need to talk I'm always here
Find comfort and loving support from family and friends. They will be there when you need them most. My condolences
No one can ever take away the incredible memories and times you had with ______. They are yours to keep and cherish forever. Try to remember them now and have them bring you some peace
We will all pull round you to help you get through such a tragic loss. Whatever it takes we will be there to support you. All our love
I hope in time you will be able to look at the wonderful moments you and ______ shared. My deepest condolences
Losing any pet is always so hard for the owner. So reaching out with some kind words and showing your support is going to be greatly appreciated.
Hopefully the loss of horse quotes and messages here will have helped you to find the perfect words that reflect how you feel.
For more ideas on offering your condolences and support to someone mourning their departed pet then try our pet loss quotes and poems.