When giving a sympathy gift after someone has suffered a loss you may find yourself worrying about the correct etiquette. What's appropriate, what isn't, can I give money, when should I send it etc.
Navigating what's acceptable and what's not can be difficult. Sending a gift after a loss is a lovely gesture but you don't want to end up doing more harm than good.
That's why we've produced this guide to sympathy gift etiquette. We hope to show you the right way to go about giving or sending someone a condolence gift that avoids any possible offence or upset.
Having said that, and not wanting to contradict ourselves, you can't go that wrong. Just by acknowledging the loss and showing you care the bereaved are going to appreciate the effort you've made.
But if you want to be sure of any details or if you're a bit worried you might get something wrong then the tips and advice below will help you to avoid any unintended mistakes.
Sympathy Gift Etiquette
These are the main things to remember when giving a sympathy gift.
The most important thing to takeaway from this is to make the effort.
Show you care by giving a gift, be that money (a minimum of $30 is recommended), a present or even something like your time – chores, cooking etc.
A gift of service – a cleaner, helping with chores, picking the kids up from school etc is often the most useful to those grieving.
Food is also a great choice for a gift that the bereaved can really use and benefit from.
A donation in the deceased's name is a touching gesture.
If you decide on a monetary gift then don't feel the need to tell the recipients about it, just put a check or cash in a card.
There's no time limit but try sending it as soon as you can.
And don't be put off sending a gift to a friend even if you didn't know the deceased.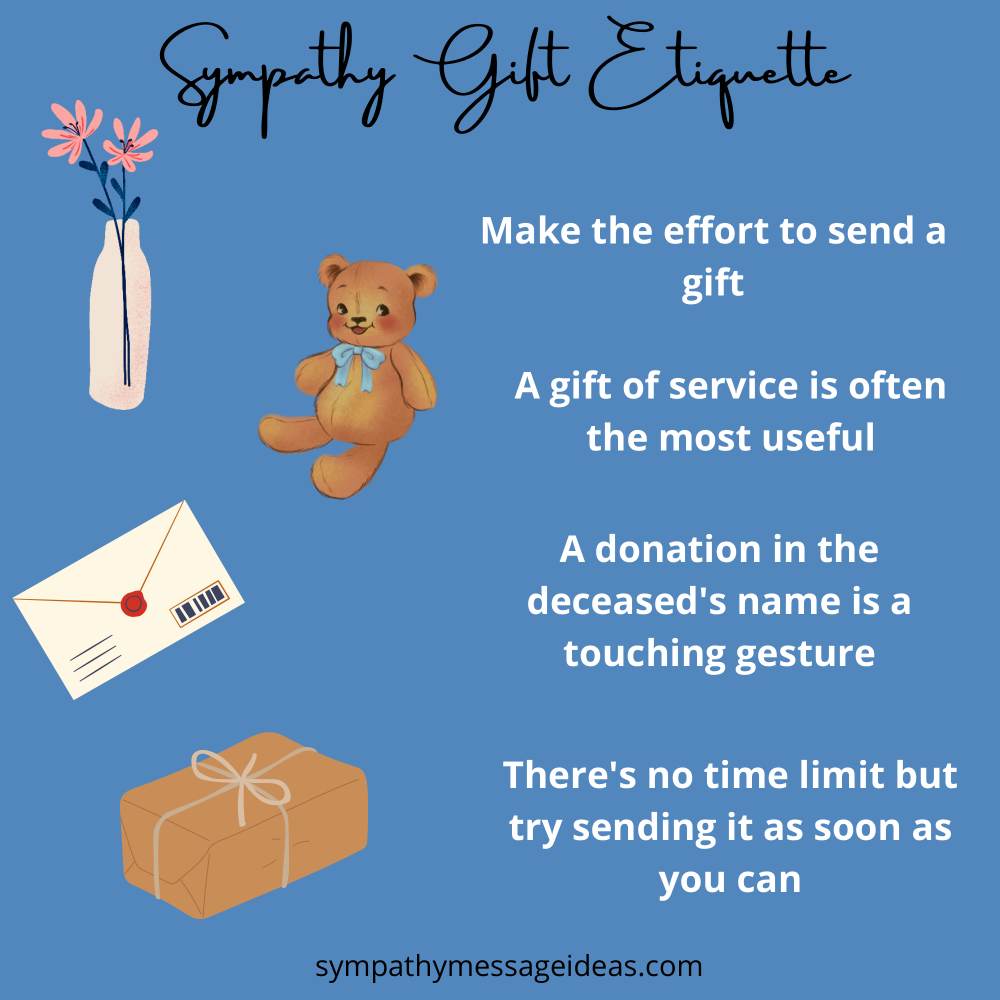 Is a Sympathy Gift Appropriate?
Yes. When mourning a loss it can be comforting to have friends and family reach out with their sympathy and support in the form of a gift. Knowing there are people thinking of you as you grieve can provide real comfort. So it is appropriate to send a gift to the immediate family members, or in fact any members of the family of the deceased.
The only time when it may not be inappropriate is if there is a specific religious custom that says gifts are unacceptable.
If you need any help deciding on a gift then try our guide to sympathy gift ideas or some unique sympathy gifts.
Who do you to send a Sympathy Gift to?
Who you address and send your gift to will depend to some extent on your relationship with the deceased. If it's a friend that has lost someone then you can address it to your friend 'and family'. If you didn't know the deceased or the family well – they were just an acquaintance for example – then it is probably best to address it to 'the [name] family'.
If in doubt though then just send and address your gift to the family in general of whoever it is that has passed away.
When do you Send a Sympathy Gift?
The best time to send a sympathy gift is as soon as possible. If you leave it too long it could seem like you have forgotten or don't care enough. So try to act as fast as you can. If you're sending flowers or a memorial gift for the funeral then they should be sent on the day of the funeral service.
Whilst as soon as you can is definitely preferable don't be put off sending a gift even if you feel you're late. Any time is better than never at all.
Sometimes larger or more personalized gifts require time and planning. If that is the case then you could send a smaller gift first – just something like a card and flowers – to acknowledge the death and then the more personal gift at a later date.
What is an Appropriate Sympathy Gift?
There is no wrong or right answer here. If you give any sympathy gift it is going to show you've made an effort and that's the most important thing. Be it flowers for the funeral, a gift basket or even a simple card, the bereaved will appreciate the gesture and knowing you care.
A card with a few words of sympathy or condolence is the simplest way to reach out to those mourning a loss. But you may feel that doesn't constitute a gift and prefer something more substantial.
Sending flowers is the most traditional way to say sorry for a loss. It's probably the safest gift you can give as you can't really go wrong with flowers. There are so many florists, both stores and online, that cater specifically for sympathy arrangements that it's very easy to send the bereaved family a beautiful bunch of flowers with a note to say how sorry you are.
Food is also a good and safe choice. There are many sympathy gift baskets that offer nourishing and appetising food to those grieving.
A personalized gift is very popular as well. You can create a photo album of the deceased, a pendant or locket with their picture or a keepsake box with special memories are just a few good options.
You should have known the deceased well if you're going to personalize a gift though. Otherwise it could see a little odd and be uncomfortable for the family.
What is Appropriate to Send to a Grieving Family?
Sending a card or letter to the family with flowers is always an appropriate gift for those grieving. It's the most common way to express your condolences and a touching way to demonstrate your sadness for their loss.
A charitable donation in the deceased's name is a great way to honor them. You can send a card or note to the family with the details of what you gave and to which charity.
A sympathy food or gift basket that could contain things like nuts, fruit and dried fruit, baked goods desserts, chocolates and more is a touching gift that also provides sustenance to those who may not feel up to cooking whilst coping with their grief.
For even more ideas we have a guide looking at the best sympathy gift ideas for every type of loss.
Should I Wrap Sympathy Gifts? 
If you're sending flowers or a card then the florists or company will take care of the packaging and how they look. If you've bought a gift and are going to be sending it in the post or giving it in person then wrapping it in some tasteful and fitting paper would definitely add to and make it special.
This isn't a necessity though and the bereaved will appreciate your gift whether you choose to wrap it or not.
Is it Customary to Give Money in a Sympathy Card?
It is very much acceptable to give money as a gift but not necessary. Whilst it may seem like a bit of a non-gift, and an easy way to avoid choosing something meaningful, money often turns out to be the most helpful and appreciated gift.
That's because losing someone can cause financial hardships to the family. Funeral expenses can be very high and if the deceased was someone who contributed to the families income then to lose that leaves a hole behind that needs filling.
When giving money do so in the most sensitive way you can. It can be embarrassing for families to need extra help in this way and a real hit to someone's pride. So you should do all you can to make it less uncomfortable for them.
Try to be discreet about it and just place the cash or cheque inside a sympathy card before sending or giving it to the grieving family member. Don't make a big deal about or draw attention to it.
How Much Money Should you Give in a Sympathy Card?
There aren't any rules around the amount of money you should give. The best way to decide is to consider the situation of the deceased's family and how much they are going to need. And of course you need to keep in mind your own finances and what you can realistically afford.
A close relative or friend of yours will warrant a greater amount than a casual acquaintance. And a family that is struggling financially will need more than a family that is obviously comfortable or well off.
Should I Send a Gift Even if there isn't a Funeral Service?
Yes, absolutely. The lack of a funeral service doesn't mean the family of the deceased aren't grieving. People choose to honor and pay their respects in different ways and that may sometimes not include a service. But they are still coping with a loss and so will appreciate friends and loved ones reaching out with gifts to comfort them and show people care.
So you should still send a gift and offer you condolences for their loss.
Should I Send a Gift if the family Requested a Charitable Donation "in Lieu of Flowers"?
When families ask not to have flowers sent and prefer a donation that doesn't mean they wouldn't want any sort of gift, full stop. In fact they may receive a touching and thoughtful gift with gratitude and appreciation.
However, it is best to use your own judgement. Each situation will be different. Consider what the family are like and whether their request for a charitable donation is in keeping with their history. Are they a family that is very social conscious, do they request birthday and Christmas presents to be donations to charity?
If there is a pattern then perhaps they would always prefer any gesture to be in the form of a donation rather than something for themselves. But in many instances you can both give a donation and a gift to the family without fear of upsetting them.
SEE MORE: 'In Lieu of Flowers' Alternatives and Etiquette
Is it Appropriate to Send a Sympathy Gift After the Funeral?
Yes. Whilst sending a gift as soon as you learn of the death is recommended it can be comforting for the family to receive something after the stress and pain of the funeral too.
Grieving doesn't end or stop after a funeral. It will continue on for however long is necessary and during that time the support and love of friends will be essential. So a gift to show your support and to lift the spirits of those mourning is a lovely gesture that will be appreciated regardless of it being after the funeral.
Should I Send a Gift on the Anniversary of the Death?
The anniversary of a death can be a really hard time for the grieving family and friends. It's also something that isn't discussed or considered enough about when we think of grief and his it affects people. So to receive a gift and know that others have remembered the anniversary can be a real comfort.
A memorial gift that commemorates the life of someone passed away is a wonderful gesture. Giving the family a gift like this on the anniversary of their death will be greatly welcomed and help them to remember their lost loved one.
Should I Expect to Receive a Thank You Card for a Sympathy Gift? 
The bereaved may send a thank you note or message but you shouldn't expect one. Grief affects people in different ways. Some can cope and carry on their normal life without it causing too much interruption. Others struggle enormously. The grief can cause them to even function properly. Getting through each day is hard enough.
So if someone is affected badly the last thing they are going to be thinking about is sending a thank you card for a gift they've received.
But that doesn't mean they aren't grateful. And it certainly doesn't mean you shouldn't send one. The act of giving should be the reward, and knowing it may help those going through such pain to not feel as alone.
Conclusion
Knowing the correct etiquette for giving a sympathy gift can be tough, and the worry about getting it wrong all too real. Hopefully this guide will have helped to put to bed any worries you have and give you the confidence to show your support with a comforting and thoughtful gift.
And really that's the most important thing to remember. A gift will provide some comfort amongst the pain and grief of a loss. So the main thing to takeaway from this is that giving a gift is always a touching gesture and one you should try to do if you can.