Losing your wife and partner is a tragedy that will have devastating effects. To have to say goodbye to the woman you loved like no other will be heartbreaking, and such a loss carried with the grieving partner forever.
Bereavement is a long and painful process and so having family and friends to gather round and support you as you come to terms with a loss this great is essential.
When someone has lost a wife, perhaps a friend or relative of ours, we want to reach out and offer that person condolences. That can be in many ways; support, assistance, or just a message to let them know they're in our thoughts.
But it can be difficult to put these thoughts and feelings into words. Knowing what to say to a friend who has lost a wife or how to phrase it is a daunting task.
Especially when it's such a delicate situation and the bereaved is likely to be in a very fragile state. Words can be powerful so you want to make sure you say the right thing.
That's why the selection of words of sympathy for loss of wife below will hopefully help you to find the ideal sympathy or condolence message that express how you feel. They can be used exactly as they are or changed so that they fit your situation.
Sympathy Messages for Loss of Wife
I was so shocked to hear of your wife's passing. You are in my thoughts and prayers
Your wife was a wonderful woman. She will be greatly missed. My deepest sympathies
I am so sorry to hear about the passing of your wife. My thoughts are with you and your family
Your wife will be missed by all who were lucky enough to know her. May you find peace and love in the memories you cherish. My condolences
My hearts go out to you in your time of grieving. Your wife will be sorely missed. Stay strong
Please accept our condolences on the loss of your wife. She was a special person and we share in your grief
I know nothing I can say will make things better but I just wanted you to know I am thinking of you in these difficult times
We are truly sorry to hear of the loss of your wife. May the love of family and friends help comfort you in this time of grief
Our hearts are saddened to learn of the loss of your wife. Her spirit and generosity will not be forgotten. Please know we are with you
I just heard about your wife's passing. Please know you and your family are in my thoughts
Your wife was an amazing woman who touched everyone she knew. We are so sorry to learn of her passing and are wishing you peace and comfort during this hard time
I just wanted to offer my condolences for the terrible passing of your wife. You have my most sincere sympathies
Please accept these flowers, our condolences for your loss and hear the words we are not able to speak
We are so sorry to have learned about your wife's passing. We are here for you however needed
I am so deeply saddened by your loss. Your wife will be in our hearts and memories. Stay strong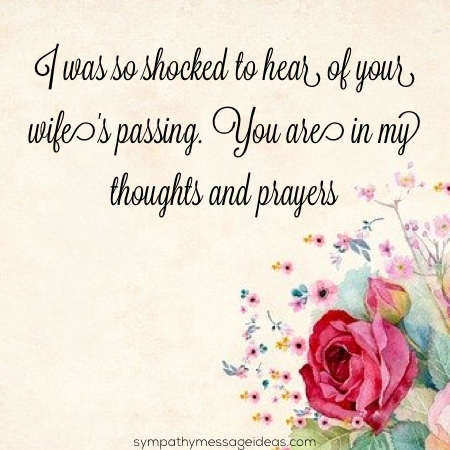 Condolences for the Loss of your Wife
Your wife was a one in a million, and her legacy will be there for all to see. I can't begin to express how sorry I am. Just know I'm thinking of you in this difficult time
We are so lucky to have you as a friend and are saddened to hear of your wife's passing. Please know you are in our thoughts and have our most heartily condolences
Please accept my deepest sympathies for the loss of your spouse. She was one of the most caring and kind people you could hope to meet. I'm am so deeply sorry she is gone. If you need anything just let me know
My heart goes out to you and your family over the passing of your wife and mother. She was such a positive influence on everyone around her and that infectious spirit will be her legacy. You have my very sincere and heartfelt sympathy
I pay tribute to an incredible woman who was loved by all. She has left footprints in my heart and life and I will miss her greatly. My heart goes out to you and your children. I'm here if you need me
Please accept my sincerest condolences for the passing of your spouse. If I can do anything to help ease the burden don't hesitate to ask
Try to take comfort and strength from those who care for you. We will be by your side and help you get through this. My most heartfelt sympathies
Your wife's death is a tragedy and she will be missed by the whole community. Her good work will be a lasting tribute to the sort of person she was. My deepest condolences are with you and your family
Your wife was a dear friend and truly special person. I can't find the words to express how hard this is. My thoughts are with you and your family and I'm sending my most heartfelt condolences
I am so sorry to hear of your loss. Your wife's kind nature and warmth will be missed terribly. I only hope the knowledge that others share your grief may offer a small consolation. My sympathies
Sending my strongest sympathies for your loss. Your wife was much more than just a colleague but a true friend. I will miss her dearly. Don't hesitate to call if you need anything
Your wife's passing was far too soon, and although she is gone I am sure her the life she lead will continue to inspire those who knew her. I feel lucky to have spent time and known her. My deepest condolences
May God guide you through this period of grief and help lead you to some peace. Your wife will always be remembered. Please accept my condolences
Your wife was a shining beacon for all in how to live their life. She was a truly special woman who shall never be forgotten. May these flowers serve as an expression of my sympathy for you and your family
I am so saddened to learn of the loss of your loving wife. I know what an unbreakable bond you had, and I can't begin to understand how difficult this must be. But if you need anything, just give me a call. With sympathy
It was such a shock to hear the tragic news of your wife's passing. I can hardly believe it. Nobody ever had a bad word to say about her and she will be missed by everyone. Stay strong
I know my words can offer little to help your grief but I will be there for you whatever it is you need. Your wife was a tremendous person and my heart goes out to you during this awful time
Losing your wife is beyond cruel and we can only imagine how trying this is for you. We are reaching to offer our love and support should you need it. Our deepest sympathies during your time of loss
It was with shock and sorrow that I received the news of the death of your beloved wife. My heart and my hands reach out to you and the children, and whenever you need me and for whatever reason please call on me and I will be there for you
Your wife was such a role model to so many people. Her loss is devastating and the whole community is in mourning. Please accept our sincerest condolences
We will always remember your wife's strength, determination and positive attitude. The world was a better place because of her presence. We will miss her dearly. With sympathy
Your wife was a shining star that lit up our lives. We feel lost without her now. Our most heartfelt sympathies go out to you and your family during this tragic time
Your wife's passing is a tragedy, but we will try to celebrate her life and remember all the good she did. Please know we're here if you need us. Stay strong