When someone you know has to go into a hospice it can be a scary and upsetting time. Sadly a hospice is where those who are terminally ill are looked after, which means they won't be coming home.
That means you're talking to someone who is coming to the end of their life. Knowing the right things to say (and not to say) in this situation can be hard.
How can you expect to find the right words for someone who is severely ill and near death. What could you possibly say to them that would be helpful or comforting.
It's really difficult and if you're struggling or worried then you won't be alone. Anxiety about causing offence, upset or just the entire situation being uncomfortable and awkward is common.
So if you need some help with what to say then there are a few things that will always be acceptable and comforting.
Follow the guide here to find the right words to comfort someone who is in a hospice.
What to say to Someone in a Hospice
If you are looking for examples of a few words or sentences to comfort those in a hospice, who's family member has entered a hospice or for a card then these short messages should help.
I don't want to say goodbye. Nothing will hurt as much as letting you go but I'm grateful for all the wonderful moments we shared together. I love you so much
Thank you for everything. For your warmth, your spirit, and for always loving me. I love you
I can't find the words and don't know what to say other than I love you and can't bear to think of a world without you
I will be praying you find some peace and comfort. You are so loved
I can't express how important you have been to me and how much I am grateful to have had you in my life. Thank you for being you
We will miss you more than we could ever hope to express, but we don't want you to worry. Even though it's so hard now we will find a way to get through
The thought of losing you is something I can't begin to accept, but I am glad that you are surrounded by family and being cared for to make your struggle less hard
You've achieved so much and brought joy to the lives of others. You should be proud of everything you've done and I know I am thankful to have had you in my life
I won't ever forget you or what you brought to my life. You have been the most amazing friend and there won't be a day that goes by when I don't think of you
I only hope you are being made more comfortable. Whatever helps you to be able to enjoy the most of the time with your family and loved ones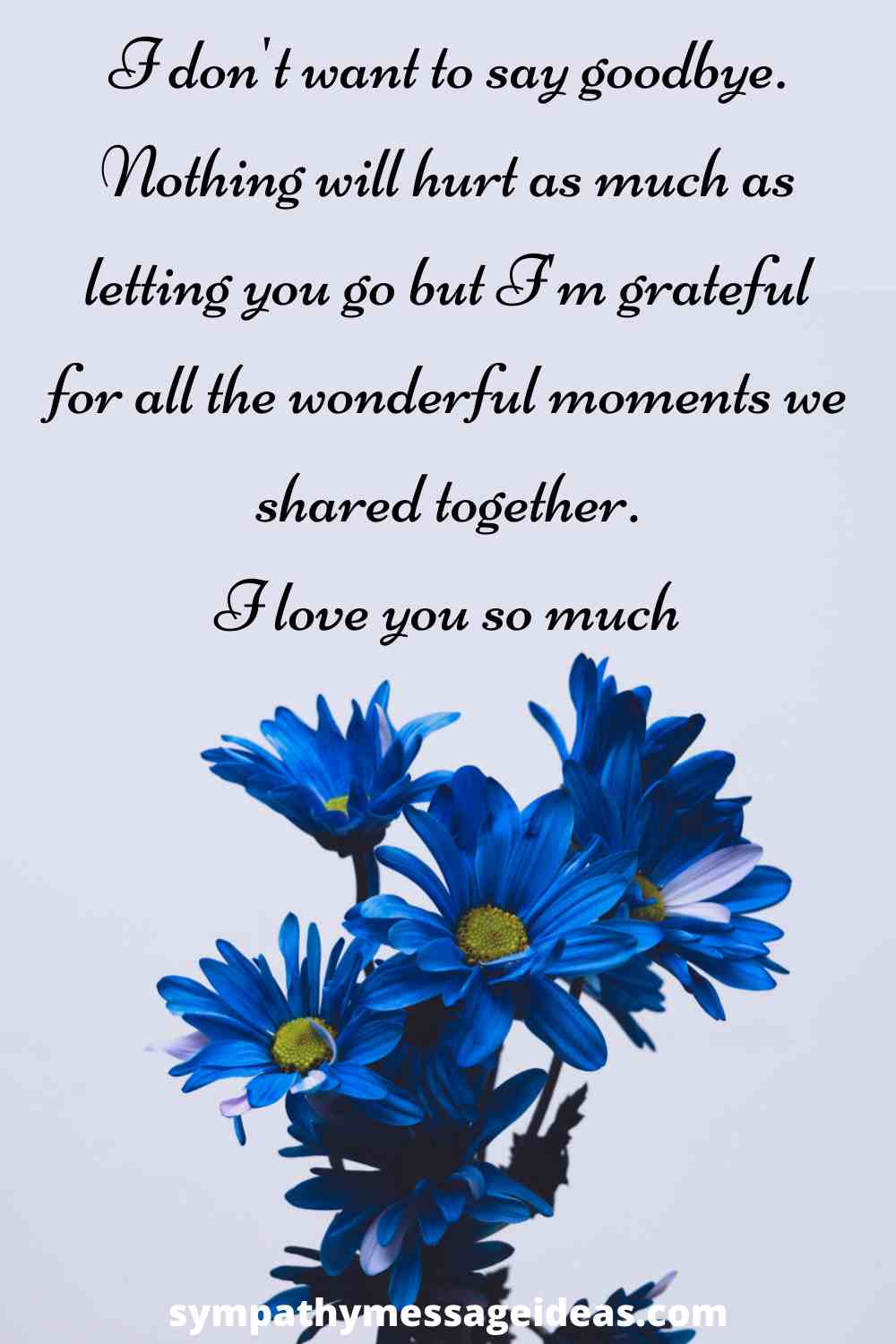 For a more thorough look and what and how to say it and what not to say then read on.
I Love You
Saying "I love you" is the most powerful and touching thing you can say to a family member, friend, or anyone. In the situation where they are dying it is going to have a greater impact than ever.
They will understand that you mean it with all your heart, and considering the circumstances it will take on more meaning than before. This is doubly true for those who don't say "I love you" very often.
If you aren't the type of person or family who expresses their emotions regularly then this is time to do so. They will appreciate that it's not easy for you and will treasure you showing how much they mean to you.
Examples:
I love you more than I could hope to say
My heart breaks at the thought of losing you but I am grateful for all the time we had
My love for you will never die. You will always be in my heart
I love you mom/dad. Thank you for everything
Thank You
Expressing your gratitude for all that someone has done for you or how important they've been in your life is a lovely way to talk to them in a hospice.
We often want to thank those people who are most special to us. Be that a family member or a friend.
So when you're talking to someone in a hospice you can says thanks for al the things you appreciate that they did for you and brought to your life.
Thank you for just being you. That's all I ever needed
My gratitude for everything you have done is beyond measure. I feel so lucky to have had you as a part of my life
My life has been better because of having you in it. Thank you
Thank you for being the best mom/dad in the world
We Will be Alright
We may forget that those facing up to their own mortality and death will worry about those they are leaving behind. It can be upsetting and stressful to think of how your family may cope once you're gone.
So you should try to make it clear that you and others will be okay. This may seem counterintuitive and the opposite of how you're feeling. Losing a loved one is going to cause you pain and mean you may not cope.
But it's important for them to know you'll be okay and so regardless of how you truly feel try to say how you will take care of family and keep everything going.
Though losing you will be the hardest thing we've ever gone through we promise to make sure we find a way to cope
Please don't worry about me. I will be okay, just focus on yourself
With time we will find our way through the grief. You will be missed greater than you will ever know but we guarantee we will be alright
We will be there for your family. They will have us to lean on and find support
You have so Much to be Proud of
When someone is facing death they may be looking back on their life and thinking about everything they did. It can be heartening to hear from friends and family about the positive things they've achieved.
Be that their personal or professional accomplishments. Everyone wants to feel like their life was important or they made a difference. So talk about the positive impact they had on your or others lives, the joy they brought and the lasting legacy they will leave behind.
You should be proud of your life and all you've achieved. Your legacy is assured as one of love and kindness
The good things you've done far outweigh the bad and there are countless people who feel touched by your presence
I am honored to have had you as a friend and will miss you more than I can express. The memories we made will live on forever in my heart
Some people just bring such positivity and happiness to the world. You are one of them. You have enriched so many lives and should be proud of how many people will feel lucky to have known you
Something Funny
Even though a hospice is a place of sadness those dying don't want to spend their final moments in total misery. Humor will still be important to them and being able to laugh even near the end is going to be helpful.
So whilst it may feel awkward or wrong you should try to inject some fun or humor into the situation if you can. Bringing some light amongst the darkness is only going to be appreciated.
If you wanted to get off work there are easier ways than this!
People who think laughter is the best medicine have apparently never had morphine
Laughter is the best medicine, or gin… I'll try to sneak you some in!
For the Family
Don't forget about the family of those in the hospice. They will be finding this time incredibly hard and will appreciate you reaching out to them with any support or help you can. Even a few kinds words will be better than nothing.
If there's anything I can do to help please don't think twice about asking. Sending my love during such a difficult time
It is cruel what you're having to go through and I am praying for you and your family
In times like this it's important to remember you aren't superman. You ca t expect to do everything. Lean on the friends and family you have around you for support – they will be there to help
You and your family are in my thoughts and prayers as you face such a terrible challenge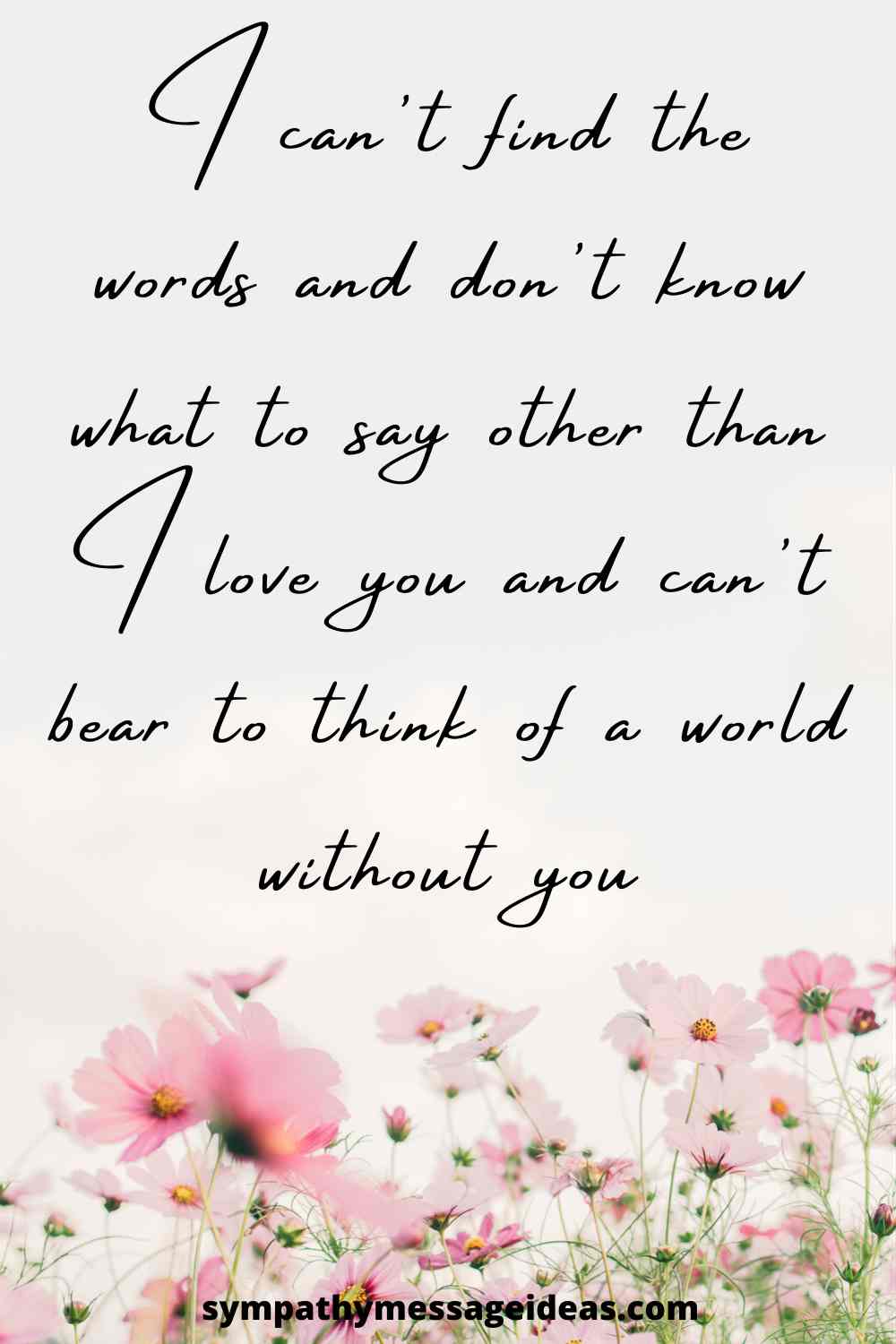 What NOT to Say to Someone in a Hospice
Heres what you should avoid saying to those in a hospice:
Everything happens for a reason – this is both a horrible cliche and very inappropriate for someone facing death. The implication by saying this is that they have done something to cause their own death or deserve it. It could be very upsetting, so don't say this.
Don't give in – after what may have been years of fighting you should respect their decision to stop. You can't understand how hard it may have been and are in no position to ask them to continue doing so.
I'm still wishing for a miracle – they have accepted the inevitable and it's probably for the best you do too. You can keep praying and hooking but when talking to them it's best to keep it to yourself.
This is part of God's plan – if they aren't religious or don't have a strong faith then this should absolutely be avoided. But even those who do have faith may be struggling to come to terms with the end of their life. Being told it's part of a plan they can't understand won't be comforting.
What to Write in a Card for Someone in Hospice
If you can't see whoever it is in hospice in person then a card with a message is acceptable.
These are some ideas of what to write in a hospice card:
I hope you're having a good day and I am sending my love at such a difficult time
My prayers are only for you. I hope you know how much we all/I love you
No one has been more important to me than you. I will forever be grateful to have known and had you as part of my life
You should be proud of all you've achieved. Your family, your career, the role model you've been. Thank you for being such a wonderful person
I send you my love and my prayers. I hope you and your family are spending as much time as you can together and you are being made comfortable. All my love
For more ideas try our sympathy messages, condolence message examples or guide for what to write in a sympathy card. Writing a letter is also popular and we have lots of example sympathy letters.
Conclusion
Finding the words to say to someone in a hospice is always going to be tough. You will probably feel awkward and uncomfortable whatever you say as it's such a hard situation.
But you should be making the effort to reach out and talk to a friend or loved one who has entered a hospice. They will want and need those closest to them at such a difficult time and appreciate you no matter what you say. Just being there is the most important thing.