When there is a natural disaster, something like an earthquake or tsunami, the devastation can be massive. Sadly many lives are lost and homes destroyed.
It is a time of both national and personal loss, grief and sadness. To the people affected it will be heartbreaking to have lost their loved ones.
You may be wanting to reach out and offer your condolences after losing a loved one in such terrible circumstances.
If so then these sympathy messages for a natural disaster should help you to find the words to offer your condolences and say how sorry for their loss you are.
Sympathy Messages for Natural Disasters
These messages are for any disaster and should be suitable for all different types of catastrophe that has affected someone.
I was so worried when I heard about the disaster. I'm so relieved you're ok but very sorry you've been hit so hard. I'm always here if you need anything
I can't begin to know what you're going through. My prayers are for you and your family during this terrible time
I was devastated to learn you had lost someone during the crisis. My deepest condolences and sending my love
You will find the way out of this darkness. There is light at the end of the tunnel. My thoughts and prayers go out to you
Please don't give up. I know how awful things are now but they will improve. You can always turn to us
Please accept my deepest condolences for the loss of your loved one. This natural disaster has ruined so many lives and I can't hope to know what you're going through. Try to find some comfort amongst friends and family. All my love
In such difficult times we will be here for you and your family. Know we are thinking and praying for you
I am relived you and your family are safe but understand how difficult and frightening this must be for you. I pray you find the strength to face the challenges ahead
My sincerest sympathy for your tragic loss. To lose someone like this is utterly heartbreaking and I am so deeply sorry
You are in my thoughts and prayers as you recover from the damage and distress a natural disaster like this has caused. Stay safe and remember I'm always here
See more: What to Say Instead of Sorry for your Loss
Sympathy Messages for an Earthquake
Earthquakes are incredibly dangerous and can cause immense destruction. It's not surprising then that many are affected in very severe ways by earthquakes. So use these sympathy messages to reach out to those dealing with the after effects of an earthquake.
My deepest condolences to you after the earthquake. May you find comfort in the arms of loved ones
The scale of the damage and losses was truly tragic. I am so sorry for the loss and pain you're going through
I can't imagine how frightening an earthquake must be but I'm sending my love and thoughts to you all
My most heartfelt condolences to you after losing someone so special in the earthquake. May their memory be a blessing
I am so relieved to know you are alive and well after the earthquake. It will take time to recover and the shock may last a while but you have made it through and that's what's most important
I can't even try to understand how difficult it must be to cope after the destruction of an earthquake. Don't lose hope though – you will get through it and there is light at the end of the tunnel
You have my most heartfelt sympathy to have to go through the terror of an earthquake. You made it through though and can be grateful for that. We will all be by your side as you put things back together again
I was praying for your safety and can't tell you how pleased I am you were unhurt by the earthquake. Please stay safe amongst the destruction and get in touch when you can
Your safety is paramount and amidst the chaos an earthquake brings I hope you're feeling ok. I'll be thinking of you and everyone involved
Sending you love and positive thoughts after your experience of an earthquake. I'm so sorry for everything you lost and the hurt it has caused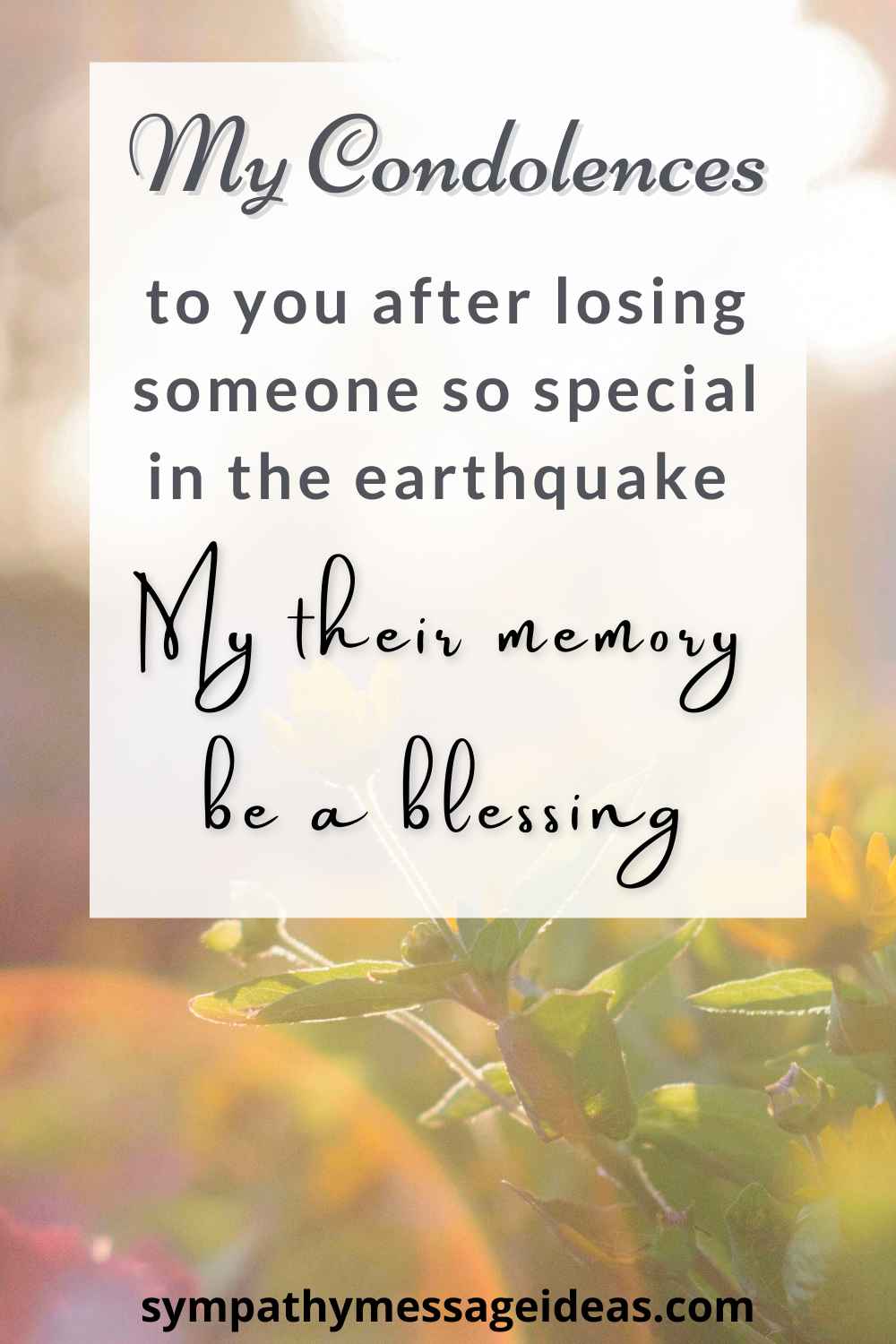 See more: Quotes about Losing a Loved One
Sympathy Messages for a Flood
Floods can ruin peoples lives and cause real damage as well as being very dangerous. Many lives can be lost in severe flooding as well as the more commonly known ruining of homes and peoples belongings. The messages here will express your sadness and sympathy to those going through floods.
You have lost so much in this flood but you haven't lost your friends. We will be there to help you recover and rebuild. All is not lost! Sending our love and support
Sending our sympathy during this incredibly difficult time. We wish you better days ahead and that you are able to rebuild your lives as quickly as possible
It was a huge relief to learn you and your family are ok after the floods. I know you've lost so much but the main thing is your all alright. If I can help with anything just give me a call
The flooding in your town is dreadful and has shocked us all. We were really worried about you but are extremely relieved to hear you're safe. May you find the strength needed to get through such hardship and come out the other side
I'm so sorry you're having to deal with flooding this bad. I am praying and hoping everything improves soon and the damage isn't too bad
I know you must be dealing with so much right now but I just wanted to reach our and tell you you're in my heart and I will be thinking of you. Please stay strong and look to us for support of you need it
We wanted to offer our support and sympathy after your were affected by the flooding. Having your life turned upside down by something like this must be awful and we are hoping you have better days in the future
All our sympathy after you were hit by the floods. You're ok and that's the most important part but I know you must be so devastated by the damage done. I really hope things aren't too bad and you can start cleaning up soon
See more: 18 Prayers for the Dead: Catholic & Christian Prayers for Loss
Sympathy Messages for After a Fire
Fires are too common thankfully but they can be extremely dangerous. If you know someone that has experienced a fire reach out to them with these messages of sympathy.
I am praying for your whole family after the tragedy of your house fire. Please stay strong and know the community will rally around you for help
I was so relieved that you made it safely out of the fire. It was such a terrifying time and though the aftermath will be tough I'm just so pleased you're alright. All my love
My heartfelt condolences for your loss in the fire. I don't know what to say other than how sorry I am
The wildfires you've had to flee from have been so scary. I'm just so happy you have been evacuated and are safe. I hope the damage they cause isn't too bad and you get home soon
Thank the Lord you are safe. The fire was so extensive I was fearing the worst. Thankfully you're ok though! Let me know if there is anything I can do
Please accept my sympathy for the loss and hurt the fire has caused. I know how much you put into your house and so to lose it and all you worked for must be so hard
If you need any help with the aftermath of the fire I will be there for you. Don't hesitate to reach out.
May my prayers and thoughts offer you some comfort as you recover from the shock of escaping a fire. I'm so sorry you had to go through something so awful
See more: How to Sign a Sympathy Card
Sympathy Messages for a Hurricane
A hurricane is one of the worst natural disasters and leaves a trail of destruction in its wake. Send your love and support to those affected by a hurricane with these messages.
You are in my thoughts after the devastation and loss caused by the hurricane. I can't think of what to say other than how sorry I am
You must be distraught after such a frightening experience. Thankfully it's all over now but I hope you're recovering well
I heard you were affected by the hurricane and I was just so happy to learn you're safe. My prayers were answered and I will be in touch to see if you need anything
I heard the awfulness about the hurricane and wanted to reach out to make sure you were ok. Stay strong
I'm beyond happy you're safe. I know how dangerous hurricanes can be so I was really worried. I hope everyone else is ok and the damage done isn't too bad
It's not fair you have to go through this. If there is anything we can do to help you we will. Please stay as strong as you can
You are so brave! To go through something like a hurricane and come out the way you have is amazing. I'm so sorry it's been so hard but if there is anyone who can turn things around it's you
I am so sorry to hear of the losses caused by the hurricane. I am thinking of you and sending my love for you to find some peace after so much trauma
We are so deeply sorry for the devastation you have faced. I know there is light around the corner and you will see good times again
See more: 53 Heartfelt Sympathy Quotes with Images
Words of Comfort After a Shooting
There can be few things more terrifying than a shooting. Being caught in or affected by one must be so frightening. So it's important to reach out to friends or those you know who have experienced a shooting in some way and try to comfort them.
There are no words to express how sorry I am to learn of your loss. I can't understand how awful it must be. All I can do is pray for you to find some peace
Please accept my sincere condolences for your loss. Nothing I can say will make up for what has happened but please know you are loved and have those around you to lean on if you need them
I can't understand or make sense of what has happened. It is beyond heartbreaking. I only hope you can find something to help you through this tragedy
We are praying for the memory of all those lost in the shooting. It's is horrific and hard to fathom. May they all rest in peace
I am so sorry for your loss. Nothing could ever prepare you for something as devastating as this. I don't know what else to say other than I will be thinking of you
You aren't alone. We will be by your side to help you through this tragedy. If we can do anything then we will. I am so, so sorry
If I could I would take away your pain. Nothing could be worse than this. I will be praying for you and your entire family
There is nothing that could be crueller than to lose someone in a shooting. I hope you can find strength and peace in comforting memories
SEE MORE: Alternatives to Say Instead of 'With Deepest Sympathy'
We hope these condolence messages for natural disasters will have helped you to find the words to offer your sympathy to those going through such tough times.
Facing the consequences of a natural disaster, be that the loss of a loved one or the wreckage of property and your life, is unbelievably tough and will need the support of friends and family. So it's a good idea to reach out, if only with a few words to comfort them.