It's hard to think of anything worse than losing a child. But to do so out of the blue and unexpectedly will devastate the lives of the parents and family.
When that happens if you are a friend or loved one you will want to reach and offer your condolences and a few words of comfort. But what do you say to someone who lost a child suddenly?
There is nothing you can say that is going to make them feel better. You never get over something add tragic as losing a child and the grief will last forever.
But that doesn't mean you shouldn't be there for them. You can still provide comfort and make things a little easier as they mourn and deal with such a terrible loss.
So if you aren't sure what to say when someone loses a child unexpectedly then the following guide and examples will hopefully help.
What to Say to Someone Who Lost a Child Suddenly
When a child passes away suddenly you should try to be there for your friends or family members who have lost their son or daughter. Your words and actions will help them to feel supported as they grieve, providing you say the right thing.
Understanding the Gravity of Losing a Child
It's vitally important to fully understand how much losing a child will affect someone. The grief parents will feel will be almost unimaginable.
You should acknowledge that loss and be sensitive to how they are feeling. You don't need to necessarily tip toe around them but you should be mindful of what you say and do.
It may seem somewhat trite but something as simple as "I'm so sorry for your loss" works as well as anything.
Expressing Sympathy and Condolences
Whilst it's important to express your sympathy and condolences it's also a good idea to really let whoever is grieving know they aren't alone. Having support and love when you are dealing with a loss can make a big difference.
So be sure to emphasize that you are with them as they go through this incredibly tough time. Just simple things like "If there's anything I can do to help please let me know" or "I am here for you" are enough.
These are a few examples of what you can say:
Nothing that I say will help ease your pain but I am always here for you.
We are so deeply sorry for your terrible loss. Our heart aches for you and your family.
You will be in our thoughts and prayers. We are here if there is anything you ever need.
I hope you can look to family and friends for strength to help you through such a tragedy.
No words can express the pain and sorrow we are feeling. Your son/daughter will be missed so much.
Anything I say will only be meaningless at a time like this. I just hope you know I'm thinking of you.
May you find strength to get through the coming days. Our most profound and heartfelt condolences.
We are truly sorry for your loss. You have all our support.
My heart goes out to you. I hope you can find some peace in time.
I will be praying for you and sending all the love I can. My deepest sympathies.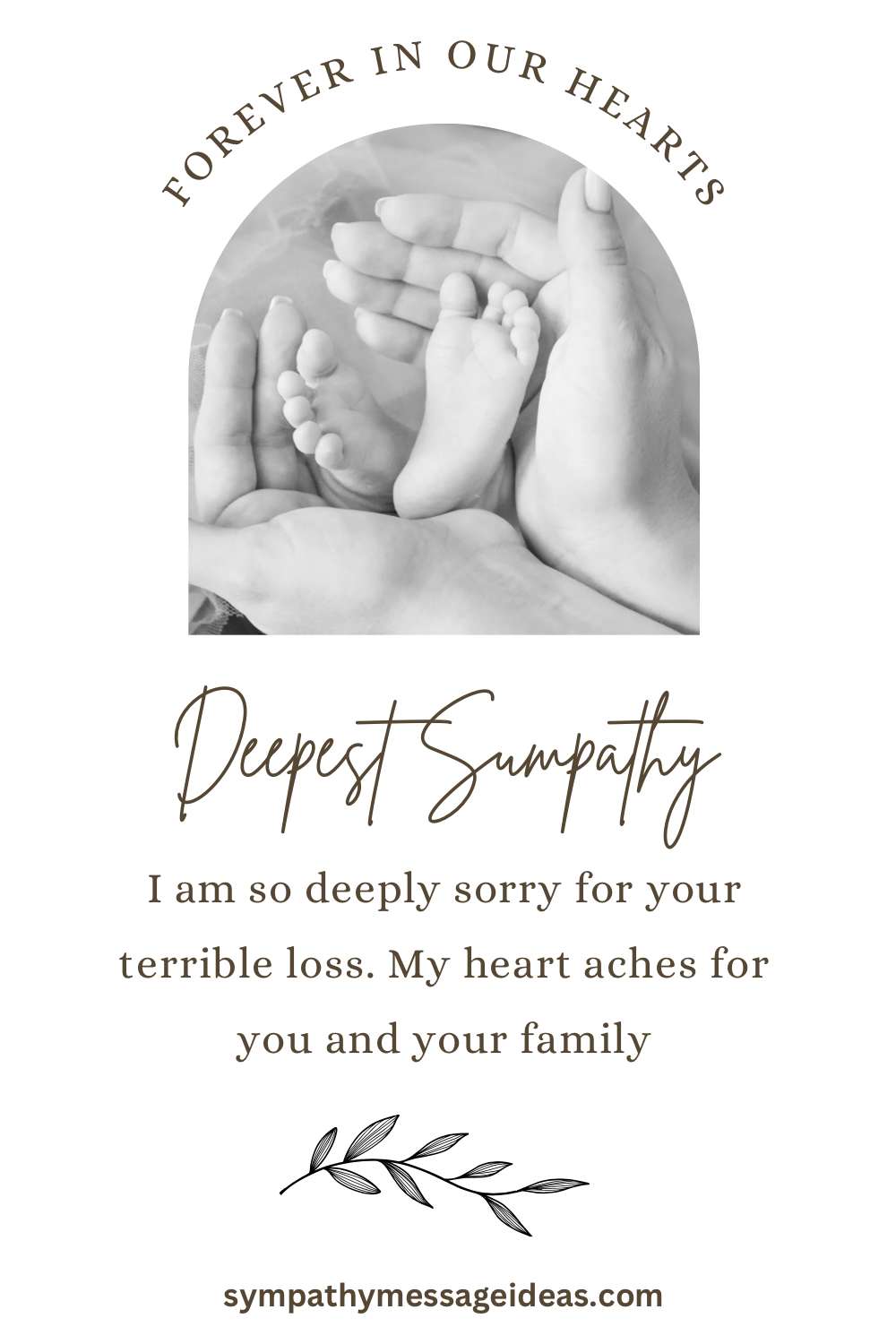 READ MORE: Sympathy Messages for the Loss of a Child
Other Ways to Help
As well as offering condolences there are other ways you can be there for someone grieving the loss of their child.
Offer Practical Help
It can be of great help to those grieving to have practical assistance. Words are a lovely gesture but helping with practical things like cooking meals for them, running any errands they might have or even providing childcare takes stress and pressure off them during such a difficult time.
If you do offer help in this way then be sure to follow through with it. Promising to be there for someone and then letting them down when they will be feeling very vulnerable is only going to make things worse.
Be Present
When you are coming to terms with losing a child, or anyone for that matter, having someone physically present and with you is often d comfort. So you could ask whoever is grieving whether they want you to spend time worth them, or alternatively just let them know you are there for them if they need you.
Listen
Listening is very important to being there for someone after a loss. They may have thoughts and feelings swirling around that they need to talk to someone about.
Or they need to express their emotions, be that tears or anger. Or maybe they just want to reminisce and remember their child.
Whatever it is having a friend to sit and listen, maybe be a shoulder to cry on, is going to be vital. Often listening is the best thing you can do in such awful circumstances.
Share Memories
Sharing memories of the child who passed away can give those mourning the opportunity to remember their beloved son or daughter. Some parents won't feel comfortable doing this or may find it too soon but others will appreciate having the chance to
So make sure you ask first and let them be the guide as to what and how much you share. Make it clear you are available to talk and share memories if that is what they want but the decision should be theres.
Give Them Time
Healing from grief takes time. It doesn't happen overnight or out of the blue. It's a gradual process that could go on for years.
You have to be patient with someone who has lost a child suddenly. Always be supportive and don't pressurize them to have reached a certain point of the grieving process or be 'over it'.
Losing a child can affect a parent or parents for the rest of their lives. Healing is a long road filled with many difficult obstacles.
There will be setbacks, but having the support of loved ones makes it much easier to get through. So you can help by always being there, giving them the space and time they need but be available when they require a friend.
Everyone is Different
The way one person deals with grief and heals will be completely different to another. No one grieves the same way.
Some people may want to be left alone, others will want to talk about their loss, others may react differently and perhaps unexpectedly.
However they do grieve it's be respectful of their choices and not try to impose the way you think they should be grieving onto them. Give them space to mourn, let them feel and express the range of emotions that may come with grief – anger, confusion, shock, numbness, disbelief etc. – but be by their side with your unwavering support.