Losing anyone from your life is just awful. But when you lose a parent it is like nothing else and utterly heartbreaking.
So what do you say to someone who lost a parent? What if it has happened suddenly? How can you hope to offer any comfort through your words after something so tragic.
It is extremely difficult to find something appropriate to say to those mourning the death a parent. If you are going to reach out it's important that you say the right thing and don't cause any extra upset whilst they are grieving.
So if you're struggling then the tips and examples here should help you to find the right words and offer your support when they need it most.
What to Say to Someone Who Lost a Parent
What you say to those grieving a lost mother or father should try to bring them some comfort. That's definitely not easy but can be as something as simple as "I'm sorry for your loss", "my deepest condolences" or "you're in my prayers".
Those are fairly generic but they show whoever is mourning that you are thinking of them. You can say more though, perhaps sharing memories and stories of the deceased and letting the family and loved ones know just how special they were to you.
So if you want to say something more, maybe more personal and with greater feeling then the following tips should help.
Accept Their Grief
The first thing you should do is recognize and acknowledge their loss and how painful it is to them. Your goal shouldn't be to cheer them up but rather to be there for them as they grieve.
That means avoid some of the cliches that people often say after someone has passed away like "they're in a better place now" or "it was God's plan". These don't help whoever has lost a parent and could make them feel worse.
Also whilst you might have experienced a loss, perhaps even your parent or parents, the way we each deal with and feel grief after losing someone differs. That's why it's best not compare your situations or explain that you know how they feel.
It's much better to just accept their grief and offer your condolences. Be as warm and genuine as you can. Say something like:
I'm so sorry you're having to go through this. I'm always here if you need me.
My deepest condolences for your loss.
I can't begin to understand how difficult this is for you. Please accept my sincerest sympathy.
Take as long as you need. It's fine to need time to get through losing someone so important to you.
May you be comforted by those closest to you as you mourn the loss of your parent.
Reassure Them
Being there for anyone who has suffered the loss of a loved one, be it a parent or someone else, is the most important thing. You should reassure them they aren't alone and you are there for them.
One of the best ways to do this is to offer your company and support. But don't put the onus on them to ask you. Those grieving can find it difficult to reach out when they need help.
So instead try saying something like the following examples. Although you should never offer any help that you can't definitely come through on. Being promised something and then let down will only make them feel worse.
I'll give you a call next week to check in and see how you're doing.
This weekend I can come over and stay for a few days if you need the company or help.
I'm here if you need to talk or someone to listen. I'm always available.
I'm going to call you later and we can have a chat about anything you want.
Let's pop out for a quiet coffee this week.
Share Memories
When you share memories of the deceased it can help those grieving to remember the good times. Celebrating all they did, what they achieved and the positive influence they had on your life will help them to focus on the joy of having had them rather than the pain of losing them.
You don't have to make what you say or the memory you talk about too long. But something that will make them smile or remember the deceased in the best way.
Offer Support
Quite often people grieving a loss need actual help as well as kind words. That's why if you can then offer to do something for them while they deal with their grief.
It could be something as simple as doing some cooking for them, offering to do their grocery shopping, looking after their children etc. Anything that helps reduce some of the strain on them.
Listen
Sometimes it's not what you say but what you don't say. Listening is just as important as offering comfort and support.
Those grieving a lost parent might want to talk or get how they're feeling off their chest. Talking things through can help to make sense of what has happened or just be a relief and feeling like an unburdening.
So make sure you give them time to talk and listen to what they say as much as you can.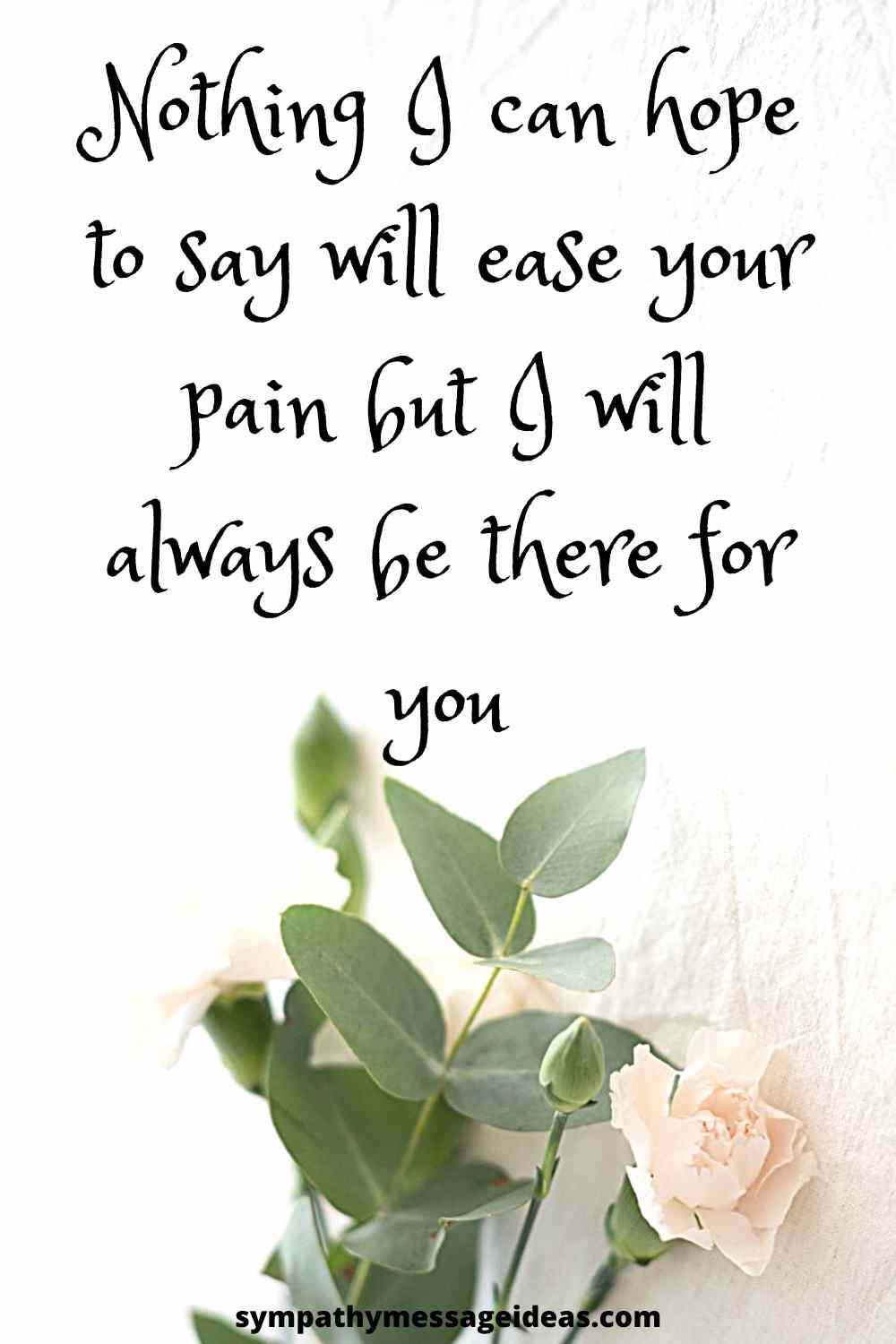 Comforting Words for Someone Who Lost a Parent
These examples should help if you're not sure what to say after someone has lost a parent
I'm so very sorry for your loss. If there's anything you need you know I'm always here for you.
My most heartfelt and deepest condolences. Losing a parent is utterly devastating and I'm so sorry you're having to go through it.
To lost someone so special is tragic and you have all my sympathy and love.
May the amazing memories you have of your mom/dad bring you some comfort during this awful time.
My words can do little in circumstances like this but please know I'm thinking of you.
We are praying for you and your family. Stay strong.
I hope you can find strength with friends and family to get through the grief of losing a parent.
I am sending my most my heartfelt condolences for your loss.
For Loss of Mother
My heart goes out to you. Your mother was a truly special woman who will be sorely missed. May her memory be a blessing.
I feel lucky to have known your mom and just how wonderful she was. I'm so sorry she is gone and am always here to help with whatever you might need.
No one was as amazing as your mom. She had such a loving and kind nature that made everyone feel special. If you need support or a shoulder to cry on then don't hesitate to get in touch.
I know how close you and your mom were and so how devastating this must be for you. Please accept my deepest condolences and know I'm thinking of you.
I never got the chance to meet your mom but you spoke so highly and often of her that I feel like I did. She must have been such a brilliant mother. I'm very sorry you've lost her.
For Loss of Father
My thoughts and prayers go out to you. Your dad was an incredible man who loved you more than words could ever say. He will be greatly missed. My condolences.
No one could make me laugh as much as your dad. He was hilarious and he loved you so much. May the treasured memories you have of him bring you some comfort amidst the pain.
I am so sorry your father passed away. His warmth and generosity will be missed by everyone who was fortunate enough to know him. May he rest in peace.
I know that whatever I say could never make up for your dads passing but I am here for you if you need me. Whether it's someone to talk to or just listen I can always be there for you.
I have such fond memories of your dad and how much fun he was. I can't begin to understand how hard it must be for you. Please know I'm here and that I'm thinking of you.
How to Comfort Someone Via Text Who Lost a Parent
A condolence text message will be much shorter than what you say in person or write in a card. Try these examples if you're not sure:
My condolences for the loss of your mom/dad.
Sending my sympathy for your loss. You'll be in my thoughts and prayers.
I wish I could say more but please know I'm thinking of you.
I hope you you find the strength needed to get through. My condolences.
Sending you loving thoughts. Reach out if you need me.
I'm so sorry about your mom. I'm always here.
My heart us breaking for you. Stay strong.
You're not alone and we will be here for you.
What do you Say to Someone Who Lost a Parent they Weren't Close to?
Sometimes parents and their children are estranged. So how you offer your condolences and what you say to someone who lost a parent they weren't close to will be different.
I know you weren't close to your mom but I'm still very sorry for your loss.
Even though you were estranged from your dad I understand it must still be a shock to lose him. My condolences.
I'm really sorry to hear about your mother. I'm not sure how you're feeling but if you need to talk I'm right here.
I'm thinking of you as you go through such a difficult moment.
This must be a difficult and strange time for you. Your mother, even an estranged one, is still your mother. My sympathy for your loss.
I hope you find some peace after losing your father, however far apart you were.
Whatever I say won't help but please know I'm just a phone call away.
Sending my condolences for the loss of your mother/father. You may not have been close anymore but to lose someone that important is always going to be a real shock.
What to Say to Someone Whose Parent Has Died
Hopefully the examples and tips you've found here have helped you to comfort a friend or loved one that has lost a parent. Finding the right words is never easy but you should try not to feel too much pressure.
While it's understandable to want what you say to someone who has lost a parent to be right as long as you are honest and speak from the heart they will appreciate you making the effort.