Not sure what to wear to a funeral? Need some guidance on the funeral dress code or some funeral outfit ideas for inspiration?
Don't worry! You're not alone.
Many people worry about what are acceptable clothes for attending a funeral. The last thing you want is to cause offence or stand at such a somber occasion.
So if you're struggling with what to wear to a funeral then this guide is for you. We'll be looking at:
What clothes are acceptable and what aren't for a funeral
Funeral outfit ideas for men, women and children
Color choices and alternatives to black
Outfit examples and inspiration (with images)
And much more
By the end you'll have all you need to make the perfect choice for a fitting funeral outfit.
So, let's get started.
You can follow the below links to the corresponding section of the guide if you're looking for something specific.
Knowing what to wear to a funeral is something not often talked about. We worry what to say to the bereaved, what flowers to send, what to write in a card etc. But our clothing and what we wear is largely overlooked.
Which is unfortunate as clothing can be and is important. Especially for something like a funeral.
And there are so many ways you can get it wrong.
We'll get into the real detail below with our full guide and some handy tips that you may not have thought of.
Keep in mind though that this guide on what to wear at a funeral is for Western funerals and their traditions. Other cultures and religions will almost certainly vary in what is and isn't acceptable. If you're attending a funeral outside of a western country or of a religion who's customs you aren't familiar with it's is recommended to find information specifically for that culture.
What to Wear to a Funeral: Guidelines
The families and the type of funeral you are attending will be a big factor in the dress code and what's considered acceptable.
If it's a traditional funeral and the bereaved are more formal in nature then you might be expected to wear what would be considered "traditional" funeral attire – that means smart black dress clothes. A black, modest dress for women and a buttoned down suit for men.
A more relaxed funeral or a celebration of life ceremony will be far less strict in what's expected.
In fact many celebration of life ceremonies specifically request the dress code be bright and celebratory, to match the mood of the event.
But the normal and most common clothes to wear to a funeral are what most of us would think of first – dark colors, respectful and ones that demonstrates the somber mood of the event.
If you're paying your respects to someone who has passed away then your choice of clothing should reflect that feeling.
Not to mention making sure to follow the wishes of the family who are mourning their loved one.
On occasions a more formal dress code will be requested or accepted. But if that's the case then it will be mentioned at some point. If not then you should assume smart, muted colors are going to be worn by the attendees.
If you're unsure of what the family is going to expect then it's a good idea to ask them directly.
They will be pleased you've taken the trouble to think about what they might find appropriate or inappropriate and should be happy to offer their guidance as to what they would prefer you wear.
It's the best way to avoid any embarrassment or hurt feelings if you were to get it wrong.
SEE MORE: What to Say to Someone Attending a Funeral
Funeral Dress Code: Easy Tips
If you need a quick rundown of what to wear and what not to wear for a funeral follow these tips:
Black should be your go-to color. It will always be appropriate for a funeral or wake.
If you can't or don't want to wear black then stick to dark and muted colors. Anything that isn't bright should be acceptable.
Casual clothes, unless requested, should be avoided. No t-shirts, jeans, shorts, flip flops, sneakers etc.
Revealing clothing is also wrong for a funeral. So don't wear mini skirts, short dresses, sheer material, anything low cut for women or ostentatious for men
Avoid an open collar for men and dresses that don't come up to the neck for women.
A formal jacket or coat is recommended as it hides a multitude of sins and works well with most outfits.
Dark colored shoes should be worn. Again, avoid anything bright.
Accessories and jewellery should be kept to a minimum. Lots of bling will be frowned upon.
Hats are sometimes worn to funerals but it will depend on the culture and
If the ceremony is religious make an effort to find out what dress code is and isn't appropriate.
What NOT to Wear
Some of the types of clothing you shouldn't wear to a funeral were covered in the tips above. You can see the full list below though. Most are fairly self explanatory as to why they aren't right for a funeral.
Bright colors (unless asked)
Revealing clothing.
Prints and patterns that are loud/too bright.
Jeans.
Sneakers and flip flops.
Caps, beanies or other casual hats and headwear.
Lots of jewellery or accessories
Loud accessories that jangle or make lots of noise
Heavy makeup isn't recommended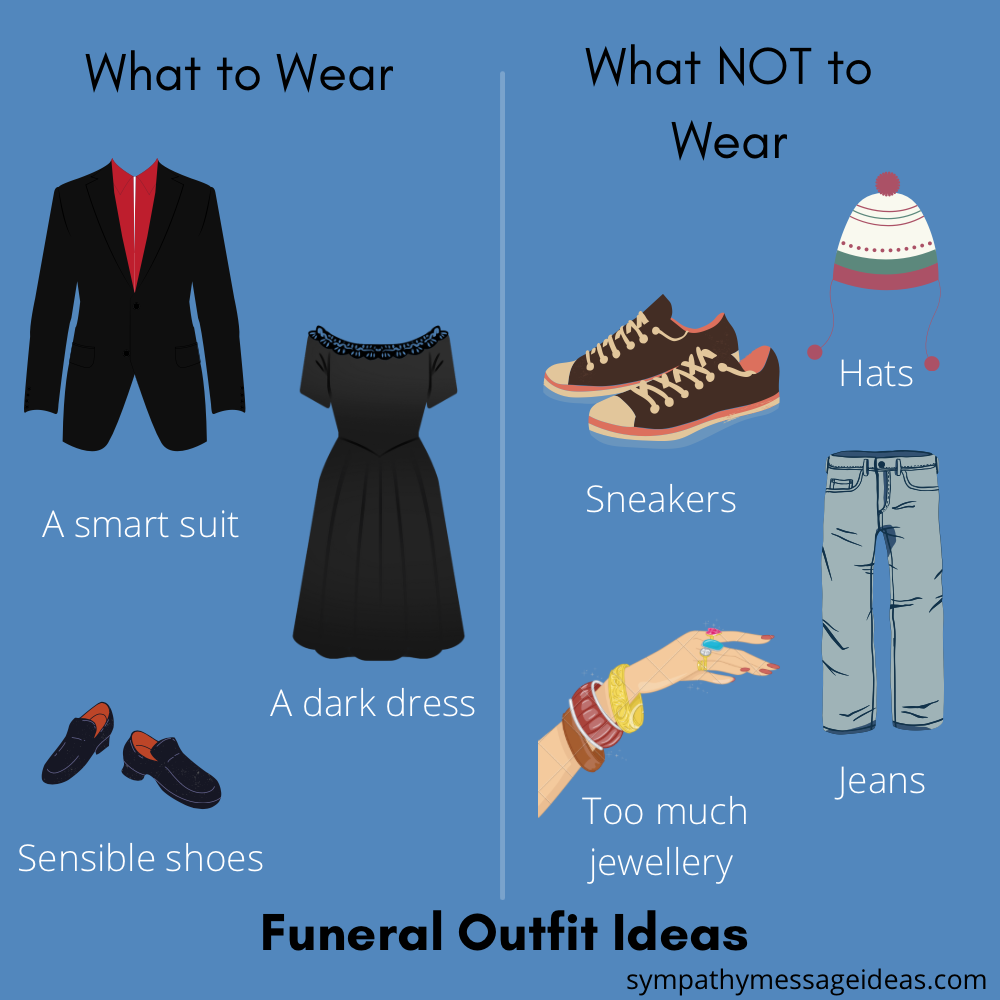 Colors to Wear to a Funeral
Black – it's the color we all think of for a funeral, and there is a good reason for that: it works. Black will always look right at a funeral, wake or memorial and works for formal or traditional funerals through to the more casual. If you're unsure of what color to wear at a funeral then you can't go wrong with black.
White – the perfect color for shirts with a suit. You can also use white for accessories and jewellery just don't overdo it. Sparing use is recommended.
Dark/Navy blue and grey – if black isn't an option then a muted grey or blue will work just as well.
Lighter Shades – some lighter colors can work at funerals. For example a light grey is not too bright or unconventional, if paired with other muted tones.
Avoid – bright colors. It can't be stated enough that unless you are certain vivid or bright colors are acceptable then you shouldn't wear them. That means no red, pink, orange, yellow, fluorescents etc. Nothing that stands out or is 'happy' looking.
What to Wear for Women
The main things to look for in a funeral outfit for women are:
A dress, skirt or suit
Not revealing – be knee length and shoulders covered
Dark or muted colors
Smart/formal footwear
Minimal jewellery/accessories
Funerals are by and large traditional in their nature. So it's always best to err on the side of caution and choose your outfit for a funeral with that in mind.
That means go for the conservative and usual options: a dark dress or suit.
Over time we are seeing a shift in the way funerals are conducted. That means less traditional ideas are becoming more commonplace.
Amongst them are the clothes we wear. So in the not too distant future it may be that lighter colors or casual clothing becomes part of the normal funeral attire.
Until then though the safe option is dark and conservative – skirts and blouses, pants or pant suits and modest dresses.
What to Wear for Men
The basics of men's funeral clothing are:
Smart, dark colored suit or buttened shirt
Crisp, white, long sleeved shirt with a suit. Must have a collar
Black tie
Dark, smart shoes
Unassuming Belt with shirt tucked in
Avoid anything casual or too formal
As a man you can't go wrong with a suit for a funeral. It's the traditional choice and works for a reason.
However you can probably get away with a slightly more informal outfit at most funerals. Slacks and a smart shirt, in dark or muted colors, will still look respectful and appropriate.
Your shirt can be a dress shirt but a polo would also likely work well with smart trousers and a blazer.
With these sorts of decisions it's often best to use your own judgement. You know the family who arranged the funeral and the sort of people they are. That will guide you to making the right choice when it comes to your funeral apparel.
What if you Don't Have a Suit
If you don't have or are unable to get a suit for a funeral then that's not a massive problem. A suit is preferable not essential.
Instead try these ideas:
A sports coat/blazer, button down shirt and pants – a fine outfit and one that won't look out of place at a funeral (as long as you remember about dark and muted colors!)
No sports coat – If you haven't got a sorts coat then just go with the button down shirt and dress pants. A dark shirt will work better than white in this situation.
Polo shirt and dress pants – more of a last resort but a smart, dark polo with the same dress pants and shoes should be ok. You may feel slightly self conscious as it's likely you will be underdressed in comparison to everyone else but their focus will be on grieving and mourning, not your outfit.
What to Wear for Children and Teenagers
Children and younger adults/teenagers should follow the same sort of guidelines as adults.
So smart and toned down colors. Girls a smart dress and boys shirt, tie and trousers.
A good way to look at funeral clothing for all ages is by thinking of them as like your "Sunday best". What you would wear in that scenario is probably going to be appropriate for a funeral.
Accessories
Accessories should be kept to a minimum and be modest. Nothing too 'blingy' or ostentatious.
Jewellery can be worn but should also be demure and not over-the-top. Keep it simple and classy.
Be mindful of how loud or noisy your jewellery or accessories might be. You don't want lots of jangling from your wrist or neck during a very quiet ceremony. Another reason to keep it very simple.
Hats
Some hats are acceptable for funerals. Headwear has traditionally been popular amongst men and women, especially for important events.
Many hats won't be suitable for attending a funeral though. Baseball caps and beanies for example are definitely not
A classic fedora or dress hat would work well for men. Women may opt for a fascinator.
Also cultural norms may play a role in wearing a hat. Jewish men wear the yarmulkes fur religious events, as an example.
So the type of funeral may dictate that you either can or can't wear a hat, or specify a certain hat that is appropriate.
A classic fedora perfect for a funeral
For the Seasons
The season the funeral you're attending is in will play a role in the type of clothes you choose.
A summer funeral will require a different outfit to a winter funeral. Outdoors vs indoors needs to be considered.
Your clothing and accessories need to reflect the season and weather but still be appropriate.
It's also important to consider how long the funeral might be. Some can be hours long and so you want your clothing to be comfortable if you're going to be wearing it for that extended period of time.
Summer Funeral Clothing
A summer funeral brings some different considerations.
If it's outdoors and in the sun and heat you will need much lighter, less layered clothing. Certain types of fabric are known to be like saunas. Polyester, acrylic, nylon and basically anything man made and synthetic is going to make you hotter.
Instead linen and cotton are both good options for keeping cool. They're lightweight and don't trap the heat like the synthetic fabrics mentioned before.
You may be tempted by flip flops and shorts. Whilst they will be cooler and more summery they aren't really right for a funeral. Sandals are a good alternative though and can still look smart.
Sunglasses, as long as they're black, are also acceptable for a funeral.
For Women
A lightweight dress that keeps you cool is a good option for a summer funeral.
Stick to dark colors, as always, and avoid showing too much skin even if it is hot.
So nothing very short, revealing or too tight.
Your best choices would be:
A comfortable, lightweight, dark dress
A smart skirt and blouse
A short sleeved blouse and skirt or pants
Smart sandals
For Men
Lightweight is the name of the game again. So light trousers or slacks with a smart, collared shirt would be perfect.
Bright colors should always be avoided but lighter, muted tones for either your pants or shirts should be ok.
No denim. No shorts. No sneakers. No bright, garish colors.
Try:
A lightweight, comfortable suit
Smart slacks and shirt/polo shirt
Dark loafers or dress shoes
Avoid shorts, sneakers and denim
Sweat is something to keep in mind. If it's very hot you don't want whatever clothing you're wearing to show up large sweat patches. Think ahead of time whether there's a chance that might happen, and if so factor it in when picking your outfit.
Winter Funeral Clothing
Winter funerals mean you will want to wrap up to keep warm.
The same sort of funeral dress code applies but you have the option to add things like coats, hats, scarves and gloves.
Accessories become more common and you will see a lot more umbrellas too. If it's outdoors and there is the possibility it will rain then taking a dark colored umbrella is certainly acceptable, and may be necessary.
For Women
Much of the differences in your winter and summer funeral clothes will be the outer layer.
Essentially the layer to keep you warmer.
So a thick, warm coat is a must. Wool is a great choice and works well in lots of different colors and with different outfits.
Hats, scarves and gloves are all suitable for a funeral as long as you stay with the darker colors.
You won't want sandals or anything opened-toed for a winter funeral so go for sturdy shoes or boots (in, you guessed it – dark colors).
For Men
Much of your outfit will stay the same in the winter.
A wool coat to keep you warm, same as for women, is a great choice.
Dark hat, gloves and scarf work well as accessories and won't look out of place.
You have a few hat options – a fedora or dress hat is most usual. Nothing knitted though.
You can go with boots or regular dress shoes depending on the weather.
For the most part though not much will change, just the outer layers and accessories.
Example Funeral Outfit Ideas
If you would like some inspiration and ideas for what to wear then have a look at the example funeral outfits below.
For Women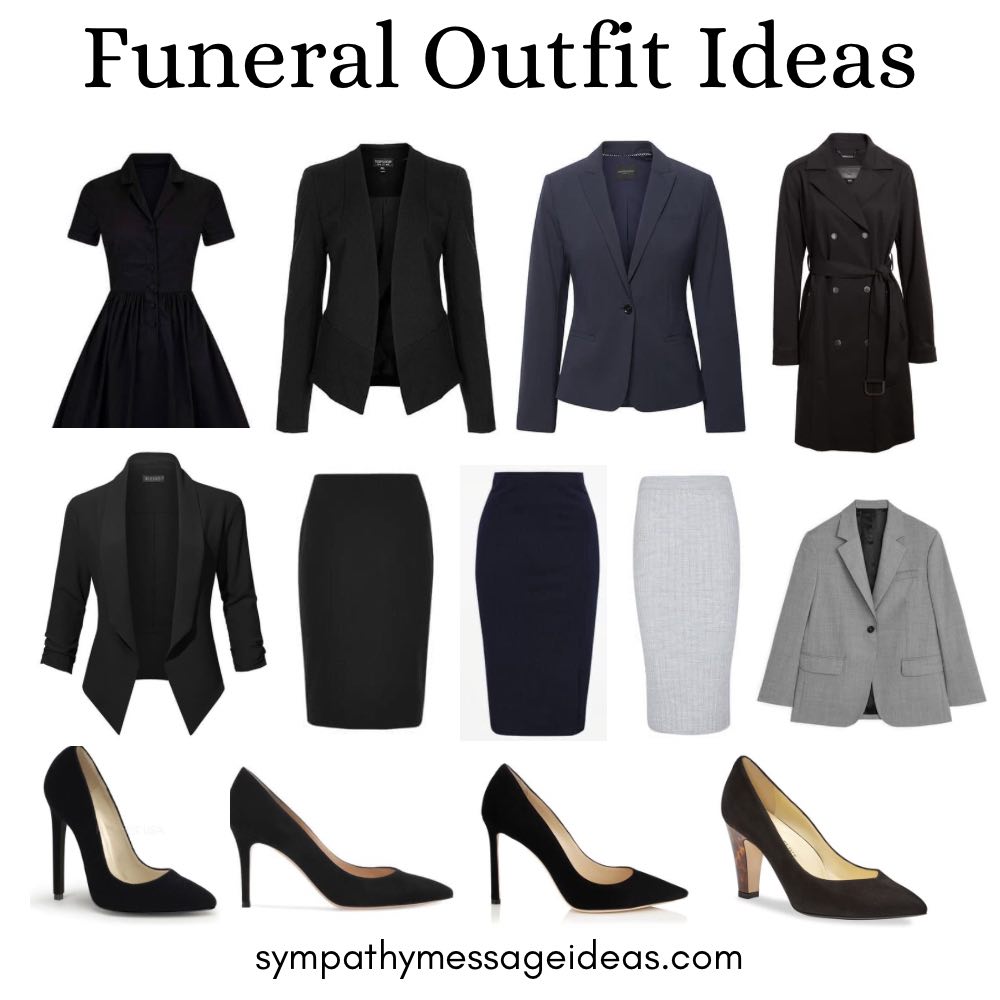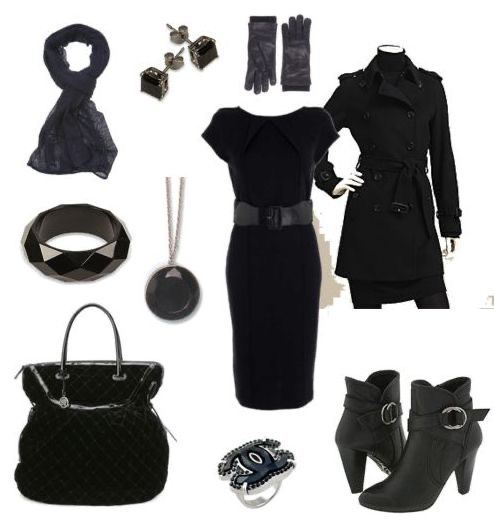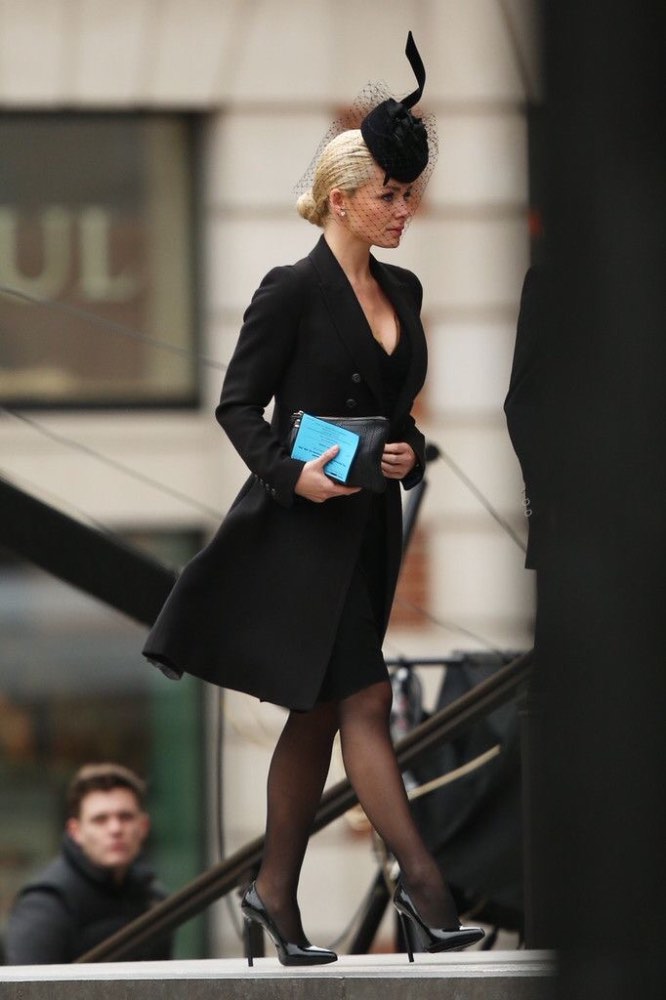 For Men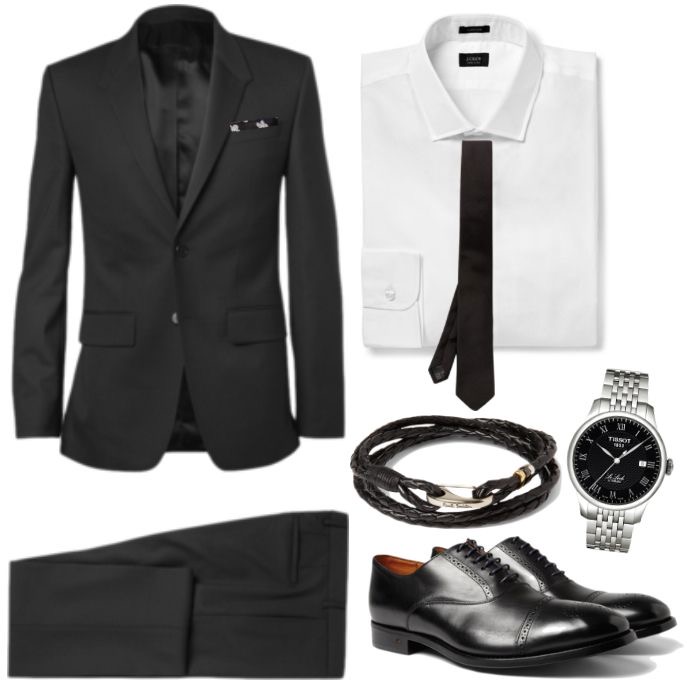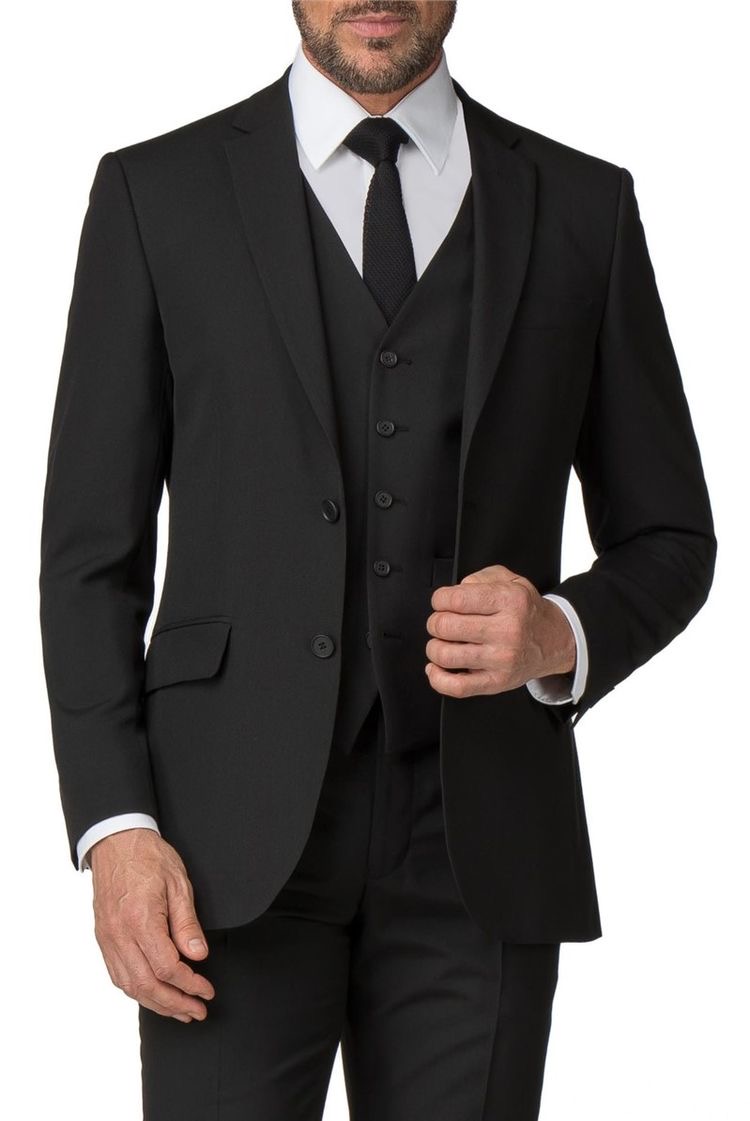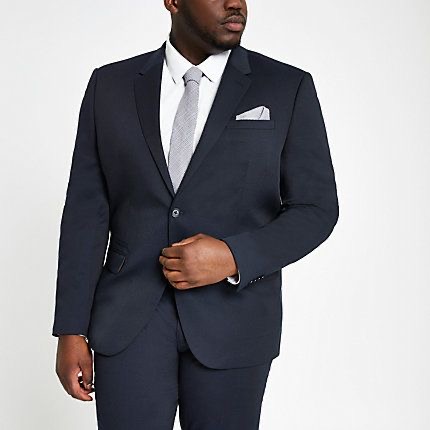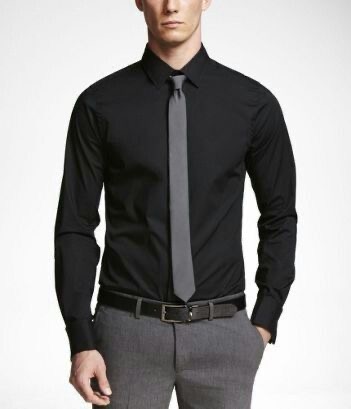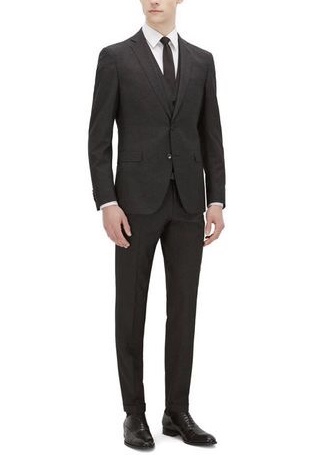 Not Black – Alternatives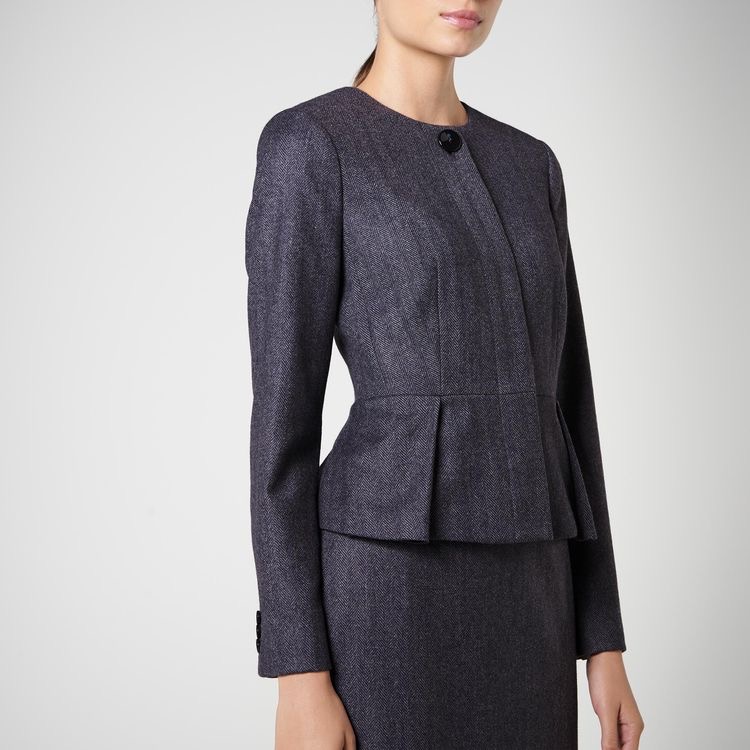 Other Services
A funeral is the most common service for commemorating those who have passed but there are other services too.
You may be unfamiliar with or unsure of what they are and what sort of dress code is appropriate.
We'll take a quick look at:
A Wake
A Memorial Service
A Celebration of Life
What to Wear to a Wake
A wake (or sometimes called a viewing) is when friends and family of the deceased gather to mourn, express their grief and share their sympathy with one another.
It's usually a private affair and often has an open casket of the deceased for whoever wishes to pay their respect.
If you're attending a wake then for the most part you can follow the same rules as going to a funeral.
How formal the wake is may mean you can go for something a little more casual. The families wishes will determine this though and if you're not sure then stick with the usual funeral attire. As always, being conservative is the better option when it comes to funerals and services.
What to Wear for a Memorial Service
A memorial service is different to a wake in that the body of the deceased is not present at the service.
They tend to take place quite some time after the death has happened – weeks or even months – and are often more informal than wakes or funerals.
However, this doesn't mean you should throw caution to the wind and come in jeans and a t-shirt. Smart casual is still much more appropriate. Maybe not a suit but think smart dress clothes.
What to Wear to a Celebration of Life
A Celebration of life will almost always signal a much more relaxed, casual service. In fact it's not really a service at all.
Quite often it's far more of a party than a sombre remembrance. That may mean music, dancing, alcohol etc. Not the sort of things you'd expect at a regular or traditional funeral.
So your outfit will want to reflect that vibe. Smart casual is the way to go here. You don't want to go too far into party-mode however.
Final Thoughts
It's good to put some thought into your funeral clothes but you also shouldn't worry too much.
As long as you avoid a very casual outfit (jeans and a t-shirt, for example), then it's unlikely the other guests will judge you.
The focus is going to be on grieving and mourning, not other people's fashion choices.
So don't feel the need to rush out and buy a whole new, expensive wardrobe. If you have something modest and dark colored that covers you up fairly well then you'll almost definitely be fine.
---
We hope the tips and recommendations provided here have helped you with deciding what to wear to a funeral.
It can be a difficult decision and wanting to get it right to avoid causing offence or upset is completely understandable.
These suggestions and ideas should at least get you started on finding a fitting funeral outfit. But if you have any further questions or tips of your own then they are very welcomed in the comments section below.