These In Loving Memory Quotes are perfect for remembering a loved one. When we lose someone special to us we never really forget them. Their memory stays with us forever.
But we want to express what that person meant to us, show our love and remember the life they lead. That's where in loving memory quotes come in.
Be it through a message of condolence, heartfelt eulogy or a gravestone inscription, 'in loving memory' quotes help us to pay tribute to those who touched our lives so greatly. Whether that's family – mother, father, sibling, grandparents – or friends, they all deserve to be honored.
So if you're struggling to find the words for an in loving memory message then try these in loving memory quotes and sayings.
In Loving Memory Quotes
You can use these quotes in whichever way you see fit – a eulogy, a message of sympathy, an engraving – whatever you choose they are perfect for showing how much you cared for and will remember a loved one.
"To live in hearts we leave behind is not to die" – Thomas Campbell
In loving memory of one so special, who's light we lost far too soon
Today we remember your life and celebrate all the wonderful memories we have
You will never be forgotten and will live on in our hearts
To the memory of our dearly departed friend – we will miss you with all our hearts
We will cherish the memories we have you and remember you're amazing life
Today we look back on a friend and loved one and mourn their passing. You shall never be forgotten
We may have lost you but your spirit lives on long after you're gone
Raising a toast to the incredible memory of such a special person. Rest in peace
"Don't cry because it's over; smile because it happened" – Dr. Seuss
Remembering a life well lead and all the joy it brought to so many. In memory of a truly amazing person
The memories we made and hold on to shall serve as a reminder for how blessed we were to have ______ in our lives
I have such strong memories of you and can't quite believe you're gone. I pray you are at peace
In the memory of someone who touched so many lives and brought such happiness. May they rest in peace
Remembering the life of my dearest friend and the times we shared together. You are missed like no one else and I hope you're in heaven watching down on us
SEE MORE: 76 Quotes About Losing a Loved One: Dealing with the Loss and Grief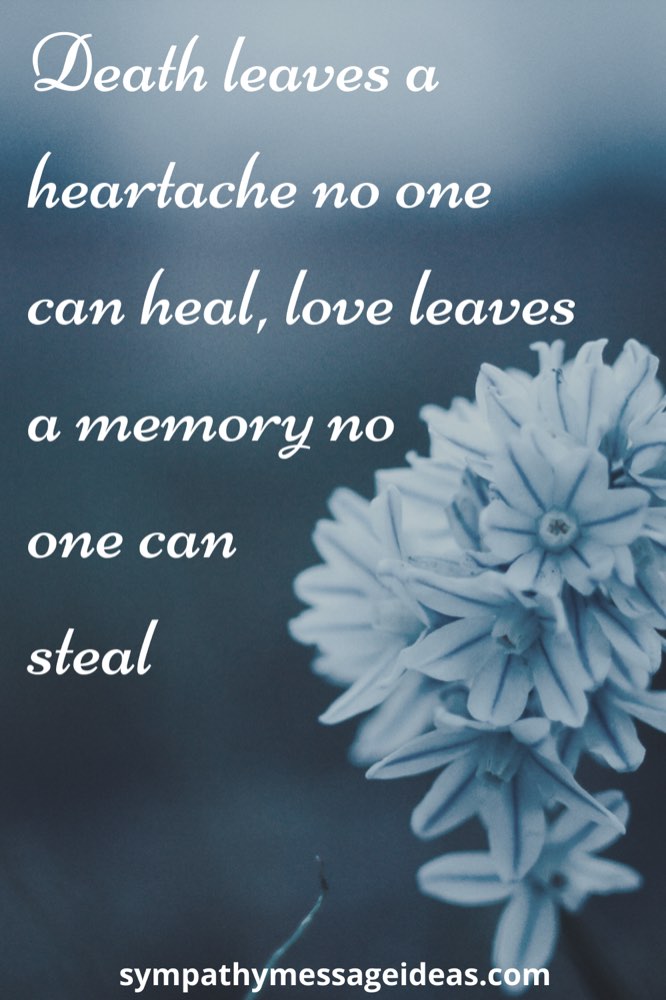 In Loving Memory Quotes For Mom
Mother's are so important they deserve to be memorialised in the most fitting way. So use these in loving memory quotes for mom to remember how special she was.
I will remember my mom until the end of time. She will always be with me
Remembering the truly amazing woman my mother was and how much I miss her
In memory of my mom, may she rest in peace and her legacy live on after her
I miss you mom. More and more as each day passes
She was like no other, and the world has lost one of it's best
To the memory of someone so special I can't quite believe she's gone
"Wherever a beautiful soul has been there is a trail of beautiful memories" – Ronald Reagan
I can't and won't forget all you did for me. The memories of you will never fade
There is no love like that for your mother, and no one can ever compare
I will do all I can to honor your memory, mom. I love you so much
In loving memory of the woman who made me all I am today – my beloved mother
Your memory and all you did for us will be a shining light to everyone who knew you, mom. We were blessed beyond words to have had you as a part of our lives
I miss you more than words can say and wish you were still here every single day. Goodbye mom
Rest in peace my dearest mother. Your memory will live on after you and be with me, and others, forever
Saying goodbye was so hard, mom. But I will cherish every second I spent with you and have so many memories of all the laugher and joy we had together
SEE MORE: Words of Sympathy for the Loss of Mother
Memorial Quotes For Dad
Remember your passed father with these in loving memory quotes for dad and never forget just how important your father was.
You leave behind some of the most cherished memories I have dad. You will always be a part of me
Your legacy lives on in us, your loving family
I will miss everything you did for me, dad. I can't describe how much you brought to my life
The memories we have of you will always be there, making sure we never forget. We love you dad
In memory of our beloved father and wonderful husband. We were lucky to have had you and cherished every moment
To the memory of a man so beloved and special, one who made us happier than we thought we could ever be – our dad. Rest in heaven papa
We remember a life of love, happiness and laughter. We will always love you dad
"He loved and was loved. Two roads diverged in a wood, and I – I took the one less traveled by, and that has made all the difference" – Robert Frost
He was one of a kind, and brought untold joy to all our lives. Goodbye daddy
The memories you leave behind I will treasure and hold onto forever. I love and miss you dad
You were more than my dad; you were my friend. I treasure everything you did for me and pay tribute to the man you were
There are no words for how much I miss you dad. I will remember all our times together with such happiness
In memory of a man who's life touched so many. To my father – may you rest in peace
I hold onto those wonderful memories of you as a reminder of the dad you were. Not a day goes by I don't miss you
In memory of someone who inspired, guided and helped me to become the person I am today – my father
SEE MORE: Sympathy Messages for the Loss of a Father
In Loving Memory Quotes for an Inscription
These in loving memory sayings are written specifically for the inscription. That could be on a headstone, a memorial plaque, urn or something else entirely. They are short and simple whilst conveying that loving message – perfect for inscriptions.
Gone but never forgotten
I will forever hold you in my heart
We miss you more each day
You will always be with me
Always on my mind, forever in my heart
With us for eternity
Your memories will live on long after you've passed
Death leaves a heartache no one can heal, love leaves a memory no one can steal
Until we meet again in heaven
With a love that will echo through the ages
Loved beyond words, missed beyond measure
We were given a gift – of having you
The sun has set on an amazing life
In Memory Quotes for a Condolence Card
These messages of remembrance can be used in a sympathy card. You can edit or change them so they fit your situation and the recipient.
We were so sorry to hear of your loss. The memory of [deceased's name] will live on long after them. Please accept our condolences
Thinking of you and remembering all the happiness ______ brought to us. He/she will be missed so much
We felt so lucky to have known ______ and be touched by their amazing presence. We only have wonderful memories of them
I can't tell you how sad I was to learn of ______'s passing. Sending my sympathy and thoughts to you as well as remembering _____'s life and all
Sending our love and remembering a truly special person we were all blessed to know
I treasured all the time I got to spend with ______ and will miss them greatly. My condolences
The memory of ______ will live on long after they've gone and be an inspiration for so many. My deepest sympathy for your loss
My sincerest condolences for your terrible loss. I hope you can find a little comfort in the memories you have of ______
You are in my thoughts during this tragic time. ______ was one of a kind and their memory will live with us like no other
Sending prayers of remembrance for your loss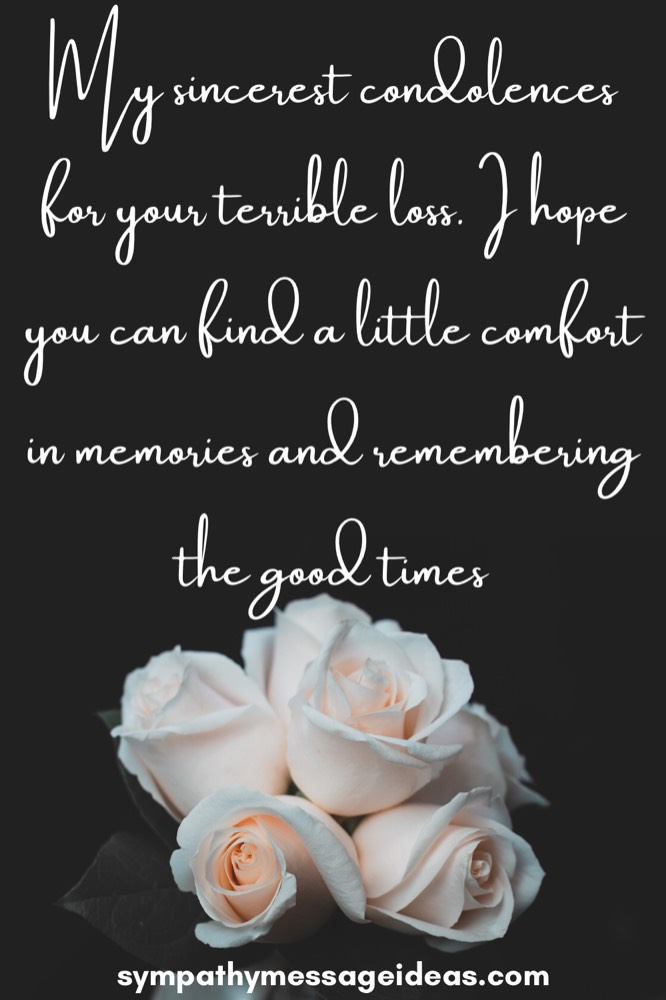 It can be so tricky trying to find the right words when someone passes away. Honouring their memory is important to many of us. So we hope these in loving memory sayings and quotes will have helped you to remember a loved one and show just how special they were to you.