Sisters are like no one else. We develop bonds and friendship with them that are extra special. So when someone loses their sister it is a time of unimaginable sadness and grief.
Losing a person that you have a truly unique connection with is heartbreaking. So it's natural as a friend, family member or even just an acquaintance to want to reach out and offer your condolences.
Sending a sympathy message to someone who has lost their sister can be fine in many ways. A simple card, card with flowers, even an email can at times be appropriate.
But knowing what to say when someone has suffered a loss is difficult. Many of us struggle to express what we're feeling and turn those emotions into words.
Just finding the right phrase or sentiment is tough enough but there's also the need to avoid causing any offence or adding to the grief. Being mindful of what you say is very important.
So to help make finding the best words of sympathy for the loss of a sister to go in a condolence message we've provided this list of message examples that will hopefully allow you to either write your own or use the ones below to help inspire you. You can copy and edit them to suit your own situation.
Words of Sympathy for Loss of Sister
My heartfelt condolences. Your sister was a wonderful woman and has been taken from us far too soon.
Your sister may not have said it but she was so proud of you. I hope you know that you meant the world to her. She was a one of a kind and we were lucky to have had her. She will be missed terribly
Your sister was one of the kindest, most special people I was lucky enough to know. You have my sincerest condolences on your loss.
I am so truly sorry for your loss. No words can express just how much your sister meant to me. My heart is broken.
She will always live on in your memories. Her spirit won't be forgotten. She will stay with you forever.
I was so sorry to hear about your sisters passing. I can't imagine how hard this is for you. If you need anything then please ask. You have my very sincerest sympathy
I am deeply sorry to hear about the loss of your sister. If you want to talk or just need someone to listen I can always be there.
I can't tell you how sorry I was to hear about your sister. I was shocked and very upset by the news. Please accept my condolences to you and your whole family during this dreadful time
Losing a sister is a devastating time and I feel your pain. Know that you are loved and have some heartfelt support.
My condolences on the passing of your sister. She will be sorely missed.
I know how close you and your sister were and the special relationship you had. I'm very sorry for your loss. She will be missed greatly.
I hope you can find some comfort in knowing everyone who knew your sister is mourning her loss. We were all touched by her warmth and kindness. She will live on in our hearts. My condolences
I am truly and profoundly sorry for the loss of your sister. Her smile and warm presence will be deeply missed
I can't yet believe she is really gone. I'm heartbroken and can only imagine what you're going through. I'm so sorry and will keep you in my prayers
You are in my thoughts and prayers during this awful time. Try to stay strong and reach out to me if there is anything you need. My deepest sympathy
Your sister will never really leave you. She will be with you every day, watching over and keeping you safe. My sincerest sympathy for your loss
Your sister was a friend to all who met her. That generosity and ability to see the best in everyone will not be forgotten. She will live on in our hearts forever.
I am so sorry for your loss and wish I could do something to make things better. I'm just a phone call away if you need me.
Your sister always made people smile and her positivity was infectious. She will be remembered so fondly and missed terribly.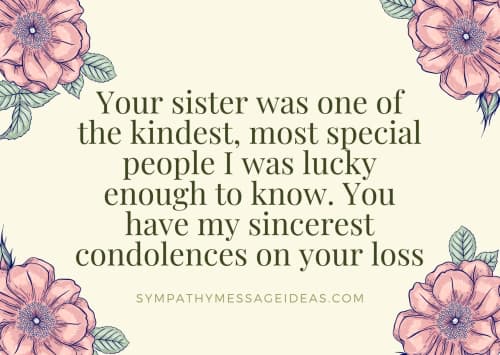 Condolence Messages for the Death of a Sister
The love for a sister is like no other. I'm so very sorry for your sisters passing. My deepest condolences.
I know how much I will miss your sister so I can't imagine how hard this is for you. I can only say how amazing she was and the legacy she leaves behind will last forever. Please accept my condolences.
I already miss your sister so much. She touched so many hearts and made the world seem a brighter place. I miss her so much. Please accept my deepest sympathy.
Losing a sister is a tragedy and one I'm so sorry you're having to go through. May her memory always be a blessing.
I don't think a day will pass where I don't think of your sister. She was unlike anyone else and brought so much to mine and many others lives. I can't begin to understand how you must be feeling and wish there was more that I could do other than say how sorry I am.
There will never be anyone else quite like your sister. Her generosity and warmth touched everyone around her. We have lost someone truly special. I am deeply, deeply sorry.
Sending my love and thoughts after the tragedy is your sisters passing. If you need a friendly ear or shoulder to cry on I am always here.
May your sisters memory stay with you always. She was so special and deserves to be remembered by all of us. I extend my condolences and sympathy after her untimely death.
My condolences for the loss of your sister. I know you were very close and can't understand how her passing must have hit you. I just know she will be deeply missed.
I hope the treasured memories of your sister can give you strength. My condolences.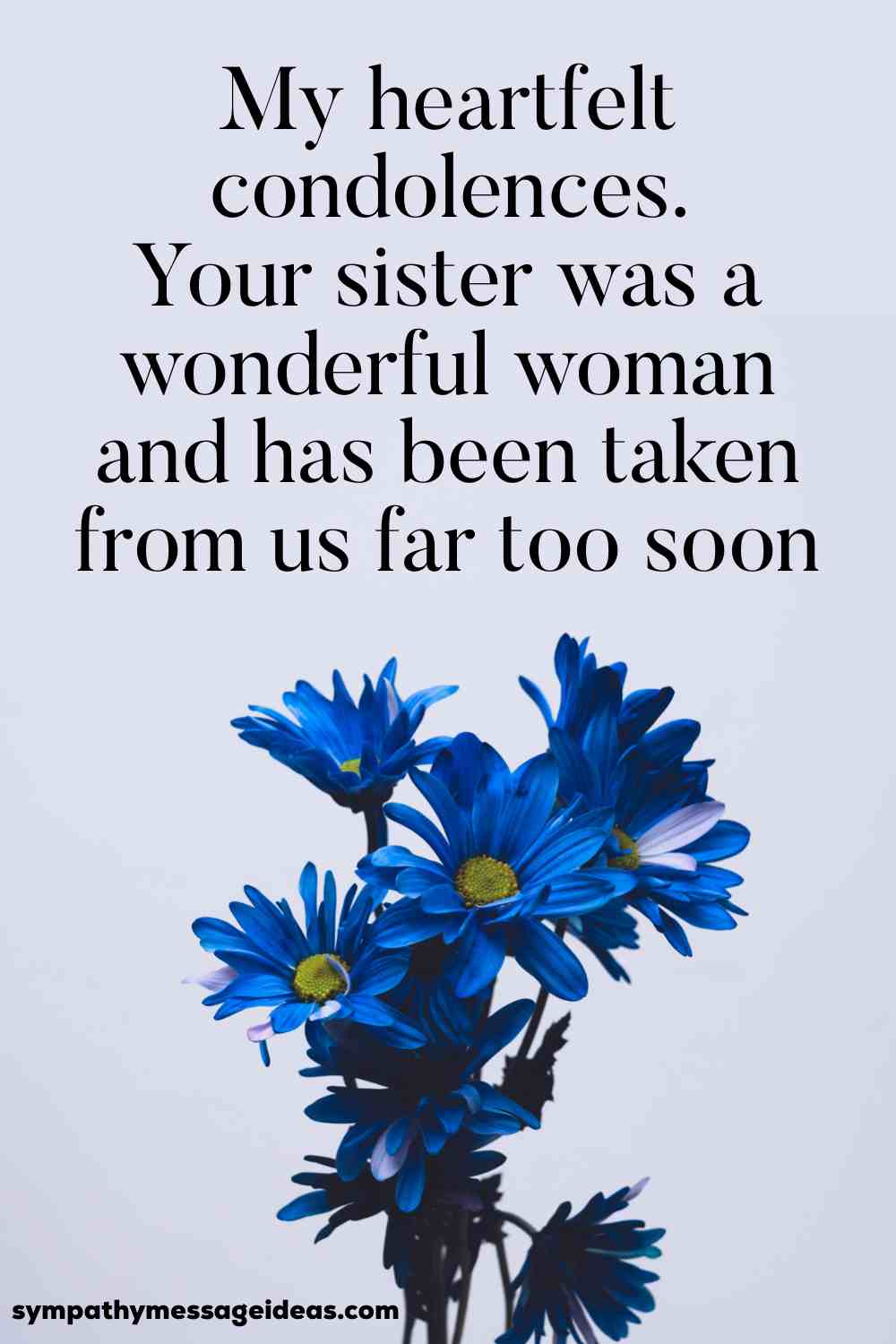 Sympathy Messages for Loss of Sister in Law
I know you developed a real bond with your sister in law. Her passing is such a tragedy. You have my deepest sympathy.
My most heartfelt condolences for the loss of your sister in law.
She was a wonderful person and will be missed deeply. You will be in our thoughts and prayers.
Nothing can prepare you for the shock of losing someone so special. Take strength from the support of family and loved ones and try to remember the good times.
We're all so shocked to hear the news of your sister in law. She was an incredible person that inspired everyone who knew her. The loss will be felt deeply by many, but none more so than you. Please accept our deepest condolences
My sincerest sympathy for such a terrible loss. No words can help erase the pain but I will be thinking of you in the coming days and weeks.
There is no comfort when we lose someone like a beloved sister in law. All we can do is remember them for who they were and the beauty they bought to our lives.
She was an amazing woman who will be missed so much. I hope you're coping and can be there if you need to talk or any help. My condolences
My most heartfelt sympathy and condolences for such a tragic loss. Your sister in law shall be remembered for all the good she did
Your sister in law only bought happiness and good to this world. It is a little less special without her
The relationship you made with your sister in law was so powerful, and I know her loss will have hit you very hard. I wish you strength and peace during this terribly difficult time. My condolences
We hope these condolences for the loss of a sister have helped you to find the words to say to someone who's sibling has passed away. Do all you can to be there for your friend or family member as they mourn their sister and provide any support they need.