If you've lost a teacher, or know someone who has lost a mentor, you may be wanting to reach out with a condolence message to them or their family.
Some of the most important people in our lives are teachers. They help us to learn, grow and come of age.
Many of us will have those special teachers from our school or college days that made a subject come alive. Maybe even set us on the path to the career we now have.
So when a teacher sadly passes away it can be a real shock.
It might not seem like losing an educator would be as significant as losing a loved one or friend but it can have a real impact on people.
So use these sympathy messages to offer your condolences to the family of a beloved teacher or to support someone you know that is grieving the loss of a teacher.
Short Sympathy Messages for Loss of Teacher
I'm so sorry for the loss of your favorite teacher. You are in my thoughts
My condolences for the passing of your teacher
My sympathy for your beloved teachers passing
Offering my condolences for the loss of someone so special
If you need anyone to talk to then I will be there for you
Your teacher will always be in your heart
The lessons they taught you can never be forgotten. My condolences
Sending my love and support during this difficult time
My heartfelt condolences for the loss of your mentor
Just a quick note to say how sorry I was to learn of your teachers passing
I'm sure you teacher is looking down on you with pride. You have made them proud. My sincere sympathy
It was so sad to learn of your teachers passing. You are in my thoughts and prayers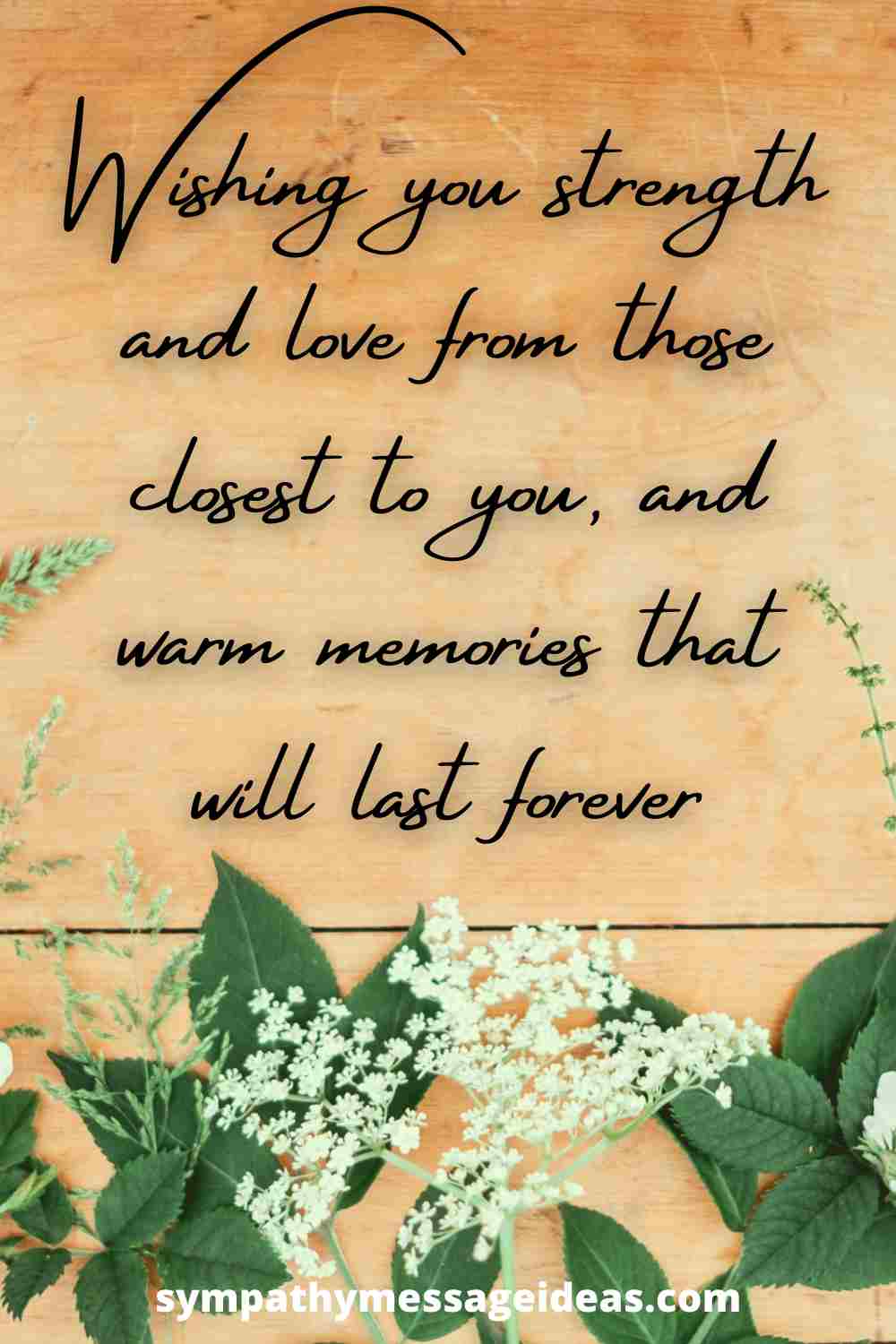 Words of Sympathy for Loss of Teacher
I know how special your teacher was to you and how much of an impact they had in your life. I'm really sorry you've lost them. Please accept my sincerest condolences
He/she was a wonderful teacher and inspiration to so many. It is with such sadness that I offer my sympathy your loss
Saying goodbye to someone so special is incredibly hard, and losing a teacher that helped you like he/she did must be devastating. I hope you can find comfort in the memories you have of him/her
The lessons you learnt will last forever, as will those treasured memories you have. I'm very sorry for your loss though and wish you strength and peace
Please accept my condolences for the loss of your teacher, someone I know you looked up to so much. May his/her teachings be a mark of their legacy and continue to inspire you
I can't begin to understand what you're going through right now but remember you are not alone. Everyone will be there for support and comfort. My condolences
My deepest sympathy for the loss of your mentor. I know how proud they were of you and all you've achieved
I wanted to reach out and let you know how sad I was to hear of your teachers death. Nothing can prepare you for losing someone like that. I hope you're coping ok and if you need someone to talk to I'm always just a phone call away
I'm very sorry to learn of your teachers tragic passing. I know how much you looked up them. My condolences for your loss
May the lessons learned and knowledge taught by your teacher bring some light to this dark moment. You have my sympathy and I will be thinking of you
We were deeply saddened to learn
of your loss. It's such a shame to lose someone so important. We just wanted to send our condolences and let know you are in our thoughts
Sending my sympathy and comforting thoughts your way after a really terrible loss
He will be remembered as a fine teacher and great person. We are all extremely sad to learn of his passing away. Our condolences
I understand you've lost someone very special to you and want to be there if you need anyone. Sending my love
My deepest sympathy for your loss. Losing a beloved teacher can hurt so much. I'm sending my best thoughts and prayers to you
I hope the people around you provide the support and comfort you need to help you through this dreadful time. My most heartfelt condolences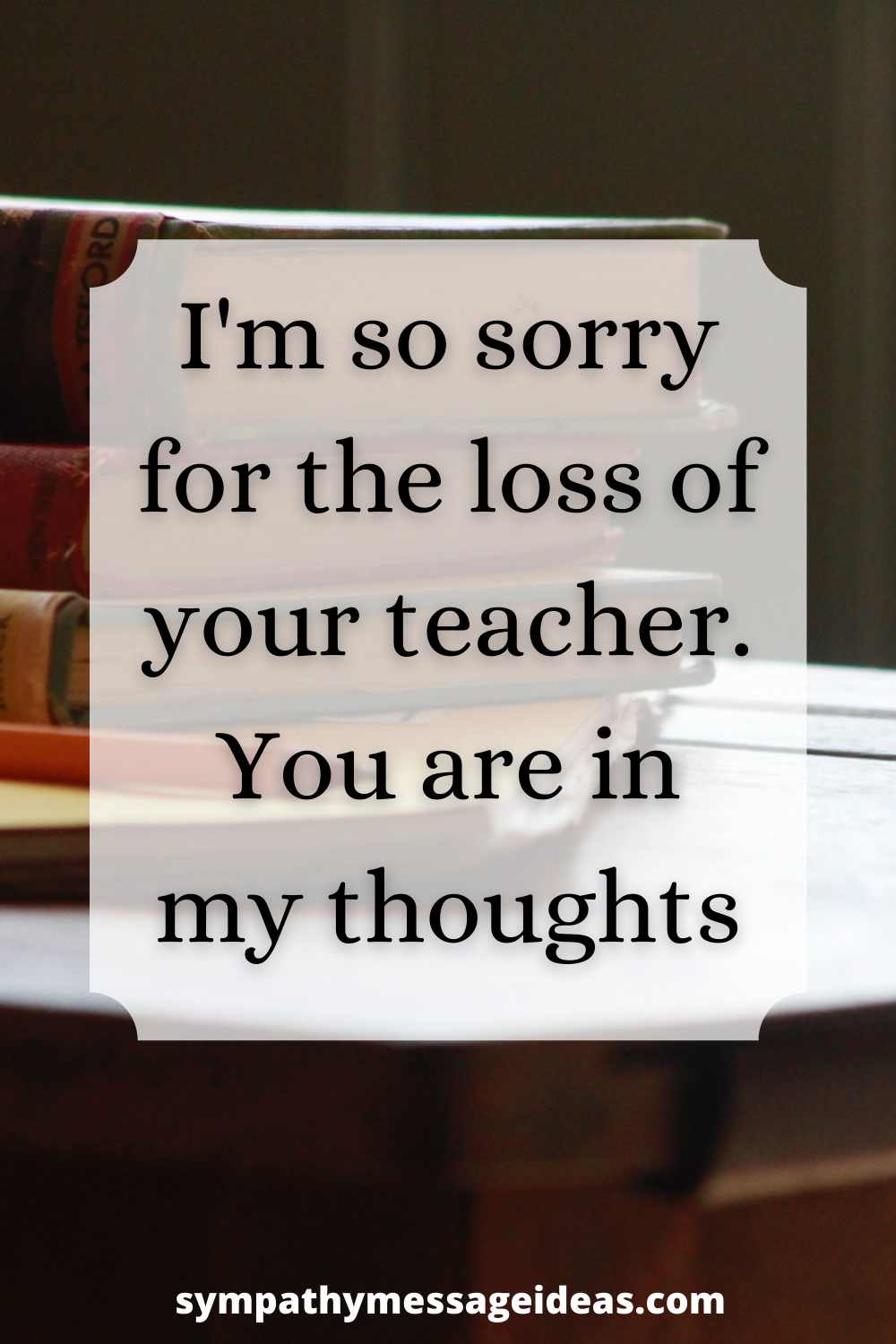 RIP Quotes for Teacher Who Passed Away
May he/she be looking down on us from a better place. Rest in peace
To an amazing teacher but an even better person. Someone you could call a friend as well as mentor. May his/her soul rest in peace
His/her advice and guidance were the cornerstones to help so many grow. He/she will never be forgotten
The wisdom he/she helped bring to so many will live on long after him/her. May they rest in heaven
Very few were able to make a subject as fun and accessible as ______. They were an amazing teacher and will be missed greatly. RIP
He was a brilliant and compassionate teacher who inspired me to achieve more than I thought possible. I will always be grateful to him. May his soul find peace
I will be indebted to ______ for as long as I live. I am the person I am today because of him. I pray that he is in heaven watching down on me, always
She was as a force of good in this world. So many young lives were lucky to have been influenced and shaped by her. It was a blessing to have worked alongside such a wonderful teacher. I will miss her so much
There won't be a better teacher than Mr/Mrs ______. They were like no other: inspirational, down to earth and kind but with a passion so strong. Teaching has lost one of its best but we have lost a friend and shining star. Rest in peace
My favorite teacher from school has gone, and I am deeply affected by his passing. I owe him so much in igniting my passion for learning and helping me find my voice. We have lost someone very special
It feels so strange to not have him with us anymore. He was one of those people who it felt like would always be here. It's such a shame and whilst we have lose a beloved teacher, future students have lost the chance to be taught by someone truly special
The loss of a teacher can bring up unexpected emotions and a grief that many may not be prepared for. So even if you don't think of losing a mentor or teacher as all that significant you shouldn't dismiss it too quickly.
Make sure you are there for a friend or loved one and be sure to give them all the support and love that they need.