Those who serve in the military, who put their lives on the line for our safety and freedom – they are heroes.
They deserve our utmost respect for what they do and the sacrifices they so often make or have made.
Unfortunately the biggest sacrifice they sadly make is giving their lives for us. Death as a result of military duty or as a veteran after having served is all too common.
So when it happens we should do all we can to reach out to the families and friends of those who have passed away.
Showing our support and that we are thinking of them, as well as honoring the deceased hero is important.
So if you're having trouble knowing what to say in a condolence message for a veteran or soldier hopefully the examples below will help you find the perfect words.
Military Condolences for Lost Soldiers
Your son is a true hero and a credit to you. He brought honor to the uniform he wore and the sacrifice he made for what he believed shall never be forgotten
The loss of your son was not in vain. He gave the ultimate sacrifice for the country he loved. That makes him nothing less than a hero, and he will always be remembered that way. My deepest condolences
We are so sorry to learn of your loss. I don't know how much it will help but your son/daughter will forever be known as a true hero. Their courage is a testament to the incredible person they were
Your sons patriotism was never in doubt. He is a true patriot and gave his life in service to his country. No greater sacrifice can be made nor demonstration of courage needed. He will always be our hero. Please accept our condolences
Although I'm sure this offers little consolation we, all of us, are in debt to your son and what he gave for our freedom. My deepest sympathy for your loss
We are mourning the loss of your courageous son. He was brave beyond words and an amazing soldier. We are all worse off without him in our lives
I am still in shock over your sons death. I was lucky enough to get to know him during training and he was one of the funniest and generous guys I have known. His loss is a tragedy and I'm so sorry
The country owes a huge debt to your son for his bravery and service. He was a remarkable young man and will be sorely missed
You have my deepest sympathy for the tragic passing of your son. You should be immensely proud of all he achieved and the sacrifice that he made
No hero is greater than the one who gives their life for their country. Your son/daughter deserves our total respect. My condolences for your loss
Your son/daughter was a credit to the uniform. We are grateful for all they did on our behalf and putting the country before themselves. My heartfelt condolences
We lost one of the greatest men when your son died. He gave his all to everything he tried and always set an example incredible example. May he rest in peace
Today we raise a glass to our fallen comrade. He/she always had our backs and was a true friend. We will miss them like crazy. Rest in heaven
Our prayers and thoughts are with you during this terrible time. It feels ole such a senseless loss but we know your son/daughter was doing what they loved and believed in. If you need to talk please don't hesitate to get in touch
Your sons valour and bravery will long be remembered. He was a fine young man and leaves behind a huge hole that shall never be truly filled
Condolence Messages for Veterans
The loss of someone who gave so much is so tragic. We are indebted to them forever. RIP
Veterans give up everything so that we can sleep soundly at night. They deserve our recognition and our respect. May you rest in peace and I'm so sorry for your loss
Hero's take on many forms, but anyone who served their country with such pride and distinction is without a doubt a hero. May they never be forgotten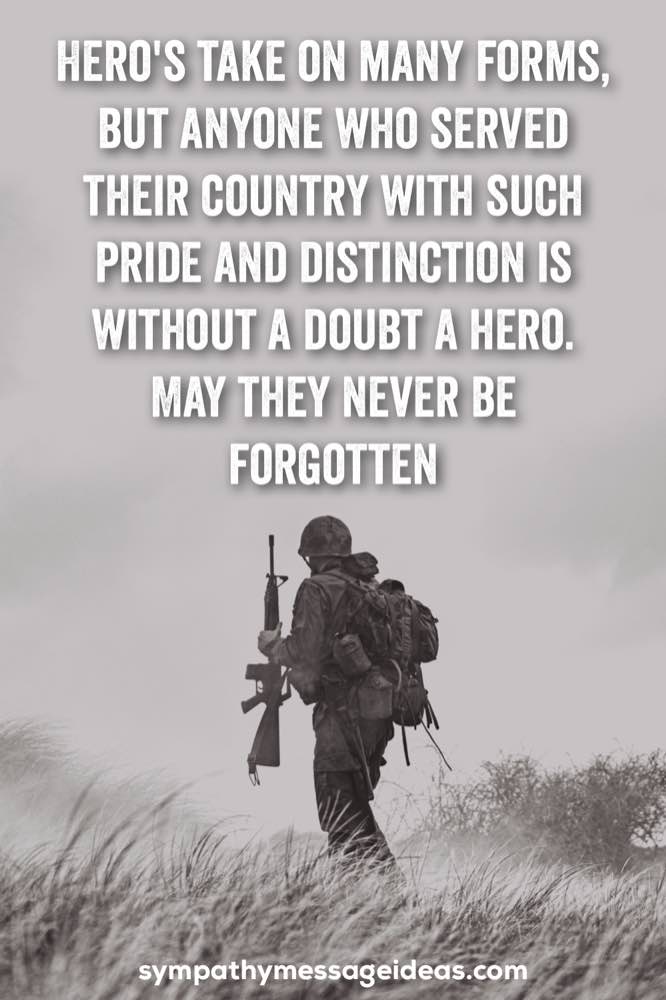 Words can do little to truly express how important and brave ______ was. They laid their life on the line and did so without hesitation or fear. They are the embodiment of what it means to be a great man
To have served your country and given your life demonstrates a patriotism few have. We honor the veterans that have sacrificed all they have for us and promise never to forget them or let their death be in vain
The memory of ______ will be of someone who was courageous and heroic. Putting the needs of others before themselves and representing the best qualities a man can have. They will be missed greatly
I know that _____'s passing will have resulted in a huge outpouring of support and condolences. That will only demonstrate how special they were and the impact they had on so many lives. My sincerest sympathy for your loss
We mourn a loss that hits home so hard. I was fortunate enough to see the bravery and fortitude of _____ up close and it was as inspiring sight. To lose them feels so unfair. They will be remembered as a great soldier but even better person. My condolences
Any loss is a tragedy but losing someone as inspirational as ______ is heartbreaking. Getting to know them was an honor and their presence will be missed by so many
My prayers are with you as you mourn the loss of ______. He/she gave more than anyone for what they believed in. The ultimate sacrifice, and one that we will honor in their memory
The word "hero" is often overused, but in this case it couldn't be more right. Your son was a true hero. Sending you my love and condolences
Serving your country is a great thing to do, but the risks that come with it are unavoidable. I wish you strength to get through such a terrible loss and comfort for the coming days and weeks
The whole nation, not just us, owes your son/daughter a debt of gratitude for what they did. We will grieve with you
Our servicemen and women are the backbone of this country. Your son/daughter stood tall and gave their life for a greater good. They were brave and true. We honor them today and keep their memory alive
I shall never forget your father. He was one of the kindest and warmest men I've ever met. To lose him so early in life is utterly heartbreaking. I salute everything he achieved and what he believed in. My sympathy for your loss
Words of Sympathy for Loss of Brave Soldiers
Bravery and courage are just two words that spring to mind when I think of ______. I will probably never get over losing them like this. I am so sorry for your loss
You should be so proud of what your husband/son stood for. He represented the best in all of us and was a hero through and through. He may be gone but he will never be forgotten
To give your life for the freedom of others is the kind of person ______ was. He/she earned respect with all the good they did in this world. That's why it makes losing them so painful. I am deeply sorry for your loss
We will never forget what your father did. Our only regret is not being able to say goodbye and thank him for giving up his life for others. His memory shall never fade
"This nation will remain the land of the free only so long as it is the home of the brave" – Elmer Davis
My condolences for the loss of your partner. He/she was red, white and blue through and through, and gave everything for this country.
I will remember all the good times I spent with your dad. He was such a wonderful man and I feel honored to have known him. It's cruel to have lost someone so special so young, and tonight I will be raising a glass and thinking of him up in heaven. My condolences
"To me you can't put a dollar amount on our servicemen and women who have given their all for our freedom" – Awa Reeder
We hope these messages will have helped you when trying to write or reach out to the families of those passed veterans and soldiers.
It's difficult enough when expressing your condolences for any loss but losing a soldier or someone in the line of duty can make it even more tricky.
But if you are honest with how you feel and speak from the heart then the recipient will appreciate your kindness and sentiment, whatever it is you say.